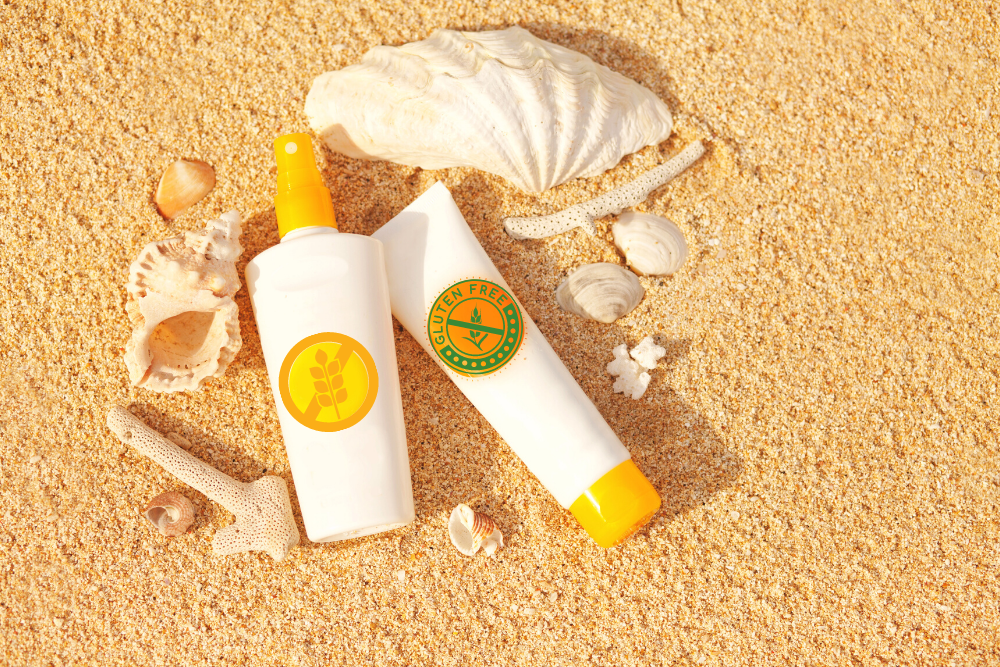 Curious if there are any gluten-free sunscreen brands safe for those who have celiac disease or gluten sensitivity? In this article, I'll discuss what you need to look for and how you can find sunscreens safe for your skin. This post contains affiliate links. Please see my disclosures.
With the sun shining bright, wearing sunscreen is not only the right thing to do but also a necessary precaution everyone must take every time they're exposed to the sun's harmful rays.
However, for those people who have been diagnosed with celiac disease or gluten sensitivity and who cannot eat gluten, a protein found in wheat, rye, barley, and sometimes oats, they may feel like they have to take a whole other level of precaution when choosing skin care products, and they would be right to do so!
Before I get into which sunscreen brands are gluten-free and which contain gluten, it's important to understand that sunscreen, like lotion, cannot be absorbed by the skin.
In fact, the only way to cause a reaction to gluten in people with celiac disease or gluten sensitivity is by ingesting gluten. (Of course, if someone has a wheat allergy, any product that contains wheat, whether ingested or topical, can cause a reaction.)
Also, one of the leading celiac doctors in the U.S., Dr. Alessio Fasano, said, "There is currently no scientific evidence that gluten … that [is] not ingested is harmful to individuals with celiac disease, including those with dermatitis herpetiformis."
Another article, "Gluten in Cosmetics: Is There a Reason for Concern?" published in the Journal of the Academy of Nutrition and Dietetics, also sheds light on this topic.
The researchers tested four lip products and two lotions that contained gluten ingredients (wheat, barley, rye, and/or oats) and found "no quantifiable gluten" in any of the tested products. (Please note the extremely small sample size.)
Knowing that gluten cannot be absorbed by the skin and that there are "no quantifiable" levels of gluten in many cosmetics, it's unlikely sunscreen could harm someone with a gluten allergy, intolerance, or celiac disease. But is it a risk worth taking?
People with gluten disorders must be extremely careful about products that could possibly be ingested, which would include products slathered on their hands and used in or around their mouths.
This is why a lot of people on the gluten spectrum are careful about what makeup brands, lip balms, condoms, and sunscreens they use. They know it's easy for lotion from their hands to be transferred to a food item and then to their mouth.
In this article, I'll share what the leading sunscreen brands say about gluten, as well as share which brands are certified gluten-free.
Remember, the latest and most accurate information about gluten (and other ingredients) will be printed on the product label itself. Any information in this article should be followed up with the reader's personal research and due diligence, as labels and manufacturing processes can change.
Ingredients to Avoid
Before I get into what each sunscreen brand says about gluten, I want to first share some of the potential gluten-containing ingredients that may be found in sunscreens or cosmetic products:
Avena Sativa (oats)
Barley
Beta Glucan
Dextrin Palmitate (can be derived from wheat, check source)
Hydrolyzed wheat gluten / wheat protein
Oats
Palmitoyl hydrolyzed wheat protein
Potassium cocoyl hydrolyzed wheat protein
Rye
Tocopherol (can be derived from wheat, check source)
Triticum Vulgare
Wheat
Wheat Germ
Wheat Starch
Vitamin E (can be derived from wheat, check source)
Products containing these ingredients should be avoided or further researched.
Sunscreen Brands (Alphabetical)
Below is a list of the leading sunscreen brands in the U.S. and what each says about gluten. This is list is alphabetical.
Is Alba Sunscreen Gluten-Free?
Yes. Many Alba sunscreens are certified gluten-free by the Gluten-Free Certification Organization (GFCO), including Alba's Hawaiian sunscreen, Sport sunscreen, Sensitive Mineral Sunscreen, and Soothing Sunscreen.
Be sure to look for gluten-free labeled sunscreens because Alba says on its website, "Our plant-based ingredients come from a variety of sources which we don't currently screen for traces of gluten. If a product is not specifically labeled gluten-free, it hasn't been tested and cannot be guaranteed as such."
Is Arbonne's Sunscreen Gluten-Free?
Yes. Arbonne sunscreen is certified gluten-free by the GFCO, including the Arbonne Baby Care Sunscreen and FunSun Mineral Sunscreen. While you can't find Arbonne's products in stores, you can probably find a Facebook friend who sells them (and you can therefore support him/her), or you can order them online.
Is Aveeno Sunscreen Gluten-Free?
No. Aveeno comes from the scientific name for oat (Avena sativa). While oats are naturally gluten-free, they are notoriously cross-contaminated with wheat and should be avoided. (Read: Are Oat Gluten Free?).
All Aveeno products are made with oat, so people with gluten disorders should avoid them altogether.
Aveeno's official statement on gluten is, "Oats do not naturally contain gluten and are not related to gluten-containing grains such as wheat, barley and rye. Gluten is not added to the oats used to make Aveeno products and our oats are processed on equipment that is dedicated only to oat milling to mitigate the risk of cross-contamination with any other gluten-containing grains. However, although we do everything in our power to ensure the oats remain gluten-free, we cannot say with absolute certainty that cross-contamination did not occur during the manufacturing process. We recommend that consumers speak with their physician if they have specific sensitivity concerns."
Is Badger Sunscreen Gluten-Free?
Yes. Most Badger products are certified gluten-free by the GFCO. Look for the GF logo on a Badger product. The company says when you see the GF label, it means the product has been independently verified to contain less than 10 parts per million (ppm) of gluten.
Badger says, however, that its Canadian sunscreens are produced offsite by sub-contracted manufacturers that have not been certified gluten-free, and therefore these products cannot be guaranteed gluten-free.
Visit the Badger website for a full list of gluten-free sunscreens and other products.
Is Banana Boat Sunscreen Gluten-Free?
Maybe. Banana Boat isn't forthright in sharing whether or not its products contain gluten, but it does say on its website, "We do not add to our products common food allergens such as tree nuts, peanuts, eggs, soy, wheat, fish, dairy or gluten."
When a company says its products do not contain gluten ingredients, I generally feel comfortable with them because it means they haven't independently tested the products to ensure they contain less than 20 ppm per the FDA gluten-free labeling guidelines.
Is Blue Lizard Sunscreen Gluten-Free?
Yes. Blue Lizard says none of its sunscreen products contain gluten. Did you know the Blue Lizard bottle changes color in the sun when exposed to UV light? I found it at Walmart and on Amazon.
Is California Baby Sunscreen Gluten-Free?
Yes. According to California Baby, all of its products are "Cruelty-free and gluten, oat, soy, dairy and nut free."
Is Coppertone Sunscreen Gluten-Free?
Maybe. There isn't any information about gluten in Coppertone sunscreen products on the Coppertone website. It does not appear that some products may contain Vitamin E, which may contain gluten at a very small level. I will update this article when I hear back from Coppertone.
Is Goddess Garden Sunscreen Gluten-Free?
Maybe. Goddess Garden says on its website, "With the exception of Tinted Face the Day, our sunscreens do not contain gluten or wheat-derived products. The xanthan gum we use in our sunscreens is sometimes fermented from wheat, but our supplier has tested for the allergen in this ingredient, and none remains after processing. However, we are not a gluten-free facility, and our products have not been tested to be gluten-free. For those with gluten sensitivity (or any allergy or sensitivity), we recommend trying our sunscreen on the inside of your elbow 24 hours prior to use to make sure it works for you."
Is DERMA-E Gluten-Free?
Yes. DERMA-E Sunscreen products are labeled gluten-free on the side of the packaging.
Is Kiss My Face Sunscreen Gluten-Free?
Yes. According to Kiss My Face, all of its products are gluten-free. In fact, all Kiss My Face sunscreens are NSF certified gluten-free! Visit the Kiss My Face website to see a list of gluten-free Kiss My Face products. You can find Kiss My Face products on Amazon.
Is Hawaiian Tropic Gluten-Free?
Maybe. Hawaiian Tropic does not label its products gluten-free, but also it doesn't contain any gluten ingredients.
I emailed the company and received the following response, "With regard to our line of sun care products, although we do not use wheat protein or wheat-derived oils in our product formulations, we cannot certify that our facilities are gluten-free. In addition, the plant origin of some ingredients may vary, making gluten-free certification difficult. We regret we are not able to suggest a product that meets your needs at this time."
Is Neutrogena Sunscreen Gluten-Free?
Maybe. There is no information on the Neutrogena website about whether or not its sunscreens are free from gluten, nor are any of the brand's sunscreens labeled gluten-free.
I emailed the company to determine if their products are safe. A company spokesperson responded as follows:
"Wheat gluten is only used in a few hair and skincare products from the Johnson & Johnson Family of Consumer Companies. Cosmetics are required to use standardized labeling to list the ingredients. If a product contains wheat or wheat gluten as an ingredient, you will find one of the following names in the label list:
hydrolyzed wheat gluten
triticum vulgare (wheat) gluten
triticum vulgare (wheat) gluten extract
hydrolyzed wheat protein
triticum vulgare (wheat) germ protein
potassium cocoyl hydrolyzed wheat protein
palmitoyl hydrolyzed wheat protein
"Response to wheat and wheat gluten can vary greatly from person to person."
Also note that, according to SkinSAFE, a website that helps people with sensitive skin find products they can safely use, Neutrogena sunscreens do not contain gluten ingredients.
Is Rocky Mountain Sunscreen Gluten-Free?
Yes. According to the Rocky Mountain Sunscreen website, all of its sunscreens and lip balms are gluten-free.
Is Seaweed Bath Co Sunscreen Gluten-Free?
Yes. Seaweed Bath Co Sunscreen is labeled gluten-free on the back of each tube.
Is Thinksport Bath Co Sunscreen Gluten-Free?
Yes. Thinksport and Thinkbaby say their sunscreens are made without gluten ingredients. The company specifically says on its website, "No PABA, parabens, phthalates, BPA, oxybenzone, avobenzone, petroleum, gluten, dairy, or toxic chemicals." You can find thinksport sunscreen on Amazon.
Is Sun Bum Sunscreen Gluten-Free?
Yes. All Sun Bum products, including its sunscreens, are gluten-free, according to the company website. You can find Sun Bum sunscreen on Amazon.
Certified Gluten-Free Sunscreen Brands
As you can see, only three brands offer certified gluten-free sunscreen options, and they include:
These three brands should be at the top of your list because it's always fun to support brands that support our community the most!
Am I missing any gluten-free sunscreen brands, or is there a brand you're curious about? Leave a comment to share information and/or questions.
Additional Reading
You might enjoy these articles too: