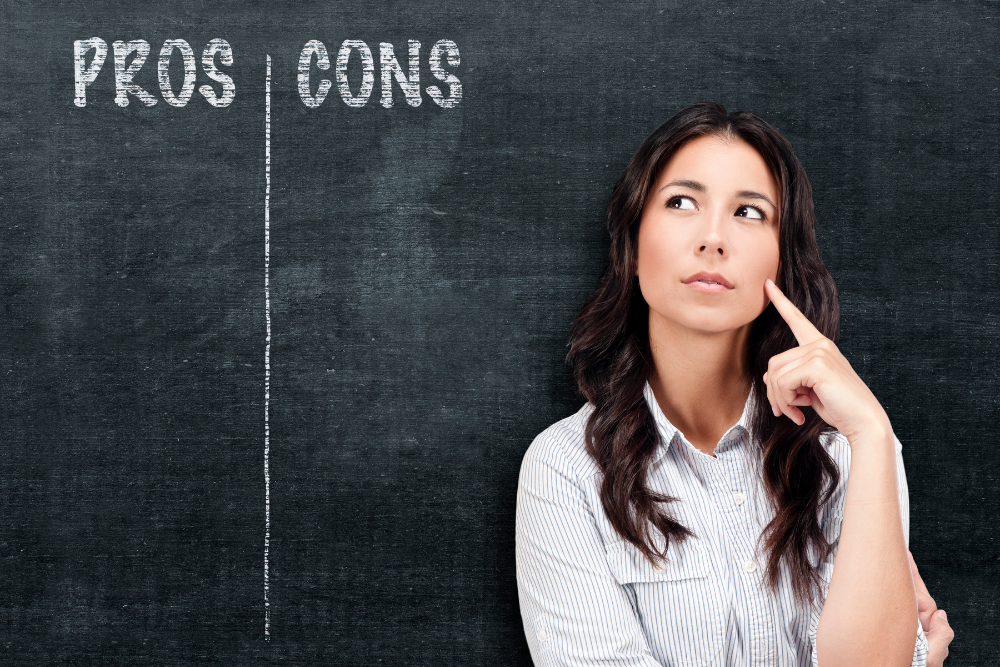 Whether you're grappling with celiac disease, non-celiac gluten sensitivity, or gluten intolerance, or you're going gluten-free in hopes of feeling better, this article will provide valuable insights regarding the pros and cons of a gluten-free diet. This post may contain affiliate links. Please see my disclosures.
In recent years, the popularity of gluten-free diets has skyrocketed, with many individuals embracing this dietary approach to improve their overall well-being.
However, as with any "diet," it's essential to understand the potential benefits and drawbacks of living a full-fledged gluten-free lifestyle.
For the past 11 years, I've followed a strict gluten-free diet, free from wheat, barley, and rye, which I implemented after getting diagnosed with celiac disease. Since then, I've helped thousands go gluten-free, and I feel uniquely qualified to share the many pros and cons of a gluten-free lifestyle.
The information in this article is meant to help you weigh the benefits and drawbacks of a gluten-free diet so you can decide for yourself – in consultation with your doctor – if it's right for you.
Pros of a Gluten-Free Diet
Why should you go gluten-free? Below are eight benefits of implementing a strict gluten-free diet:
(1) It's the Only Treatment for Celiac Disease and Gluten Intolerance
If you've been diagnosed with celiac disease, gluten intolerance, non-celiac gluten sensitivity, or wheat allergy, going gluten-free is a must. In fact, a gluten-free diet is the only treatment option for all gluten-related medical conditions and the only way to achieve symptom resolution.
People with gluten disorders experience a slew of disorders, including gastrointestinal symptoms such as bloating, gas, or diarrhea and non-traditional symptoms like joint pain, brain fog, and an itchy skin condition known as dermatitis herpetiformis (celiac rash).
It's important to understand the difference between various gluten disorders because, while they create similar symptoms, they affect the body differently.
Celiac disease is an autoimmune disease. When someone has celiac, their immune system becomes confused and responds to gluten by mistakenly attacking the healthy tissue surrounding the small intestine. This immune response damages the small intestine, an organ responsible for feeding all the other organs and cells in the body.
Once a person with celiac disease removes gluten from their diet, the villi surrounding the small intestine return to normal, and the person resumes normal digestive function.
Gluten intolerance and non-celiac gluten sensitivity are not autoimmune diseases; however, people with these gluten disorders experience chronic gut inflammation that leads to similar digestive symptoms and other issues. In fact, there are 60+ symptoms of non-celiac gluten sensitivity.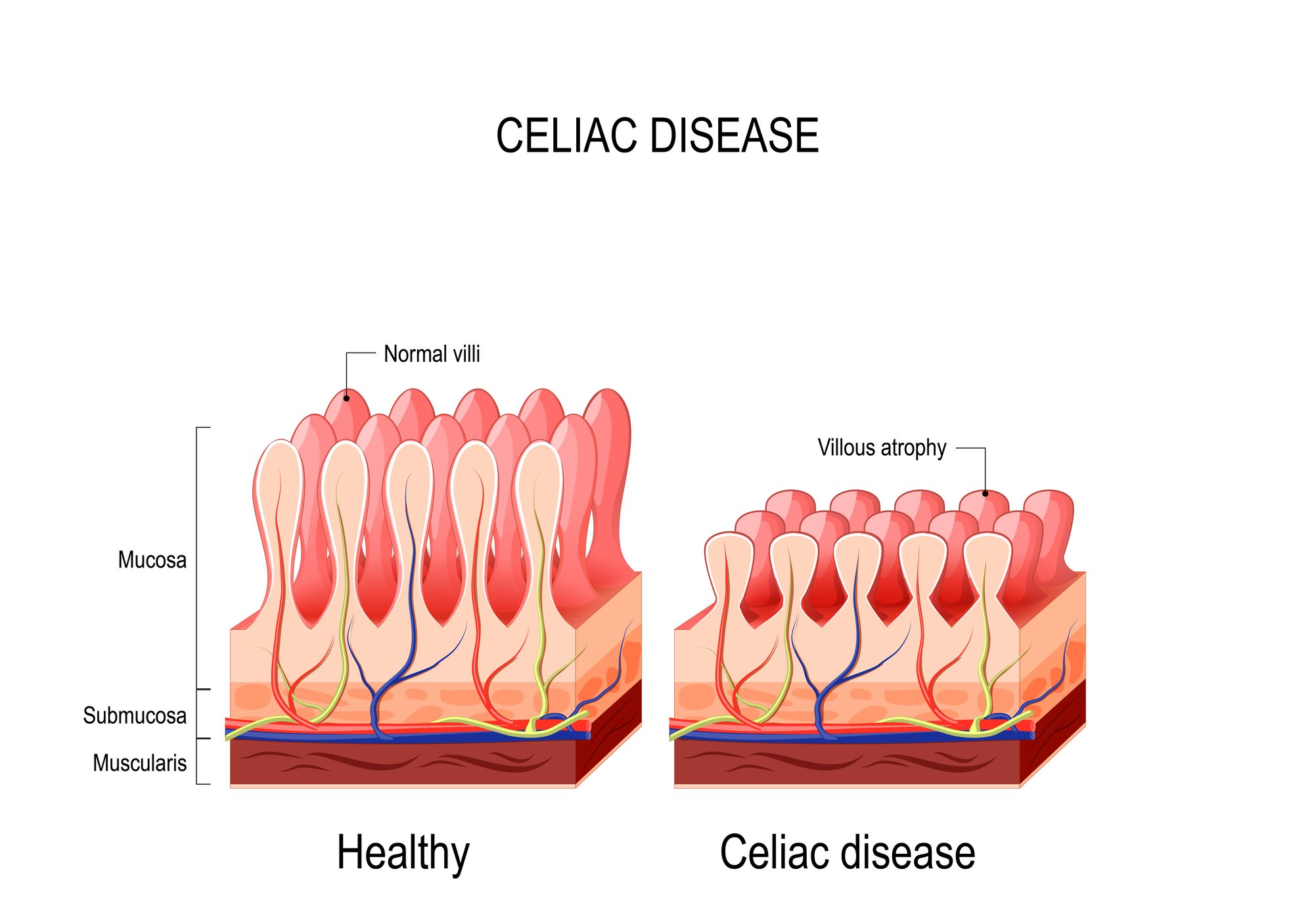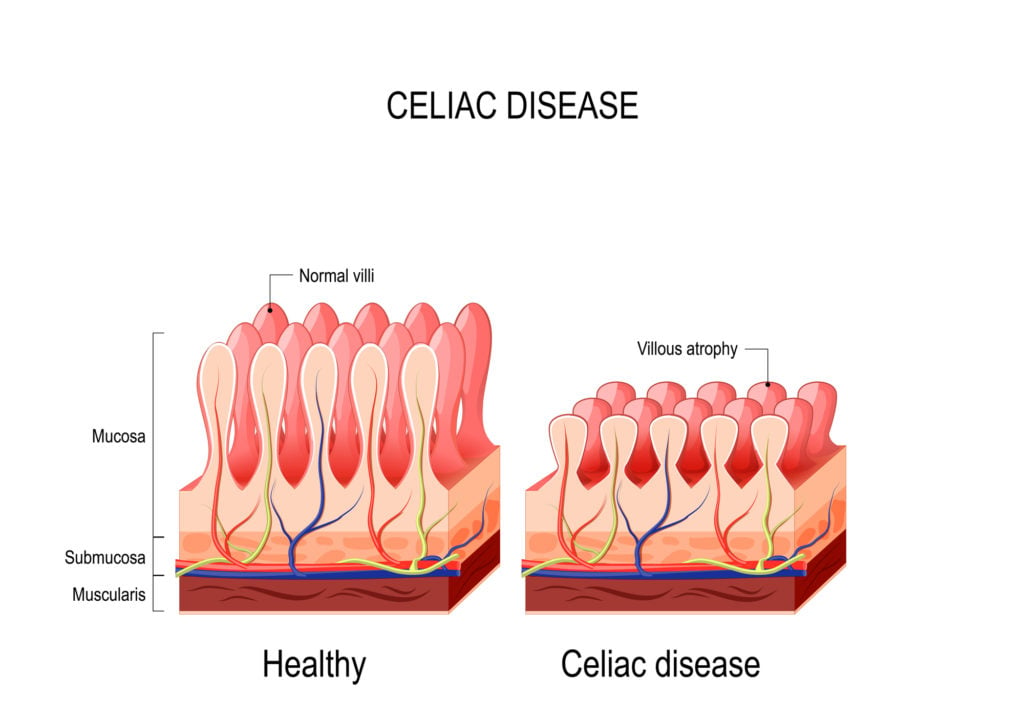 (2) It Can Help Manage Other Autoimmune Diseases
A gluten-free diet may help put symptoms associated with various autoimmune diseases beyond celiac disease into remission.
In fact, a February 2022 study by Dr. Yehuda Shoenfeld found that a gluten-free diet helps autoimmune patients reduce or eliminate many of their symptoms.
Specifically, the study found that 65% of patients with various autoimmune disorders, including diabetes, lupus, Sjogren syndrome, Hashimoto's thyroiditis, Graves' disease, Addison's disease, rheumatoid arthritis, ankylosing spondylitis, polymyositis, dermatomyositis, and multiple sclerosis, experienced symptom reduction or elimination after implementing a gluten-free diet.
(3) It May Help to Manage Irritable Bowel Syndrome
Irritable bowel syndrome (IBS) is the most common gastrointestinal disorder, affecting a whopping 10-15% of the US population.
One study found that symptoms commonly associated with IBS, including constipation, diarrhea, and abdominal pain, were reduced in patients following a gluten-free diet.
(4) It Encourages Clean Eating
Going on a gluten-free diet requires you to become an expert label reader, but food labels are confusing, misleading, and not always accurate. The community doesn't have to look far to realize that even safe ingredients, like gluten-free oats and gluten-free Cheerios, are controversial.
This has led some gluten-free purists to avoid packaged foods and focus solely on naturally gluten-free foods.
This approach to clean eating emphasizes the consumption of whole, unprocessed foods while minimizing or eliminating processed and refined ingredients. It includes foods that don't typically come with a label, such as avocados, apples, eggs, quinoa, chicken, gluten-free whole grains, and dairy products (although some people on a gluten-free diet also avoid dairy).
Clean eating has its benefits, too! It can aid in weight loss, boost energy, clear or heal skin conditions, and improve digestion. However, don't become hyperfocused on eating a certain way, as hypervigilance can lead to other eating and mental disorders.
Read Can You Be Too Gluten-Free? How to Balance Dietary Vigilance Without Losing Your Mind for more information on balancing dietary vigilance with mental health.
(5) It May Encourage Weight Loss
Many people new to the gluten-free diet lose weight, primarily if they practice clean eating and avoid processed foods.
Because gluten is an inflammatory food, some people lose what is known as inflammation weight. A person could be holding on to 5-10 pounds of inflammation (swelling) and not realize gluten is behind it all.
While weight management is a benefit of going gluten-free, some people gain weight when they go gluten-free. That's why weight management is listed as a pro, and weight gain is listed as a con below.
(6) It Contributes to Improved Gut Health
Gluten is hard for humans to digest and may lead to leaky gut or intestinal permeability. An important study by leading celiac researchers found that gluten causes inflammation in ALL humans, regardless of celiac disease.
Inside the gut, researchers found that people with celiac disease and gluten intolerance produce high levels of zonulin, a protein that regulates the "leakiness" of the gut. Zonulin is responsible for opening and closing the tight spaces (aka "tight junctions") between the cells lining the digestive tract.
People who produce higher levels of zonulin are more likely to experience a loss in barrier function inside the gut.
(7) It Improves Brain Health
There are numerous books about gluten's effect on the brain, including Grain Brain by Dr. David Perlmutter and You Can Fix Your Brain by Dr. Tom O'Bryan. Both doctors make thorough and valid connections between brain health and food, particularly gluten.
In You Can Fix Your Brain, Dr. Tom shares that 73% of people with celiac disease have hypoperfusion or low blood flow to the brain. Within one year of going on a gluten-free diet, all but one celiac patient, he says, saw their blood flow return to normal and brain dysfunction resolve.
In Grain Brain, Dr. Perlmutter makes the case that grains are behind all degenerative diseases, declaring that "gluten sensitivity represents one of the greatest and most under-recognized health threats to humanity."
(8) It Can't Hurt You
For people who might be curious about a gluten-free diet, there's no harm in going on a gluten-free diet and to see how you feel. If you do, emphasize naturally gluten-free foods, such as fruits and vegetables, lean meats, and gluten-free grains, to ensure your nutritional needs are met.
For more information about testing for gluten intolerance, read Do You Have Gluten Intolerance? How to Test for Non-Celiac Gluten Sensitivity.
If you suspect you might have celiac disease, be sure to get tested for celiac before eliminating gluten because you must be eating gluten for a celiac test to be accurate.
I recommend reading my article, What to Expect When Getting Tested for Celiac Disease (Blood Test and Endoscopy), and taking advantage of this great at-home celiac screening blood test (pictured).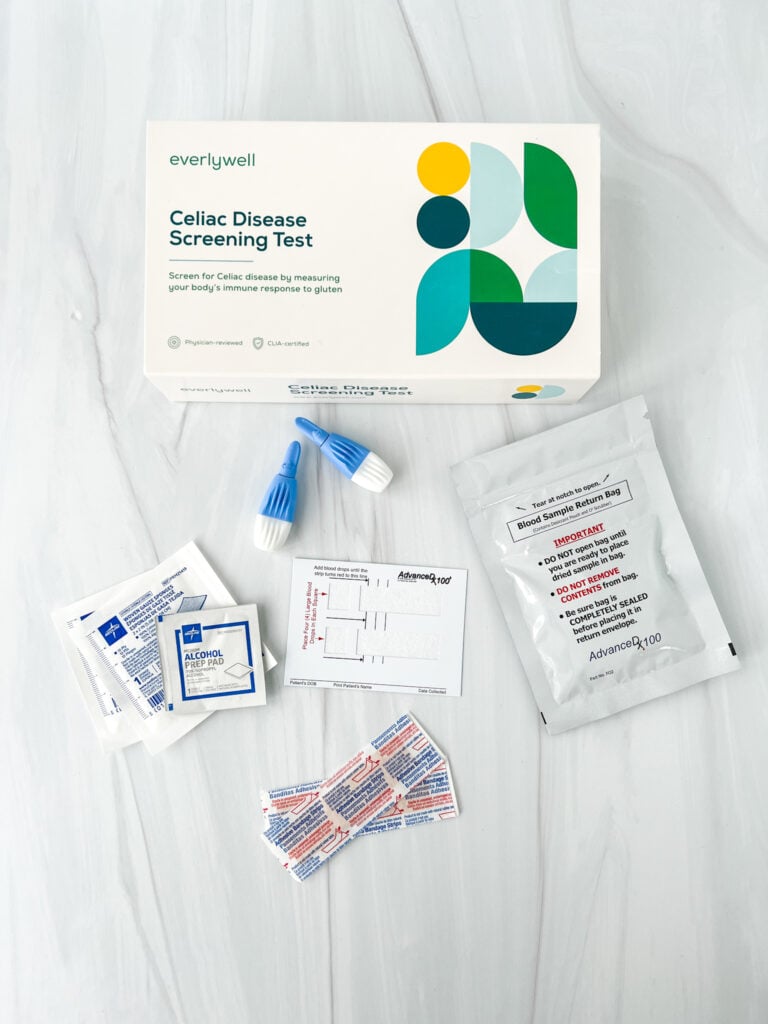 Cons of a Gluten-Free Diet
If you're thinking of going on a gluten-free diet, be sure to read these eight cons or potential drawbacks.
(1) It Can Be Overwhelming
Anyone new to a gluten-free diet can attest that getting started is an overwhelming process.
If you're serious about eating gluten-free, you'll need to do a kitchen makeover, learn the complicated nuances of gluten-free label reading, spend forever reading food labels at the grocery store, and find gluten-free replacements for your favorite brand of breadcrumbs, pasta, flour, soy sauce, etc.
The gluten-free diet also requires you to learn how to prepare many foods at home, which is always the safest place to eat. If you're dependent on fast food and restaurants for the majority of your meals, or you don't know how to cook basic foods, going gluten-free will be time-consuming and overwhelming, no doubt. This "diet" can turn your world upside-down.
(2) It Can Lead to Withdrawal Symptoms
When you first go gluten-free, beware that your body may experience withdrawals and intensely crave gluten. Dr. William Davis, author of Wheat Belly, says wheat is an opiate that is addictive and causes a "distinct withdrawal syndrome" that can last for weeks.
He also says wheat doesn't make a person "high"; rather, it makes them "hungry" for more wheat. This is why people avoiding gluten often intensely crave gluten. Their body is demanding another "hit" of gluten.
(3) It Can Result in Weight Gain
While the gluten-free community is grateful to see so many gluten-free options readily available today, from gluten-free bread and cookies to gluten-free flour blends and cereals, all of these gluten-free alternatives contain excess calories and sugar, which can lead to weight gain.
Just because something is labeled gluten-free doesn't mean it's low-calorie or low-sugar. Read labels carefully for gluten and excessive sugar and carbs, and avoid becoming dependent on packaged and highly processed foods.
(4) Gluten-Free Food Is Expensive
A 2019 study found that gluten-free foods cost 183% more than wheat-based foods. Why?
For starters, there's less demand for gluten-free foods since only a small percentage of the population eats gluten-free.
On top of that, ingredient costs are higher, and some gluten-free foods require complex production requirements, such as dedicated gluten-free equipment and testing to ensure the product is FDA-compliant.
I detail why gluten-free foods are more expensive in my article, 6 Reasons Why Gluten-Free Food is So Expensive.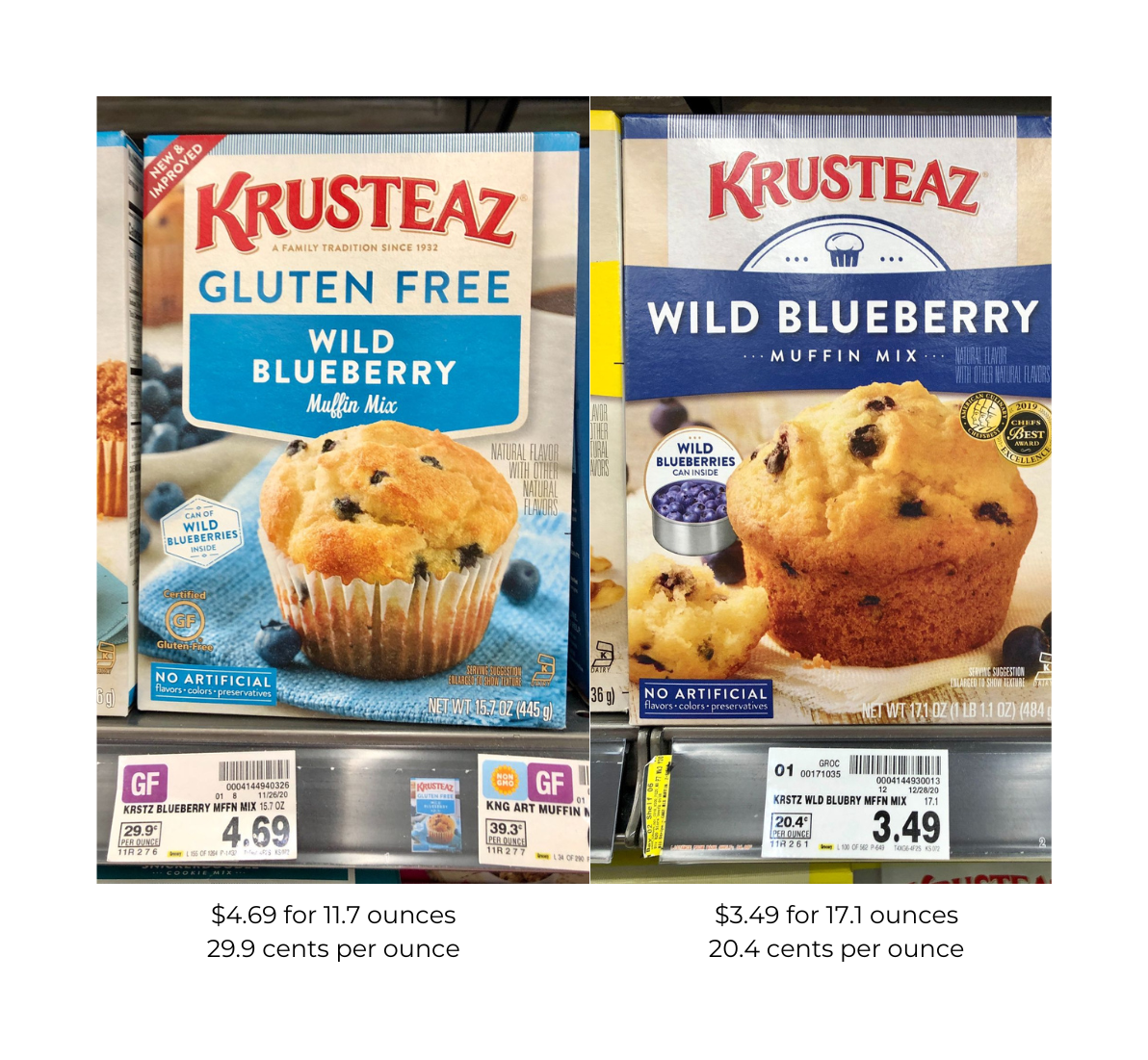 (5) You May Become More Sensitive to Gluten
Some people go gluten-free for a few months, feel better, then reintroduce gluten again to either see how they feel or because they don't feel like being gluten-free anymore. More often than not, that person feels worse eating gluten now than they did before.
This phenomenon is known as loss of oral tolerance. It's the moment when your body loses tolerance to gluten and is telling you, loud and clear, to steer clear of gluten. You used to be able to tolerate a lot of it. But once you became "clean" from gluten, reintroducing the sticky protein caused a dramatic reaction.
Read Does Gluten Intolerance Increase After a Gluten-Free Diet? for a detailed discussion on this important topic.
(6) It's Difficult to Eat Outside the Home
One of the biggest challenges faced by the gluten-free community is eating outside of the home. Sadly, one in three restaurant dishes labeled gluten-free actually contain gluten, making getting glutened inevitable if you eat out.
Following a strict gluten-free diet also makes traveling, celebrating holidays, eating at a friend's house, and attending a conference or wedding more challenging.
I share gluten-free traveling strategies in my article, 27 Practical Tips for Traveling Gluten-Free, and detail how to eat out as safely as possible in my ebook, The Ultimate Guide to Eating Out Gluten Free.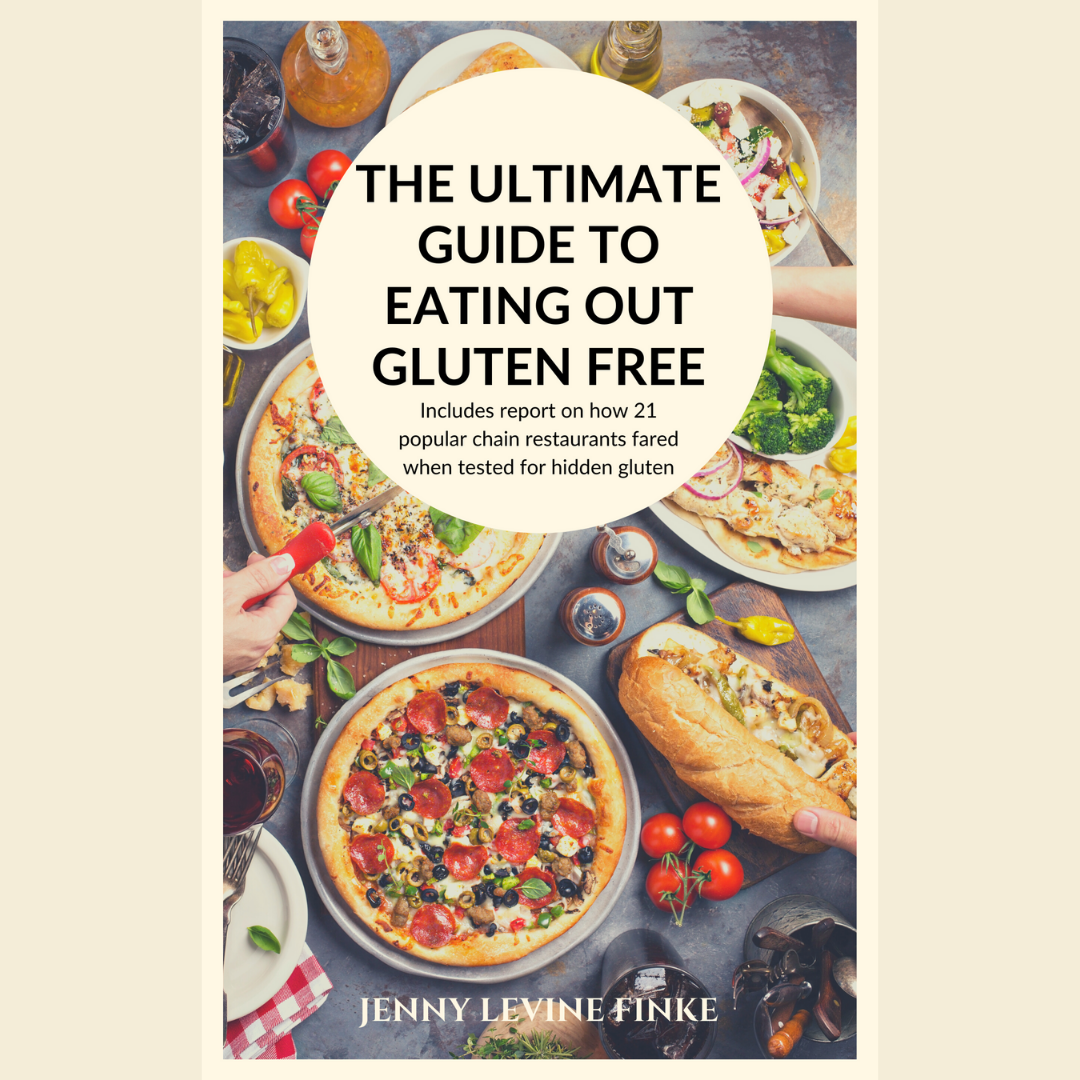 (7) It May Lead to Nutritional Deficiencies
You won't have to worry about nutritional deficiencies if you eat a clean, whole-food-centric diet. But if you eat a lot of processed and packaged foods, your diet will likely lack essential nutrients such as iron, folic acid, or D or B vitamins, among other essential nutrients.
A study published in Food & Nutrition even found that gluten-free products contain less protein, dietary fiber, and higher levels of saturated fat, carbohydrates, and salt than gluten-containing foods.
Another study found that women with celiac disease following a strict gluten-free diet didn't meet the recommended dietary nutrient intake in all micro and macro-nutrients, nor did they have sufficient levels of folate, iron, calcium, and vitamin D.
(8) It's Overwhelming and Tiring at Times
Having to follow a strict, life-long gluten-free diet is exhausting. There's never a break from being gluten-free. There's no cheating or days off. Once you realize you have celiac disease or gluten intolerance, you'll always have to be on a gluten-free diet.
The good news is that after a while, things become second nature, and you'll know what restaurants to eat at and which friends can make you a safe gluten-free meal. It will take a while to get there, though.
There will always be days when this diet brings you to tears, makes you feel anxious, and frustrates you like nothing else. These are normal emotions that I experience from time-to-time even after 11 years of avoiding gluten. Read Exposing the 5 Emotional Burdens Associated With a Gluten-Free Diet to learn more about the emotions that often plague the gluten-free community.
Is the Gluten-Free Diet For You?
As you can see, there are many pros and cons to a gluten-free diet.
Of course, if you're diagnosed with celiac disease or gluten intolerance, a strict gluten-free diet is a must.
But for the rest of you, weigh the health benefits with the unique challenges the gluten-free community faces to decide if this is the right "diet" for you.
If you need help going gluten-free fast and want to learn how to create a balanced diet without gluten, I encourage you to enroll in my SIGNATURE Gluten-Free Course.
Then, once you learn the essentials of a gluten-free diet, I recommend that you speak with your healthcare provider, registered dietician, or celiac nutrition coach for further guidance.
Related Reading
Is there an increased risk of heart disease with a gluten-free diet? Read this article to put this myth to bed.
You might enjoy these related articles, too: