Don't fret because you can still make lasagna if you're gluten free, you just need to use gluten-free lasagne noodles. In this post, I'll share all the gluten-free lasagne noodle options you have, as well a feature an easy recipe you can make using your choice of gluten-free lasagne noodles! This post contains affiliate links. Please see my disclosures.
Lasagna is one of those foods that many people think they have to give up once they go gluten free. But the truth is, you don't. No way, no how!
Lasagna most definitely remains on the menu even if you can't eat gluten.
In this article, I'll talk about:
The various gluten-free lasagne noodles available on the market today and how to choose the right one for you.
How to cook up your own delicious and easy gluten-free lasagna recipe at home.
Gluten-Free Lasagne Noodles Brands
There are many gluten-free lasagne noodles available today, and you're bound to find one you like.
When looking for a lasagne noodle, look for one that offers the following qualities:
Good texture: You want the noodle to be firm, not mushy, when baked.
Gluten free: You want to make sure any noodle you use is gluten free. And as you'll see below, you have plenty of fantastic options.
Boil vs. no-boil: There are several no-boil gluten-free lasagne noodles available and plenty of options for however you like to cook.
Here are some of the best gluten-free lasagne noodles on the market. Try them all to see what you think.
(1) Tinkyada Gluten-Free Brown Rice Lasagne Noodles
Tinkyada brown rice noodles have always been known for having a great texture and simple ingredient list of brown rice, rice bran and water. That's it. This is a brand of pasta that I eat often at my house in many of my pasta recipes.
You'll find that Tinkyada gluten-free lasagne noodles hold up inside a lasagna and don't get mushy. It's why I use this brand time and time again.
Tinkyada brown rice lasagne noodles need to be boiled before baking. If you have the time and patience, this is a great choice, if not, there are no-boil options that I'll talk about next.
(2) Barilla No Boil Gluten-Free Lasagne Noodles
Barilla is the brand I use most when making gluten-free lasagna because they not only hold up well and taste great, but also they don't require any pre-boiling. I want to cook as fast as possible and with the least fuss.
I love that Barilla gluten-free lasagne noodles lay flat, making it easy to layer my lasagna.
These noodles are certified gluten free and are made from a combination of corn flour, rice flour, and mono and diglycerides.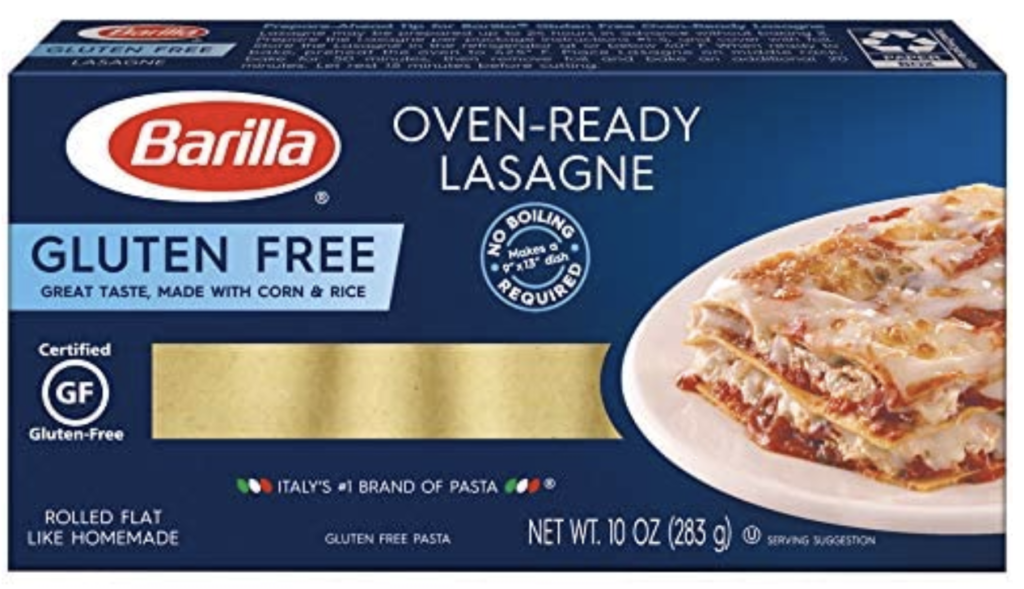 (3) Explore Cuisine Organic Green Lentil Lasagne Noodles
For a grain-free lasagna noodle alternative, try Explore Cuisine Lentil Lasagne Noodles. They don't require boiling, and they taste pretty good too.
These noodles are certified gluten free and made with 50% organic green lentil flour, along with organic green pea flour, and organic brown rice flour.
I noticed these noodles turn a bit mushy when baked in my lasagna, and they are not as firm as the other noodles on this list, but they hold up well nonetheless and are a great option for those avoiding gluten and all grains.
(4) Jovial Gluten-Free Brown Rice Lasagne Noodles
I also enjoy Jovial gluten-free lasagne noodles very much. They, too, have a wonderful texture and are not mushy at all when baked inside a lasagna. They truly are perfect for making a tasty lasagna, no doubt!
Jovial lasagne noodles are certified gluten free and has a simple ingredient list too: Organic brown rice flour and water. That's it! You can find these babies at Walmart stores across the US too – sweet!
(5) Taste Republic
Taste Republic makes gluten-free lasagne noodles that comes fresh vs. dry. The pasta comes refrigerated or frozen (if frozen, be sure to thaw before using). These noodles taste incredible and offer your gluten-free lasagna a more authentic taste and texture.
These delicious fresh lasagne noodles are certified gluten-free. They're made from a combination of brown rice flour, water, potato starch, tapioca starch, egg, xanthan gum, salt, and glucono-delta-lactone.
Keep in mind that Taste Republic is a premium brand and that the fresh noodles are much more expensive than the shelf-stable dry lasagne noodles you find on grocery store shelves.
(6) Cappello's Almond Flour Pasta
Cappello's lasagne sheets are also grain free as they are made from almond flour, eggs, tapioca flour, xanthan gum and salt. They're certified gluten free and certified paleo.
These are found in the fridge or frozen section and, like Taste Republic, are quite a bit more costly than the dried gluten-free lasagne sheets.
What Else Do You Need?
In addition to good, gluten-free lasagne noodles, you'll need a few other ingredients.
Here are some of the lasagna-making essentials you'll need:
Ground Meat: I use organic ground turkey, but any ground meat of choice will work. I like the taste of ground turkey as we don't each a lot of red meat in our house. If making a vegetarian or kosher lasagna, omit the meat.
Vegetables: I use lots of vegetables in my hearty lasagna. I saute the largest yellow onion I can find, then I saute 24 ounces of cut up portobello mushrooms (the entire Costco package), along with a large yellow pepper and 4-6 garlic cloves (the more garlic the better, but you can adjust to taste).
If I have other vegetables on hand, like a zucchini or yellow squash, fresh tomatoes, spinach (cooked and drained) or even some olives, I add those in too. Load this gluten-free lasagna with the vegetables you love most (and have on hand) and you'll really elevate dinner.
Red Sauce: I use jarred marinara sauce as the sauce inside my gluten-free lasagna. So many brands are gluten free – check labels. We love love love the Spicy Marinara by Mezzetta. We also use the Sprouts brand, Muir Glenn, and spicy Jersey Tomato, all gluten free.
Whatever sauce you choose will make a huge difference in the taste, so don't skimp by buying cheap sauces. Get one that is well seasoned and savory (but not too sweet), and of course, make sure the sauce is gluten free.
Mozzarella Cheese(s): You'll also need shredded mozzarella cheese. This is a must!
Ricotta Cheese: I don't like ricotta cheese and it's just not that good for you anyway, so I nix that unhealthy add-in and still wind up with a very satisfying and cheesy gluten-free lasagna.
How to Make Gluten-Free Lasagna
For this recipe, I'm using no-boil lasagne noodles by Barilla. Of course, if you use a different gluten-free lasagne noodle brand, you'll need to boil your noodles first.
Cook Your Vegetables: Start by cooking your vegetables in a little oil inside a large pan. Once they are slightly softened, set them aside. If you saute mushrooms, make sure you cook off any excess liquid so your lasagna doesn't get mushy.
Brown Your Meat: Next, brown your meat and onions in the same large pan with more cooking oil. You want your meat cooked through before layering it into your lasagna.
Create Your Sauce: Once the meat is cooked through, add the cooked vegetables back to your pan and mix in your jarred marinara sauce. Remove the pan from heat.
Layer Your Lasagna: In a lightly greased casserole dish, begin layering your lasagna. To prevent the lasagne noodles from sticking to the bottom of the dish, your first layer should be sauce. On top of the sauce add your noodles, vegetables and meat sauce mixture, and a light layer of cheese. Continue layering until you have about three layers.
Bake: Cover the casserole dish with foil and bake for 40 minutes. Remove the foil and bake until the top cheese layer is brown and crispy, about 10 minutes.
Eat: Allow the lasagna to cool for a bit and then get ready to dig into this easy-breezy beauty for dinner:
I know my lasagna recipe is simple, but that's the way we do it here at Good For You Gluten Free. We're looking for simple ways to enjoy the recipes we know and love.
Thanks to so many great gluten-free lasagne noodle brands on the market today, making a gluten-free lasagna has never been easier or more delicious!
Easy No Boil Gluten-Free Lasagna
You can eat [gluten-free] lasagna again. This recipe is loaded with vegetables and makes a hearty, gluten-free lasagna to serve a crowd.
Print
Pin
Rate
Ingredients
1

lb

organic ground turkey or ground beef

1

box

Barilla no-boil gluten-free lasagne noodles

see notes

2

Tbsp

avocado oil

divided

1

large

yellow onion

diced

4

garlic cloves

finely chopped

1/2

tsp

dried Italian seasoning

15

large

portobello mushrooms

stems removed and diced

1

yellow pepper

diced

1

tsp

Kosher salt

1/4

tsp

ground pepper

24

oz

jarred tomato sauce

12

oz

shredded mozzarella
Instructions
Preheat oven to 350º F. Prepare a large casserole baking dish with cooking spray. Set aside.

Heat 1 Tbsp oil in a large saucepan over medium-high heat. Add mushrooms and cook until no moisture is left, about 15 minutes. Add yellow peppers and cook for another 2-3 minutes. Transfer vegetables to a bowl and set aside.

Using the same pan, heat another 1 Tbsp of oil the saucepan over medium high heat. Add diced onions and ground meat. Cook until meat is no longer pink. Add garlic and Italian seasonings and cook for another minute. Lower heat to low.

Add vegetables to saucepan and add jar of tomato sauce. Simmer mixture on low until heated through, about one minute. Remove from heat.

Add a spoonful of the sauce mixture to the bottom of a 9×13 rectangular baking dish to lightly coat the bottom and sides of the dish. This will prevent the first layer of noodles from sticking to the pan.

Layer noodle, sauce mixture, and shredded cheese until all ingredients are used. Save a generous portion of the shredded cheese to coat the top.

Cover with foil and bake for 30 minutes at 375º F. Remove foil and bake for another 5-10 minutes until cheese begins to brown and bubble.

Let lasagna cool for 5-10 minutes before enjoying.
Notes
This recipe does not call for ricotta cheese. You could add it as desired to each layer.
If your lasagna noodles require boiling first, please do so. This recipe calls for no boil gluten-free lasagne noodles.
Add whatever vegetables you desire to the mix. I use whatever I have leftover in my fridge.
I used ground turkey, but you could use ground beef or omit and make it vegetarian.
My favorite jarred sauce is Mezzetta Spicy Marinara. I highly recommend it!
Nutrition
Calories:
356
kcal
|
Carbohydrates:
43
g
|
Protein:
21
g
|
Fat:
12
g
|
Saturated Fat:
4
g
|
Cholesterol:
43
mg
|
Sodium:
580
mg
|
Potassium:
740
mg
|
Fiber:
4
g
|
Sugar:
8
g
|
Vitamin A:
561
IU
|
Vitamin C:
22
mg
|
Calcium:
173
mg
|
Iron:
1
mg