Guacamole. Yum!
Just the thought of guacamole makes me want to eat more of it! Are you craving this delicious dip yet?
For us gluten-free peeps, finding nutrient-dense foods to snack on is essential. That's why I love guacamole. It's the perfect nutrient-rich snack and perfect go-to appetizer.
For years, I made guacamole with simple dried seasonings (garlic powder and onion powder) and it tasted ok, but not great.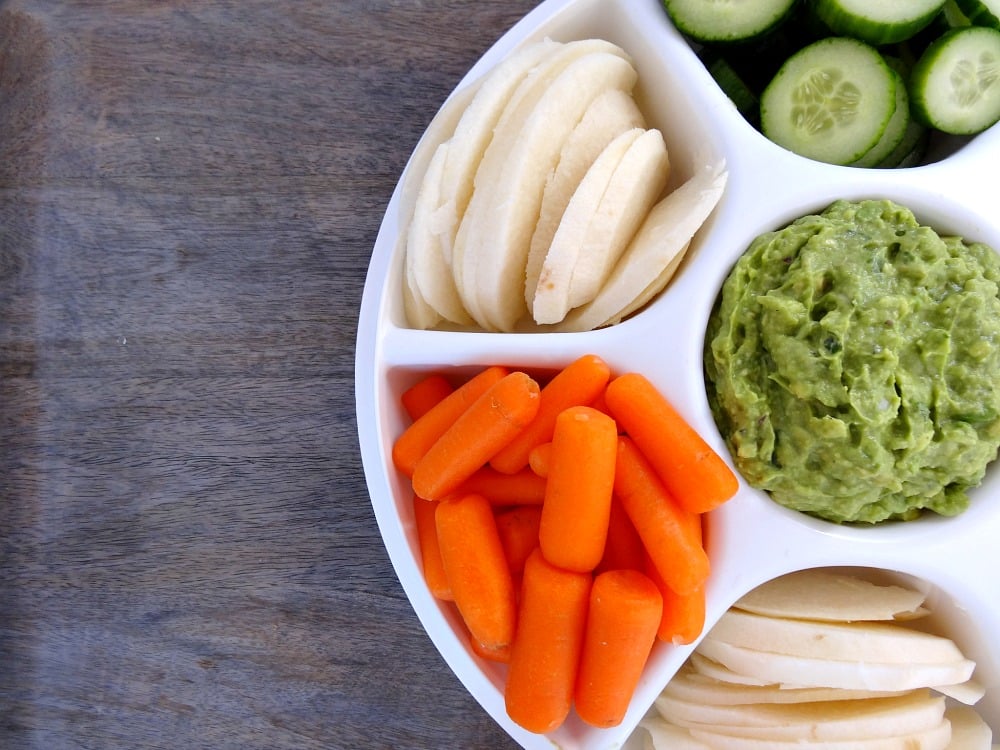 But after sampling guacamole made by a good friend of mine (Gerardo), I was in love! The guacamole was so good – better than your average guac. So I asked Gerardo to teach me how he made it. Gerardo was born in Mexico. He really has perfected the art of one delicious Mexican dip.
Gerardo took me to his kitchen and showed me exactly how he makes it.
The secret is that he finely chops a chunk of onion with his handheld chopper*. (I use my manual food processor – it looks like this*.) The chopped, raw onions burst with flavor when mixed with the avocados. In fact, you can barely detect the onions when you taste it. The texture is smooth (since the onions are so finely chopped) and the taste is subtle yet delicious.
Yes sir. This guacamole is bursting with flavor!
I've learned from Gerardo that making guacamole isn't an exact science. In fact, you need to add a little of this and a little of that until the taste is to your liking. You don't need a good recipe as much as you need good judgement and happy taste buds.
So when you make your next batch of guacamole, chop up those onions finely and mix them into your dip. They will make your guacamole sing!
Pair your guacamole with chips (I used gluten-free and corn-free black bean chips from Beanitos*) as well as plenty of fresh vegetables like baby carrots, celery and jicama chips (peel a jicama and then slice it into "chips").
Perfect & Naturally Gluten-Free Guacamole
Try this authentic guacamole recipe - you'll impress your friends with how good and fresh this tastes!
Print
Pin
Ingredients
4-6

ripe avocados (throw away the skin and pit)

1/4

cup

finely chopped red, yellow or white onion (pulse in food processor)

1

bunch

fresh cilantro, finely chopped

1/2 to 1 whole lime

Sea salt and pepper
Instructions
In a large bowl, combine avocados, onion mixture and cilantro. Mash together with a masher or fork until smooth-but-still chunky.

Add 1/2 lime (plus more to taste).

Add salt and pepper to liking.

Pair with your favorite chips and/or vegetables.
Nutrition
Sodium:
10
mg
|
Calcium:
16
mg
|
Vitamin C:
14.3
mg
|
Vitamin A:
285
IU
|
Sugar:
1
g
|
Fiber:
9
g
|
Potassium:
666
mg
|
Calories:
217
kcal
|
Saturated Fat:
2
g
|
Fat:
19
g
|
Protein:
2
g
|
Carbohydrates:
12
g
|
Iron:
0.7
mg