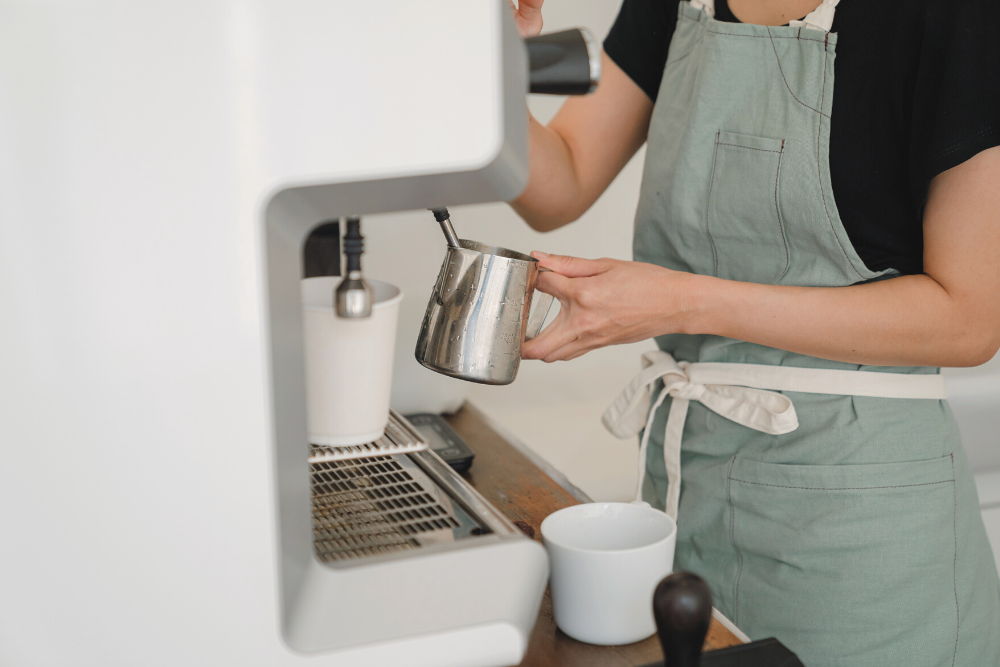 There are many misconceptions about what is and isn't safe to eat when following a medically-necessary gluten-free diet. One such misconception that has taken center stage of late is the misconception that heat can kill gluten.
Costa Coffee, a coffee shop in the UK tweeted in March 2022 that the steam arm on its espresso machine was "hot enough to kill gluten."
This tweet responded to a customer asking if the coffee shop could accommodate his teenage daughter's request for gluten-free options because she had celiac disease. The father was concerned that the restaurant used oat milk, which is not always gluten free, in many of its drinks, and the coffee machines would therefore be contaminated with gluten particles.
While oats are naturally gluten free, they are deeply cross-contaminated with wheat during the growing, harvesting, and manufacturing processes. (Read: Are Oats Gluten Free?) This is why any product that contains oats – including oat milk – is not technically gluten free unless the oat milk in question is labeled gluten free.
The coffee shop said on Twitter, "The heat of the steam arm is high enough to sterile [sterilize] any allergen remaining and eliminate the prospect of cross-contamination risk."
After getting a lot of "heat" for spreading misinformation, the coffee shop removed the tweet and issued an apology.
While misinformation spreads dangerously fast these days, this story still offers the gluten-free community the opportunity to educate the public on what is and isn't safe for those with serious gluten disorders to consume.
The truth is heat does not kill gluten, nor make a product containing gluten or products cross- contaminated with gluten, safe for anyone following a gluten-free diet. This means people with celiac disease or non-celiac gluten sensitivity cannot heat a product and kill the gluten. Otherwise, every product that is heated would be gluten free and that's just not reality.
Gluten is a protein found in wheat, rye, barley, and sometimes oats. It's not a bacteria. While most bacteria can be killed with heat, proteins and food particles cannot. The only way to rid a surface of gluten is by thoroughly cleaning it.
Coffee shops can best support their gluten-free and allergen-free customers by:
Wiping down steam arms and any surfaces that may have come in contact with gluten.
Washing their hands after preparing and/or handling food or beverages that contain gluten.
Offering gluten-free food options that are wrapped and untouched.
Clearly labeling gluten-free options on their menus.
Making sure there are plenty of gluten-free options.
Training all staff members on how to properly handle gluten-free and/or allergen requests.
I truly believe that a restaurant can do better when it knows better. And I think the coffee shop in question has learned this lesson.
Shortly after the initial tweet, a spokesperson for the coffee shop said in a statement:
"We take the safety and wellbeing of our customers extremely seriously and apologise for the incorrect information that was shared from our Twitter account. As soon as we were made aware of the error we apologised and shared a correct version of our in-store process to those who contacted us.
"We also removed the original tweet to avoid further confusion, following feedback from customers online.
"In our stores, to help reduce the risk to customers from cross-contamination, we have strict training and procedures in place.
"When a customer informs us about an allergy or dietary requirement our team members are happy to explain the measures we can take to reduce the risk of cross-contamination, so they can make an informed choice. This can include the use of additional equipment, such as separate jugs and cleaning cloths. Steam wands are also cleaned with the relevant cloths and purged after every drink preparation to reduce the risk of cross-contamination."
Bottom Line: Heat does not kill gluten.
Additional Reading