The Food Labeling Modernization Act was recently reintroduced and, if passed, would require food manufacturers to disclose all gluten-containing grains in a product. In this article, I discuss how this bill will impact anyone following a medically-necessary gluten-free diet. Please see my disclosures.
If passed, the Food Labeling Modernization Act (FLMA) would be a big win for the gluten-free community and bring an unprecedented level of transparency to confusing and misleading food labels.
The bill, first introduced in 2021, was reintroduced on April 26, 2023, with minor changes.
The bill, which is championed by Representative Frank Pallone, Jr. (D-NJ) and Senator Richard Blumenthal (D-CT) and co-sponsored by Representatives Rosa DeLauro (D-CT) and Senators Sheldon Whitehouse (D-RI), Edward J. Markey (D-MA), Ben Cardin (D-MD), and Cory Booker (D-NJ), would help consumers navigate confusing claims and food labels.
Specifically, the sponsors of the bill say it would get rid of "opaque food labels" and define "healthy marketing claims" to provide "clearer nutritional information and rein in misleading marketing claims." Read the entire bill here.
One section of the bill discusses allergen labeling. If passed, it would make the stressful chore of food label reading much easier for the gluten-free community by requiring manufacturers to disclose on a food label or ingredient listing all sources of gluten, including wheat, barley, and rye.
Currently, under the Food Allergen Labeling and Consumer Protection Act (FALCPA), manufacturers only have to disclose if a product contains any of the top eight allergens, which include soy, eggs, tree nuts, peanuts, shellfish, fish, dairy, and wheat.
However, sources of gluten include barley and rye in addition to wheat, and current labeling requirements don't account for barley and rye. (Gluten can also be hidden in oats due to cross-contamination. The bill doesn't mention oats.)
In other words, the Food Labeling Modernization Act would amend FALCPA by requiring food manufacturers to disclose if a product contains barley or rye on a food label, thereby taking the guesswork out of label-reading for the gluten-free community.
How FLMA Would Work
Right now, if a product contains a hidden source of barley, such as yeast extract, flavorings, malt, yeast, natural smoke flavor, etc., it only has to list that ingredient on the label. These products may or may not contain gluten (barley or rye), but consumers don't know it because "barley" and "rye" aren't listed in plain English on the label.
Should the bill pass, food manufacturers would be required to list any gluten source – wheat, barley, and rye – as follows:
Malt (barley)
Yeast Extract (barley)
Flavorings (rye)
Right now, some manufacturers voluntarily disclose if their products contain other sources of gluten beyond wheat, but it's not required.
Below is an example of how a label would be required to look should the bill pass.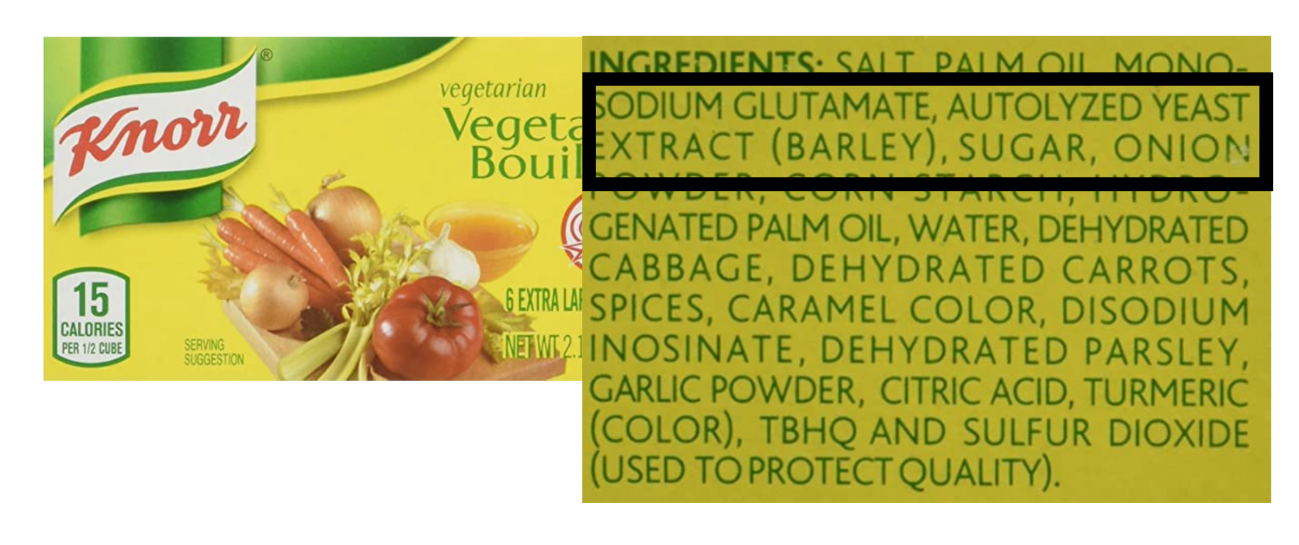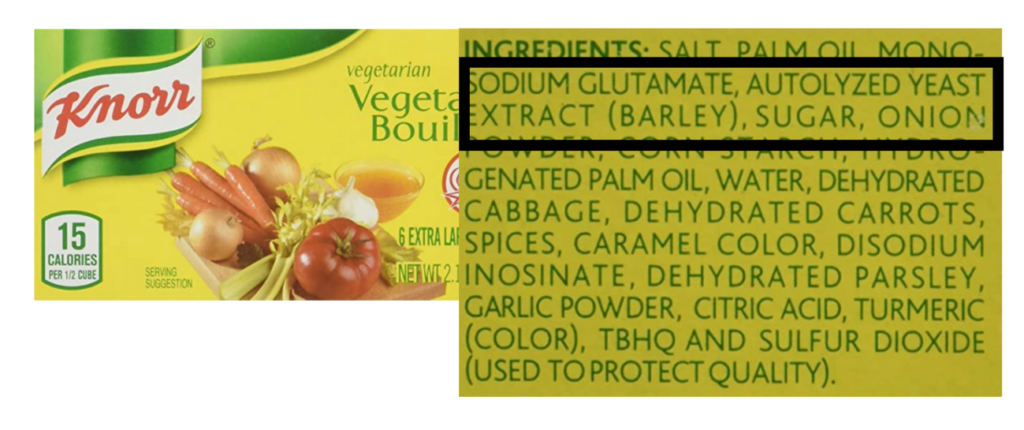 How You Can Help
Label reading plays an essential role in managing gluten disorders. Hidden gluten in packaged foods can deter a person from healing and, worse, make them sicker.
The Food Modernization Labeling Act has the power to help 20+ million people with celiac disease and non-celiac gluten sensitivity in America eat safely.
Perhaps Senator Whitehouse put it best when he said, "Americans are too often misled by unclear or deceptive food labels because federal labeling standards haven't been updated in decades. This bill will modernize labeling rules to help consumers gain a better understanding of what's in their food so they can make healthier decisions and better avoid potentially dangerous allergens."
To help ensure the bill passes, contact your local representatives and senators and urge them to support H.R.2901: The Food Labeling Modernization Act of 2023.
Be sure to share your story, struggles, and challenges with the gluten-free diet and food labeling. Demand that they help protect our community by requiring transparency of ALL sources of gluten in food products.
The bill is supported by various organizations, notably the Celiac Disease Foundation, Beyond Celiac, and the Gluten Free Watchdog.
PS: I sent emails to my representative Jason Crow, as well as my state senators, John Hickenlooper and Michael Bennet.
Additional Reading