Ever since I presented about Decoding Confusing Product Labels for Hidden Gluten at the 2020 Nourished Festival, I've been getting a lot of follow up questions about wheat starch. Wheat starch is some gluten-free products, and of course, there is concern over its safety and potential usage expansion in the U.S. This article will discuss this topic in detail. Please read my disclosures and disclaimers.
Every so often, a product or questionable ingredient pops up in the gluten-free community that throws us all for a loop.
That's why it's no wonder that I've been seeing a lot of banter about wheat starch, specifically Codex wheat starch, and whether it's safe for people with celiac disease and gluten sensitivity.
While this ingredient is not new, nor new to controversy, I mentioned it during my presentation about Decoding Confusing Product Labels for Hidden Gluten at the 2020 Nourished Festival, and have received several follow up questions as a result.
In this article, I want to set the record straight on whether or not wheat starch is safe for the gluten-free community.
Specifically, this article will cover:
What is wheat starch?
What is Codex wheat starch?
What does the FDA say?
What companies are using wheat starch?
Is wheat starch safe?
What Is Wheat Starch?
When you eat gluten free, you're trained to avoid wheat, barley, rye, spelt and sometimes oats like the plague.
But then, bam!, just like that you see an ingredient label with the words, "wheat starch," clearly emblazoned on the packaging.
"Is it gluten free," you wonder?
The American public isn't as familiar with wheat starch; however, this controversial ingredient has been used in products in Europe and the UK for several decades.
What is it? Wheat starch is the starch from a wheat grain that has been processed to remove the gluten protein.
To turn wheat into wheat starch, milled flour is turned into a dough and then washed. During the wash, the starch dissolves in the water while the gluten sinks to the bottom of the container and remains a solid. The liquid is then left to evaporate, and what's left behind is a starchy, powdery substance known as wheat starch.
Manufacturers sell vital wheat gluten separate from the wheat starch. Food companies and bakeries use vital wheat gluten to create extra elasticity in their baked goods while wheat starch is typically used as a thickening agent in cooking and baking.
In addition to being used as a thickener, a spokesperson for Schär told Gluten-Free Living Magazine, that wheat starch provides "durability" and "elasticity," which helps ensure products, like it's gluten-free croissants, have a light and flaky consistency.
What Is Codex Wheat Starch?
Wheat starch is often referred to as "Codex Wheat Starch," another confusing term for many gluten-free eaters.
Codex refers to the Codex Alimentarius, which is the governing body for international food standards.
Codex sets standards and provides guidance to food manufacturers to ensure they are nutritionally safe for use around the world.
When food manufacturers use the word "Codex" as an adjective to describe wheat starch, they are simply adding that this ingredient has been approved and meets international food guidelines set forth by Codex.
What Does the FDA Say?
The FDA has put forth clear guidelines for food manufacturers when it comes to gluten-free labeling, and it allows wheat starch to be included in gluten-free labeled products.
For a food manufacturer to label its product as "gluten free," it must meet the following criteria:
(1) The product must be tested to contain less than 20 parts per million (ppm).
(2) The product cannot contain any known gluten ingredients, including wheat, barley, rye, or any derivatives of these grains, unless the gluten has been removed and the product has been tested and verified to contain less than 20 ppm of gluten.
In other words, a company can label a product containing wheat starch as "gluten free" if the gluten protein has been removed and the product has been verified to contain less than 20 ppm of gluten.
Please note that the FDA guidelines are for gluten-free labeling only, not for allergen labelling.
Further guidelines in the U.S., as set forth by the Food Allergen Labeling and Consumer Protection Act of 2004, require food manufacturers to disclose if their products contain any of the top eight allergens – wheat included. This means if a product contains gluten-free wheat starch, a manufacturer must still disclose that its product contains wheat somewhere on the label.
It's important to note that gluten-free does not always mean a product is also wheat free. If you have a wheat allergy, avoid products that contain wheat starch.
What Companies Are Using Wheat Starch?
The use of wheat starch in gluten-free foods is a hotly contested topic. Many gluten-free eaters are hesitant to eat a product that contains wheat starch, even if it has been tested, labeled and certified by a third party organization. For this reason, few companies use wheat starch in their food products.
The word "wheat," sets off a red flag in anyone with celiac disease or gluten sensitivity, creating confusion and doubt that might cause a customer to put the product back on the shelf and thereby stunt a product's sales.
However, several companies, most notably, Schär, one of the largest gluten-free brands in the world, uses wheat starch in several of its products found in the UK and Europe, and it's likely it will be using it in U.S.-distributed packaged foods one day.
One example is its gluten-free croissants, which specifically say on the ingredient label, "certified gluten-free wheat starch."
Ironically, I ate a Schär gluten-free croissant when I was traveling in Amsterdam. The hotel chef served it to me for breakfast and I had not idea it was made with wheat starch. The croissant was heavenly, by the way. Flakey, soft, and warm.
I asked the chef, after I ate the croissant, where he found these and he said they were made by Schär. Go figure!
As prior mentioned, a spokesperson at Schär confirmed that the reason its croissants are flaky is due to the use of wheat starch.
Another company using wheat starch is Caputo, and I used Caputo flour, which is indicated as gluten free and as meeting all FDA gluten-free guidelines, in this pizza crust that tasted out-of-this world authentic. It's the best pizza I've ever made – and it even smelled like the authentic pizza I ate in my pre-celiac years.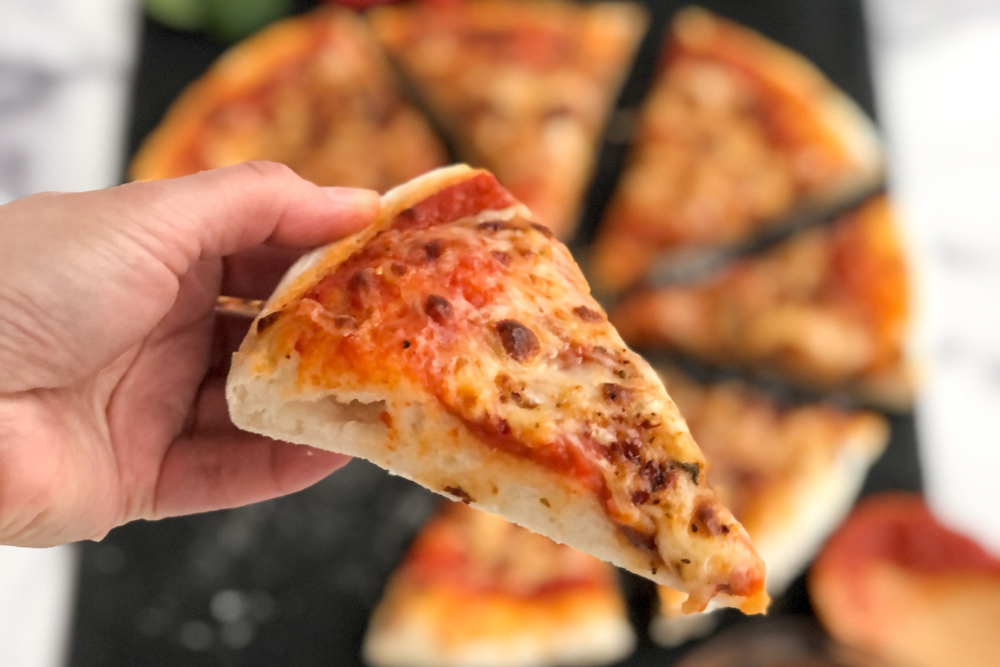 I also tested the flour with my Nima Sensor, and it tested a-okay (no gluten found).
Another product in the U.S. using gluten-free wheat starch is DiGiorno. Wheat starch is found as an ingredient inside it's frozen gluten-free pizzas.
I tested the DiGiorno pizza with my Nima Sensor and Nima didn't find any gluten. A smiley face means no gluten found. (Nima Sensor is a portable gluten detecting device. Learn more about it in this article.)
I didn't like the taste of the DiGiorno pizza. If you're in the market for a gluten-free frozen pizza, read my article, Best Gluten-Free Frozen Pizza: Ranked and Tested.
Bottom Line: Is Wheat Starch Safe?
The bottom line is yes, wheat starch is safe and acceptable for people to eat when following a gluten-free diet regardless if they have celiac disease or gluten sensitivity.
However, this is only true if the company has satisfactorily tested its final product to ensure it contains less than 20 ppm of gluten (per FDA's standards). Even better is if a product containing wheat starch is certified gluten free by a third-party organization, like the GFCO.
Ultimately, you, the consumer, will decide the fate of wheat starch.
I must admit, that wheat starch-infused croissant I had in Amsterdam was quite tasty, and I would definitely buy and eat them if I found them in the U.S. That said, it will take a lot of education and marketing to convince people with celiac disease and gluten sensitivity to feel comfortable and confident eating wheat starch.
Of course, if you have a wheat allergy, do not eat wheat starch. The product contains the wheat allergen, just not gluten protein.
Will You Eat It?
Please leave a comment to share if you've: (a) ever eaten a product containing wheat starch, and/or (b) would eat a product that contained wheat starch. I'd love to hear what you think of it all.
More Reading
Please take a moment to read these articles too: