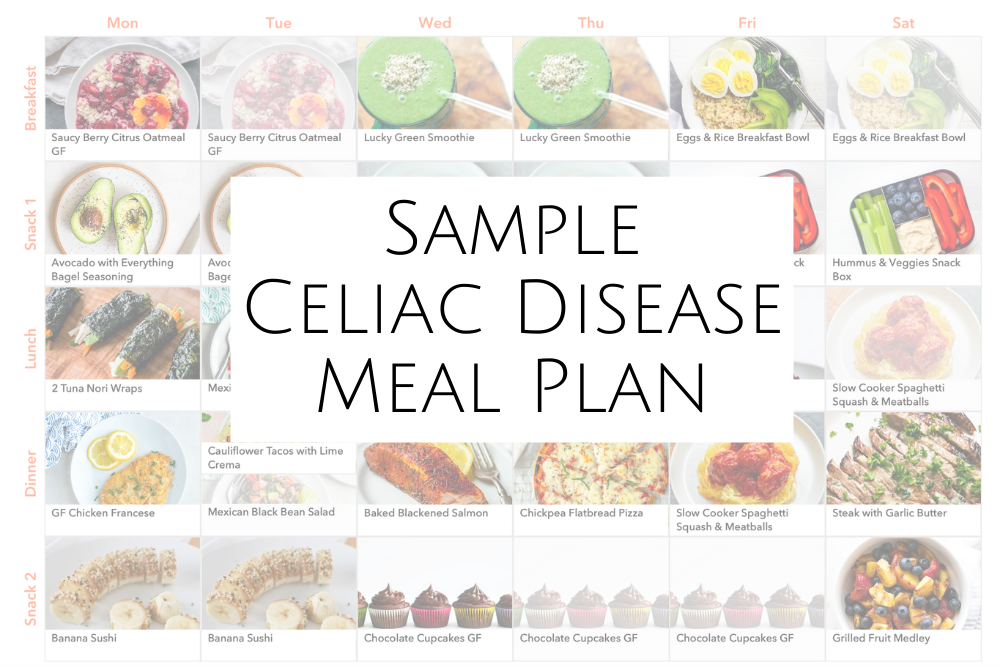 In this article, I discuss why meal planning is essential for someone with celiac disease. I'll also share a template you can use to create your own meal plans at home, as well as a week-long sample celiac disease meal plan complete with recipes for delicious gluten-free meals. You can also learn about how you can be a part of the Good For You Gluten Free Meal Planning community and have your meal planning done for you each week. Scroll to the bottom of this article for details.
---
Click here to download a sample meal plan to your device.
---
Celiac disease is a genetic autoimmune disease affecting 1 in 100 people worldwide.
When someone is diagnosed with celiac disease, they must follow a strict gluten-free diet. Gluten is a protein found in wheat, barley, rye and spelt, as well as sometimes in oats.
Researchers have pinpointed gluten as the exact trigger food that sets off an autoimmune attack inside the small intestine of someone with celiac disease.
The only way to fully manage the disorder – along with the symptoms and potential devastating outcomes associated with it – is to follow a strict gluten-free diet for life.
In this article, you'll learn:
Why the gluten-free diet is difficult for many people to follow
Why meal planning is important when you have celiac disease
How to create a gluten-free meal plan of your own
A free sample celiac disease meal plan (complete with recipes) for you to use
Why the Gluten-Free Diet is Hard
The gluten-free diet is difficult for people with celiac disease for many reasons.
(1) Even a Crumb Can Hurt You: Someone with celiac disease must not only avoid any and all foods that contain gluten, but also they must avoid any and all foods that come in cross contact with gluten at any point during the manufacturing, packaging, or processing of the food.
This means, when a chef prepares a meal for someone with celiac disease, the food must not come in contact with any foods, surfaces or cooking props that have also come in contact with gluten.
(2) Gluten Is Found in Many Foods: Gluten is found in many foods that comprise the Standard American Diet (SAD), making the stretchy protein hard to avoid.
Bread, pasta, pizza and other gluten-y foods are staples in most American diets. A sandwich isn't the same without bread, and mac 'n cheese isn't the same without the mac.
On top of that, gluten is hard to spot because it hides in foods that look innocent, such as gummy bears, licorice and soy sauce. I listed the top 10 surprise products that contain gluten in this article.
(3) It Turns Your Life Upside-Down: Finally, celiac disease drastically changes your life. There's rarely a time when you'll be able to grab a quick bite to eat on the road; rather, you'll need to prepare all your meals, carry plenty of food with you, and eat at home the majority of the time. The safest place to eat will always be in your own home.
Why Meal Planning is Important
Meal planning is essential to surviving the gluten-free diet. And while following a strict gluten-free diet is never easy, it does get easier with time.
Something that helped me transition to the gluten-free lifestyle was learning to cook easy, fast and delicious meals at home. I'm able to re-create some of my favorite restaurant dishes and rarely feel deprived of my favorite meals.
If you're on the fence about meal planning, please allow me to share four benefits that helped me:
(1) Eat Out Less
If you've become reliant on eating out, chances are you're eating trace amounts of gluten each day. In fact, 32 percent of dishes marked "gluten free" in restaurants contain gluten according to this study.
When you eat at home, you have much more control over the ingredients used in your food, as well as how your food is prepared so that it does not come in contact with foods containing gluten.
While I do enjoy eating out, I do so with caution. You can read more about eating out safely in this book, The Ultimate Guide to Eating Out.
(2) Eat Healthier
Saying "goodbye" to gluten is the first step to feeling better, but it's not the only step to reclaiming your health. Eating at home ensures:
You won't accidentally eat gluten. You'll have full control over how your food is prepared.
you eat less fried food, less sugar, and less processed foods; instead, you'll control how much sugar is used, and which oils are used to cook your meal.
(3) Save Time
Meal planning can save you a lot of time too. Once you lay out all your meals for the week, you'll only need to make one trip to the grocery store and you won't have to spend time each day wondering what to make for lunch or dinner.
You can also plan for leftovers to eat the next day, cooking once and eating two or three meals as a result.
(4) Spend Less Money
We can all use tips to help us save a little money here and there. When you plan your meals, you're naturally eating at home more (spending less on restaurants and take-out), you'll be sick less (saving on your healthcare bill each year), and you'll be able to plan your leftovers (buying in bulk), maximizing each meal so it lasts for two or three meals during the week.
What a Meal Plan Looks Like
A good meal plan will plan out all your meals and snacks for the day. Here is a template you can use. Click on the image to view the template in full screen mode.
When I create a meal plan for the week, I make Sunday as a flex day. It's the day I do my grocery shopping and planning for the next week. It's also the day I use as a flex eating day, where I'll eat leftovers or make something I skipped during the week because we decided to go out to eat.
Here is what one of my celiac disease meal plans looks like:
You can download this gluten-free meal plan, complete with all recipes and a grocery shopping list, when you complete the following form:
Click here to download this exact meal plan to your device.
For more meal planning tips, please read my article How to Never Run Out of Meal Ideas – Meal Planning 101.
It can definitely be a lot of work to plan your meals each week. The good news is that I'm here to help you.
I have about 2,000 gluten-free recipes in my database, and I use my huge recipe database to create wicked-good meal plans for you.
My recipes are simple to make (usually takes less than 30 minutes to prepare), use only simple ingredients (no weird stuff), and taste amazing. My meal plans also offer lots of room for you to make them your own and add/delete ingredients that you do/don't like.
You can purchase my beautifully-designed Meal Plans by Good For You Gluten Free HERE.
My hope is that my meal plans will inspire you to cook more at home, eat more veggie-forward meals, and feed yourself (and your family) well.
Feel Better Soon
I'm confident that if you stick to a meal plan and eat most of your meals at home, you'll be feeling better in no time.
Remember, celiac disease is a lifelong condition. While you will feel better over time, your symptoms may not go away overnight. And once you start eating gluten again, your symptoms will re-emerge, sometimes with a vengeance. Avoid gluten, eat right, and strive for good health at every bite.