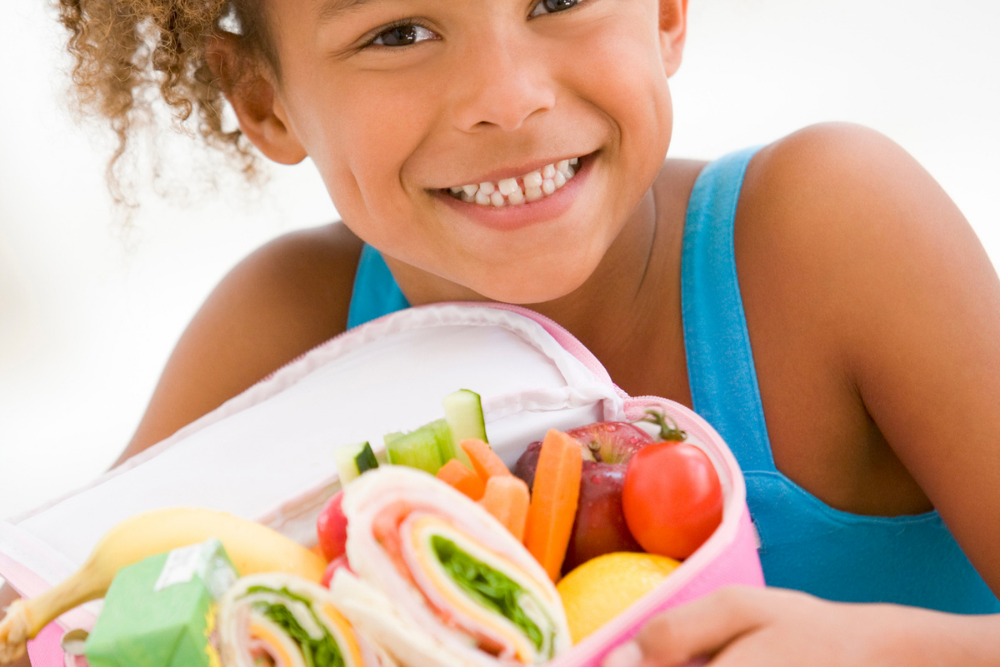 If you're looking for some tasty and easy-to-pack gluten-free lunch ideas for the kids and yourself, you've come to the right place. I've compiled some of my favorite portable lunch ideas in this article. I've been packing lunches for my kids every day for the past 10 years, so I've got a few tricks up my sleeve! This post contains affiliate links. Please see my disclosures.
Packing a gluten-free lunch can seem like such a chore, especially when you're rushed to get out the door in the morning.
You may be used to eating lunch out with your co-workers or having your child buy a hot lunch from the school cafeteria. That all changes once you learn you can no longer eat gluten.
Knowing that even a crumb of gluten can make you sick and coming to the keen understanding that you're not home and near your own bathroom in case you get accidentally glutened, you're probably thinking the safest thing to do is pack your own lunch. And you would be right!
I've been packing lunches for myself and my kids for nearly 10 years now, and over the years, I've amassed a few ideas that have worked well for me and my family. I focus on variety and keeping things extremely easy. I'm a busy mama, and ain't nobody got time for that!
Before you even think about packing a lunch, you'll need a few supplies in your lunch-making arsenal:
These supplies will serve you well as you enjoy a variety of tasty and filling hot and cold lunches each day.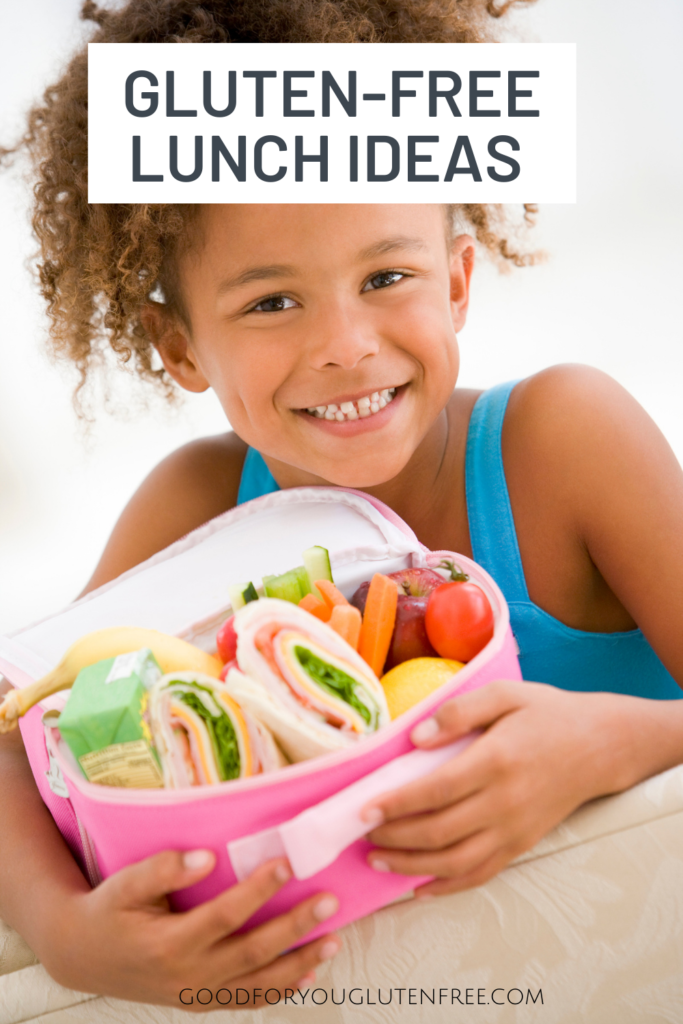 42 Easy Lunchbox Ideas and Recipes
Before I share a variety of gluten-free lunch ideas with you (KEEP SCROLLING), I first want to share my 42 Easy & Gluten-Free Lunchbox Recipes, a downloadable recipe book I created and is now available for purchase. This list includes recipes for a variety of sandwiches, wraps, bento boxes, salads, and more.
If you're feeling stumped about what to make, eat and bring for lunch every day, these 42 recipes will be game-changers for you.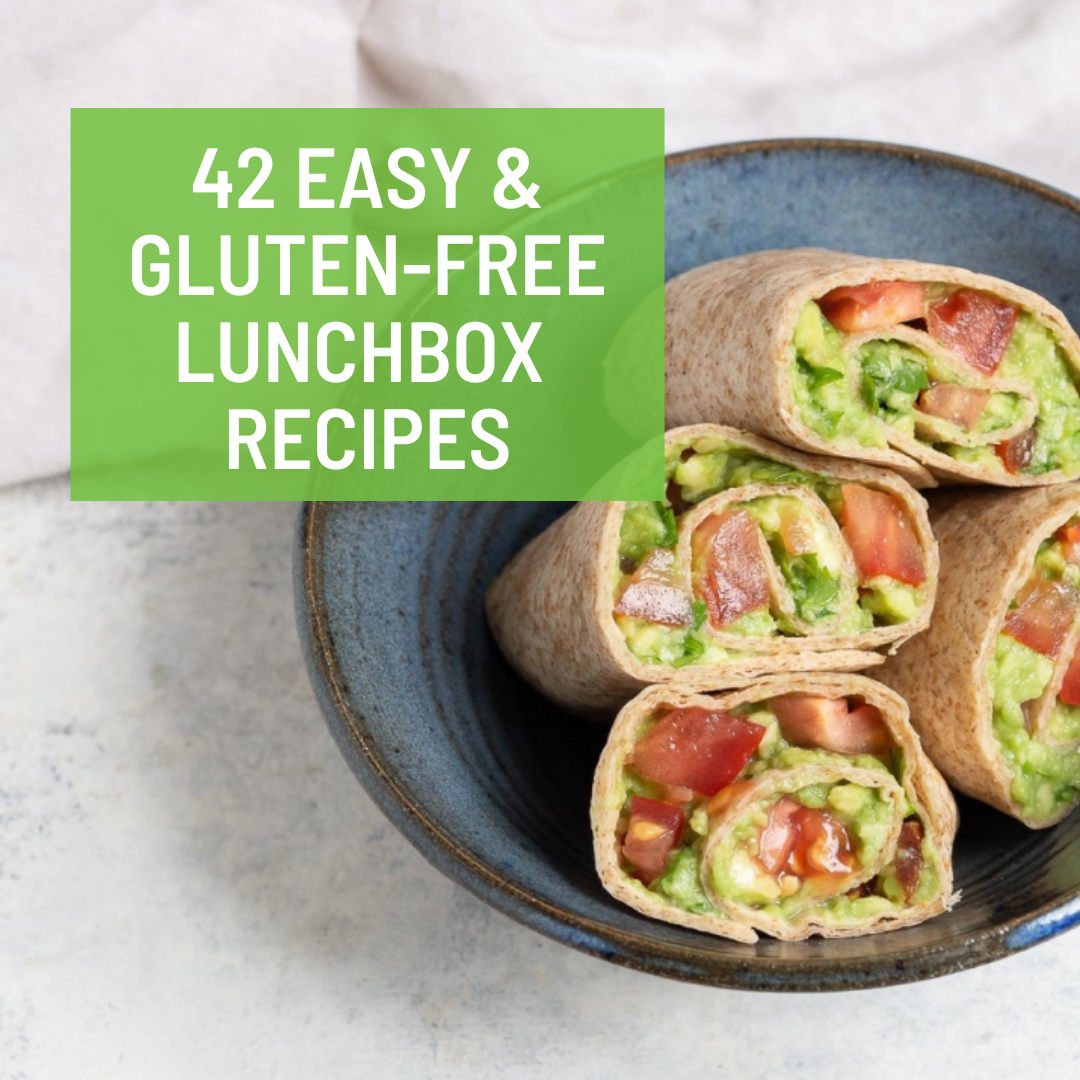 Here are some of the recipes you'll find in this downloadable recipe book:
Deconstructed Taco Bento Box
Lentil and Corn Chopped Salad
Guacamole Rollups
Green Goddess Salad
Tofu Veggie Summer Rolls
Smoked Salmon and Veggie Nori Rolls
Chicken Ranch Mason Jar Salad
And much more!
My 42 lunchbox recipes will show you what's possible when you can't eat gluten, and I hope it will inspire you to identify a variety of lunches that work for you. You can download my 42 recipes here.
Gluten-Free Lunch Ideas
Now I want to share some of the many gluten-free lunch ideas that I make for myself and for my kids. Many are portable and require only a lunchbox and ice pack, while others require storage in a fridge or freezer and/or the use of a microwave oven.
(1) Leftovers
My number one lunch choice is always leftovers. I always strive to make extra dinner the night before and reserve an extra portion just for me for the next day.
I often make a ton extra if I know my kids want to take leftovers for lunch too. Because I work from home, I take leftovers out of the fridge and heat them in the microwave when I'm ready to eat.
But if you work in an office and have a fridge and microwave available, I highly recommend making leftovers for lunch almost every day. It will make your life so much easier and lunch much more tasty.
If you don't have access to a microwave, you can easily warm the leftovers in the morning before you leave and stash them in a warm thermos. They will stay warm for 4-6 hours, depending on the quality thermos you have.
(2) Gluten-Free Sandwiches
I used to abhor gluten-free sandwiches because, as you know, gluten-free bread was so bad. You had to store gluten-free bread in the freezer, and then in order to choke it down, you'd need to toast or microwave it to make it soft and less grainy. For a long time, sandwiches were a non-starter for me.
My view on sandwiches made a 180-degree turn once companies like Canyon Bakehouse and Franz came out with their stay-fresh packaging.
I swear, the stay-fresh bread stays soft for days and does not require any heating. And the bread is soft and doughy. The stay-fresh bread means sandwiches are back, baby!
Look for the stay-fresh packaging at your local grocery stores, or better yet, save time and order them online.
Remember, they stay fresh in the packaging for several months, but once you open the loaf, you'll need to enjoy it within the week. (BTW, some Costco locations carry the Canyon Bakehouse Bread in the stay-fresh packaging – including my local Costco in Denver.)
What to put on your sandwich?
What you put on your sandwich is up to you. I personally despise mayonnaise, so I opt for mashed avocado, lime juice, and salt, then stuff my sandwiches with deli meats and spinach. The sandwich is perfection if you ask me. Oh, and I also add some red pepper flakes for spice.
Also, consider egg salad, tuna salad, peanut butter, and jelly, and truly any deli combo you like.
Most deli meats are gluten-free, including Applegate Farms, True Story, Boar's Head, and many pre-packaged store brands. Read labels carefully. Avoid deli meats sliced at the deli counter due to the potential for cross-contamination. (Read: 5 Hidden Sources of Gluten at the Grocery Store)
Don't like gluten-free bread?
I get it; gluten-free bread isn't for everyone. Here are a few bread alternatives:
Crackers: Enjoy deli meat, cheese slices and/or PB&J on gluten-free crackers. I recommend multi-grain Crunchmaster crackers for the best taste and texture.
Tortillas: You could also use tortillas and wrap your sandwich. I offer a guide to gluten-free tortillas in this article, but look for tortillas that are soft and shelf stable when bringing them in your lunchbox. Some of the frozen tortillas taste great, but they require heating to become soft and bendy.
Rice Cakes: Rice cakes can be a fun bread swap too. I slather rice cakes with smashed avocado or peanut butter, then top it with deli meats, cheeses, fruits, and whatever I can dream up. You could also top rice cakes with egg salad, tuna salad, or cream cheese and lox.
Lettuce: I love a lettuce-wrapped sandwich or burger. I recommend packing the lettuce in a separate container from meats and cheeses so everything stays fresh.
Wraps: One of my favorite soft wraps brand is BFree. These high-protein wraps, in particular, are the best!
(3) Sushi Rolls
I'm not kidding when I say I often make myself sushi for lunch. It packs well with an ice pack and stays cold all day.
I don't use raw fish to make my portable sushi. Instead, I make vegetable or California rolls using gluten-free imitation crab. I have a full list of gluten-free imitation crab brands in this article about gluten-free sushi.
I don't even cut the rolls into sushi bites; rather, I enjoy my sushi as a burrito with a little tamari sauce for dipping (you can buy single-serve tamari sauce packets on Amazon).
(4) Heat-and-Eat Foods
If you have access to a freezer and a microwave, consider bringing some frozen foods and meals that quickly reheat in the microwave.
I personally enjoy Mikey's Pizza Pockets, which heat in about 90 seconds in the microwave. Mikey's also recently came out with pockets made with Beyond Meat. They're filling and vegan too. Look for them in the grocery store.
Another great heat-and-eat option includes gluten-free entrees by Amy's Kitchen. Amy's Kitchen has amassed a large selection of gluten-free frozen meals, including Mac and 3 Cheese Cauliflower Bowls, Tortilla Casserole and Black Bean Bowls, Thai Vegetables and Rice Bowls, and India Vegetable Korma, to name a few options. I've seen Amy's Kitchen meals in most grocery stores nationwide.
(5) Cup of Noodle
If you have access to hot water come lunchtime, consider taking a cup of gluten-free ramen noodles for lunch.
There are several brands to choose from, including Lotus Foods Ramen Noodle Soup Cups, Pamela's Rice Noodle Soup, and Mr. Lee's Instant Ramen Cup Noodles.
Stock up on them on Amazon and have them ready to grab and go as you walk out the door in the morning.
If you don't have access to hot water, you could also bring hot water in a warm thermos. I have also stopped at a Starbucks and asked them to fill my cup with hot water. They are more than happy to oblige, and I usually order a beverage, too, so it's a win-win!
(6) Soup
One thing I can never get too much of in the cold winter months is soup. I often make a big batch of soup on Sunday to enjoy for lunch all week long.
Focus on making hearty soups like my chicken enchilada soup. A minestrone soup would work well too, but hold off on adding noodles until you're ready to eat it to prevent the pasta from getting mushy.
You could also buy pre-made soup at the grocery store.
Many Whole Foods 360 brand refrigerated soups are certified gluten-free by the GFCO, and Boulder Organic soups are also gluten-free (only available in Colorado).
You'll need a warm thermos to hold the soup.
And don't forget to bring gluten-free crackers, gluten-free noodles (pre-cooked), or even cooked rice to add to it to make it even more hearty (optional).
(7) Mac and Cheese Cups
If you have access to water and a microwave, you could also purchase Annie's Mac and Cheese Cups – look for the gluten-free label. See my tips for accessing hot water in the Ramen section.
Also, be sure to read my article, Gluten-Free Mac and Cheese Brands (Kraft, Annie's and More), to get the full scoop on gluten-free mac and cheese brands.)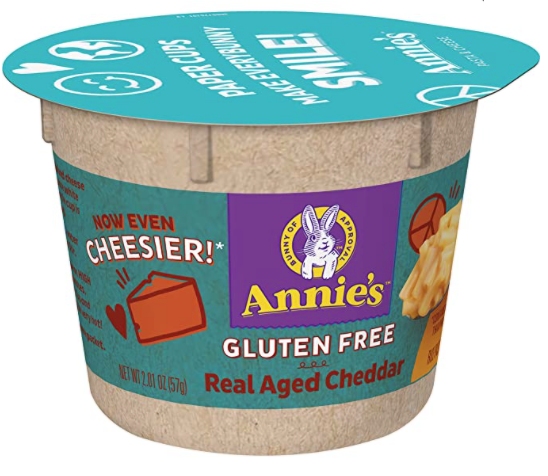 (8) Quinoa To-Go
These Quinoa Quick Meals are perfectly packaged to be enjoyed for lunch and require no heating or refrigeration. You'll get plenty of plant-based protein, tons of flavor, and an easy lunch to enjoy when on the go.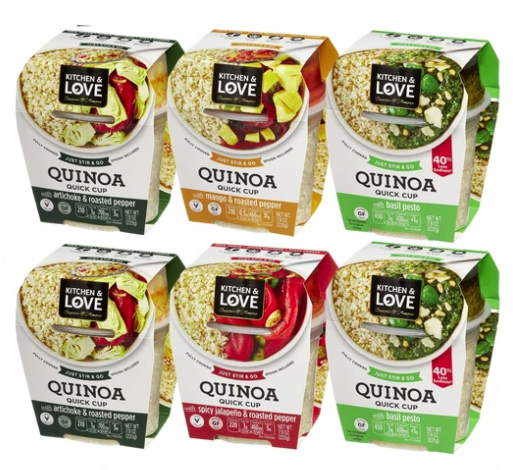 Another brand making quinoa cups to go is Keen One Quinoa. It's packaged similarly to a cup of noodles and requires hot water or heating in a microwave. It's also filled with plant-based protein and offers a hearty meal for on-the-go.
All Keen One products are made in a dedicated gluten-free facility, according to the company's website.
(9) Make Your Own Lunchables
Most of you probably grew up eating Lunchables. Lunchables are basically crackers, cheese, deli meat, and a sweet treat packaged inside a container with dividers.
Lunchables are full of gluten (and other questionable ingredients), so avoid buying them and instead make your own with better-for-you gluten-free ingredients.
To make your own gluten-free lunchables, invest in a bento box of choice (there are many to choose from on Amazon), and then fill it up with the deli meats, cheese, crackers, fruits, vegetables, nuts, and treats of choice.
There are several bento box-style suggestions in my 42 Easy & Gluten-Free Lunchbox Recipes booklet.
(10) Pasta Salad
You can make a big bowl of my gluten-free pasta salad on Sunday and send it for lunch with your kids several days the following week.
The salad keeps well, and you can add cheese, meats, chickpeas, and/or beans to make it extra filling.
Gluten-Free Snacks
While it's always best to pack fruits and vegetables with your lunch, as they are naturally gluten-free and good for you, you may be looking for some portable gluten-free snacks to bring along too.
Some of my favorite portable snacks include:
Squeeze applesauce
Squeeze peanut butter packets (for dipping apples and crackers)
Dried fruit
Trail mix
Nuts and seeds
Granola bars
Protein bars
Popcorn
Beef sticks
Turkey jerky
Cheese slices or string cheese
Avocado, lime, and salt
Single-serve hummus and/or guacamole packs
Rice cakes with peanut butter and banana slices
While I could list many items, the truth is most of the snacks you know and love can be found in a gluten-free version. You may have to do a little searching in the grocery store and/or online to find what you're looking for.
I share the 75 Best Gluten-Free Snacks – check it out!
What other suggestions do you have for easy, portable, and gluten-free lunch ideas (and snacks)? Please share in the comments to help others in our community figure this out.
And please enjoy my 42 Easy & Gluten-Free Lunchbox Recipes to help get you started and inspired come lunchtime. Don't overthink it, and remember… you got this!
Additional Articles
New to gluten-free? Enroll in my SIGNATURE Gluten-Free Course. I'll show you how to go gluten-free fast and fast-track healing.
You might enjoy these articles too: