Does a Crock-Pot or slow cooker absorb gluten and other food allergens? Do you need to replace your Crock-Pot when you go gluten-free? I address these topics and more in this article. This article contains affiliate links. Please see my disclosures.
A friend wanted to make me a meal, so she asked if she could use her Crock-Pot slow cooker.
She told me she uses her Crock-Pot to cook foods that contain gluten, a protein found in wheat, rye, and barley, so she wasn't sure if she could use the same slow cooker to make a meal for me since I was gluten-free.
I hadn't thought about this question before. I had enjoyed meals cooked in shared slow cookers at other houses. But her valid concern and question made me want to do more digging.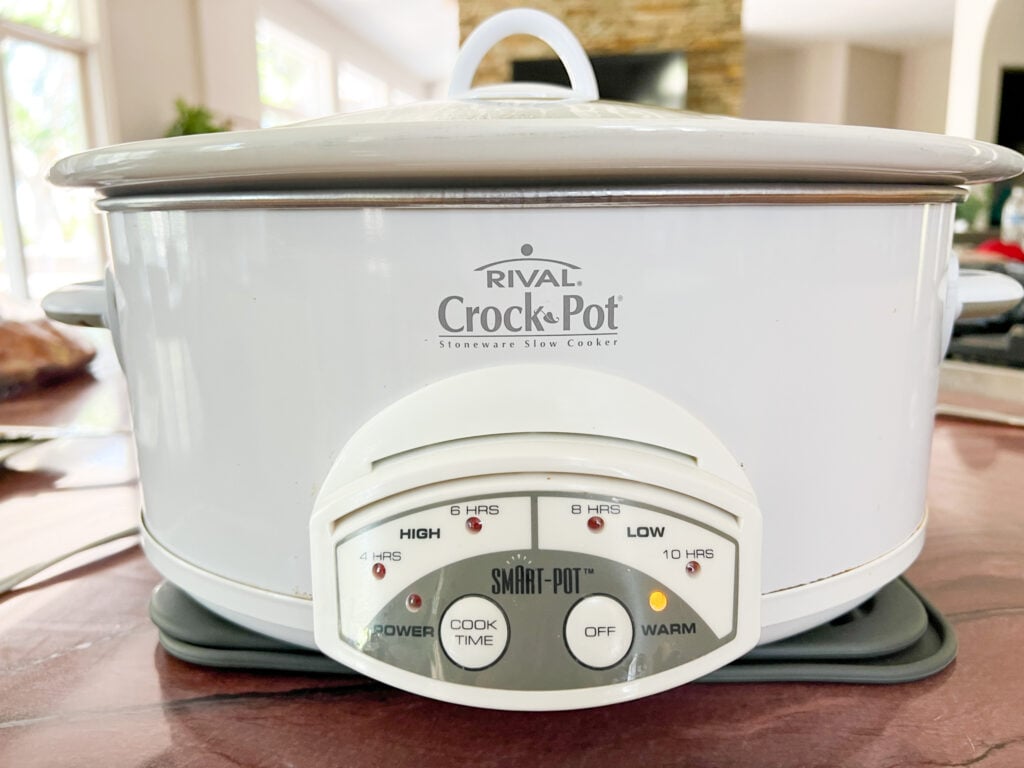 Here's what I learned:
Most slow cookers are made of glazed ceramic, a non-porous material. While a porous surface may absorb air, water, or other fluids, a non-porous surface is sealed and does not allow air, water, and other fluids to pass through it.
I messaged Crock-Pot, the number one maker of slow cookers, to make sure a shared Crock-Pot would not put someone gluten-free at risk of getting glutened via cross-contamination.
I first asked Crock-Pot what its pots are made of. A company spokesperson said all its pots are made of silica flour, clay, feldspar, something called "frit," and a few minerals. These materials are ground up and mixed with water to create a slurry.
The spokesperson said the slurry is sprayed onto the pot (or the pot is dipped in it), and then the pot is fired in the kiln at or around 1200-1600º F. The fire melts the slurry, and the pot turns into a type of glass, which is a non-porous surface.
I then asked if the pot's materials could absorb food, citing the example of someone who wanted to use a shared Crock-Pot to cook foods with and without gluten.
The spokesperson said its pots do not absorb food and, therefore, would not be a source of cross-contamination for food allergens when properly cared for between uses.
The Bottom Line
A slow cooker does not absorb foods and allergens and can be shared for making gluten and gluten-free meals.
However, when using a shared slow cooker, please keep in mind the following best practices:
Wash the Crock-Pot Well Between Uses: Crock-Pot says glass lids and removable stoneware can be cleaned with hot, soapy water or in the dishwasher. The company advises against abrasive scouring pads and cleaners. Some recommend washing the pot with a baking soda paste to remove tough stains.
Kitchenaid says that stains on its slow cookers are generally due to calcium in the water, not leftover food contamination, and the calcium sometimes leaves a residue even if the pot has been washed.
Dispose of Cracked Pots: If a slow cooker shows signs of aging (i.e., cracked pot, warped lid), replace it immediately.
Maintain a Dedicated Slow Cooker: For extra caution, consider purchasing and maintaining a dedicated gluten-free Crock-Pot when at home. Alternatively, if you plan to maintain a dedicated gluten-free kitchen from here on out, I recommend deep cleaning your current slow cooker, then using it solely for gluten-free cooking in the future.
Use a Plastic Liner: If a friend is preparing a meal for you in their slow cooker, ask them to use a slow cooker liner as an added precaution. Again, it's likelyunnecessary, but it will give both parties peace of mind.
Additional Reading
You might enjoy these related articles:
Were you diagnosed with celiac disease or gluten intolerance in the last six months? Enroll in my Gluten-Free SIGNATURE Course to learn how to eat safely and heal your body.