Many people wonder if the Nima Sensor, a popular gluten-detecting device, is accurate. This article will get to the bottom of this controversy. If you're considering getting a Nima Sensor, read this article to understand the pros, cons and limitations. This post contains affiliate links. Please see my disclosures.
As a proponent and personal user of the Nima Sensor, I'm asked, all the time, "Is the Nima Sensor accurate?"
This question has popped up more often of late due to some misleading information published on the Internet questioning the device's accuracy.
In this article, I will show you how accurate the Nima Sensor really is, when used properly, and just how important it is in helping keep you safe at mealtime.
I've been using the Nima Sensor for a long time and feel like the Nima has never lead me astray. In fact, I always feel like Nima is on my side.
I've never understood why some people in our community have chosen to disrespectfully talk about the Nima Sensor. This product is here to help our community eat safe and be healthy.
While the product is not perfect, it's the best (and only) watchdog we have to provide transparent insights into the actual food we're eating.
Today I want to get to the bottom of the, Is the Nima Sensor accurate?" question so you can put your mind at ease and feel good about using this nifty device built with the gluten-free community's best interests at heart.
What Is a Nima Sensor?
A Nima Sensor is a small, triangle-shaped portable gluten detecting device. You add a pea-sized amount of your food to a separate, single-use test capsule and then insert the test capsule inside your Nima Sensor.
In order to get a good sample of your food, you can rub the pea-sized amount of food over your dish to pick up any potential hot spots.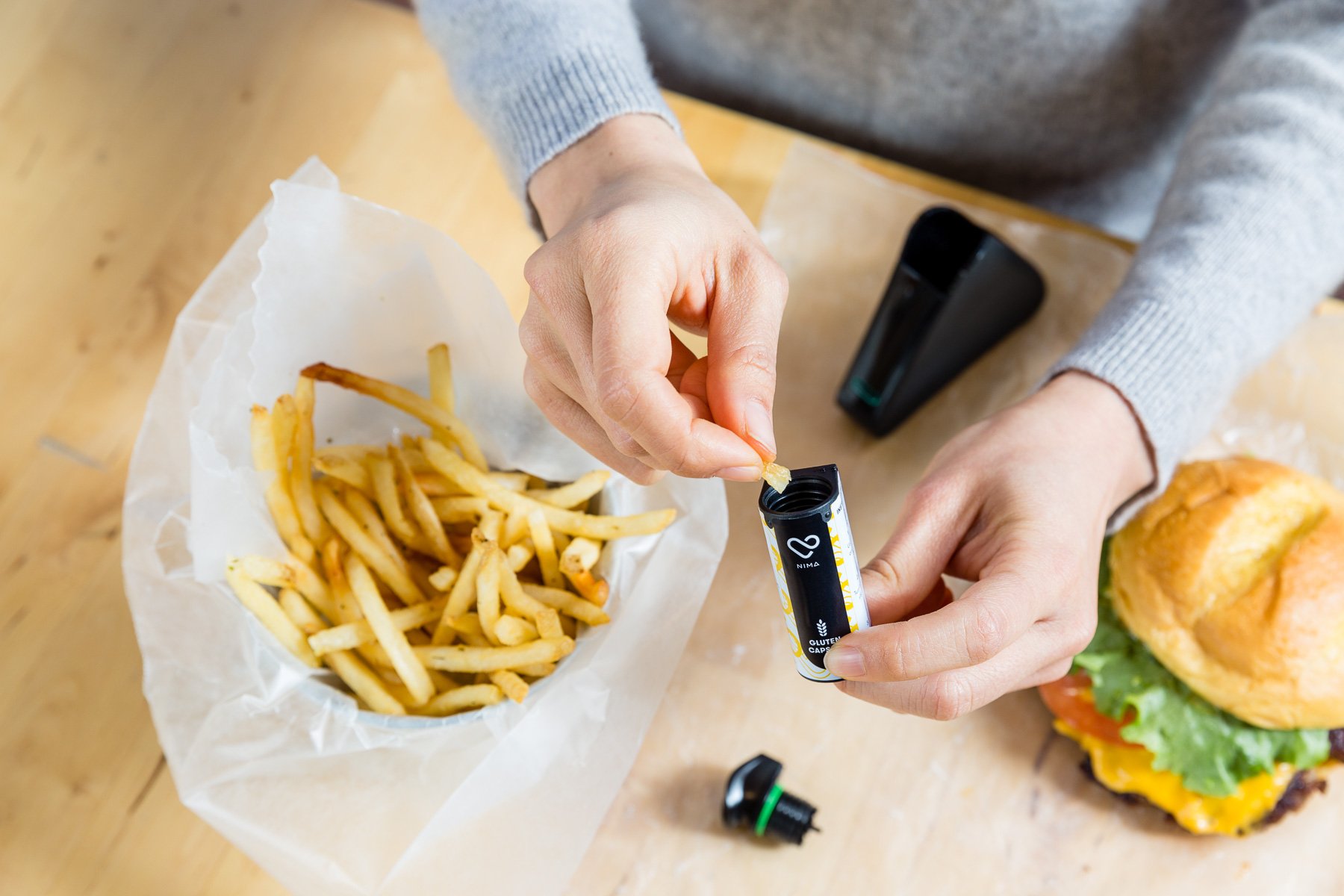 In about two minutes, your Nima Sensor will tell you if it found gluten or if it didn't find gluten it will display a smiley face.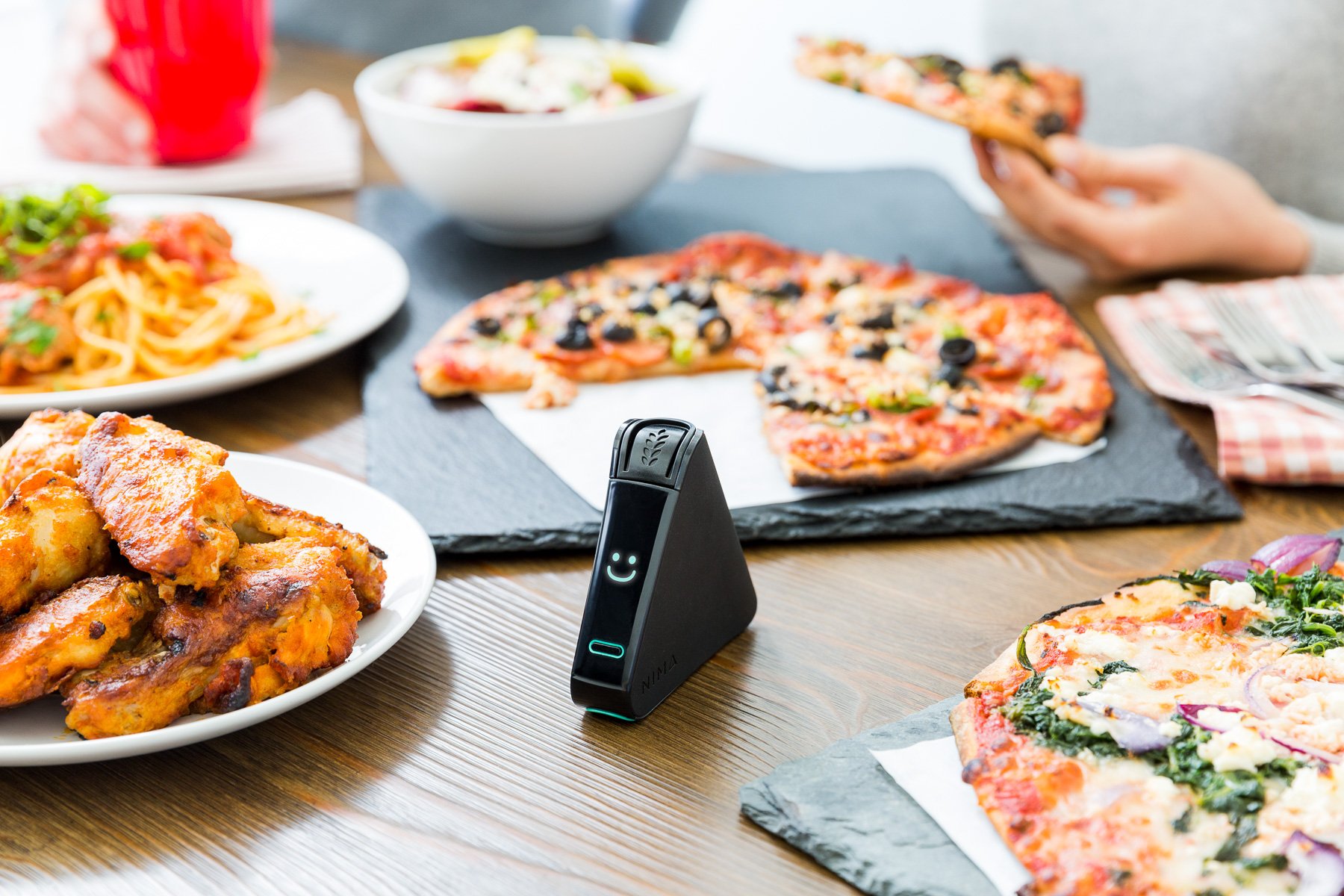 The Benefits of the Nima Sensor
As I see it, the major benefit of having a Nima Sensor is that it help someone determine if the food placed before them is actually gluten free. When they know, with greater certainly, that the food is free from gluten, a protein found in wheat, barley, rye and sometimes oats, they can better adhere to the gluten-free diet.
Adherence to the gluten-free diet is major challenge for the gluten-free community, yet medically necessary for those with celiac disease and gluten sensitivities.
One study indicated that "many individuals following a gluten-free diet regularly consume sufficient gluten to trigger symptoms and perpetuate intestinal histologic damage."
Another study, known as the "Doggie Bag Study" because participants provided researchers with leftovers from restaurants to test, found nearly half of the leftover food samples had more than 20 parts per million (ppm) of gluten in them.
Note: 20 ppm is the FDA legal limit for gluten-free labeling – more on this in a bit. On top of that, five samples had more than 100 ppm of gluten it in – gulp!
It's impossible to know what's in our food solely by visual cues and by trusting those preparing our food to do it right.
This is why the Nima Sensor is such a game-changer for our community. We get a new level of transparency and insight into our food never before seen or heard of.
But Is It Accurate?
Let's dig into some of the data available to understand if the Nima Sensor is accurate, and if and where it might fall short.
A Nima Sensor peer-reviewed study published in Food Chemistry Journal found that the Nima Sensor found gluten at or above 20 ppm at a 96.9 percent accuracy.
Let that sink in for a moment. The Nima Sensor is 96.9 percent accurate at detecting gluten at a 20 ppm level or higher.
However, one critic is misleading our community into thinking that the Nima Sensor will fail to detect gluten at 20 ppm 20 percent of the time. This is a highly misleading interpretation of the data. Nima even says on its website that this data point is "almost entirely driven by one specific food out of 13 tested. That sample, when quantified, was actually below 20 ppm."
The 20 ppm debate is a hot one in the gluten-free community. As mentioned, the FDA says a product can be labeled "gluten free" as long as it contains no more than 20 ppm of gluten (and as long as it does not contain any gluten-containing grain such as wheat, barley and rye).
One of the key reasons the FDA established the 20 ppm level is because it was the total amount of gluten that could be accurately and precisely measured by validated testing methods available at the time the FDA set the ruling.
Manufacturers found this ruling satisfactory because they needed a reliable testing method in order to comply with the ruling; however, from a consumer's perspective, levels closer to 0 ppm of gluten would be much more ideal.
The truth is, the Nima Sensor is not only highly accurate at detecting gluten at 20 ppm and above, but also it can detect gluten at levels below 20 ppm across a variety of foods.
Given this information, some critics of the Nima Sensor are now saying the device isn't reliable and can't be trusted because it's too accurate. I've never heard of someone dissing a device for being too accurate, but leave it to someone in this would to find a way to do so!
Is Nima Too Accurate?
As I've mentioned prior, critics of Nima say the device is too accurate and therefore cannot be trusted. They say the Nima Sensor sometimes detects (and reports) gluten found at less than 20 ppm, so this must mean it's not a reliable device.
Let's break things down, shall we?
The Nima Sensor folks admit that Nima sometimes detects gluten at lower levels than 20 ppm. In fact, if a product contains 5 ppm of gluten, Nima will report "gluten found" 35 percent of the time, and when the level of gluten is 10 ppm, Nima reports "gluten found" 56 percent of the time. (Remember, Nima is 96.9 percent accurate at levels of 20 ppm and above.)
Isn't this a good thing? YES! Shouldn't zero gluten be the gold standard, especially for extra cautious people with celiac?
This whole idea of people discarding the Nima Sensor based on it being too accurate made me wonder why Nima decided to make its gluten sensor so accurate in the first place. Couldn't it just say a product was "gluten free" even if it found 19 ppm of gluten. Would that quiet those critics, or would those critics find something else to be upset about? Good question, right?
Here's what I found when I dug into the topic a bit more. It turns out Nima Sensor purposely tries to be as accurate and transparent as possible. Here's why:
(1) Technology Gadgets Require a Margin of Error
Nima Sensor says on its website that, from a scientific perspective, in order to design the Nima Sensor with a margin of safety, it had to develop a test that could detect well below 20 ppm, not just at 20 ppm and up as specified by the FDA.
(2) Nima Developers Faced an Ethical Dilemma
The Nima Sensor team was faced an ethical dilemma during the development process. The developers asked themselves, "If we detect gluten below 20 ppm, could we ethically report it as being gluten free?"
While Nima says it it didn't have a legal obligation to report any gluten found below the 20 ppm FDA set limit, the company questioned whether it still had an ethical obligation to report such information.
Let's say Nima Sensor only reported "gluten found" when the food item contained 21 ppm, but reported a food item as "gluten free" when it contained 19 ppm. Is there a significant difference between 21 ppm and 19 ppm? And do people using the Nima Sensor want to know when 19 ppm gluten is found in their food?
While the FDA set the safe threshold of gluten intake at 20 ppm, the truth is 19 ppm is pretty darn close to the legal limit and just might make someone sick.
Remember, just because the FDA says something is fact doesn't mean it is (the FDA has been known to be wrong before). It also doesn't mean that the science hasn't changed based on new data, testing methods, etc. And it certainly doesn't mean one fact is true for all individuals.
Australian researchers set out to determine what threshold of gluten intake is reasonably safe for people with celiac disease to consume. They concluded there is "individual variability" in tolerance to gluten, making it difficult to set a "safe" threshold. In fact, they said, there is no definitive threshold level of gluten safe for all people. This study demonstrates how the 20 ppm threshold doesn't work for everyone.
Note: The ALLIS Sensor says it will tell you how many parts per million of gluten an item contains. This will be another game-changer in the portable gluten-detecting devices.
(3) More Accurate Testing Methods Already Being Used
The threshold set by the FDA was based on testing limitations (technology available) at the time, however, third party certifying agencies, such as the Gluten Intolerance Group (GIG), are using more accurate testing methods today.
In fact, in order for a product to be "certified gluten free" by the GFCO, it must contain 10 ppm of gluten or less (not 20 ppm set by the FDA). It means the GFCO already has technology to reliably detect gluten at 10 ppm.
Given this information, let me ask you… do you think this makes the Nima Sensor too accurate?
I guess if you ask the FDA, they might say Nima is too accurate; but if you ask individual consumers, they might say they prefer a more accurate test.
When critics say the Nima Sensor isn't reliable because it's too accurate, you can simply chuckle knowing how ridiculous they sound. In fact, when people assess Nima based on whether it detects gluten at levels lower than 20 ppm, they are missing the point. Worse, they are misleading people to think the Nima Sensor is not reliable and this just isn't the case.
Bottom Line: Nima Sensor is Accurate
When eating anything, it's important to gather as much information as possible about the food before you eat it.
When eating packaged foods, you must analyze the ingredient list, allergy claims and disclosures, and research the product with the manufacturer as neccesary.
When eating out, you must ask a lot of questions, order responsibility (avoiding foods like pizza and pasta that are notorious for cross contamination), convey the seriousness of your "allergy" to servers, and, in the end, test your food for hidden gluten with your Nima Sensor. All of these factors should be part of your decision-making process.
You should not make a decision to eat something based on the Nima Sensor alone. That would be foolish and an incorrect use of the device; rather, the Nima Sensor should simply serve as a checkpoint in the process and not a guarantee. It is up to you to make the final decision on whether or not you will eat something.
Ultimately, no food is 100 percent guaranteed safe. Even two ELISA-certified labs provided widely different results when testing the same exact products for gluten.
Even the Gluten Free Watchdog, who charges a monthly subscription fee to share the results of products it tests for hidden gluten, does not offer perfect test results. In fact, looking at the Watchdog's test for Zyrtec, the Watchdog offers this disclaimer, "Test results provide a snapshot picture of the gluten content of this product at one point in time. There is no way of knowing without testing many more samples whether the results of the one sample tested are representative of the gluten content of this product as a whole."
No testing method is perfect.
My response to this is, "Wouldn't it be better if I tested the actual product or dish I'm about to eat?" And I did just that when I tested my bottle of Zyrtec for gluten with my Nima Sensor. (BTW, neither the Watchdog's ELISA test, nor my own personal Nima test, found gluten.)
Nima Sensor Limitations
Remember, when the Nima Sensor is used properly, it offers 96.9 percent accuracy.
However, it's important to note that there are a few limitations to the Nima Sensor that can render your test(s) inaccurate. This is why you must be an educated and truthful user of this tool. You must not use the Nima Sensor as a substitute for lazy ordering or to test foods in which you haven't first read ingredients lists and properly vetted.
Let's discuss some of the limitation so you can be a smart user of the Nima Sensor.
Limitation #1: Nima cannot detect fermented foods, such as beer and alcohol, nor hydrolyzed foods such as soy sauce and malt extract/flavoring. The gluten protein is broken down into undetectable bits; albeit still present in your food. This is why label reading and asking questions is still an essential part of the gluten-free discovery process.
Limitation #2: Nima has not been validated on medication, cosmetics or non food items.
Limitation #3: Nima cannot detect gluten in PURE xanthan or guar gum.
Limitation #4: Nima tests a small portion of your food, not your entire dish, so you cannot be 100 percent certain the entire dish is free from gluten.
Limitation #5: If you overfill the test capsule, the Nima test can malfunction and result in an error message. Only a pea-sized amount of food can be tested at one time. Be careful not to overfill the capsule, especially when testing liquids.
Some foods require a little extra doctoring to produce an accurate test. Foods that are hard, dense/thick, sticky, powdery, high in fat, brightly colored, or acidic require some water added to the test capsule before testing. Puffed foods may require a larger amount of food added to the test capsule as well.
Limitation #6: Nima does not display the precise amount of parts per million (ppm) of gluten in the sample of food you are testing. You don't know if it's 10,000 ppm or 19 ppm. Nima only displays a "gluten found" message when it detects any gluten, and a smiley face when it finds no gluten. The ALLIS Sensor promises to share the exact ppm of gluten detected, which will be a game-changer for many of us.
Limitation #7: Another limitation is that bright-colored foods, and some spices like turmeric and cumin, when tested in their pure form, can sometimes result in a false positive.
The Nima Sensor is not perfect, but it's truly the best thing we got when it comes to testing our food. It's unrealistic to send our food to a lab before eating it. Nima offers a quick snapshot into the actual food you're about to eat. Is it perfect. No. Is it a great tool to have in your toolkit, absolutely!
When to Use the Nima Sensor
The Nima Sensor can be used in many situations to help keep the gluten-free community safe. Here are a few scenarios when I have found the Nima Sensor to come in handy:
When that gluten-free hamburger bun looks too good to be true (like at Bryon Burgers in London) – test it!
When my restaurant server tells me they have a dedicated fryer, but I notice chicken nuggets on the menu – test it!
When the labeling of a product, like Doritos, isn't clear – test it!
When I eat out and don't feel like my waiter is taking my request seriously (nor did he write down my order – gasp!) – test it!
When I'm traveling and want to make sure the language barrier didn't get in the way of me communicating my needs – test it!
Restaurants can (and should) use the Nima Sensor too to provide their gluten-free patrons with an added level of security.
The Blu Star Grill in Mooresville, North Carolina tests its raw ingredients and gluten-free dishes for gluten regularly. This restaurant is showing other restaurants just how easy it can be to get gluten free right! (If you live in or near Mooresville, NC, please eat at the Blu Star Grill!)
Additional Reading
What You Need to Know About Nima Sensor Before You Buy
Did Nima Sensor Go Out of Business?
Canadian Celiac Association vs. Nima Sensor: Why I Stand With Nima (IMPORTANT READ!)
Two Restaurants Make Things Right After a Nima Sensor Test Goes Awry