In this post, I'll share which brands of marshmallows are gluten free, as well as reveal how some of the brands fared when tested for hidden gluten with my portable gluten-detecting device. This post contains affiliate links. Please see my disclosures.
Marshmallows are the perfect topping for hot chocolate and for making s'mores. They also are used in a plethora of sweet desserts.
I personally use marshmallows to make gluten-free s'mores cookies, s'mores chocolate bark, and when I make my gluten-free version of the popular rice crispy treats.
Thank goodness that, yes, most marshmallows are gluten free and safe to consume if you have celiac disease or gluten sensitivity.
But with anything, there are some exceptions – and caveats – you must be aware of, particularly when it comes to the most popular brand of marshmallows, Kraft Jet-Puffed marshmallows.
Before you get too excited about sinking your teeth into one of those sweet and pillowy treats, read this article. I share what each of the leading marshmallow brands says about gluten, and I also independently tested some of the brands for hidden gluten using my Nima Sensor. (Please note the Nima Sensor may be out of business.) On top of that, one brand of marshmallows contains wheat – buyer beware!
Are Kraft Jet-Puffed Marshmallows Gluten Free?
Kraft Jet-Puffed marshmallows are by far the most popular brand of marshmallows. You can find mini, large and jumbo-sized marshmallows almost anywhere Kraft Food items are sold, which is just about in every grocery store in America.
Jet-Puffed marshmallows do not contain a "gluten free" label, although, if you read the ingredient list carefully, you won't find any clear-cut references to gluten. Jet-Puffed marshmallows contain the following ingredients:
Corn Syrup
Sugar
Dextrose
Modified Cornstarch
Water
Gelatin (pork)
Tetrasodium Pyrophosphate
Natural and artificial flavor
Blue 1
While there isn't gluten overtly present, meaning in the form of wheat, barley, or rye, it doesn't mean the product is gluten free as it may have come in contact with gluten, known as gluten cross contamination, during manufacturing.
To clear up any confusion, I emailed Kraft directly. I received the following response from Customer Relations:
"Gluten content can almost always be determined from the label, and the most accurate information can be found by checking the ingredient list on our packages. Kraft Heinz products list all sources of gluten, including gluten-containing grains (wheat, wheat berries, durum, barley, rye, graham, oats, triticale, spelt, kamut, emmer, farro) and other ingredients (e.g. "natural flavor (contains rye)", malt, brewer's yeast, and wheat starch). Kraft Heinz makes every effort to disclose all sources of gluten, but unless specifically labeled as such, does not guarantee that its products are gluten free. If you have a concern about possible trace amounts of gluten from sources other than wheat, which may be contained in flavoring, color or spice, you should avoid purchasing the product."

In other words, Kraft is saying that "if" a product contains gluten, it would be noted on the ingredients label, but "if" the product is not labeled "gluten free", the company does not guarantee the product is free from gluten. Confusing, right?
I decided to test Jet-Puffed marshmallows with my Nima Sensor, a portable gluten-detecting device. I have loved my Nima Sensor for many years, but in 2020, Medline bought the company and Nima has been defunct ever since. I'm hopeful Nima will come back one day, and until then, you can order an ALLIS Sensor gluten-testing device starting in November 2021.
As you can see from the smiley face on the device, Nima Sensor did not find any hidden gluten. For all intents and purposes, Jet-Puffed Marshmallows are safe to eat on the gluten-free diet as long as you understand that it is not labeled, nor guaranteed, to be gluten free by the manufacturer (Kraft).
If you're looking for marshmallow brands that are clearly labeled gluten free, continue to scroll down. There are some gluten free and certified gluten free options available that might feel more comforting to you.
Are Campfire Marshmallows Gluten Free?
If you're unsure about Jet-Puffed Marshmallows due to the lack of gluten-free labeling, then you might want to turn to Campfire marshmallows.
Campfire brand marshmallows are clearly labeled gluten free as detailed on the front of the packaging.
On top of being labeled "gluten free," Campfire says its marshmallows are free from milk, eggs, peanuts, tree nuts, fish, shellfish, wheat, soybeans and sesame. They're also made in an allergy-friendly, peanut-and tree nut-free facility.
Please note that Campfire Marshmallows are not vegan as they contain gelatin (pork). You can find Campfire brand marshmallows at Walmart or on Amazon.
Are Dandies Marshmallows Gluten Free?
Dandies are a speciality brand of marshmallows and a vegan alternative to most brands of marshmallows you'd find at grocery stores. They are labeled gluten free.
They're vegan because they're made without gelatin. Gelatin is an animal product typically derived from pork (porcine), beef (bovine), or fish.
I find vegan marshmallows taste nearly identical to the ones that contain gelatin, but they don't melt the same way. You may find your rice crispy treats don't stick together as well or are harder to work with.
Dandies can be found in natural grocery stores and some mainstream grocery stores. They're free from artificial flavors or colors, corn syrup, gelatin, and gluten, and they're kosher too.
Are Trader Joe's Marshmallows Gluten Free?
Like Dandies, Trader Joe's marshmallows are a wonderful vegan and kosher marshmallow alternative. I buy them all the time to enjoy with my hot cocoa and they taste great.
I also tested Trader Joe's hot cocoa mix for hidden gluten. You can see how it fared, along with 20+ other products in my article, Testing Trader Joe's Gluten-Free Products for Hidden Gluten.
Are Kroger Marshmallows Gluten Free?
If you shop at Kroger grocery stores (King Soopers, Fred Meyer, Ralph's and Smith's, etc.), you may be wondering if the Kroger store-brand marshmallows are gluten free.
The packaging does not include a "gluten-free" label, however, the ingredient list (corn syrup, sugar, water, modified corn starch, gelatin, natural and artificial flavor, tetrasodium pyrophosphate, blue 1) does not appear to contain gluten.
I live chatted with a Kroger representative online to inquire more about whether the Kroger marshmallows were gluten free. The representative told me that yes, Kroger brand marshmallows are gluten free despite not being labeled gluten free.
Are Paskesz Marshmallows Gluten Free?
Paskesz is a popular brand of kosher marshmallows that are made with gelatin derived from fish vs. pork or beef. The product is clearly labeled gluten free and is safe for someone on a gluten-free diet to consume.
Are De la Rosa Marshmallows Gluten Free?
De la Rosa is a popular Mexican brand that exports treats and candies to America. I found de la Rosa marshmallows at the King Soopers (Kroger) grocery store near me.
This is the only brand of marshmallows that I found which contained a questionable ingredient, wheat starch. While wheat starch comes from the starchy part of the wheat plant, not the seed where the protein, gluten, resides, it's questionable whether you can enjoy wheat starch safely on a gluten-free diet.
Unless a product that contains wheat starch is clearly labeled gluten free, do not eat it. And of course, if you're following a wheat-free diet, avoid de la Rosa marshmallows altogether.
Bottom line: De la Rosa marshmallows are NOT gluten free.
Other Products Made with Marshmallows
I also want to take a moment to address whether or not some of the most common products made with marshmallows are gluten free or full of gluten.
Rice Krispie Treats: Kellogg's Rice Krispies are NOT gluten free as the popular cereal contains malt derived from barley. Pre-packaged Rice Krispie Treats are not gluten free either and therefore not safe to eat on a gluten-free diet. If you want to make your own rice crispy treats, you'll do so with a crispy rice cereal alternative. I list some of those alternatives in my article, Are Rice Krispies Gluten Free?
Starbucks Marshmallow Dream Bar: While packaged Rice Krispie Treats are not gluten free, the Starbucks Marshmallow Dream Bar is labeled gluten free. I also tested the Marshmallow Dream Bar with my Nima Sensor, and Nima was all smiles. This means the device didn't find any hidden gluten. You can see other products I tested for hidden gluten at Starbucks in this article, What's Gluten-Free at Starbucks?
Peeps: All you Peeps lovers can rejoice because, yes, Peeps are gluten free and safe to consume on a gluten-free diet. I even tested these cute little marshmallow chicks for hidden gluten and Nima was all smiles.
Just Born (Peeps parent company) says on its website that the most up-to-date information on a specific product will be on the candy's label, so be sure to read labels carefully. You should see a "gluten free" label on the back of Peeps, if not, take pause as ingredients may have changed. Keep in mind that Peeps are not kosher as they contain gelatin (porcine/pork).
Lucky Charms: Have you ever wondered if Lucky Charms cereal is gluten free? You may be happy to know that the Original Lucky Charms cereal is indeed gluten free. You can enjoy this sugary, marshmallow-filled cereal once again and bring out the seven-year-old stuck inside of you.
Please note Lucky Charms contains commodity oats that are sorted and tested to contain less than 20 ppm of gluten. Please read this article, Are Oats Gluten Free?, and this article, What Gluten-Free Labeling Laws and Certifications Really Mean, to determine if Lucky Charms is still right for you.
Smashmallows: Smashmallows are snacking marshmallows that come in a variety of fun flavors. All Smashmallow products are labeled "certified gluten free" and according to the company, all products are made on a certified gluten-free line too.
While Smashmallows are not vegan, they are made with certified Kosher non-GMO bovine (beef) gelatin vs. porcine (pork) gelatin like the leading brands. Smashmallow products, however, are not certified kosher at this time.
Want S'More?
Now that you're an expert at detecting which marshmallow brands are gluten free, you're ready to make some marshmallow-filled treats. Here are some recipes to try:
My gluten-free s'mores cookies are a kid-pleasing dessert that brings the flavors of s'mores directly to your kitchen, no campfire needed.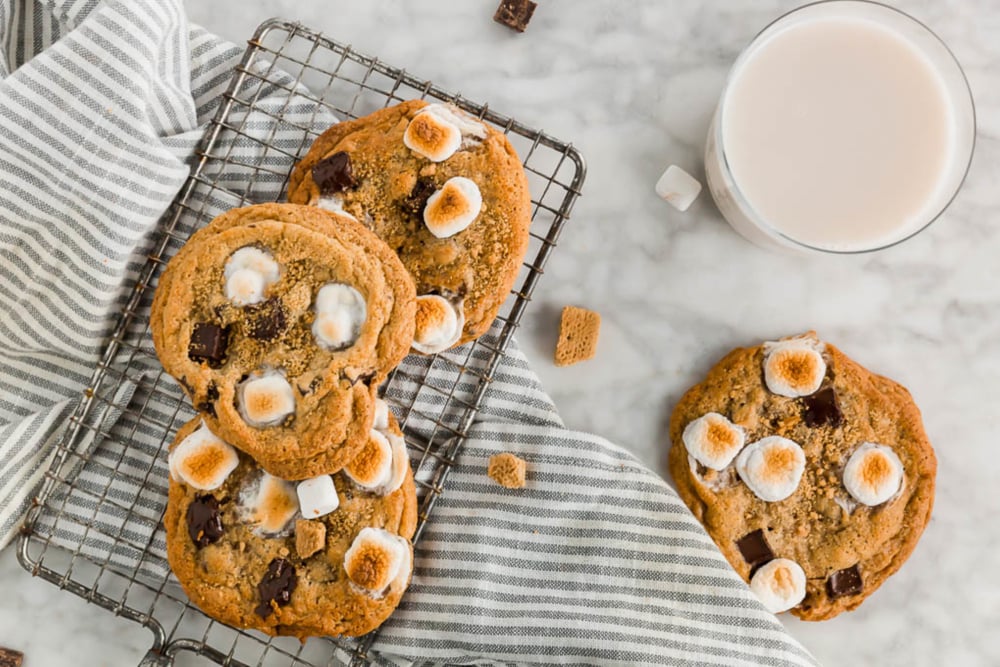 My gluten-free chocolate s'mores bark is a huge hit, and best of all, no baking required.
You can enjoy rice crispy treats (without Kellogg's Rice Krispies) using gluten-free crispy rice cereal and your favorite marshmallow brand.