I originally developed this recipe years ago before gluten-free Oreo cookies were a thing. Now you can get gluten-free sandwich cookies from Oreo and Glutino, so it's time to refresh this recipe to stay timely. This post was originally sponsored by Silk and contains affiliate links. Please read my disclosures.
One of my goals is to show you just how many foods you can eat while following a strict gluten-free diet… and of course, I never skimp on showing you all the wonderful gluten-free desserts you can enjoy too.
There are so many naturally gluten-free desserts that require no flour or funky swaps of any sort; rather, they just require a little creativity in the kitchen.
That's why I'm excited to share this recipe with you.
This is a recipe for incredibly delicious cookies and cream chocolate pudding topped with crushed gluten-free Oreo cookies (or another cookie of choice). Chocolate pudding is easy to make at home and requires only a few simple ingredients. (You can, alternatively, use store-bought pudding. Many brands are gluten free. Please refer to my list of gluten-free pudding brands.)
Once I learned how to make pudding at home, I stopped buying those overly processed instant pudding mixes and now solely make my own mix with a few simple, clean ingredients. On top of that, I have learned to make this recipe not only gluten free, but also dairy free too.
The secret ingredient to making this dessert dairy-free (and still rich and creamy) is using a plant-based milk alternative, and the "milk" I love most is Silk Cashewmilk.
The Proof is in the Pudding
Here is a list of what you need to make my decadent cookies and cream chocolate pudding:
(1) Plant-Based Milk Alternative (or milk) – I love the taste and texture of Silk Cashewmilk. Both work well in this recipe. Alternatively, you can use regular milk or another plant-based milk of your choice.
(2) Cacao Powder – Cacao powder makes this pudding recipe rich and chocolatey – it's a must! I use organic, fair-trade cacao powder whenever possible. This is the brand I use.
(3) Honey – I recommend swapping refined white sugar for raw honey, a less processed, natural sweetener. I notice a slight texture change when I use honey (the final product is thicker), but it still tastes like the rich and creamy chocolate pudding I know and love. Alternatively, you could use white sugar.
(4) Cornstarch or Tapioca Starch – You could use either starch, but I think cornstarch offers a smoother texture whereas tapioca starch offers a more gummy texture. Both starches help to thicken the mixture and are required.
(5) Vanilla Extract – Vanilla extract adds an extra layer of flavor and sweetness. I highly recommend using a dash of it.
(6) Gluten-Free Oreo Cookies – What cookies and cream chocolate pudding would be complete without gluten-free Oreo cookies?!?
For this recipe, you could use either the new gluten-free Oreo cookies or the tried and true Glutino sandwich cookies (they look just like Oreo cookies). You could also use crushed gluten-free chocolate chip cookies.
Neither gluten-free Oreo cookies nor Glutino sandwich cookies contain dairy, but make note that the gluten-free Oreos contain oat flour. (See the ingredients in gluten-free Oreo cookies.)
I also tested both cookies for hidden gluten using my Nima Sensor, and both came back a-okay.
How to Make Cookies & Cream Chocolate Pudding
To make this cookie and cream chocolate pudding, start by making the chocolate pudding.
Divide the milk into two parts. One-half (1/2) cup should be reserved and combined with 3 tablespoons of cornstarch, while the rest (2 cups) should be added to a small pot along with the cacao, honey, vanilla, and pinch of salt. Bring the mixture to a gentle boil while whisking it continuously with a wire whisk.
Once the mixture is gently bubbling, add the remaining milk mixed with cornstarch (cornstarch slurry) while you continue to gently whisk the pudding mixture. Everything will begin to slightly thicken over the next two minutes. Remove the mixture from the heat.
While the mixture cools, add 4-6 Oreo cookies (or other crushed cookies of choice) into a zip-top bag, then bang it with your rolling pin until the cookies are crushed.
Now comes the fun part… layer your chocolate pudding mixture and crushed cookies in your dessert cups by adding a handful of crushed cookies to the bottom of each cup, then adding the chocolate pudding mixture, and finally topping it all with the crushed cookies.
Place the pudding cups in the fridge to set for 1-2 hours.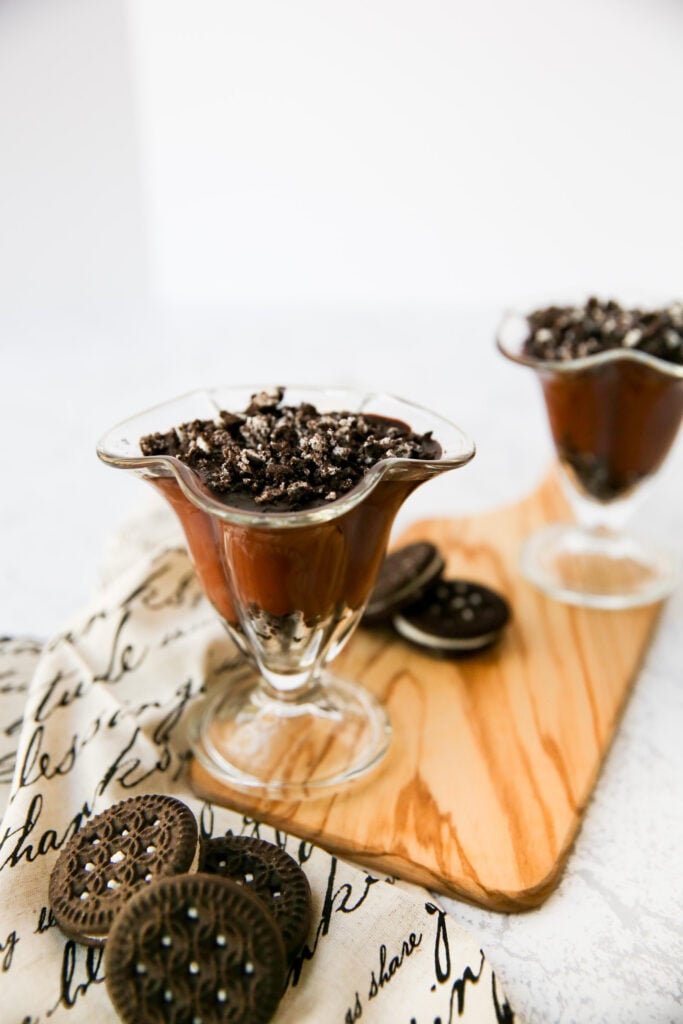 The Taste Test
This dessert is one of my favorites because my kids go wild for it, and it takes hardly any time to make.
One delicious result is that the cookies slightly soften in the pudding, truly giving this recipe its cookies and cream taste and appeal. Every bite is a bit of chocolate heaven, containing both the rich and creamy chocolate pudding and a bit of crushed gluten-free Oreo cookies.
Want to fast-track this recipe? Try my microwave chocolate pudding recipe.
Cookies and Cream Chocolate Pudding with Oreo Cookies
This chocolate pudding recipe is not only decadent and creamy, but it's also free from dairy and gluten. Add layers of crumbled Oreo cookies (or gluten-free cookies of choice) to elevate your chocolate pudding recipe!
Print
Pin
Rate
Ingredients
2.5

cups

Silk Cashewmilk, unsweetened

divided (or any milk or plant-based milk alternative)

3

Tbsp

cornstarch

or tapioca starch

1/4

cup

cacao powder

1/3

cup

honey

raw

1

tsp

vanilla extract

1

pinch

salt

6

gluten-free Oreo cookies

crushed (or other cookie of choice)
Instructions
Combine 1/2 cup of the milk with the cornstarch. Mix well and set it aside. This is your "cornstarch slurry."

Combine 2 cups of milk, cacao powder, honey, vanilla, and a pinch of salt in a small pot and whisk with a wire whisk over medium-high heat until it comes to a gentle boil. Add the cornstarch slurry mixture while whisking the pudding, and continue whisking for about 2 minutes. The mixture will slightly thicken, although the majority of the thickening will occur in the fridge as the pudding sets. Remove from heat.

While the pudding mixture is slightly cooking, add the Oreo cookies to a zip-top bag. Bang the cookies to crush them into small bits.

Add about a tablespoon of crushed cookies to the bottom of each cup, then pour the pudding mixture over the crushed cookies, then top the pudding mixture with more crushed cookies. 

Refrigerate the pudding cups 1-2 hours or overnight before enjoying them.
Notes
You can use any crushed gluten-free cookie of your choice. I have used both gluten-free Oreo cookies or Glutino sandwich cookies. You can use a crunchy chocolate chip cookie or any crispy cookie you have in your pantry.
This recipe works well with milk and most plant-based milk alternatives. Some milk is creamier in texture like cashew milk or whole milk. Adjust the milk-to-starch ratio as needed.
The texture will vary depending on the type of starch you use. Cornstarch will offer a smoother texture, and tapioca starch may be a bit gummier. Both options are delicious. Again, adjust the milk-to-starch ratio as needed.
PS: If you forget to divide your milk at the beginning of the recipe, don't sweat it. Just mix your cornstarch with a few tablespoons of water, then add it to the mixture and whisk until the mixture begins to slightly firm up.
Nutrition
Calories:
224
kcal
|
Carbohydrates:
45
g
|
Protein:
2
g
|
Fat:
6
g
|
Saturated Fat:
2
g
|
Trans Fat:
1
g
|
Sodium:
196
mg
|
Potassium:
137
mg
|
Fiber:
2
g
|
Sugar:
31
g
|
Vitamin A:
1
IU
|
Vitamin C:
1
mg
|
Calcium:
13
mg
|
Iron:
2
mg