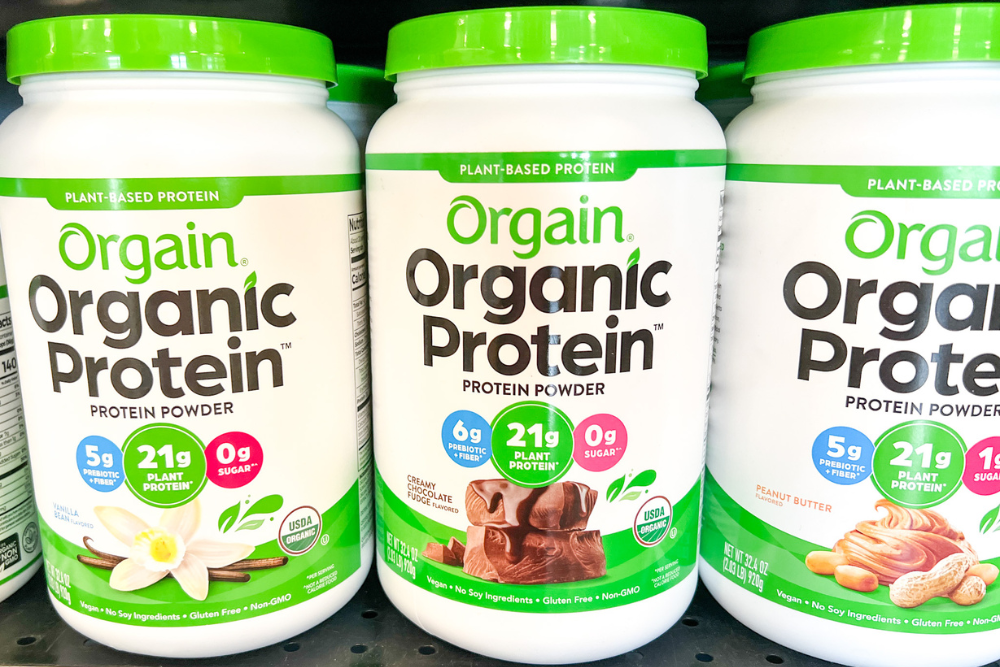 If you're eating (or drinking) protein powder to help you meet your protein goals, then you might be curious if the popular Orgain protein powder is gluten-free. In this article, I'll share what Orgain says about gluten, as well as how Orgain protein powder fared when I independently tested it for hidden gluten. Please see my disclosures.
Getting enough protein daily is challenging for people trying to build muscle and lose weight. This has led some to turn to the burgeoning protein powder industry for help.
I wondered if Orgain was gluten-free, so I researched and tested it for hidden gluten.
I also wanted to see if I could stomach the taste of protein powder. More on that later.
Is Orgain Labeled Gluten-Free?
While Orgain is labeled gluten-free, it's not certified gluten-free by a third party. It also contains a few controversial ingredients, including wheatgrass, barley grass, and oat grass.
Some gluten-free experts say these ingredients are safe; others see such ingredients as problematic.
Regardless, these ingredients will make someone with celiac disease or gluten intolerance take pause, given that gluten is found in wheat, barley, rye, and sometimes oats.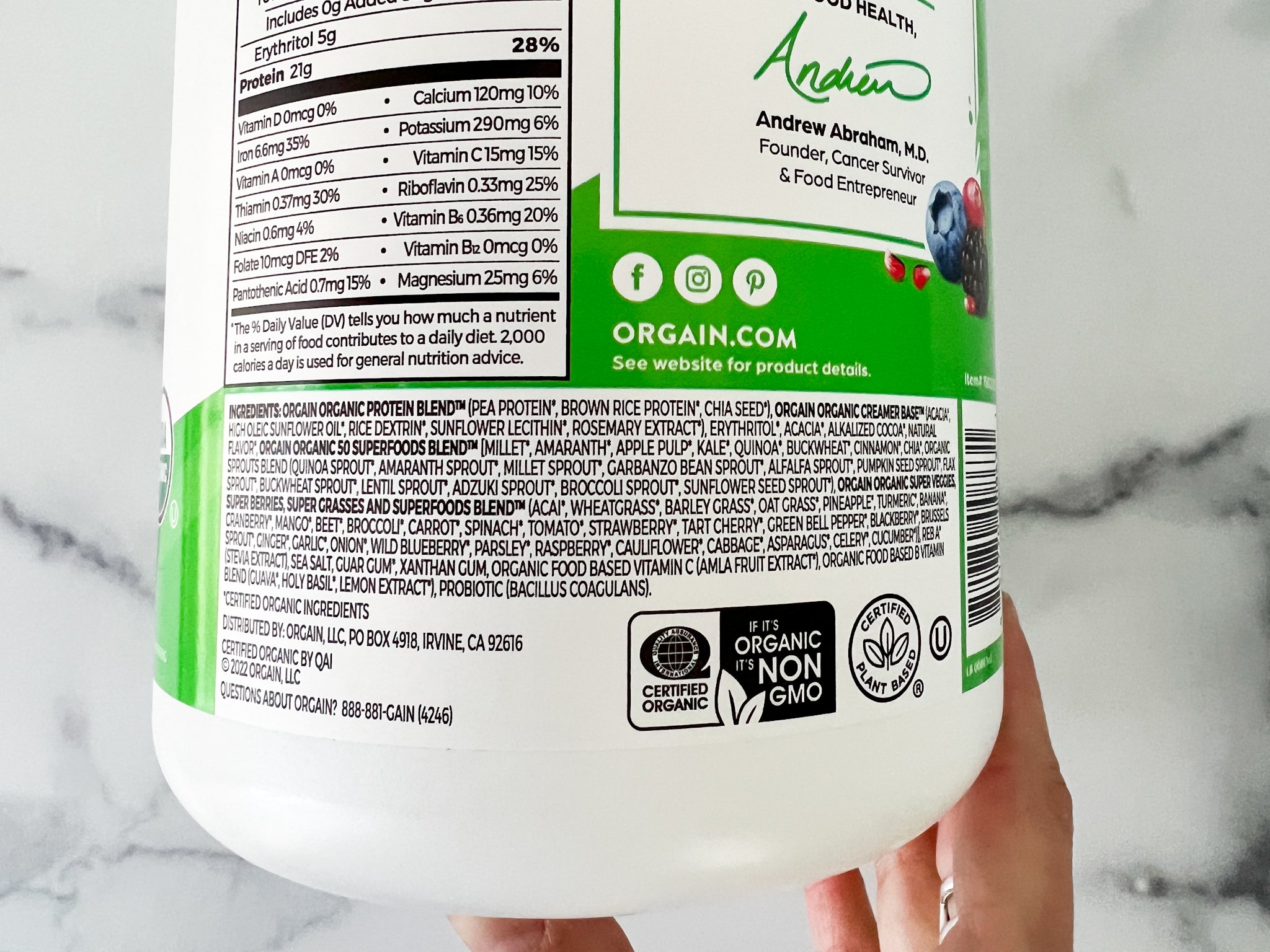 The Scoop on Wheatgrass and Barley Grass
Wheatgrass and barley grass come from the young sprouted grasses of the wheat or barley plant. The grass develops and is harvested before the gluten protein forms. The grassy part of each plant is considered gluten-free.
If a manufacturer is using wheatgrass and barley grass, it's important that the product is labeled gluten-free (even better, certified gluten-free) to ensure it meets the FDA's Gluten-Free Labeling Guidelines and contains less than 20 ppm of gluten.
People with true wheat allergies should avoid Orgain protein powders, and some people with gluten intolerance (which really should be called "wheat intolerance") may also react to other components of wheat, not just the protein (gluten).
I encourage you to read more about why wheat-free doesn't mean gluten-free, and vice versa, to become educated on this topic.
Orgain also shares more about its gluten-free status and ingredients on its website.
Is Oat Grass Gluten-Free?
Oats are another controversial ingredient in gluten-free land. While they're naturally gluten-free, they're notoriously cross-contaminated with wheat during harvesting, manufacturing, and processing.
You can read more about oats in my article, Are Oats Gluten-Free? Unpacking Confusing and Contradictory Information.
Oats – and oat grass – can be okay for someone to consume if the product is labeled gluten-free.
While many gluten-free experts recommend that oat products be "certified gluten-free," a "gluten-free" label is sufficient in confirming that a product meets the FDA's Gluten-Free Labeling Guidelines.
Testing Orgain Protein Powder for Hidden Gluten
I purchased a 42-ounce Orgain Organic Protein Powder container in the creamy chocolate fudge flavor.
I used my Nima Sensor, a portable gluten-detecting device, to independently test the protein powder for hidden gluten.
To perform the test, I added a small amount of the protein powder to the single-use test capsule and a few drops of water to dilute the powder as instructed in the Nima User Manual when testing powdered foods.
I placed the capsule inside the Nima Sensor and waited about 2-3 minutes for a result.
As you can see in the image below, Nima smiled, which means it didn't find any gluten. It would reveal a wheat symbol and a "Gluten Found" message if it had found gluten.
It's important to understand that even when Nima finds gluten, the product may still be technically considered gluten-free.
Why? Nima can detect traces of gluten below the 20 ppm threshold and may reveal a "Gluten Found" message when it finds 5 or 10 ppm of gluten. Nima has been criticized for being too accurate for this reason.
Learn more about the pros and cons of using Nima in my article, What You Need to Know About Nima Sensor Before You Buy – Perspective from a Celiac & Nutrition Professional.
The Taste Test
While Orgain protein powders are gluten-free and safe to use by individuals on a gluten-free diet, beware that you may not like the taste.
Orgain requires two big scoops to get 21 grams of plant protein per serving. This resulted in an overpowering chalky and gritty taste.
Truth be told, I couldn't bring myself to finish my protein shake made with Orgain. Maybe protein powder Is an acquired taste, but I'm not willing to take the time to develop that taste. This protein powder container is going back to Costco, where I found it, for a full refund.
While I wish I could stomach protein powders in order to reach my protein intake goals, I can't. Instead, I will continue to get protein from naturally gluten-free sources such as meats, eggs, cheeses, beans, legumes, and vegetables.
Additional Reading
You might enjoy these articles: