Christmas is almost here, meaning it's time to bake up some impressive gluten-free holiday cookies! In this article, I'll share 13 of my favorite gluten-free holiday cookie recipes that will surely bring holiday cheer to all. This post contains affiliate links. Please see my disclosures.
Are you looking for delicious gluten-free holiday cookies to bake this year for Christmas or Chanukah?
If so, look no further than this article, where I feature 13 impressive and easy gluten-free holiday cookies you'd never know are made without gluten, a protein found in wheat, rye, and barley.
Enjoy everything from adorable gingerbread cookies and gluten-free frosted sugar cookies to fan favorites like peanut butter blossoms and chocolate crinkle cookies.
Whether you're looking for festive holiday cookies to decorate with your kids or traditional holiday cookies to impress your friends at cookie exchange parties, you'll be set when you make any of the cookies featured on this list. Good luck!
(1) Gluten-Free Sugar Cookies
These no-spread cut-out gluten-free sugar cookies are perfect for when you want to make your favorite holiday shapes. Decorate them with royal icing or buttercream.
PS: Follow the instructions carefully to ensure these cookies hold their shape and don't spread.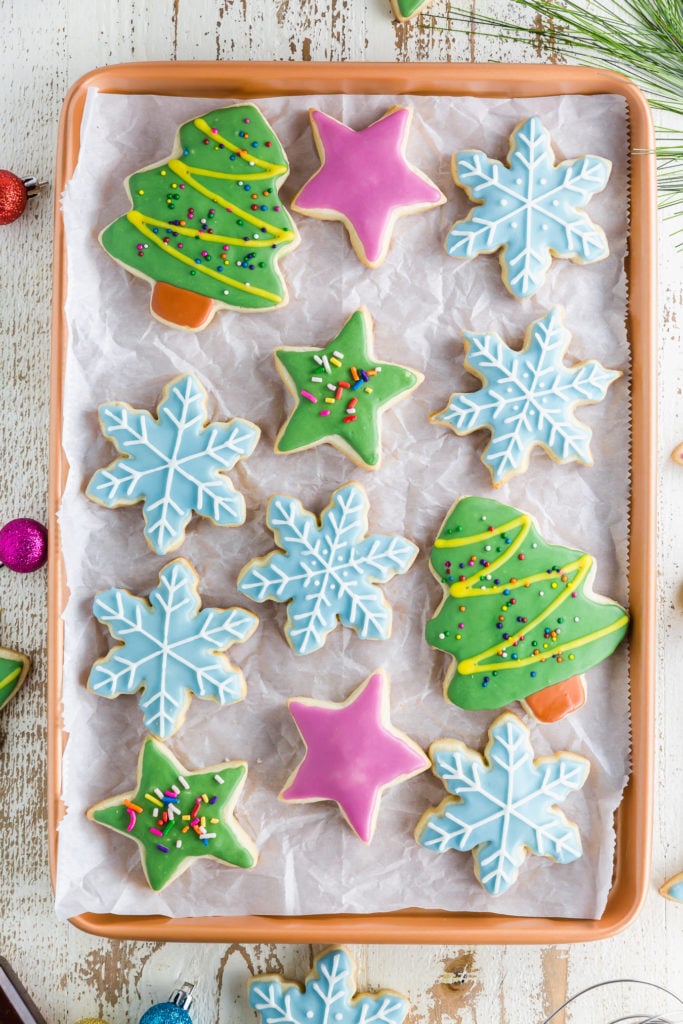 (2) Gluten-Free Frosted Sugar Cookies
These chewy and soft gluten-free frosted sugar cookies are a classic treat that your kids – and Santa – will love.
I suggest making buttercream frosting (the recipe is included with the sugar cookie recipe) or using store-bought frosting and calling it a day.
(Read: Gluten-Free Sprinkles? I Tested 4 Brands of Sprinkles for Hidden Gluten.)
(3) Gluten-Free Chocolate Crinkle Cookies
These gluten-free chocolate crinkle cookies are rich and fudgy on the inside and flaky on the outside. I roll them in powdered sugar for an extra festive look.
(4) Gluten-Free Peanut Butter Blossoms
These stunning gluten-free peanut butter blossoms are bursting with delicious sweet peanut butter flavor. They're rolled in sparkling sugar and topped with a festive Hershey Kiss for an impressive holiday treat!
(5) Gluten-Free Gingerbread Cookies
You'll be in the holiday spirit in no time with these adorable gluten-free gingerbread cookies. They're not only soft and chewy but also surprisingly simple to make. They hold their shape well without even having to chill the dough!
(6) Chewy Gluten-Free Molasses Cookies
These gluten-free molasses cookies are soft and chewy, bursting with deep molasses notes and hints of holiday spice.
I love to dip half the cookie in white chocolate and then top it with festive holiday sprinkles for a more festive holiday look.
(7) Gluten-Free Maple White Chocolate Cookies
Calling all white chocolate lovers! These gluten-free maple white chocolate cookies are soft on the inside and slightly crunchy on the outside. The maple syrup extract gives these cookies a rich maple flavor and holiday scent.
(8) Classic Chocolate Chip Cookies
These soft-baked classic chocolate chip cookies taste just like the cookies you remember eating in your childhood because they're based on the original Nestle Tollhouse recipe. Everyone loves a classic chocolate chip cookie, and you can't go wrong with these!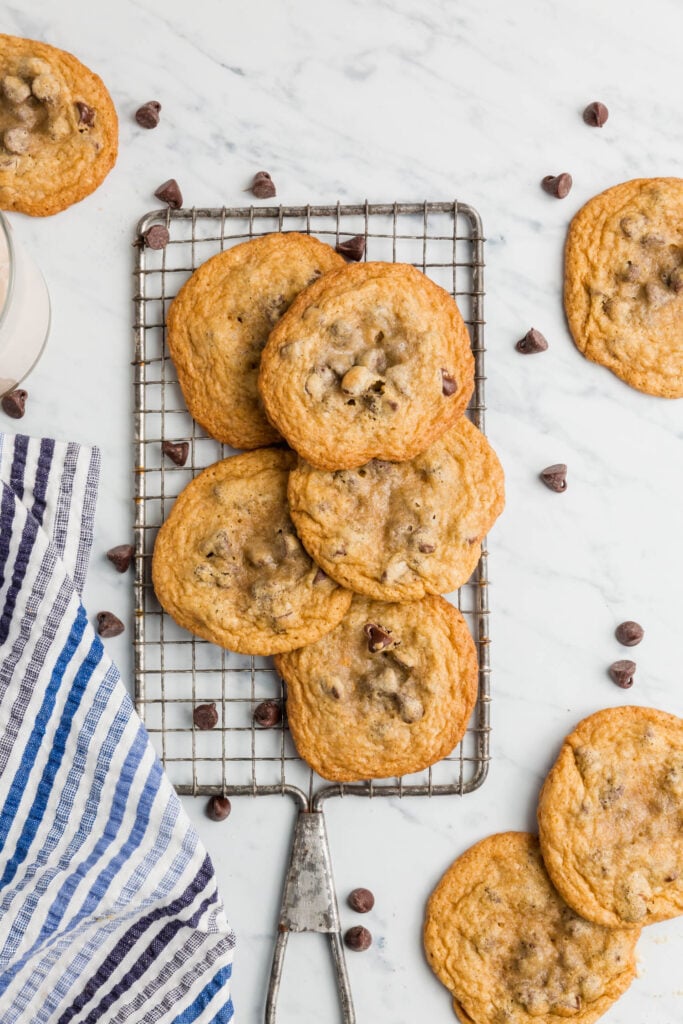 (9) Raspberry Thumbprint Cookies
These gluten-free raspberry thumbprint cookies add a little color to your holiday festivities. They're soft-baked, buttery, and sweet, and who doesn't love raspberry jam?!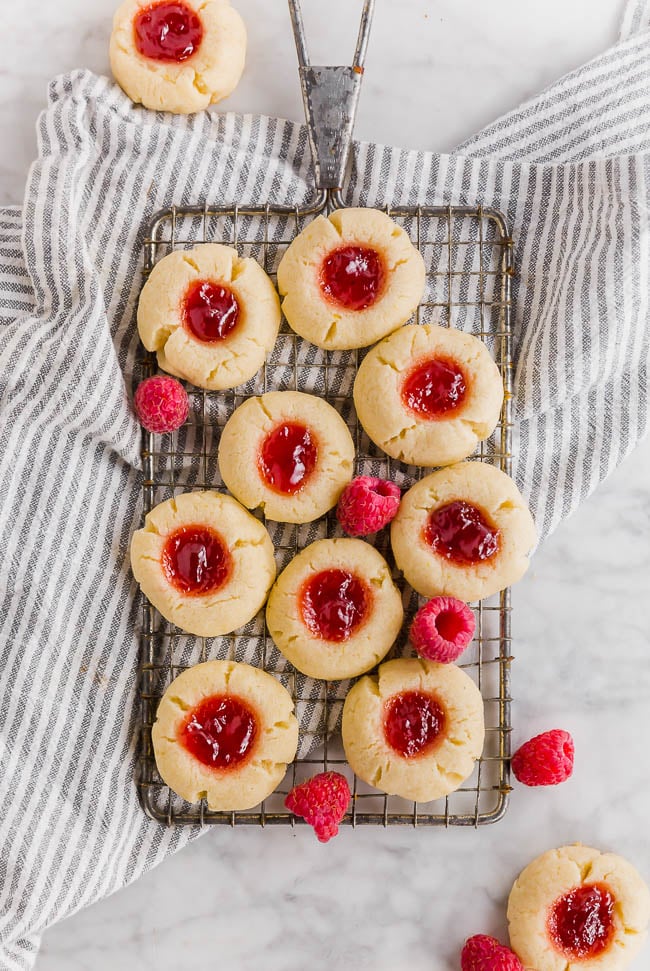 (10) Flourless Gluten-Free Monster Cookies
These gluten-free monster cookies are stuffed with peanut butter, chocolate chips, gluten-free oats, and peanut M&Ms. Use red and green M&Ms for a festive holiday look.
(11) Ultra Chewy Gluten-Free Chocolate Chip Pumpkin Cookies
These soft-baked gluten-free chocolate chip pumpkin cookies are chewy, gooey, and oh-so-delicious. They're loaded with pumpkin spice flavor and are a real crowd-pleaser too!
(12) Gluten-Free S'mores Cookies
Get that campfire taste without the campfire when you make these tasty gluten-free s'mores cookies – baked in your oven with ease! You'll need gluten-free graham crackers and marshmallows to make these delicious little cookies.
(13) Gluten-Free Black and White Cookies
These gluten-free black and white cookies offer a nostalgic treat to cookie lovers. Half the soft, cakey cookie is topped with white frosting, and the other half is topped with chocolate frosting. These cookies are destined to unite the world.
There you have it, a list of 13 impressive and easy gluten-free holiday cookie recipes. Shhh, no one has to know they're gluten-free. It'll be our secret!
More Holiday Treats
Enjoy these holiday non-cookie treats, too: