This post features 20 amazing gluten-free holiday cookie recipes and contains affiliate links. Please read my disclosures. This post last updated December 2021.
Are you looking for some delicious gluten-free holiday cookies and treats to bake up this year for Christmas or Hanukkah? If so, look no further than my comprehensive list of delicious holiday cookie recipes below!  
When you bake any of these delicious gluten-free holiday recipes, you'll show your friends how gluten free is done.
You'll show them that gluten-free desserts can look and taste just as good – and sometimes even better – than their gluten-full rivals.
And you'll show them that just because you can't eat gluten doesn't mean you can't still enjoy holiday cookies.
In this post, I recreated some of the most traditional and fun holiday cookies all while adding in a few cookie "classics" to the mix.
Whether you're looking for holiday cookies to decorate with your kids, impress your co-workers, or want to simply be able to join in on the holiday cookie exchange festivities, I've got you covered.
It's All About the Gluten-Free Flour, Baby!
Before we talk about holiday cookies, I want to make sure you have the right ingredients. As you'll see, most of these gluten-free holiday cookie recipes require your standard cookie ingredients including granulated sugar, brown sugar, eggs, vanilla extract and baking powder etc.
You'll also see that all these gluten-free holiday cookie recipes require you to use gluten-free flour instead of regular wheat flour.
I typically use packaged gluten-free flour blends in my recipes. These gluten-free flour blends are the best and contain a mix of flours, starches and gums that help you get the right taste and texture despite not having any gluten in them.
The gluten-free flour blends I use the most (and that work in most recipes) are:
You'll also see I use cassava flour (Otto's Cassava Flour), on occasion, as well as Honeyville Almond Flour.
I like to keep plenty of gluten-free flour on hand during the holidays so they're ready to go when I'm ready to bake something fun!
Related Reading: Guide to Gluten-Free Flour Blends
20 Gluten-Free Holiday Cookie Recipes
Without further ado, I'd like to share with you 20 gluten-free holiday cookie recipes that you can make and enjoy this holiday season (and year round!). 
(1) Gluten-Free Sugar Cookies
These gluten-free sugar cookies are perfect for cutting out your favorite shapes and decorating them with frosting and icing. Follow the instructions carefully to ensure these cookies hold their shape and don't spread.
Get my gluten-free sugar cookie recipe.
(2) Gluten-Free Peanut Butter Blossoms
These stunning cookies are made using the original Hershey's Kisses recipe and a simple gluten-free flour swap. Aren't they beautiful? I use sparkling sugar instead of granulated sugar as the coating.
Get my gluten-free peanut butter blossom cookie recipe.
(3) Chewy Gluten-Free Molasses Cookies (Gingersnaps)
These gluten-free molasses cookies are soft and chewy and full of deep molasses notes and hints of holiday spice. You can coat them in white chocolate and sprinkles for an extra festive look.
Get my gluten-free molasses cookie recipe here.
(4) Classic Chocolate Chip Cookies
These soft-baked classic cookies taste like the cookies you remember growing up with. Filled with chocolate chips and soft baked, they are gooey and delicious. 
Get my classic gluten-free chocolate chip cookies.
(5) Raspberry Thumbprint Cookies
These soft-baked raspberry thumbprint cookies are buttery and sweet – and they're stuffed with beautiful raspberry jam. I'm craving these cookies just by looking at 'em.
Get my raspberry thumbprint cookie here.
(6) Gluten-Free Rum Balls
This adult cookie is perfect for Christmas and even better when you make them for your New Year's celebrations. This is a no-bake recipe too – easy peasy!
Get my gluten-free rum balls recipe.
(7) Gluten-Free Monster Cookies
Monster cookies are the bomb! They are stuffed with peanut butter, chocolate chips, gluten-free oats and peanut M&Ms. Now that's one monster cookie, right?
Get my monster cookie recipe here.
(8) Gluten-Free Pumpkin Thumbprint Cookies
It's never too late to enjoy pumpkin treats, even during the Christmas holidays. Enjoy these wonderful soft-baked pumpkin thumbprint cookies made with cassava flour. These cookies are free from all grains and are full of pumpkin spices.
Get my gluten-free pumpkin thumbprint cookies recipe.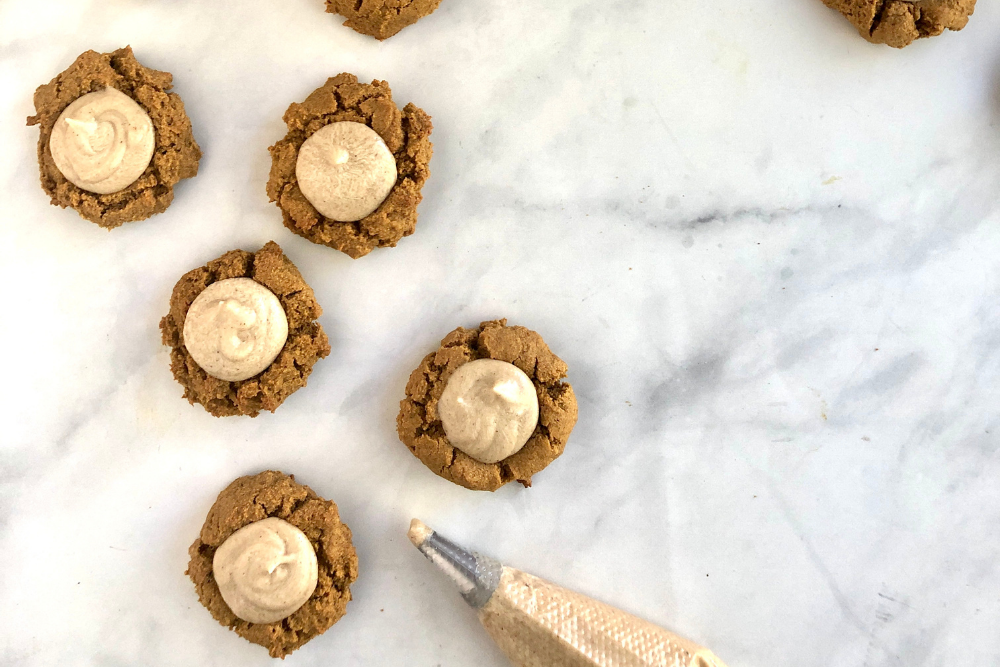 (9) Gluten-Free French Macarons
I was inspired to make French macarons after spending a summer in Europe. These cookies are popular in Paris and London – and I couldn't get enough of this naturally gluten-free cookie.
These cookies require quite a bit of fussing in the kitchen, but once you get the recipe and technique down-pat, you're golden!
Get my French macaron recipe.
(10) Gluten-Free Lemon Bars
I love all things lemon, so I enjoy making these gluten-free lemon bars often. They offer a nice diversion from all the chocolatey sweet treats everyone makes, too.
Get my tried and true gluten-free lemon bars recipe.
(11) Gluten-Free Frosted Sugar Cookies
I love these chewy and soft sugar cookies that you can frost with store-bought frosting (or make your own) and cover with festive sprinkles.
Get my gluten-free frosted sugar cookie recipe.
(12) Chocolate Chip Cookie Dough Balls
These dough gluten-free cookie dough balls are so darn good. They have an amazing texture and no gritty aftertaste. If you're looking for a delicious cookie dough ball, you'll love these. I used Bob's Red Mill Gluten-Free Oat Flour to get the perfect texture.
Get the full recipe here.
(13) Gluten-Free Maple White Chocolate Cookies
If you love white chocolate, this cookie is for YOU! These cookies are soft on the inside and slightly crunchy on the outside. The maple syrup extract gives this recipe that extra delicious flavor and scent that screams holiday cookie!
Get my gluten-free maple white chocolate cookie recipe.
(14) Gooey Gluten-Free Blondies
Thanks to my cousin Sharon, I'm able to make these gooey gluten-free blondies. I simply swapped wheat flour with my 1-to-1 gluten-free flour blend and voila, these wonderful blondie bars were magically ready and soon devoured by me and my family.
Get my gooey gluten-free blondies recipe.
(15) 4-Ingredient Peanut Butter S'mores Bark
Enjoy this simply holiday treat of melted chocolate topped with crushed graham crackers and mini marshmallows. Major yum and fun to make and eat!
Get my peanut butter s'mores bark recipe.
(16) Chocolate Crinkle Cookies
These rich, fudgy, cake-like cookies that are as festive as they are delicious. One bite and you'll be in chocolate heaven!
Get my gluten-free chocolate crinkle cookie recipe.
(17) Gluten-Free S'mores Cookies
Get that campfire taste without the campfire when you make these tasty gluten-free s'mores cookies – baked in your oven with ease!
Get my gluten-free s'mores cookies recipe.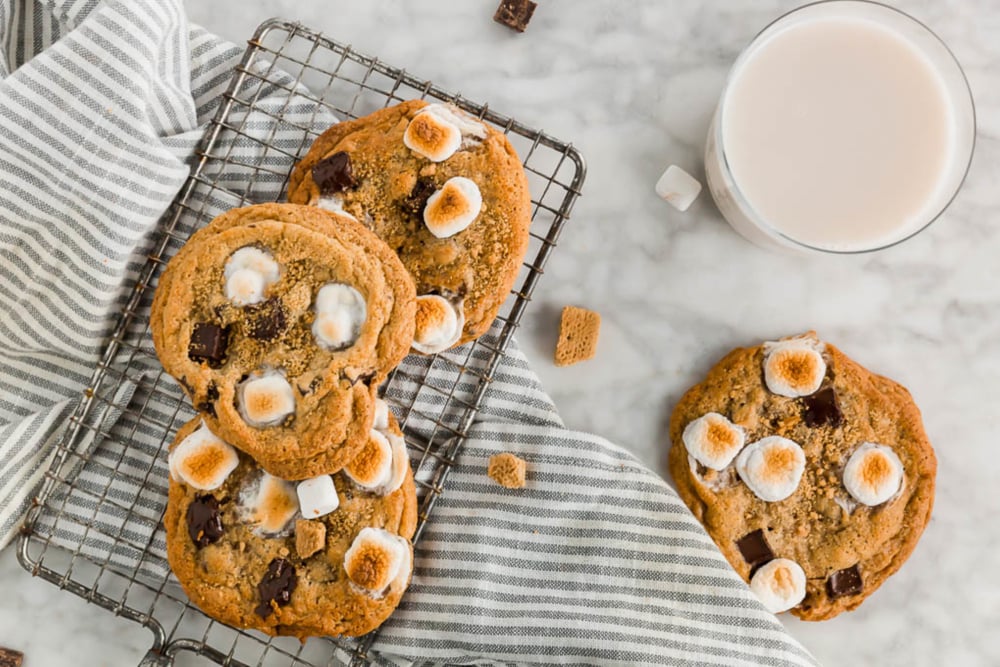 (18) Gluten-Free Chocolate Chip Applesauce Cake
This is my #1 go-to dessert – I swear! It's so easy to make and hard to mess up. The cake is moist, rich and chocolatey and the crisp topping is sprinkled with brown sugar and chocolate chips. You will love love love it!
Get my gluten-free chocolate chip apple cake recipe.
(19) Gluten-Free Pumpkin Squares
December is still prime pumpkin month, and if you're craving a pumpkin-infused holiday treat, I hope you'll give these wonderful gluten-free pumpkin squares a try. They're topped with a to-die-for cream cheese frosting and they will have your guests licking their fingers and begging for more.
Get my gluten-free pumpkin squares recipe.
(20) Gluten-Free Double Chocolate Brownies
These brownies are fudgy and delicious – get ready to eat one delicious chocolate bite after chocolate bite.
Get my gluten-free double chocolate brownie recipe.
There you have it… 20 sweet gluten-free holiday cookie recipes that will take your holiday baking to the next level this year!
Remember, gluten-free cookies and treats can taste and look great, too. Don't let anyone tell you otherwise. Enjoy!