My gluten-free peanut butter blossoms recipe will have you enjoying these nostalgic cookies again even if you can't eat gluten. This post contains affiliate links. See my disclosures.
The start of cookie season is on, and I'd like to kick-off the Christmas cookie extravaganza this year with a new recipe for gluten-free peanut butter blossoms.
Well, the recipe isn't exactly new. It's the recipe published by Hershey's Kisses(TM) and one that I know many families make time and time again.
As a little experiment, I decided to follow the Hershey's Kisses recipe… except for my little secret flour swap.
Instead of using all-purpose wheat flour, as the recipe calls for, I instead used my trusty Bob's Red Mill 1-to-1 Gluten-Free Flour Blend. Would it work? Let's find out together!
What is a Peanut Butter Blossom?
A peanut butter blossom is a soft cookie made from peanut butter and contains a chocolate Hershey's Kiss pressed into its center. I'm not sure you can go wrong when you combine peanut butter and chocolate inside a cookie.
A peanut butter blossom is a classic cookie, one that I see made often during the Christmas cookie season. I've also seen people use a mini Reese's Peanut Butter Cup in the center in lieu of a Hershey's Kiss. Both options are gluten free – so enjoy!
How to Make a Gluten-Free Peanut Butter Blossom
Making your own gluten-free peanut butter blossom is quite simple. You'll need between 30-48 Hershey's Kisses (depending on how big you make your blossoms – I may have made mine too big), along with a few other ingredients you likely have at home.
You'll also want to have two important Bob's Red Mill products on hand:
(1) Bob's Red Mill 1-to-1 Gluten-Free Flour Blend – works as a one-to-one substitute for wheat flour in this recipe. This is an essential ingredient.
(2) Bob's Red Mill Sparkling Sugar – this gives the peanut butter blossoms a little more shimmer. If you don't have sparkling sugar, you can use regular granulated sugar instead. Either will work.
I'm not used to cooking with shortening, but this recipe calls for shortening. I used Spectrum brand palm oil because it is responsibly sourced and Rainforest Alliance certified. A lot of conventional palm oils have contributed to deforestation among other issues, so it's essential to use palm oil that is responsibly sourced.
You'll want to combine your wet ingredients, then add your dry ingredients and mix well.
You'll then shape the dough into 1″ balls (like I said before, I think I made my dough balls too big, but they still turned out just fine). The smaller the balls the higher the chocolate-to-cookie-ratio. Try to resist the urge to make the cookies too big. They need to be big enough to fit the Kiss on top.
You'll then bake the dough balls for 8-10 minutes. Immediately upon removing the cookies from the oven, you'll press a Hershey's Kiss into the center.
The cookie will crack a little – and I think the cracks are a little more prevalent in a gluten-free peanut butter blossom vs. a peanut butter blossom with gluten (as the gluten holds the structure of the cookie together better).
However, once the cookies cool, they hold their shape well and the cracks simply add character but do not change the structure or taste of the cookies.
More Holiday Cookie Recipes
Love holiday baking? So do I. Try these gluten-free cookie recipes on for size:
Simple Soft Gluten-Free Sugar Cookies: A sweet treat that tastes just like the sugar cookies you remember.
Raspberry Thumbprint Cookies: These cookies brighten the holiday season.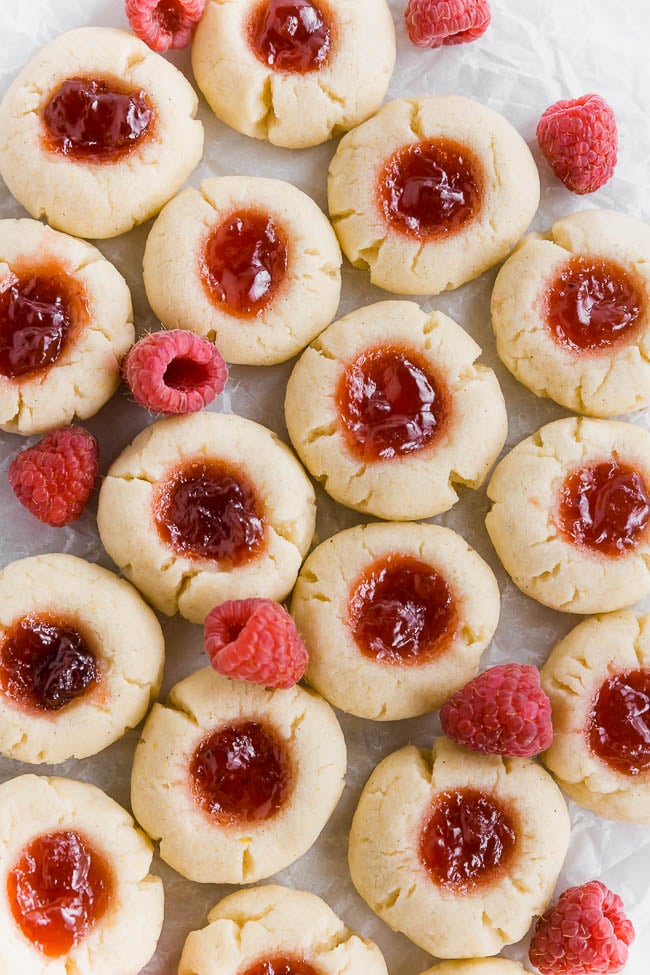 Classic Chocolate Chip Cookies: Nothing tastes better than classic chocolate chip cookies – and these gluten-free chocolate chip cookies don't disappoint.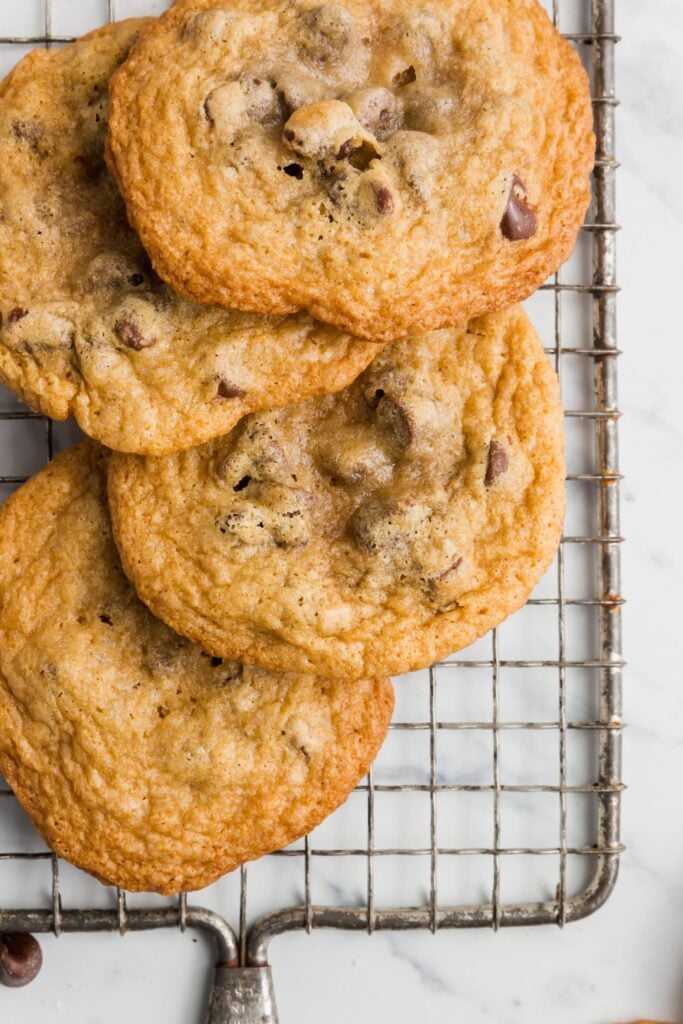 Gluten-Free Peanut Butter Blossoms
You can still enjoy peanut butter blossoms even if you eat gluten free thanks to my clever flour swap. This recipe has been adapted to be gluten free and based on the original Hershey's Kisses peanut butter blossom recipe.
Print
Pin
Rate
Instructions
Preheat oven to 375º F. Line a baking sheet with a silicone mat or parchment paper.

Beat shortening and peanut butter in your standing mixer until well combined, about 1 minute. Add sugar and brown sugar and beat until batter is fluffy, about 1 minute.

Add egg, milk and vanilla and beat mixture well, for another 1-2 minutes, then add flour, baking soda and salt to peanut butter mixture until well combined.

Shape dough into small 1″ balls. Resist the urge to make the cookies too big (my downfall!). Roll dough ball in sparkling sugar then place on cookie sheet.

Bake for 8-10 minutes or until lightly browned. Remove from oven and then immediately press an unwrapped Hershey's Kiss into the center of each hot cookie, slowing adding pressure without allowing the cookie to crumble. The cookie will crack but still hold its shape. Allow cookies to cool for 10 minutes before transferring to a wire rack.

This recipe makes about 30-48 cookies depending on the size of the cookie. The original Hershey's Kiss recipe says it makes 48 small cookies. I made about 30 larger cookies with this same recipe.
Notes
The cookies will crack when you push the Hershey Kiss into the center. Cracking is normal but be gentle to keep the cookie [mostly] intact.
You can use Reese's Peanut Butter Cups (also gluten free) in lieu of Hershey Kisses.
Store leftover cookies in a sealed container for up to 3 days.
Nutrition
Calories:
98
kcal
|
Carbohydrates:
11
g
|
Protein:
1
g
|
Fat:
5
g
|
Saturated Fat:
1
g
|
Cholesterol:
4
mg
|
Sodium:
74
mg
|
Potassium:
30
mg
|
Sugar:
8
g
|
Vitamin A:
5
IU
|
Calcium:
16
mg
|
Iron:
0.3
mg