Are you looking for a gluten-free baking kit or subscription box gift idea for kids? In this article, I'll share my experiences with Little GF Chefs, a company that offers kid-friendly gluten-free baking kits. This post contains affiliate links, and Little GF Chefs provided samples. All opinions are my own. Please see my disclosures. Use the coupon code – GOODFORYOU – for 10% off any Little GF Chefs purchase.
They say that necessity is the mother of all invention, and that's what led one mother, Jereann Zann, the popular Celiac Mama blogger, to create Little GF Chefs, a company that makes fun, magical, and delicious gluten-free and allergen-friendly baking kits for kids.
The inspiration behind Little GF Chefs is Zann's daughter, Sophia, who has celiac disease and a dairy allergy.
Zann says her daughter's growing fear of food and waning self-confidence led her to start the baking kit company.
In April 2018, Zann and her daughter had the idea to develop gluten-free baking kits for kids, an idea she launched nine months later and personally funded.
"Baking together helped Sophia develop a positive relationship with food and address some food anxieties related to her celiac disease. When she saw how much it was helping her, she actually said to me, 'Mommy, if this is helping me, don't you think it would help other kids like me?' And the rest is history!" says Zann.
Zann started by selling the company's first baking kit, the Unicorn Donut kit, which is pictured below complete with gold pixie dust on top.
About the Baking Kits
All Little GF Chefs baking kits are free from gluten, a protein found in wheat, barley, and rye. They're also free from artificial dyes and the top eight most common food allergens – dairy, egg, fish, crustacean, shellfish, tree nuts, peanuts, wheat, and soy.
All ingredients come from dedicated gluten and nut-free facilities, and the Little GF Chefs facility is also a dedicated gluten and nut-free facility. Most kits are vegan, too, except the gummies kit.
Over the years, Zann has personally created dozens of sweet baking kits and savory cooking kits, each beautifully and thoughtfully designed for kids.
On the sweet side, you'll find kits for donuts, cookies, animal crackers, pop-tarts, apple pies, monkey bread, and cake pops. On the savory side, you'll find a pizza dough mix, homemade biscuits, and soft pretzel bites.
"Once created, my daughter, our chief inspiration officer, and my son, our chief taste tester, have to approve them before they move forward," she says.
Little GF Chefs also offers a slew of holiday-themed boxes for Halloween, Valentine's Day, Christmas, Hanukkah, and July 4th, and seasonal kits for summer and fall, in addition to its evergreen kits.
Most notably, in 2023, the company launched a Gingerbread House Baking Kit. Zann appeared on the Home Shopping Network to promote the new Gingerbread House Baking Kit and scored a retail deal with Sprouts to sell the Gingerbread House kit for $29.99.
The gingerbread house baking kit comes in special packaging that Zann says conveys a "nostalgic gift box" and offers more information printed on the back so customers can pick it up on the shelf and understand what they're buying. 
Little GF Chefs is Going Places
Zann says that Little GF Chefs has been growing "steadily" since its inception, but the growth has been controlled so as not to compromise the company's quality or manufacturing capabilities.
"Last year, we started working with some retailers on a small scale to learn the retail process, and this year, we're thrilled for the opportunity to have our Gingerbread House kits in Sprouts nationwide and several other kits available online at Uncommon Goods, Macy's and Bloomingdale's," says Zann.
In the future, Zann says she wants Little GF Chefs kits to be accessible to more families, and that's why she's in the process of developing a line of year-round mini kits that will be exclusively sold in grocery stores.
"We know how important it is for kids to be able to walk into stores and see something exciting that's safe for them," she says.
Zann also upgraded the company's packaging to reflect a new level of professionalism with brighter-colored mailer boxes.
Inside a Little GF Chefs Baking Kit
Each Little GF Chefs baking kit comes with pre-measured dry ingredients, kitchen tools (donut pans, cookie cutters, piping bags, cake pop sticks, etc.), and decorating supplies specific to any given baking kit. Every kit includes an easy-to-follow recipe card with step-by-step instructions for baking.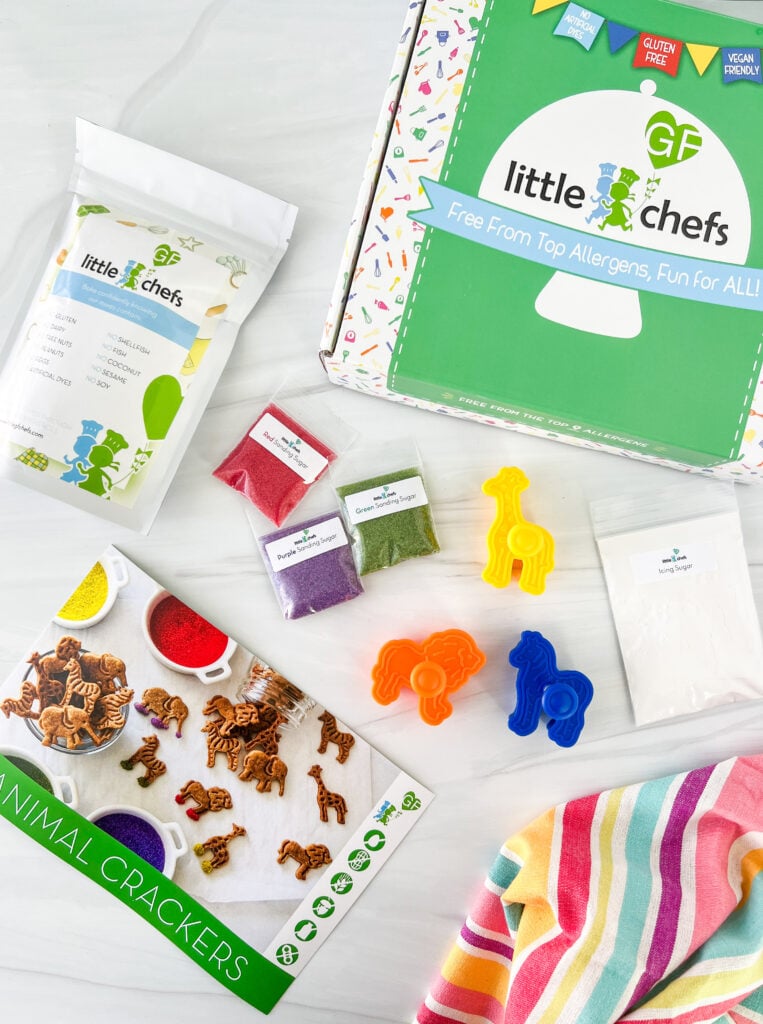 The baking kits do not include wet ingredients, such as eggs, water, oil, butter, milk, etc., depending on the recipe's requirements. The Gingerbread House baking kit, for example, requires molasses, butter, and water, while the Animal Crackers baking kit requires vegetable shortening, water, honey, and vanilla extract.
At first, I thought my teenage daughter would thumb her nose at "kid-friendly" baking kits thinking it was too babyish for her, but I was surprised at how eager she was to bake with me and how much fun she had making Rainbow Pop Tarts, Unicorn Donuts, and Gingerbread Houses.
My daughter and I laughed as we attempted to decorate and assemble the following Gingerbread House. We think we nailed it!
Best Kid-Friendly Gift
If your young chef has celiac disease, gluten intolerance, food allergies, food sensitivities, and other dietary restrictions, Little GF Chefs will give them the opportunity to explore various recipes and baking techniques, follow instructions, improve their kitchen skills, and, as Zann says, "develop a positive relationship with food."
Whatever unique baking kit you choose, you'll be guaranteed quality time with your kids away from their phones and other worldly distractions. This alone makes these kits priceless.
The beauty of Little GF Chefs is that you can order a single kit as a birthday or holiday gift, or order a 3, 6, or 12-month subscription for your child so they never miss out on the upcoming baking kits dreamed up by Zann.
Enjoy 10% off the purchase of any of Little GF Chef's baking kits or subscription boxes with my special coupon code – GOODFORYOU. Fun memories and cooking adventures await you.
Related Articles
You might enjoy these articles, too:
Subscription Boxes: If you're looking for other gluten-free subscription boxes, check out my article, 10 Gluten-Free Subscription Boxes Every Celiac Must Try.
Gift Guide: Looking for other great gluten-free gift ideas? Check out these 23 Thoughtful Gluten-Free Gift Ideas – Updated for 2023.
Making Dough: Enjoy making gluten-free playdough with your child. Get my Simple Gluten-Free Play-Dough Made With 7 Ingredients! recipe.