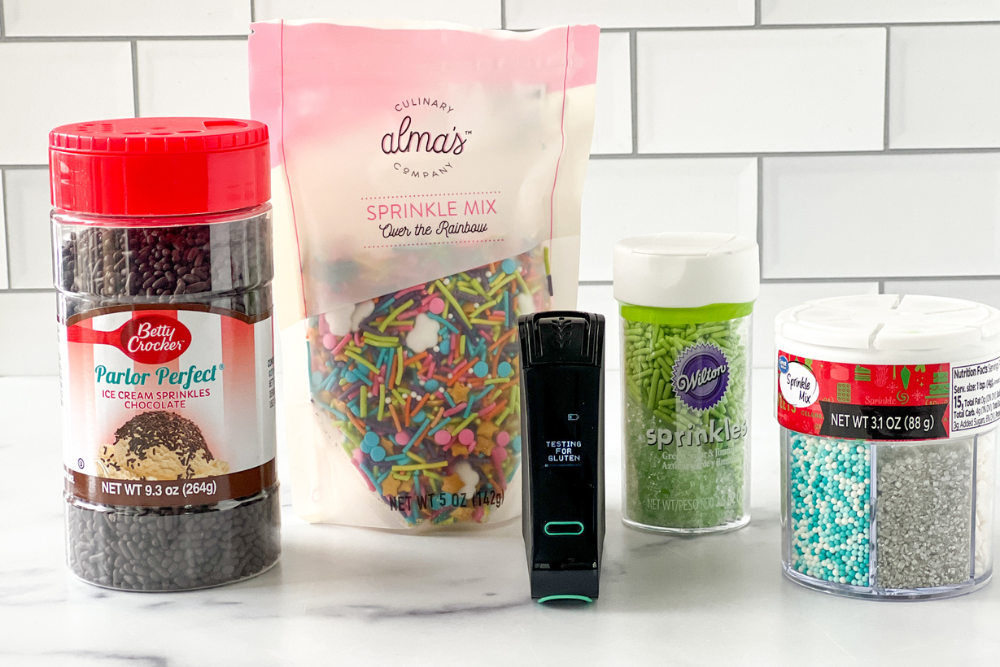 If you've been in the gluten-free community long enough, you know that there aren't any certified gluten-free sprinkles, and none of the mainstream brands are labeled gluten-free. I created this article to help you identify which brands you can – and cannot – trust when searching for elusive gluten-free sprinkles. This post contains affiliate links. Please see my disclosures.
Sprinkles – or jimmies – make everything more fun and colorful, but there's a dark side to sprinkles for the gluten-free community.
None of the mainstream brands of sprinkles are certified gluten-free, and none are even labeled gluten-free.
When a brand labels a product "gluten-free," it must contain less than 20 parts per million (ppm) of gluten, a protein found in wheat, rye, barley, and sometimes oats. People with celiac disease, wheat allergies, and gluten intolerance must avoid gluten for medical reasons.
In this article, I researched the mainstream brands of sprinkles to see what each has to say about gluten. I also independently test each brand for hidden gluten using my Nima Sensor, a portable gluten-detecting device that enables you to test a small portion of food for hidden gluten.
Ingredients Found in Sprinkles
Before I share what the leading brands say about gluten in their sprinkles, I want to share with you what ingredients are typically used to make them.
As you can see, most sprinkles should be gluten-free and are not typically made with wheat or other gluten-containing ingredients.
Most sprinkles are made from corn syrup, sugar, cornstarch, wax, and artificial flavors and colors. They're also sprayed with food coloring and a sugar glaze.
The main issue, however, is that sprinkles are often made in manufacturing facilities where there is a risk of cross-contamination with wheat or other gluten contaminants. This is why many brands are reluctant to label their sprinkles as "gluten-free."
Are Alma's Sprinkles Gluten-Free?
Walmart exclusively carries a large variety of Alma's sprinkles, and my daughter wanted to buy them because they're so pretty. I purchased the sprinkle mix, which includes sprinkles and various candies in different colors and shapes.
I have searched far and wide for more information about these sprinkles online, but it appears this company has no online presence. I found an Instagram account and sent them a message to tell them that my Nima Sensor tester found gluten, and I was wondering if they had a statement. I will update this article when and if they get back to me.
In the meantime, as I hinted, Alma's sprinkles contain gluten, according to my Nima Sensor. It is not safe for people on a gluten-free diet to consume.
Are Betty Crocker Sprinkles Gluten-Free?
While Betty Crocker sprinkles, nonpareils, and flavored sugars aren't labeled gluten free on the packaging, according to the Betty Crocker website, they are gluten-free.
Betty Crocker says its sprinkles are "Produced on a dedicated line that does not process peanuts, tree nuts, wheat, milk, or eggs."
I independently tested both the Parlor Perfect Rainbow Sprinkles and Chocolate Sprinkles for hidden gluten with my Nima Sensor, and Nima didn't find gluten in either test sample.
Are Cake Mate Sprinkles Gluten-Free?
Cake Mate sprinkles are gluten-free. According to the company, "None of our products contain wheat or gluten. This includes Cake Mate decorating sprinkles, sugar shapes, sugar crystals, nonpareils, decorating gels, gems, food color, decorating icing in the pressurized can, easy squeeze pouch, and plastic tube gels."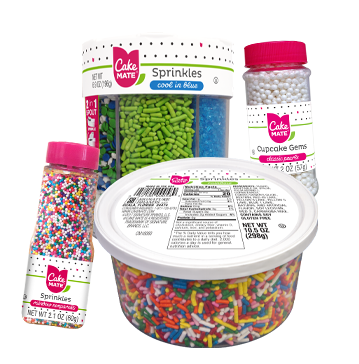 Are Wilton Sprinkles Gluten-Free?
According to Wilton's website, the company does not label any of its products as gluten-free. Still, it says it will disclose if a product contains wheat, one of the top eight allergens required by the Food Allergen Labeling and Consumer Protection Act of 2004 (FALCPA).
Wilton also acknowledges that some of its manufacturing facilities may produce gluten-containing foods, so there is always a risk of cross-contamination.
Wilton says, "To reduce the risk of cross-contamination, allergen plans and protocols are in place at all facilities where Wilton products are manufactured."
I independently tested Wilton's sprinkles for hidden gluten with my Nima Sensor. A smile means Nima didn't find any gluten, while a wheat symbol means it found gluten.
Are Pillsbury Funfetti Sprinkles Gluten-Free?
If you purchase Pillsbury Confetti Funfetti icing, you'll notice that it comes with sprinkles and candy bits.
Such packages of icing are labeled "gluten-free," meaning both the icing and candy pieces would be gluten-free.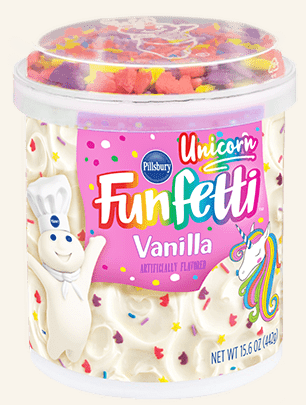 Specialty Brands of Gluten-Free Sprinkles
Sweetapolita: Sweetapolita says its sprinkles and sprinkles medleys are gluten-free and contain no gluten. The company says its products are "suitable for those with celiac disease" and that they contain no wheat. They add that any trace amounts of gluten found in the sprinkles are "notably" less than 20 ppm.
Unfortunately, Sweetapolita products are not found in mainstream stores, so you'll need to order them online. Fortunately, they ship worldwide!
Chef's Select: Chef's Select sprinkles can be found on Amazon and say "Gluten Free Certified" on the front of the packaging.
I contacted the parent company, Gel Spice Co, to inquire which third-party certifying agency certified the product as gluten-free. I will report back once they respond, but the label looks fishy to me since the company isn't displaying a certified gluten-free logo from a reputable certifying agency like the GFCO, NSF, or Beyond Celiac.
Store [Generic] Brands of Sprinkles
Walmart's Great Value: Great Value is Walmart's private label, and Great Values makes a variety of sprinkles. I bought the sprinkle mix, and there are no disclosures or may contain statements on the packaging.
Online, however, the sprinkle mix bears a disclaimer that says, "May contain traces of wheat," which is likely due to the potential for cross-contamination during the manufacturing process.
I independently tested the sprinkles for hidden gluten with my Nima Sensor. Nima did not find any gluten in the specific Great Value Sprinkle Mix I purchased. Read labels carefully before buying this brand.
Kroger: Kroger says on its website that its brand of sprinkles is "free from wheat and its derivatives." However, its Simple Truth brand does not appear to contain any gluten ingredients but is not labeled gluten-free.
Target: Target's Favorite Day and Wondershop sprinkles bear a warning on the label that says "may contain wheat."
Whole Foods 365: Whole Foods 365 brand of sprinkles has no "may contain" warning labels or disclosures on its sprinkles, but it does not appear to contain any gluten.
Are Sprinkles Celiac Safe?
As you can see, few brands of sprinkles are labeled gluten-free, and none are certified gluten-free by a reputable gluten-free certifying agency. Personally, I feel comfortable using Betty Crocker and Wilton sprinkles, and I hope this article helps you feel better about it too.
I will update this article as I learn about new brands and should any of these sprinkle brands become certified gluten-free. Fingers crossed!