You can make almost anything gluten-free, but you must master a few gluten-free baking hacks first. In this article, I share 13 gluten-free baking hacks that have helped me become a better gluten-free baker (and cook). This post contains affiliate links. See my disclosures.
I've been navigating the gluten-free diet for more than ten years, and in that time, I've learned a thing or two about baking and cooking without gluten, a sticky protein found in wheat, rye, barley, and sometimes oats.
Without wheat flour, I had to learn to bake again. It was like a puzzle waiting to be solved. And I'm proud to say that with a bit of experimentation and many failed attempts, my gluten-free skills are better than ever.
I hope the following gluten-free baking hacks will help you, too, become a better gluten-free baker. Do you accept the challenge?
Hack #1: Easily Convert Recipes with the Right Flour
You don't always need a gluten-free recipe to recreate your favorite wheat-based recipes. Instead, use a cup-for-cup gluten-free flour blend to turn your regular recipes into gluten-free masterpieces.
Any of these blends, which measure 1-to-1 with wheat flour, can help you do the job: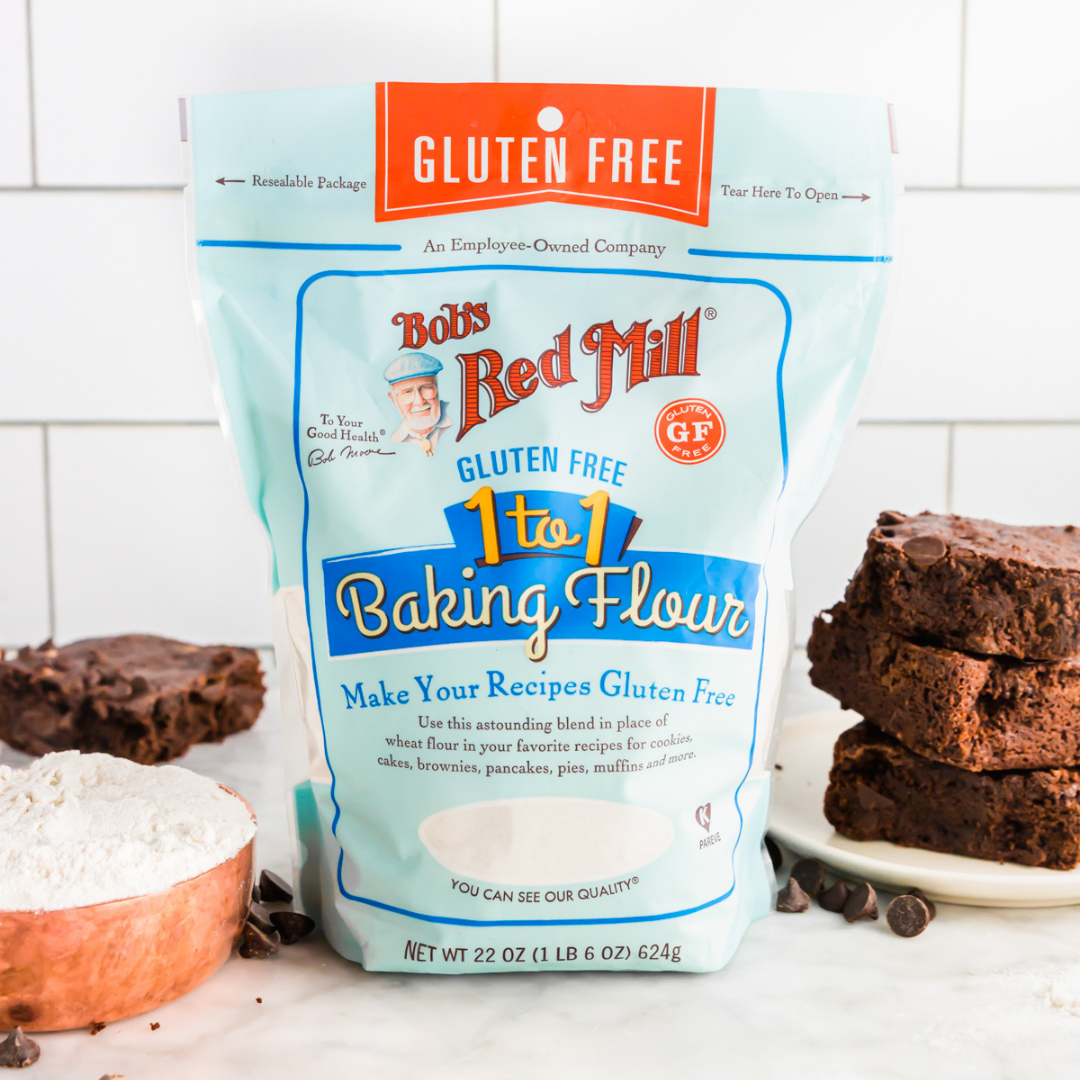 Remember, rice flour, coconut flour, or almond flour alone cannot be used as a one-to-one swap for wheat flour in regular recipes. Gluten-free baking requires a combination of flours (white or brown rice, oat, sorghum, etc.) and starches (cornstarch, tapioca starch) to replicate the protein, fiber, and starch content of wheat flour.
You'll be most successful baking foods that require less structure when using 1-to-1 gluten-free flour blends. The following recipes didn't require a lot of structure and therefore worked well with a gluten-free flour blend:
On the other hand, recipes that require more structure, like yeast-risen baked goods (think cinnamon rolls, pizza dough, or bread), will require more than just a 1-to-1 flour to give it the structure and elasticity it needs to taste right.
For yeast-risen baked goods, the gluten-free flour mix should include an extra binding agent to help mimic the "stretchiness" of gluten.
Ingredients that add structure include extra xanthan gum, psyllium husk, and flour mixtures with a higher ratio of white rice flour and tapioca starch.
When making a homemade flour blend, aim for a ratio of 40% whole grain (brown rice, oat flour, etc.) to 60% starch (tapioca, potato, or cornstarch). As a general rule of thumb, lighter baked goods should have a bit more starch than whole grains, and vice versa.
Hack #2: Always Use the "Gum" or Psyllium Husk
Xanthan gum is a thickening agent that helps to mimic the gluten texture in a recipe. Gluten is the "glue" that holds a recipe together; without it, your cookies will literally crumble.
But in gluten-free baking, xanthan gum can help bind your ingredients together and mimic the missing gluten.
Many of the gluten-free flour blends I listed above already contain xanthan gum (or guar gum or psyllium husk, which also work as thickening agents or binders), but if your mix doesn't have it, you need to add 1 tsp of xanthan gum for every 1 cup of flour.
Respect the power of xanthan gum. It can make all the difference in taste and texture when baking with gluten-free flour.
Please note, however, when baking yeast-risen baked goods, you should use both xanthan gum and psyllium husk.
Psyllium husk acts as a binder, adding elasticity to the dough so you can knead and handle it. Psyllium husk is an essential ingredient in my gluten-free artisan bread recipe, my gluten-free sandwich bread, and my yeast-risen gluten-free jelly donuts.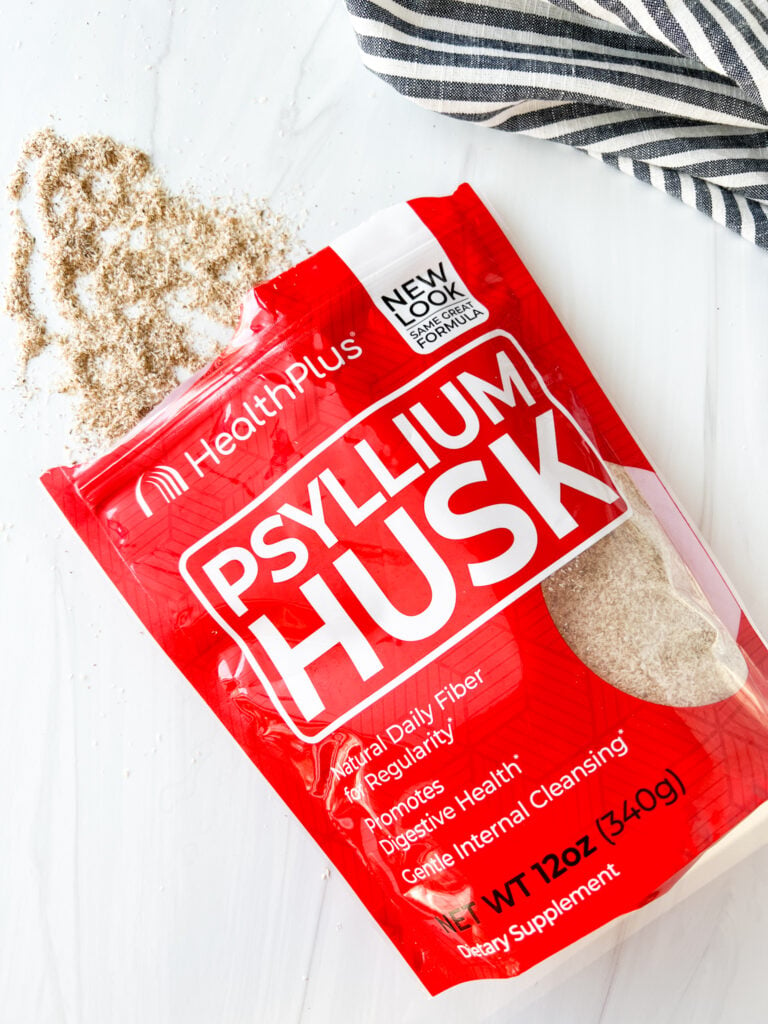 Hack #3: Add Extra Moisture
Gluten-free baked goods can come out dry if you don't add enough moisture to the batter. If your cookies or muffins turn out dry, add additional liquid. I recommend full-fat milk, creams, and coconut milk when possible, as the extra fat adds hydration.
Other ways to add more moisture to your baked goods include adding applesauce, mashed bananas, yogurt, pumpkin, or an additional egg. However, when adding extra moisture to your recipes, also be sure to add a little extra baking time to help evaporate the excess moisture.
Gluten-free dough needs to be mixed well, so throw anything you learned about over-mixing baked goods out the window. When baking with gluten, it's possible to overmix your dough, which toughens the gluten and makes it rubbery. However, in gluten-free baking, when there's no gluten to worry about over-developing, you can – and should – mix away.
Mixing your batter well will hydrate the flour, which makes your gluten-free baked goods light and airy. For example, when I make my gluten-free challah recipe, I mix the batter for 1-2 minutes, resulting in soft, doughy, and stretchy bread.
Hack #4: Rest Your Batter
Gluten-free baked goods can sometimes feel gritty if the texture isn't quite right. One way to improve the texture of your baked goods is to let the batter rest, covered, for at least 30 minutes. This goes for cookie dough, cake batters, and quick bread recipes.
Resting the batter allows the liquid to absorb the flour and starches fully. As a result, it adds a softened texture to baked goods and better structure and rise. Resting also makes the batter thicker and easier to handle (less sticky).
America's Test Kitchen tested this theory and found that resting gluten-free batters made a world of difference in both the taste and texture of baked goods. So don't skip this step!
When working with doughs that you need to shape and handle, like yeast-risen baked goods, resting and chilling the dough for 1-2 hours in your refrigerator will make the dough less sticky and much easier to work with and shape.
Hack #5: Measure by Weight, Not Volume
The best bakers in the world know that measuring your ingredients by weight using a kitchen scale is superior to measuring by volume. When you measure by volume, you risk adding too much flour to your batter. Too much flour will likely result in a drier baked good, especially in gluten-free baking when extra moisture is needed in general.
If you don't have a kitchen scale or want to continue to measure by volume using measuring cups, use this technique:
Add a piece of parchment paper to a flat surface and place a measuring cup over the paper.
Add the flour into the measuring cup using a spoon (no scooping). Do not press down or tap the measuring cup. You don't want the flour packed into the cup.
Once the cup is full, use the back of a butter knife to scrape away any overflowing flour.
Add the flour to your batter.
Return the excess flour to your storage container by folding the piece of parchment paper and funneling the flour back into your storage container. No waste!
Remember, measuring your flour is king, but the spoon and level method will prevent you from adding too much flour to your batter or dough when using measuring cups.
Hack #6:  Make Yeasted Sweet Bread Come to Life
For many years, I had no idea how to make a gluten-free cinnamon roll recipe that didn't taste dry and gritty. I tried using my gluten-free 1-to-1 flours, and, unfortunately, the recipes didn't work.
That all changed when I found this sweet dough mix. I use it when making cinnamon rolls, babka, monkey bread, and fried donuts. Trust me. You need this sweet dough mix if you want your yeasted recipes to be doughy and stretchy.
Hack #7: Invest in a Donut Pan
A donut pan will enable you to make donuts and bagels that look like donuts and bagels. Put the sticky batter inside the donut cavities and then bake the donuts in your oven.
Gluten-free dough often contains extra moisture, so the liquidy batter cannot roll out and shape properly. A donut mold pan will do the job for you – no sweat!
Below is how my gluten-free chocolate cake donuts look when baked in my donut mold pans.
Hack #8: Add Moisture with Almond Flour
You're suddenly introduced to alternative flours when you start a gluten-free diet. Almond flour was one of my favorite gluten-free flour discoveries.
Almond flour is naturally gluten-free, nutrient-dense, and has a high-fat content. You'll notice almond flour recipes require less fat (because much of the fat comes from the flour) and instead call for more eggs to help it leaven. You can learn more about how to bake with almond flour in my article, Can You Use Almond Flour in Place of Regular Flour?
Almond flour batter is very moist, so your baked goods turn out ultra-moist too.
I've baked many amazing foods with almond flour. Try any of these recipes to see for yourself how moist baked goods taste with almond flour:
Remember, almond flour and coconut flour cannot be used interchangeably. When using coconut flour, use it judiciously.
Coconut flour is a highly absorbent flour. That means you'll need to use less or amp up the wet ingredients to avoid a dry and crumbly baked good. Sometimes a combination of almond flour, which is extra moist, and coconut flour, which absorbs moisture, is a winning combo.
Hack #9: Heat Makes Gluten-Free Bread Taste Better
If you eat store-bought gluten-free bread, you'll notice it tastes grainy and dry right out of the bag. A great way to get gluten-free bread to have that stretchy and doughy feeling is to heat it in your toaster oven, stove-top, or microwave.
If you don't have access to a dedicated gluten-free toaster, you can heat your gluten-free bread in a toaster bag. Put your gluten-free bread inside the reusable toaster bag, toast it, and eat.
The toaster bag will protect your bread from touching the sides of the toaster, which, as you know, has touched gluten. These toaster bags work well when traveling (and want to use the hotel toaster) or at the office.
Canyon Bakehouse and Schar have come out with shelf-stable gluten-free bread packaged in stay-fresh packaging. This bread tastes good right out of the bag, but its shelf-life is limited.
Hack #10: Your Pie Crust Problem Solved
Making a gluten-free pie crust takes patience, but it's easier than you might think. You'll see in my gluten-free pie crust recipe that I don't roll out the pie crust at all. Instead, I press the dough into the sides of the pie plate.
The issue comes when you need a top crust for your pie. When that happens, I say don't. Instead, make your pie with a crumble topping vs. a whole pie crust topping. It will taste better and be so much easier to work with.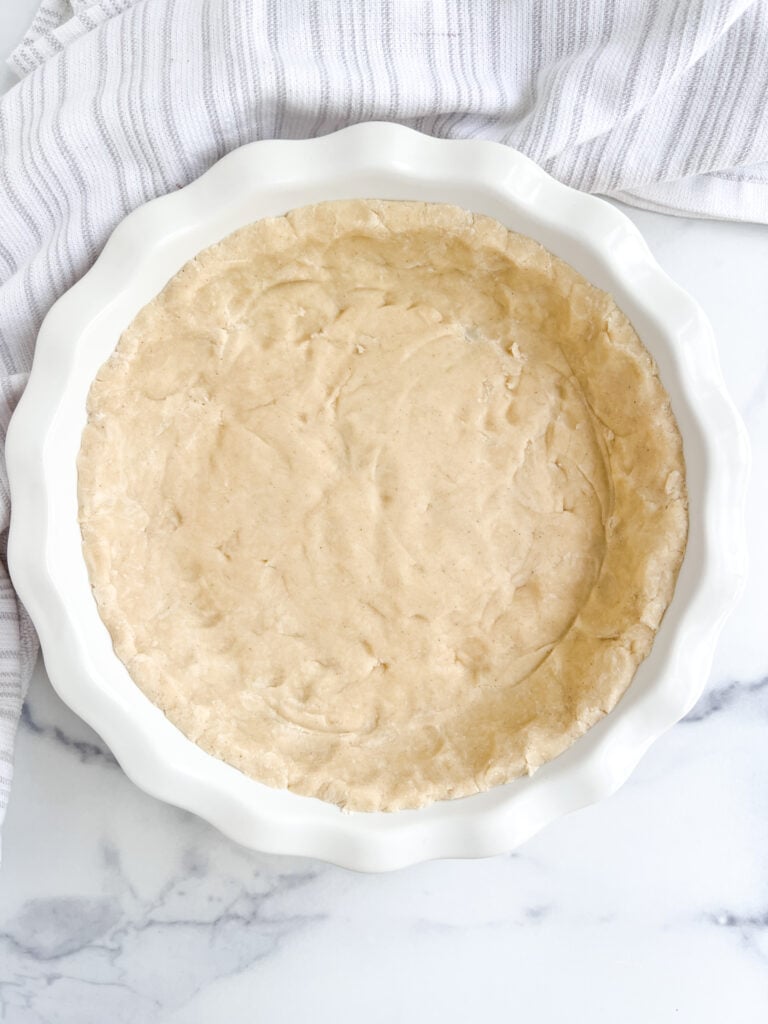 Remember, gluten is the "glue" that holds the dough together. Think of a pizza shop where the baker throws the dough in the air, and when it lands back in the baker's hands, it's still intact.
Unfortunately, dough made without gluten will crack and crumble with handling, so pressing it into the pan vs. rolling it out is ideal. One benefit of gluten-free pie crust is that it's a bit easier to work with. You don't have to worry about overdeveloping the gluten proteins—just press and bake.
Hack 11: Need Breadcrumbs? No Problem!
Fortunately, there are many gluten-free breadcrumb and panko options today, including some from my favorite brands, Aleia's and Ian's.
When dredging a piece of chicken in flour, for example, use any all-purpose gluten-free flour or, even better, use cornstarch. Cornstarch doesn't soak up oil like flour, thus leaving you with chicken that is crispy on the outside and juicy on the inside. I use cornstarch when making my gluten-free sweet and sour chicken. It turns out crisp and juicy!
Hack #12: Need to Thicken a Sauce? No Problem!
I also use cornstarch vs. flour to thicken sauces – no flour needed. To thicken a sauce, heat it in a saucepan and then whisk in a cornstarch slurry. A cornstarch slurry is made by combining 1/2 – 1 tablespoon of cornstarch with 2-3 tablespoons of cold water.
Mix the cornstarch and cold water until you get a thick, cloudy mixture, then whisk this "cornstarch slurry" into the warm sauce you want to thicken. I use this technique when making my gluten-free chicken marsala, which works like a charm every time.
Hack #13: When All Else Fails, Eat Naturally Gluten Free
If you're tasked with bringing a dessert, instead of trying to bake something that you're not sure others will like, bring a naturally gluten-free dessert.
Ice cream, sorbet, fruit, chocolate fondue, chocolate truffles, flourless chocolate cake, chocolate-covered strawberries, monster cookies, and even marshmallow rice crispy treats (using gluten-free rice cereal) work well.
Additional Information
Learn More: A fantastic book about the science behind baking gluten free is Baked to Perfection. I highly recommend investing in this book to hone your gluten-free baking skills.
Experiment With Different Ingredients: You'll want to try baking with different flours and ingredients to see how they react in your baked goods. I often bake a recipe 2-3 times to get it right.
Invest in Kitchen Tools: A standing mixer is a must with gluten-free baking since you'll need to mix the batters and doughs well. Be sure to invest in one and use it only for gluten-free baking to avoid gluten cross-contamination.
Did I miss a gluten-free hack that has helped you become a better gluten-free baker or cook? Leave a comment and share your best hack(s) with me.