Eating gluten free got you down? In this post I'll show you 9 hacks that will make your gluten-free life a little easier. Please note this post contains affiliate links. See my disclosures.
Over the years of following a gluten-free diet, I've learned a thing or two that has made my gluten-free life a little easier, particularly in the kitchen.
Now, mind you, as a patient of celiac disease, I do miss the convenience of pulling out a white flour from my pantry and whipping up a beautiful cake that costs me little money to make.
The days of cheap and fast are long gone now that I have celiac disease.
When I find myself longing for those pre-celiac days, I'm reminded of what a gift celiac disease has been in my life. I've been finally awakened to the world of healthy eating, nutrient-dense flours, and exciting gluten-free alternatives.
Celiac disease has brought me renewed health. It also has forced me to learn how to cook and eat in a way that helps, not harms, me.
Today I want to share with you some of the gluten-free hacks I've learned along the way.
These are nine hacks I think every person with celiac disease or a gluten sensitivity should know too.
Hack #1: Easily Convert Recipes with the Right Flour
You don't always need a gluten-free recipe to recreate your favorite recipes. Instead, use a cup for cup gluten-free flour blend to turn your regular recipes into gluten-free recipes.
I recommend any of these blends to help you do the job:
Remember, you cannot use rice flour or almond flour as a one-to-one swap for wheat flour in regular recipes. Gluten-free baking requires a combination of flours (rice, brown rice, quinoa, etc.) and starches (cornstarch, tapioca starch) in order to mimic the taste and texture of wheat flour.
Here are some fantastic recipes to try with 1-to-1 gluten-free flour blends:
Hack #2: Always Use the "Gum"
Xanthan gum is a thickening agent that helps to mimic the texture of gluten in a recipe. Gluten is the "glue" that holds a recipe together; without it, your cookies will literally crumble.
But in gluten-free baking, xanthan gum can help bind your ingredients together and mimic the missing gluten.
Many of the gluten-free flour blends I listed above already contain xanthan gum (or guar gum or psyllium husk, which also work as thickening agents or binders), but if your mix doesn't have it, you need to add 1 tsp of xanthan gum for every 1 cup of flour.
Respect the power of xanthan gum. It can make all the difference in taste and texture when baking with gluten-free flours.
Hack #3: Add Extra Moisture to Your Baked Goods
Gluten-free baked goods can come out dry if not enough moisture is added to the batter. If your cookies or muffins are dry, amp up the amount of liquid used. I recommend full-fat milks, creams and coconut milks when possible to add that extra moisture and hydration to your flour.
Other ways to add more moisture to your baked goods is by adding applesauce, mashed bananas, yogurt or pumpkin to the batter.
When adding a little extra moisture to your recipes, be sure to add a little extra baking time too. This will help evaporate any excess moisture.
A few other tips to making a good batter.
First, mix your batter well. When baking with gluten, it's possible to overmix your dough, which will toughen the gluten and make it rubbery. But in gluten-free baking, when there's no gluten to worry about, you can mix away. Mixing will hydrate the flour, which is important. When I make my gluten-free challah recipe, I mix the batter for a good minute and the bread comes out very soft and doughy.
Also, allow your batter or dough to sit for a few minutes before baking. Allowing the batter to sit will enable the starches to fully absorb the moisture from the wet ingredients. When you allow your batter to rest for a few minutes before baking, you'll end up with baked goods that taste soft and moist and have better structure and rise.
Hack #4: Your Pie Crust Problem Solved
Making a gluten-free pie crust takes a little patience, but it's actually easier than you might think. You'll see in my gluten-free pie crust recipe that I don't roll out the pie crust at all. Instead, I just press the dough into the sides of the pie plate.
The issue comes when you need a top crust for your pie. When that happens, I say don't.
Instead, make your pie with a crumble topping vs. a full pie crust topping. It will taste better and be so much easier to work with.
Remember, gluten is what allows holds dough together. Think of a pizza shop where the baker throws the dough in the air and when it lands back in the baker's hands, it's still intact.
Gluten-free dough will crack at the slightest bit of handling, so just press it in the pan vs roll it out.
And dare I say, it might actually be easier to make a gluten-free pie crust than a regular pie crust since you don't have to worry about the finicky gluten.
Hack #5: Make Yeasted Sweet Breads Come to Life
For many years, I had no idea how to make a gluten-free cinnamon roll recipe that didn't taste like garbage. I tried using my gluten-free 1-to-1 flours, and the recipes just didn't work.
That all changed when I found this sweet dough mix. I use it when making cinnamon rolls, babka, monkey bread and fried donuts now!
Trust me, you need this sweet dough mix if you want your yeasted recipes to stand a chance.
Hack #6: Invest in a Donut Pan
A donut pan will allow you to make donuts and bagels that actually look like donuts and bagels. You simply put the sticky dough in the donut mold pans, and then bake them as normal.
Remember, gluten-free dough is sticky, so it's impossible to roll out the dough and shape them properly without a donut pan.
They'll look gorgeous like these gluten-free chocolate cake donuts I make all the time!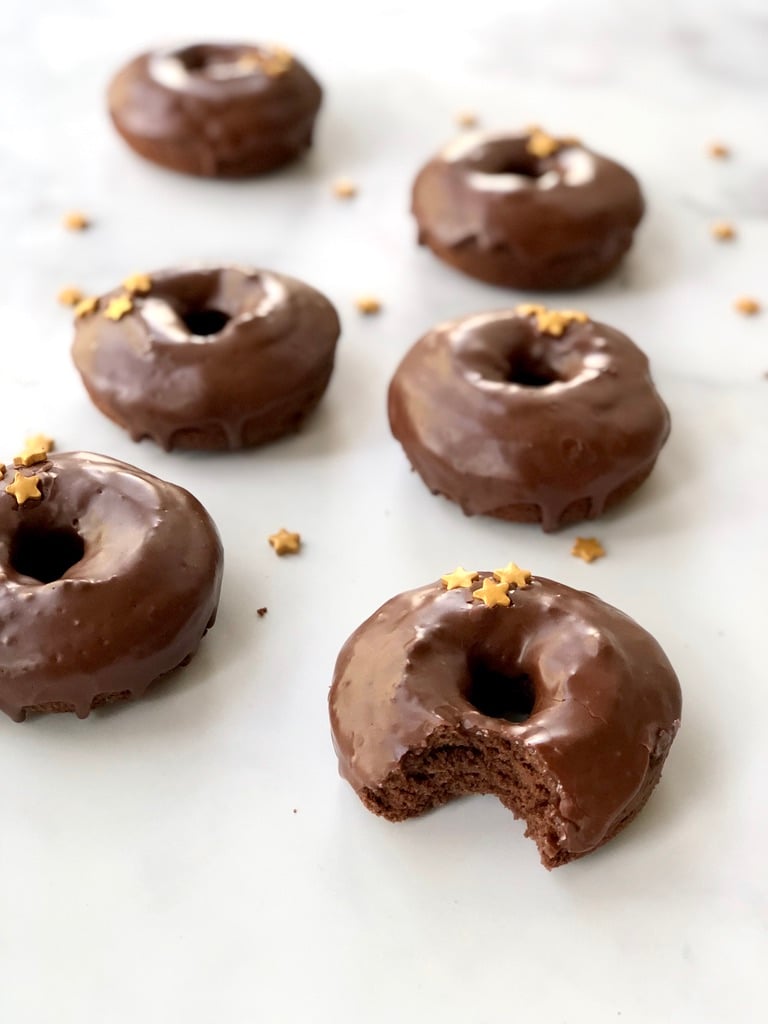 Hack #7: Add Moisture with Almond Flour
When you go gluten free, you're suddenly introduced to the world of amazing and exciting alternative flours. Almond flour was one of my favorite gluten-free flour discoveries.
Almond flour is naturally gluten free, nutrient dense and has a high fat content. You'll notice almond flour recipes require less fat (because much of the fat comes from the flour) and instead call for more eggs to help it leaven. You can learn more about how to bake with almond flour in my article, Can You Use Almond Flour in Place of Regular Flour?
Almond flour batter is very moist, which means your baked goods turn out moist too.
I've baked so many amazing things with almond flour and feel like an almond flour pro at times. Try any of these recipes to see for yourself how moist baked goods taste with almond flour:
Hack #8: Heat Makes Gluten-Free Bread Taste Better
If you eat gluten-free bread, you'll notice it's kinda grainy and dry. Even the best gluten-free breads just don't taste the same as wheat bread. A great way to get gluten-free bread to have that elastic feeling like normal bread is to heat it up before eating.
The toaster is the best way to add heat, but the microwave or oven will work too. Heat will help soften the bread and make it more chewy and bread-like.
If you don't have access to a dedicated gluten-free toaster, you can heat your gluten-free bread in a toaster bag. Simply put your gluten-free bread inside the reusable toaster bag, toast it, and eat. The toaster bag will protect your bread from touching the sides of the toaster, which, as you know, has touched gluten.
These toaster bags work well when you're traveling (and want to use the hotel toaster) or at the office.
Hack #9: When All Else Fails, Eat Naturally Gluten Free
If you're tasked with bringing a dessert, instead of trying to bake something that you're not sure others will like, bring a naturally gluten-free dessert instead.
Ice cream, sorbet, fruit, chocolate fondue, chocolate truffles, chocolate covered strawberries and even marshmallow rice treats (using gluten-free rice cereal) work well.
Got Other Hacks?
Did I miss a good gluten-free hack that has helped you manage your gluten-free life better?
Leave a comment and share your best hack(s) with me.