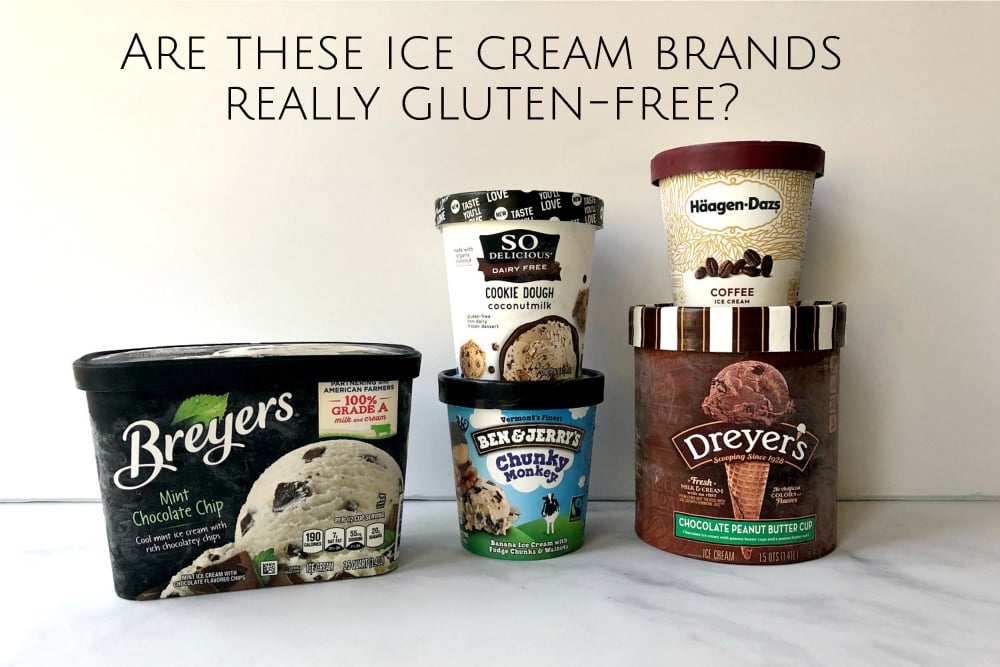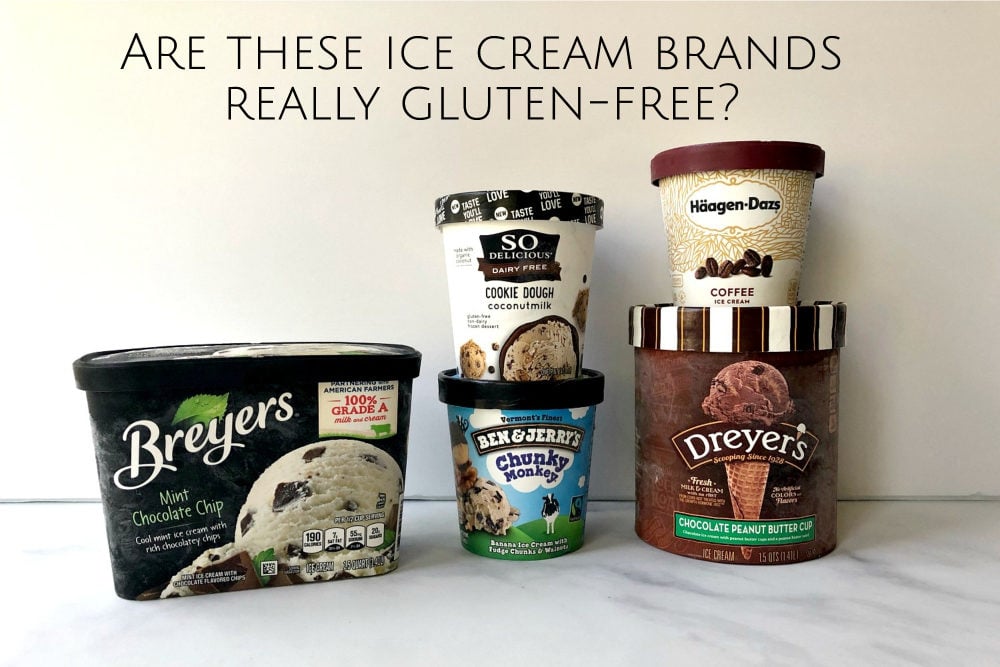 Ice cream, in its natural state, is gluten-free because it's made of sugar, milk, cream, and sometimes eggs. All these ingredients are naturally gluten-free.
Many brands of ice cream are therefore gluten-free and safe for someone with celiac disease or gluten intolerance to eat. But before diving into your favorite pint of ice cream, there are a few things to be aware of to avoid getting glutened.
First, you must be able to spot gluten, a protein found in wheat, rye, barley, and sometimes oats, when looking at an ingredient label.
Gluten doesn't always go by gluten, or wheat, rye, barley, or oats for that matter, and it's often hidden in ingredients like malt, natural flavors, brown rice syrup, oatmilk, and yeast extract.
Gluten can be hard to spot on an ingredient label, but having a great tool, like the Fig app, will help you quickly identify any potential gluten or other allergens.
Second, you must fully understand what a brand means when it says it "may contain wheat" or when it says a product is "produced on shared equipment with products that contain wheat."
Some ice cream manufacturers, like Tillamook, use shared equipment when making its ice cream flavors, although, as you'll see below, the company says it practices good manufacturing policies to avoid allergen contamination.
Third and finally, some brands offer gluten-free flavors and non-gluten-free flavors, so you must check labels carefully to avoid any confusion. Ben & Jerry's, for example, has some gluten-free flavors, although the bulk of its ice cream lineup contains gluten. The packaging is identical, so it's easy to pick up a flavor that contains gluten by mistake.
What Ice Cream Brands Are Gluten Free?
I tested five well-known ice cream brands for hidden gluten using my Nima Sensor, a portable gluten-detecting device.
When selecting the ice cream brands to test, I looked at the ingredient labels to ensure that there weren't any gluten ingredients, may contain wheat statements, or other red flag disclosures.
Here's how each ice cream brand fared when put to the test (listed in alphabetical order):
Ben & Jerry's
Ben & Jerry's currently carries about a dozen certified gluten-free flavors, and some are dairy-free too, including:
Bananas Foster (dairy free – added January 2022)
Boom Chocolatta (dairy free – added January 2022)
Cherry Garcia (in pints and mini cups)
Cherry Garcia FroYo
Cherry Garcia (dairy free)
Chunky Monkey
Coffee Coffee BuzzBuzzBuzz!
Karamel Sutra Core
Karamel Sutra Core (dairy free)
New York Super Fudge Chunk
Phish Food
Phish Food (dairy free)

Pistachio Pistachio

Vanilla
Vanilla Caramel Fudge
If the product is certified gluten-free by the GFCO, it's safe to enjoy. However, there are some flavors that are not labeled gluten-free but do not appear to contain any gluten. Here is what Ben & Jerry's says about these non-certified gluten-free flavors:
"Ben & Jerry's has a very proactive approach to addressing the concerns of persons with food sensitivities. We work closely with all of our ingredient suppliers to verify all ingredient components, including those in natural flavors, colors, and spices that might be a concern to persons who, either for medical reasons or as a matter of personal preference, wish to avoid certain foods. We insure that this information is then included on the ingredient label of our product.
"Our policies and procedures are such that if peanuts or tree nuts (almonds, cashews, chestnuts, walnuts, pistachios, pecans, hazelnuts/filberts, macadamias, Brazil nuts, pine nuts) as well as eggs, milk, fish, shellfish, wheat, soy, seeds, and lupin are not listed in the ingredient declaration or in an Allergy Information statement in boldface on the package, then the product is safe to consume for persons with allergies to those ingredients.
"We have systems and policies in place to help protect our consumers from cross-contamination. While we process nut flavors on shared equipment that also processes non-nut flavors, Ben & Jerry's employs strict sanitation procedures and processes that ensure complete cleaning of all equipment. Also, while it is virtually impossible to make absolute guarantees, Ben & Jerry's is confident that not only are our products good to eat, they are also safe to eat. For specific information about our products, we ask that you continuously refer to the labels on our products as they are the most complete and most up-to-date source for specific food allergen information."
I tested Ben & Jerry's Chunky Monkey (banana-flavored ice cream with fudge chunks and walnuts) with the Nima Sensor. Nima smiled, which means Nima didn't find any gluten.
In 2022, I tested Karamel Sutra non-dairy ice cream, made with almond milk, with my Nima Sensor. Again, Nima is all smiles, which means no gluten was found.
Breyers
Many Breyers ice creams are labeled gluten-free, which means they contain less than 20 ppm of gluten (if any) and meet the FDA's gluten-free labeling requirements.
Not all Breyers products are gluten free, and Breyers does not claim to have a dedicated gluten-free manufacturing facility.
On the Breyers website, Breyers says, "…stringent criteria are used to ensure that the products that claim to be gluten-free are handled properly.
"At the BREYERS® facility, there are systems in place to prevent cross-contact of gluten in products that make a gluten-free claim. They include employee allergen training, ingredient segregation, cleaning procedures and production planning. The gluten-free program within the factory includes validation and verification activities which include allergen testing on both the product and the production lines."
Here is how Breyers Mint Chocolate Chip fared against the Nima Sensor. Nima, again, didn't find any hidden gluten.
Dreyer's (or Edy's)
Note that Edy's and Dreyer's are the same brand, however, the ice cream brand is sold as Dreyer's west of the Rocky Mountains and in Texas, and it's sold as Edy's in the midwest and eastern U.S.
Edy's/Dreyer's says on its website, "Typically, the gluten in our frozen dessert products comes from the added bakery products such as cookies, cake or brownies. But some Dreyer's flavors have gluten from non-bakery products. Each flavor has ingredient listings if you're interested in finding out more."
In other words, each product is individually labeled for gluten. Not a huge vote of confidence, but at least we know Edy's/Dreyer's is aware that some of its customers do not eat gluten and it labels its products accordingly.
Here is how Dreyer's chocolate peanut butter flavor fared when put to the Nima Sensor test. Once again, Nima is happy!
Häagen-Dazs
Häagen-Dazs says on its website, "As a general rule, the gluten in our frozen dessert products is present only in added bakery products such as cookies, cake, or brownies. All products that are gluten-free are clearly marked as such on the packaging and the website."
There you have it. If the packaging says "gluten free," it doesn't contain any gluten.
The Häagen-Dazs coffee flavor is labeled "gluten free," so I put it to the Nima Sensor test. Nima is smiling again – no gluten found! You can view all the gluten-free flavors online.
So Delicious
So Delicious ice creams are not only dairy free but also they're certified gluten free by the GFCO, and they come in flavors like cookie dough. Oh, how I miss cookie dough ice cream!
So Delicious ice creams are made with dairy swaps like cashewmilk and coconutmilk.
So Delicious says it's serious about food allergies. Just read this page that details its rigorous allergen control process (too much to paste here, but basically it details how serious the company is about feeding people with food allergies).
Avoid any So Delicious product made with oatmilk, which more often than not contains gluten.
I put So Delicious to the Nima Sensor test live on Facebook so we could learn together if So Delicious is really gluten-free. Spoiler alert: This cookie dough ice cream is 100 percent gluten-free; Nima is all smiles!
Is Tillamook Ice Cream Gluten Free?
I'm on the fence about Tillamook ice cream because, while many flavors do not contain any gluten ingredients, they're produced using the same equipment. Tillamook says that they consider allergens when creating production schedules and equipment is thoroughly sanitized and swab-tested for allergen remnants.
You can read the full statement below or on the Tillamook website:
"All Tillamook Ice Cream flavors contain milk, and most contain pasteurized egg yolks as well. Some also contain other major allergens like wheat, tree nuts, peanuts, and soy. In compliance with federal law, any Tillamook product that contains major allergens like these must clearly state so in the ingredients listing on the packaging, so please be sure to check the label!
"Please note that all of our ice cream flavors are produced with the same equipment. Production schedules are carefully prepared by considering allergens and their potential risks. Equipment is thoroughly sanitized and swab-tested (for allergen remnants) after producing ice cream flavors that contain nuts or other major allergens.
"For all Tillamook products, there are strict GMPs (Good Manufacturing Practices) in place which are designed to prevent any cross-contamination of major allergens on shared equipment lines. This includes swab-testing the equipment between production runs to ensure there are no allergen remnants present."
The bottom line is that you must read the allergen disclosure statements on individual packaging. Some of you may choose to avoid Tillamook since it uses shared equipment, however, it does appear that the company employs satisfactory measures to avoid cross contamination on its manufacturing lines.
Ice Ice Cream, Baby!
If you want me to test other brands of ice cream for hidden gluten, please leave your suggestion as a comment and/or drop me a line.
You might also find these articles helpful on your gluten-free journey: