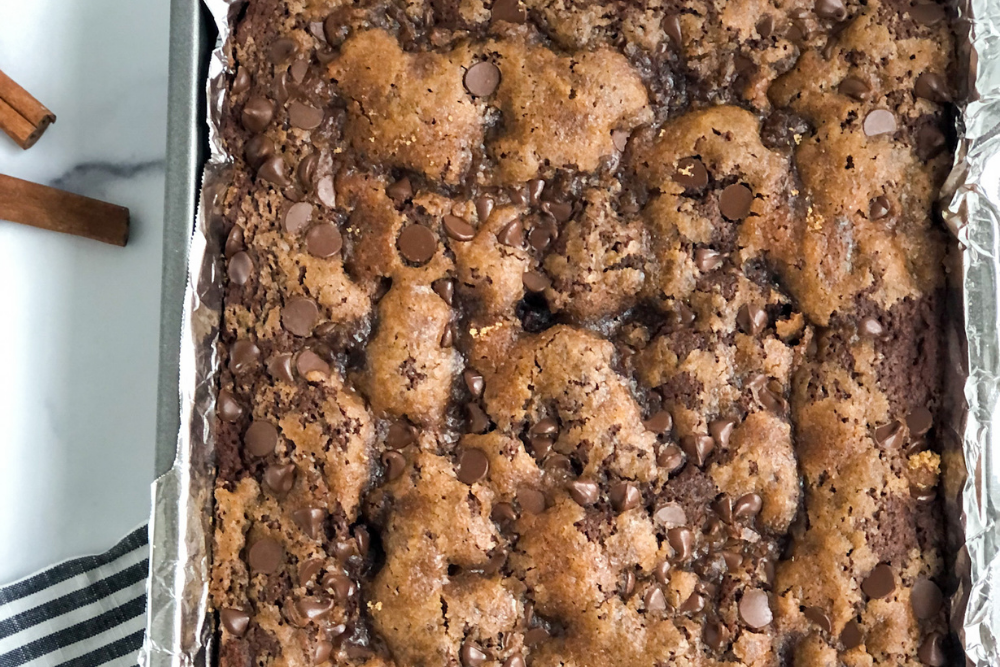 This post features my favorite gluten-free chocolate applesauce cake recipe ever. You won't believe how soft and moist this cake is as the applesauce gives it a perfect texture. This post contains affiliate links. Please see my disclosures.
I can't wait to share with you the single best gluten-free chocolate cake recipe I have. While I used to make this cake all the time in my pre-celiac days, I never thought it would be back on the table again now that I'm gluten free.
But I have to say, it's not only back on the table, but the gluten-free version of this recipe is even better than the original!
My new and improved gluten-free recipe uses a store-bought gluten-free flour blend and extra applesauce, both which help make this cake out of this world.
When baking with gluten-free flour, a little extra moisture is sometimes all a recipe needs to shine. (You can learn more about my gluten-free baking hacks in this article.)
I promise, if you follow this recipe to a T, you will get a gluten-free chocolate cake that has the best texture ever. No one has to know it's gluten free, and they won't know unless you tell them.
This recipe is very special to me. It started with my grandmother-in-law, whom we affectionately called Bubu, and then was passed down to my mother-in-law when Bubu was unable to bake any more. (Yes, Bubu is the same Bubu who taught me how to make lacto-fermented pickles!)
I have perfected this recipe with gluten-free ingredients and a little extra TLC, so be sure to use the updated recipe below (last updated January 2022). This easy gluten-free chocolate cake made with applesauce is my go-to dessert. No one can resist it. No one.
How to Make Gluten-Free Chocolate Chip Cake
Before I share how to make this delicious cake, I have to list all the reasons why I love it so much, and why I think you'll love it too:
It's chocolatey through and through! If you like chocolate cake, you will love this cake.
It's super moist. No crumbly cake here. You can thank the applesauce for that.
The topping is to die for. The top is sprinkled with chocolate chips and brown sugar before it bakes, giving it a crunchy crust topping that is truly the best part of the entire cake. Be generous when sprinkling all the goodies atop the batter.
It's so easy. All you have to do is mix the batter and place it in a large cake pan. You can't mess it up. I can whip up this cake batter in less than 10 minutes, and have a chocolate cake ready in less than hour total. Once you make this cake a few times, it's a breeze to make again and again.
Everyone raves about it. I've served this cake time and time again and everyone loves about it! Most people who have tried this cake have asked me for the recipe.
OK, now let's talk about just how easy this recipe is to make.
Step #1: Prepare wet ingredients: In a large bowl attached to your standing mixer, combine 1/2 cup of butter with 1 1/2 cups of sugar. Cream together until well combined. Add two eggs, 2 cups of unsweetened applesauce and vanilla and mix until just combined. Set aside.
(Editor's Note: If you've seen a prior version of this recipe, you may have noticed I used 2 1/2 cups of applesauce instead of 2 cups. I have tested this recipe with 2 cups of applesauce instead, as I was finding the center was ultra-moist and sinking at times with 2 1/2 cups. I found the cake's structure to be better with just 2 cups of applesauce, and it doesn't change the taste at all.)
Step #2: Sift dry ingredients: Sift together 2 cups of Bob's Red Mill 1 to 1 Gluten-Free Flour Blend (296 grams), 2 heaping tablespoons of cocoa powder (or cacao powder), 1 1/2 tsp baking soda, 1/2 tsp cinnamon and 1/2 tsp salt. Set aside.
Step #3: Combine ingredients: Set your mixer on low and slowly add the dry ingredients to the wet ingredients 1/2 cup at a time, scraping down sides until all the batter is well combined, about 1 minute. Pour the batter into a foil-lined 9×13 metal baking dish lightly greased with non-stick cooking spray.
Step #4: Add the topping: Top the batter with 1/2 cup of brown sugar and 1 cup of chocolate chips. Sprinkle the brown sugar and chocolate chips evenly over the top of the cake until the cake is well covered. The brown sugar and chocolate chips will create an irresistible crust on top of the cake, so don't skip this key step!
Step #5: Bake the cake: Bake the cake for 35-40 minutes in a 350º F preheated oven. The cake is ready when a toothpick inserted into the center of the cake comes out clean. Allow the cake to cool for one or more hours before serving.
Here is what this beautiful cake looks like. Notice that brown sugar crust atop a fluffy chocolate cake. Yum!
Frequently Asked Questions
Here are answers to some frequently asked questions:
Can I use another flour blend? This recipe is perfect every time with Bob's Red Mill 1 to 1 gluten-free flour blend, but it also works with Cup4Cup flour (it may sink a bit in the middle, but still tastes good with Cup4Cup), and Pamela's 1-to-1 Gluten-Free Flour Blend. I also tested it with a one to one flour blend that didn't contain xanthan gum. It tasted crumbly and not so moist, so look for a mix with xanthan gum in it or add your own. Remember, I used to make this cake with wheat flour before I went gluten free, so it also works well if you're not worried about gluten.
Can I use sweetened applesauce? No, the cake will be way too sweet. Stick with unsweetened applesauce. If you want, you can use cinnamon applesauce and omit the cinnamon addition. It will definitely elevate the cake and it will taste deliciously cinnamony.
Can I make it dairy free? Yes, you can use dairy-free butter, like these butter sticks from Earth Balance, in lieu of butter.
Is there a substitute for eggs? I have made this cake without eggs using two flax eggs (1 flax egg equals 3 tbsp warm water + 1 tbsp flaxseed meal). The cake turned out slightly denser, but still delicious.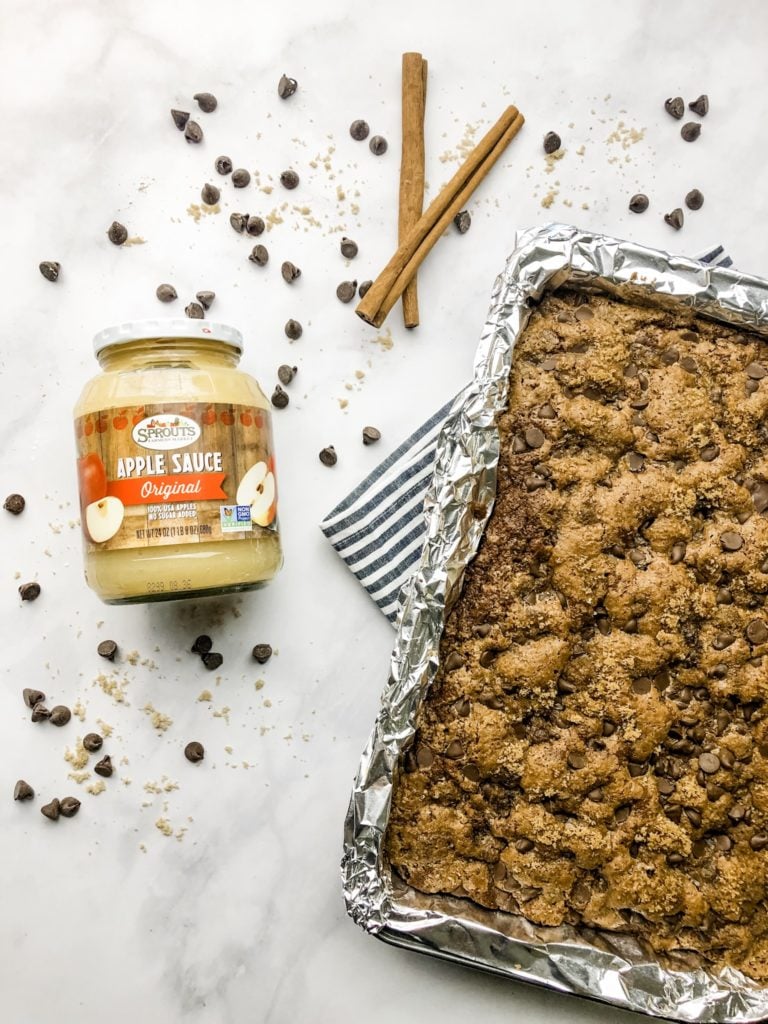 No One Will Know It's Gluten Free
I can promise you that no one will be able to tell this cake is gluten free. It's that good and will fool even the most anti-GF people on the planet.
I know this to be true because there are people in my circle who eat this cake who thumb their noses at gluten-free foods… yet they love this cake.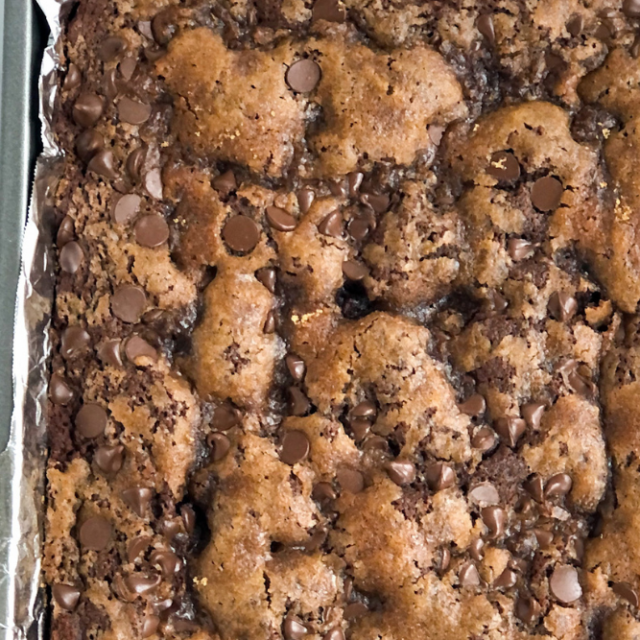 Gluten-Free Chocolate Cake Made with Applesauce
This gluten-free chocolate cake made with applesauce is my go-to gluten-free dessert, and it doesn't hurt that it's rich, moist and decadent too. I'm asked for this recipe all the time… and now you can have the recipe and eat it too. Enjoy!
Print
Pin
Ingredients
1/2

cup

butter

1 stick

1 1/2

cups

sugar

2

large

eggs

2

cups

unsweetened applesauce

1

tsp

vanilla

2

cups

Bob's Red Mill 1 to 1 Gluten-Free Flour Blend

296 grams

2

heaping tbsps

cocoa powder

1 1/2

tsp

baking soda

1/2

tsp

cinnamon

1/2

tsp

salt

1/2

cup

brown sugar (for topping)

1

cup

chocolate chips (for topping)
Instructions
Preheat oven to 350º F and line a 9" x 13" metal baking dish with foil. Spray with cooking spray to lightly grease the foil.

In a mixer, cream together butter and sugar. Add to mixture eggs, vanilla, and applesauce. Set aside.

In a separate bowl, sift together flour, cocoa, salt, baking soda, and cinnamon. Set aside.

Add flour mixture slowly to wet mixture, mixing on low and scraping sides to ensure all ingredients are combined. Mix for 1 minute until well combined. Transfer the wet batter to the greased baking pan.

Sprinkle the mixture generously with brown sugar and chocolate chips until nicely coated on top.

Bake for 35-40 minutes until center comes out clean with a toothpick. Allow the cake to cool for at least 1 hour before cutting into it. The cake can be made a day ahead of time and tastes great for 5+ days.
Video
Notes
Applesauce Tips: Use unsweetened applesauce. Sweetened applesauce will make the cake way too sweet. You can also use cinnamon applesauce. If you do, omit the cinnamon in the recipe if you do. (Please note I edited this recipe to include only 2 cups of applesauce (vs. 2 1/2 cups) for a better overall texture.) Cake Texture: The cake will be very moist. It tastes better when you allow it to sit for a few hours before serving. It tastes even better the next day. Storing the Cake:  Store extra cake in a sealed storage container. It'll keep for several days – even a week. The cake freezes well too. I often serve half of the cake and then freeze the other half for a rainy day. 
Nutrition
Calories:
188
kcal
|
Carbohydrates:
32
g
|
Protein:
2
g
|
Fat:
6
g
|
Saturated Fat:
4
g
|
Trans Fat:
1
g
|
Cholesterol:
27
mg
|
Sodium:
164
mg
|
Potassium:
34
mg
|
Fiber:
2
g
|
Sugar:
24
g
|
Vitamin A:
165
IU
|
Vitamin C:
1
mg
|
Calcium:
24
mg
|
Iron:
1
mg