Having the perfect gluten-free dairy-free banana bread recipe is life right now. My recipe bakes up moist, sweet and delicious, and it only requires a few simple ingredients in addition to those ripe bananas you've got sitting on your countertop. This post contains affiliate links. Please see my disclosures.
I can't believe it's taken me so long to post my moist gluten-free banana bread recipe.
I used to make banana bread all the time before I started to eat exclusively gluten free, and I guess I just sort of gave up on it because I knew it was full of gluten.
But not anymore.
After seeing many people in the gluten-free community master gluten-free banana bread, I decided to take it on as my next gluten-free baking project.
And I hate to brag, but my banana bread recipe is the bomb. Yes, it's that good!
I have come up with one delicious, moist, no-fail dairy-free and gluten-free banana bread recipe. And it only requires three ripe bananas and a few pantry staple ingredients. It doesn't get easier than this.
How to Make
Ready to learn how to bake up some gluten-free and dairy-free banana bread of your own? Let's go!
Step #1: Assemble Your Ingredients
First, line up all your ingredients, including:
1 tsp baking soda
1/2 tsp Kosher salt
1/2 cup sugar
1/2 cup dairy-free butter, softened (I use Earth Balance vegan butter sticks)
2 large eggs
3 ripe bananas, mashed
1/2 tsp vanilla extract
1/2 cup chopped walnuts (optional)
If you've followed me long enough, you know my go-to gluten-free flour is Bob's Red Mill 1:1 gluten-free baking flour blend. It never fails. You could certainly try this recipe with another 1:1 gluten-free flour mix to see how it fares.
One thing to note about Bob's Red Mill's flour is that it's dairy free in addition to being gluten free. Some cup for cup flours contain milk powders. Read labels carefully if you're making dairy-free banana bread.
Step #2: Prepare Your Batter
It's simple to assemble your banana bread batter.
First sift together and combine your flour with the sugar, baking soda, and salt in a medium bowl. Whisk it together and set it aside.
Next, using your standing or handheld mixer, combine the eggs, softened vegan butter, mashed banana, and vanilla, and mix until all ingredients are well combined. You'll see chunks of banana in there. That's okay.
Gradually add your dry ingredients to the mixer and mix until all ingredients are well combined and you have your batter.
Once your wet ingredients are well mixed, add in your dry ingredients until the batter is well combined.
Finally, fold in your walnuts, dried fruit, chocolate chips, or whatever goodies you like (optional), then put the batter into a well-greased loaf pan for baking.
Step #3: Bake
Once your batter is in the loaf pan, bake it in a 350º F oven for 50-55 minutes until bread is set and a toothpick inserted in the center comes out clean.
Allow the bread to cool before slicing.
Banana Bread is Life
That taste starts with getting the perfect texture. You'll see that each slice of bread holds together well. It's chewy and moist – no dry crumbs here. You can't tell it's gluten free.
The bread is also ultra-moist and stays that way for a long time.
In fact, if you wrap the bread in plastic wrap, it'll taste good for several days. The bananas make the bread very moist and chewy, enabling you to enjoy it day after day after day.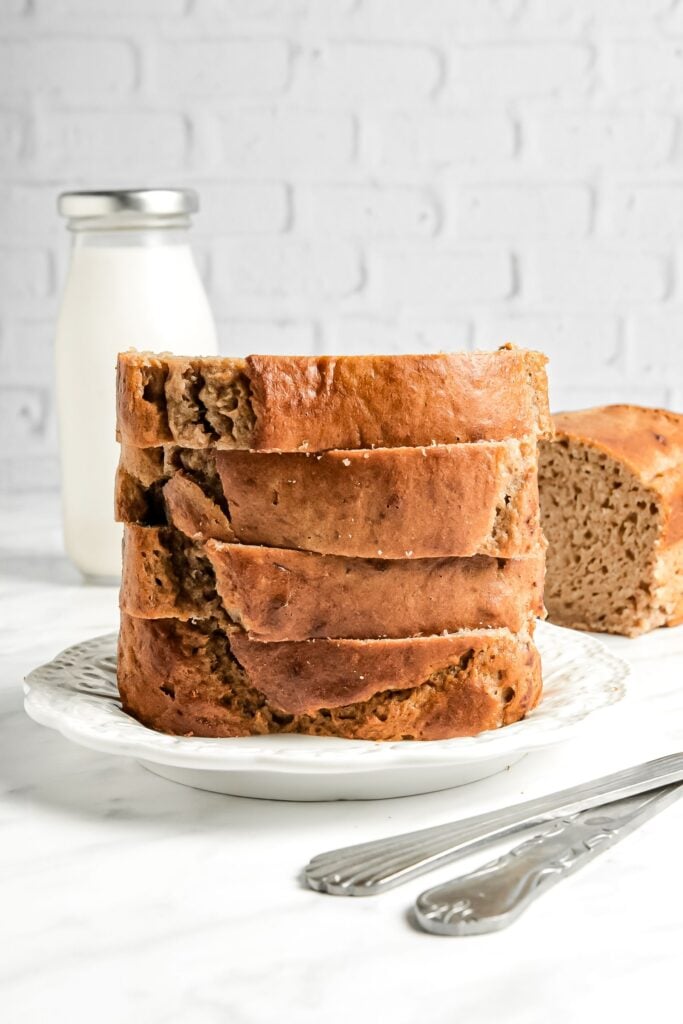 Additional Recipes
You might enjoy these recipes too:
Gluten-Free Apple Cinnamon Bread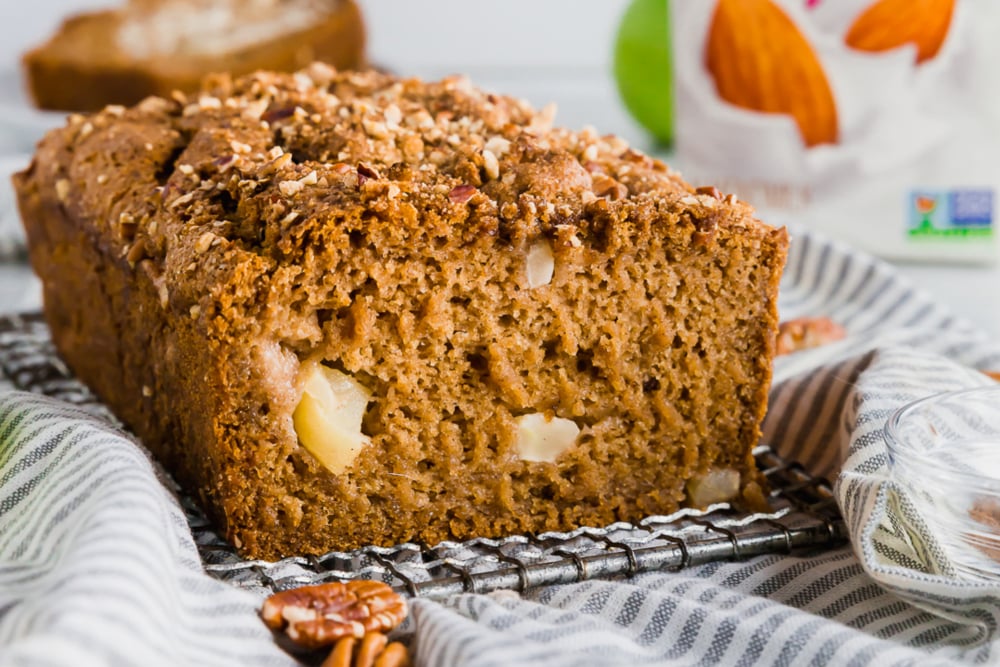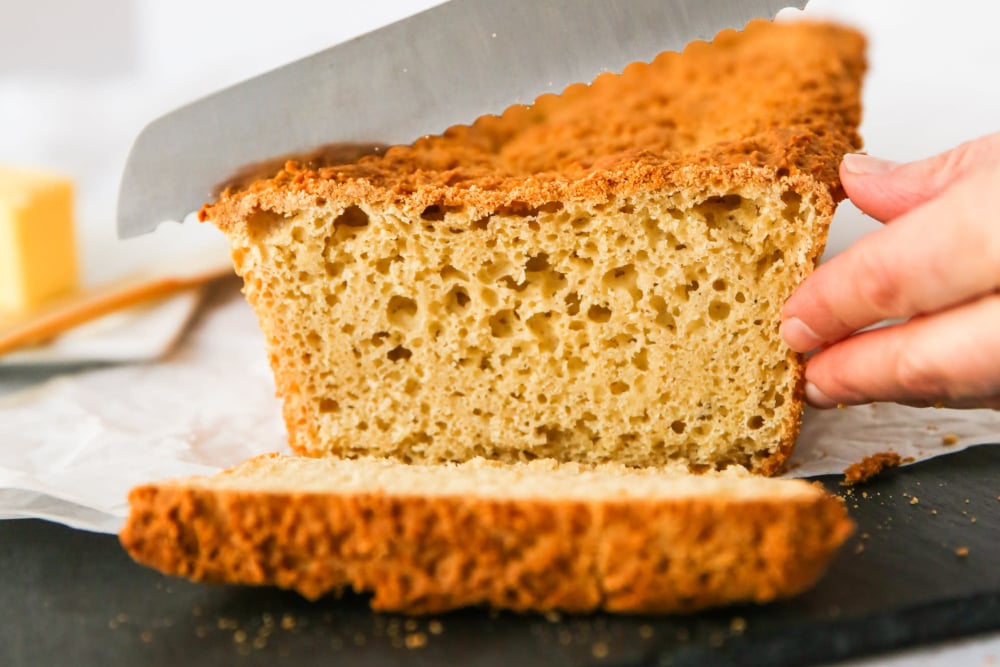 5-Ingredient Gluten-Free Bagels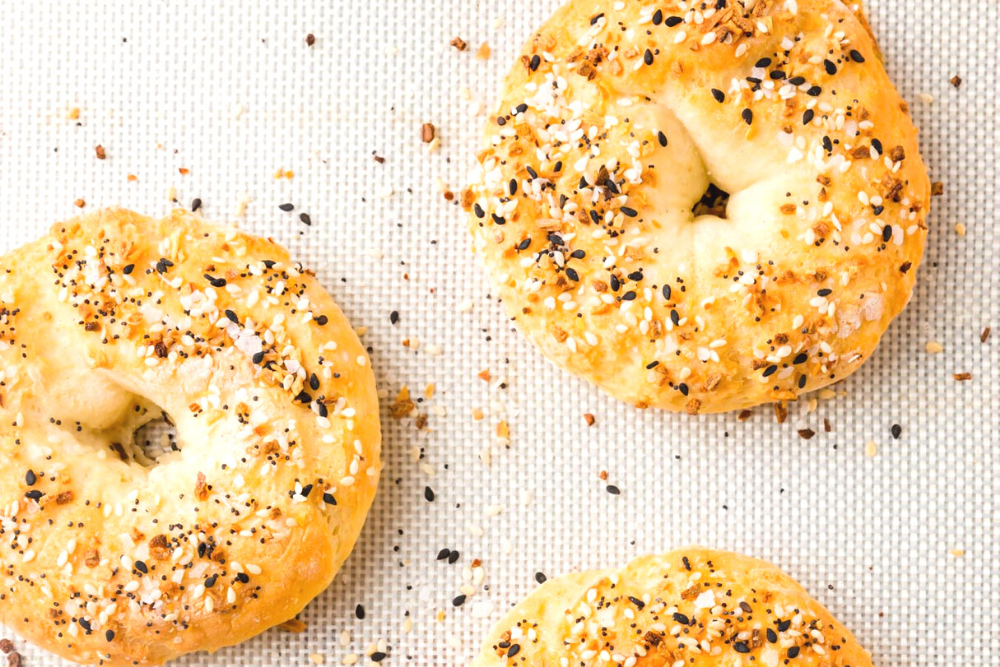 Simple & Moist Gluten-Free Dairy-Free Banana Bread
When life gives you brown bananas, make banana bread. I've got you covered with this simple gluten-free dairy-free banana bread recipe that requires just a few ingredients that I bet you already have in your pantry. Enjoy this wonderful, no-fail recipe. Works like a charm every time!
Print
Pin
Rate
Equipment
Standing or handheld mixer
Ingredients
1.5

cups

Bob's Red Mill 1-to-1 gluten-free flour blend

(222 grams)

1

tsp

baking soda

1/2

tsp

Kosher salt

1/2

cup

sugar

1/2

cup

Earth Balance vegan butter

softened (if not worried about dairy, you can use real butter)

2

large eggs

3

ripe bananas

mashed

1/2

tsp

vanilla extract

1/2

cup

chopped walnuts

optional – see notes
Instructions
Preheat oven to 350º F and lightly grease a standard loaf pan.

Sift together flour, baking soda, and salt. Set aside.

Using your mixer, cream together vegan butter and sugar, then add eggs, mashed bananas and vanilla and continue mixing until well combined. It's okay if there are small chunks of banana.

Slowly add the flour mixture to wet mixture and continue to mix on medium speed until well combined.

Fold in walnuts, chocolate chips or other goodies by hand (optional), then pour mixture into the prepared loaf pan.

Bake for 50-55 minutes until a toothpick inserted into the center of the bread comes out clean. Allow bread to cool for 15 minutes before removing it from pan to fully cool on a wire rack.
Notes
This bread keeps well and tastes great for several days (at least 4 days) after you bake it. Keep is wrapped in plastic wrap or in a zip top bag. 
In lieu of walnuts, add chocolate chips, dried fruit, or other add-ins for a wonderful dessert bread.
Nutrition
Calories:
282
kcal
|
Carbohydrates:
37
g
|
Protein:
4
g
|
Fat:
15
g
|
Saturated Fat:
7
g
|
Cholesterol:
57
mg
|
Sodium:
320
mg
|
Potassium:
165
mg
|
Fiber:
3
g
|
Sugar:
20
g
|
Vitamin A:
354
IU
|
Vitamin C:
3
mg
|
Calcium:
27
mg
|
Iron:
1
mg