Ready to learn how to make the best gluten-free chocolate donut recipe you'll ever eat? This recipe is one I make time and time again, and it never gets old. This post contains affiliate links. Please see my disclosures. 
If you're in the mood for some rich, chocolatey, cakey donuts, then I've got a gluten-free chocolate donut recipe for you. This is a recipe that has never let me down and never disappoints.
In this post I'm going to share with you the best gluten-free chocolate donut recipe you'll ever have. It's a chocolate cake donut with a delicious chocolate glaze on top. Perfection!
Best of all, it's a no-fuss recipe made with everyday ingredients you already have in your pantry and fridge, and only requires one extra piece of equipment (a donut pan) that I recommend you purchase for your gluten-free kitchen.
In this article, I'll talk about:
The tools and ingredients you need to make the best gluten-free chocolate donuts you'll ever have.
Step-by-step instructions for making this no-fail gluten-free donut recipe at home. 
Ready? Let's get started!
Tools and Ingredients Needed
To make this gluten-free chocolate donut recipe, you'll need a few things:
Donut Pan:
These are cake donuts and require a simple donut pan in order for them to get their donut shape. If you're looking for a yeast donut, check out my gluten-free jelly donut recipe instead.
You will get a lot of use out of this pan, so it's well worth the investment. I use mine all the time to make delicious gluten-free breakfast donuts, my gluten-free pumpkin donuts, and my gluten-free almond flour bagels.
I have two six-cavity donut pans. However, if I could invest in a donut pan over again, I would have purchased this 12-cavity donut pan instead.
Gluten-Free Flour Blend:
In addition to the donut pan, you'll also need a good gluten-free flour blend.
I really like Bob's 1-to-1 Gluten-Free Flour Blend. It's dairy-free (in case you want to make your donuts with dairy substitutes) and it's also cornstarch-free. It's hard to find flours these days without cornstarch.
How to Make Gluten-Free Chocolate Donuts
You're going to love how easy it is to make this recipe now that you have your donut pan and gluten-free flour blend.
Step #1: Sift together all your dry ingredients in a large bowl, including your gluten-free flour, sugar, cocoa powder, baking soda, baking powder, and salt.
Step #2: Add the milk, egg, butter, pumpkin or applesauce, and vanilla extract. Mix the batter together well with a whisk until it's well combined.
Step #3: Divide the batter evenly into 12 cavities. I spoon the batter into the cavities, then swish it around with a small spatula to evenly spread the batter without making a huge mess. You could also add the batter to a piping bag and pipe it into each cavity.
Step #4: Bake the donuts for 10 minutes or until a toothpick inserted into the center of the donuts comes out clean. Allow the donuts to cool for a few minutes in the pan before moving them to a wire rack to finish cooling. Make sure the donuts fully cool before adding the glaze.
Step #5: Since no donut recipe is complete without a delicious glaze topping, it now time to glaze those chocolate cake donuts.
To make the glaze, sift together powdered sugar and cocoa powder. Do not skip sifting. I have found that the glaze will have lumps of powdered sugar or cocoa in it when I forget to sift it.
Once sifted, combine the dry ingredient with just a bit of milk (or milk substitute) and mix well.
Finally, dip the top of each donut into the glaze (as shown in the following video) and place it back on the wire rack. The glaze will drip off the donuts so be sure to place the wire rack over some parchment paper to avoid making a huge mess.
Repeat the glazing process until all donuts are dipped, then allow the donuts to sit on the rack about an hour in order for the glaze to set before enjoying (if you can wait that long!).
The Taste Test
The donuts are cakey and spongy, just as you remember a delicious chocolate donut tasting. You will be so impressed with the result, and I have a feeling it will soon become your go-to chocolate donut recipe.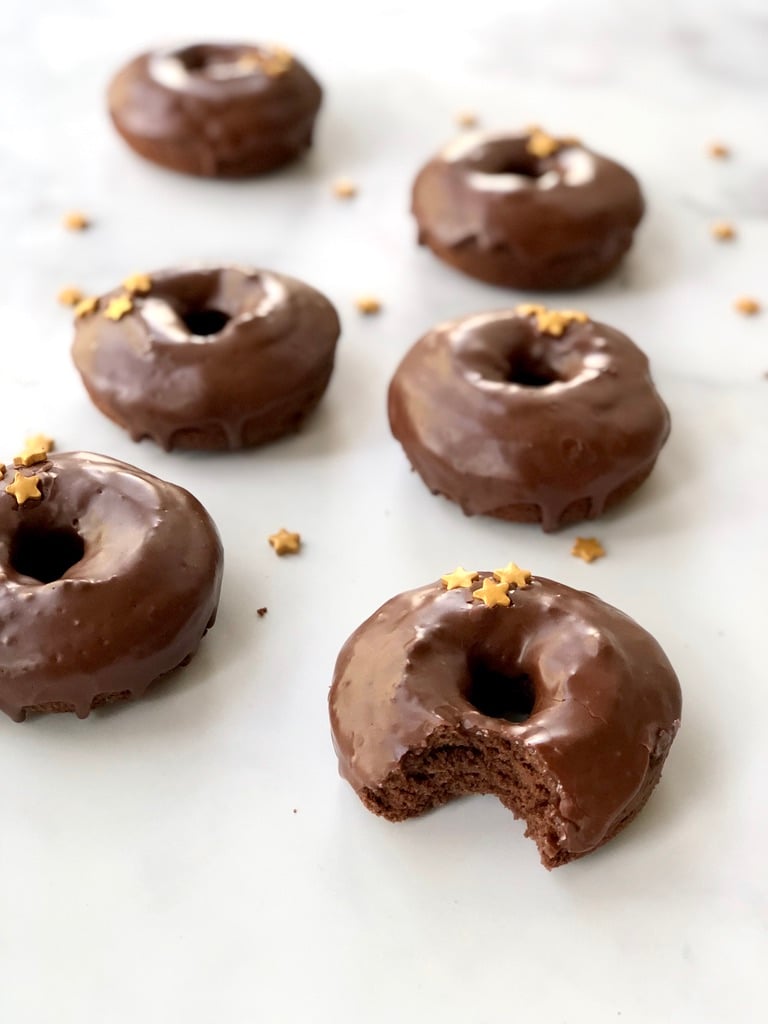 These donuts have several qualities worth boasting about.
They are chocolatey smooth. If you love chocolate, this donut doesn't disappoint one bit!
They are spongy and cakey vs. crumbly. You will enjoy the texture and mouthfeel – I promise!
The chocolate glaze is amazing! Don't skip the glaze because it elevates these donuts to another level. Even my dad, who rarely likes my gluten-free treats, loves these donuts, especially the chocolate glaze. 
Troubleshooting and Tips
Can I use another flour brand? This recipe has been tested with Bob's Red Mill 1-to-1 Gluten-Free Flour Blend only. If you use another blend, results may vary.
Can I make it dairy-free? Yes, this recipe works beautifully with a dairy-free milk and dairy-free butter.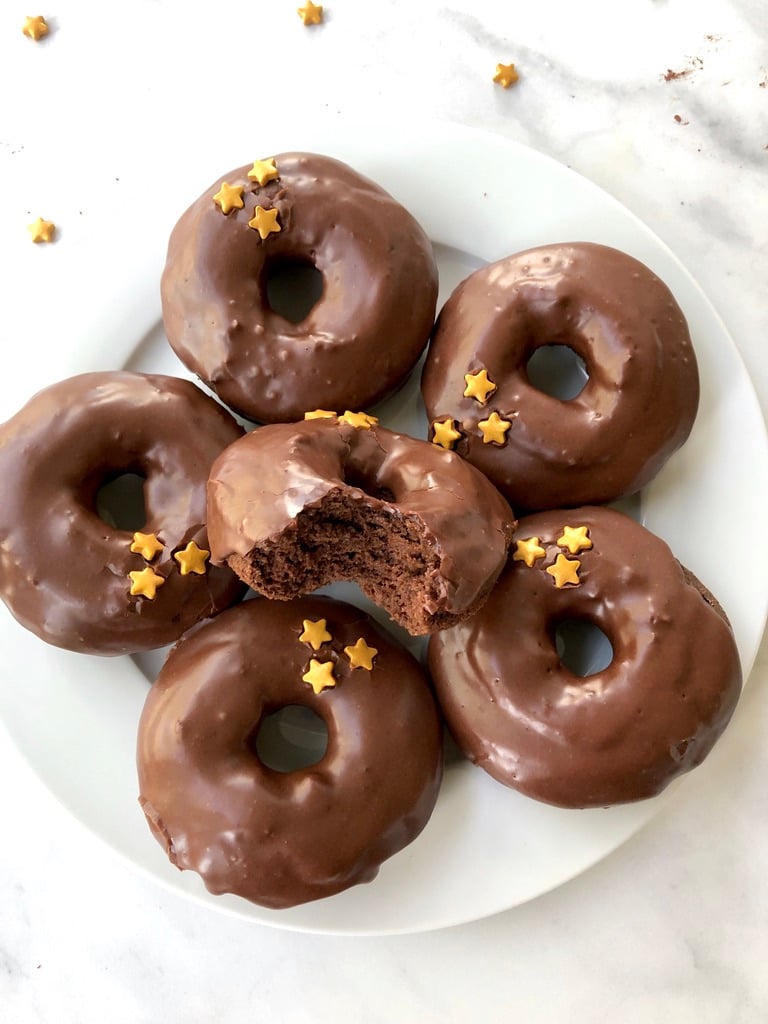 Can I make it egg-free? I have tested this recipe with flax eggs instead of regular eggs and had decent results. Instead of adding two eggs, add two flax eggs. To make one flax egg, combine 1 tbsp ground flaxseed meal + 3 tbsp water. Mix the flax and water together and allow the mixture to gel, about 5 minutes. Make sure you make 2 flax eggs for this recipe.
Avoiding cornstarch? If you're avoiding cornstarch, look for powdered sugar made with tapioca starch instead.
The next time you're craving donuts, give this gluten-free chocolate donut recipe a try. I promise you, it will soon become one of your beset go-to dessert recipes of all time. It's definitely one of mine (along with my gluten-free applesauce cake, which is oh-so-dreamy too).
Gluten-Free Chocolate Donuts
These gluten-free donuts are short of a miracle. They are rich and cakey, even better than the donuts stuffed with gluten! The chocolate glaze adds another rich, chocolatey touch, too.
Print
Pin
Rate
Ingredients
For donuts:
2

cups

Bob's Red Mill 1-to-1 Gluten-Free Baking Flour

or other cup for cup substitute with xanthan gum

3/4

cup

sugar

1/2

cup

unsweetened cocoa powder

1

tsp

baking soda

1

tsp

baking powder

1

tsp

Kosher salt

1

cup

milk

or dairy-free milk substitute

1/2

cup

canned pumpkin or applesauce

2

large eggs

room temperature

2

Tbsp

butter, melted

1

tsp

vanilla extract
Instructions
Preheat oven to 350º F. Grease a 12-cavity donut pan and set aside.

Sift together flour, sugar, cocoa, baking soda, baking powder and salt in a large mixing bowl.

Add milk, pumpkin, egg, vanilla, and butter to the flour mixture and mix well with a whisk.

Evenly distribute the batter into each of the 12 donut cavities. Use a small spatula or your index finger to gently swirl the batter in each cavity to ensure even distribution.

Bake donuts for 10 minutes or until a toothpick inserted in the center comes out clean.

Allow donuts to cool in donut pan for five minutes, then add donuts to a cooling rack to fully cool.

While donuts cool, make the glaze. Start by sifting together the powdered sugar and cocoa powder, then adding the milk. Combine until well mixed.

Place the top of each fully cooled donut, one-by-one, into the glaze to coat the top of the donut, then place glazed donut back on the cooling rack and allow the glaze to drip off of it. (Put a piece of parchment paper under the cooling rack to catch glaze drip off.)

Allow glaze to set (about 1 hour) before enjoying. Store donuts in a sealed container for up to three days. Donuts freeze well too.
Notes
Make sure the donuts are fully cooled before glazing, otherwise the glaze will melt upon contact.
You can use pumpkin or applesauce in this recipe, although some have told me yogurt works well too. 
If you want to add sprinkles to your donuts, add them while the glaze is wet (before it sets). Lightly sprinkle the sprinkles on top of the glaze.
Don't like glaze? Perhaps add a dusting of powdered sugar instead?
Nutrition
Sodium:
338
mg
|
Calcium:
72
mg
|
Vitamin C:
1
mg
|
Vitamin A:
1726
IU
|
Sugar:
30
g
|
Fiber:
4
g
|
Potassium:
180
mg
|
Cholesterol:
35
mg
|
Calories:
231
kcal
|
Saturated Fat:
2
g
|
Fat:
5
g
|
Protein:
5
g
|
Carbohydrates:
47
g
|
Iron:
2
mg