This post features 21 foods and freedoms gluten-free people miss the most after going on a gluten-free diet due to celiac disease or gluten intolerance. This post may contain affiliate links. Please see my disclosures.
Getting diagnosed with celiac disease, non-celiac gluten sensitivity, or another gluten disorder means we have to give up many of our favorite foods, including foods we are emotionally attached to and many foods we eat daily.
Food is center stage in life. We eat food to celebrate special occasions and holidays. We associate certain foods with our childhood. We eat certain foods to provide comfort and strength during difficult times.
To find out that the very foods we've been eating to soothe our sour tummies, or the foods we've been eating to celebrate joyous occasions, are the same foods that are hurting us really messes with a person.
It's not easy to give up foods that are a part of our social fabric and religious or holiday traditions.
On top of giving up on our favorite foods, a gluten-free diet also limits our freedoms.
We can't go to a restaurant and "find something" to eat. We can't order a meal and not talk with the server about how our food is prepared. And we can't accept a spontaneous dinner invitation to a friend's house. It's hard for us to just go with the flow.
At times, we fear food; other times, we feel anxious about where we'll find our next meal. This is why a gluten-free lifestyle can lead to eating disorders like anxiety, hypervigilance, and orthorexia.
While most of us are grateful that we can manage and treat our "disease" with food and not depend on pharmaceutical companies to "fix" us, we can't help but miss so many things about our pre-gluten-free lives.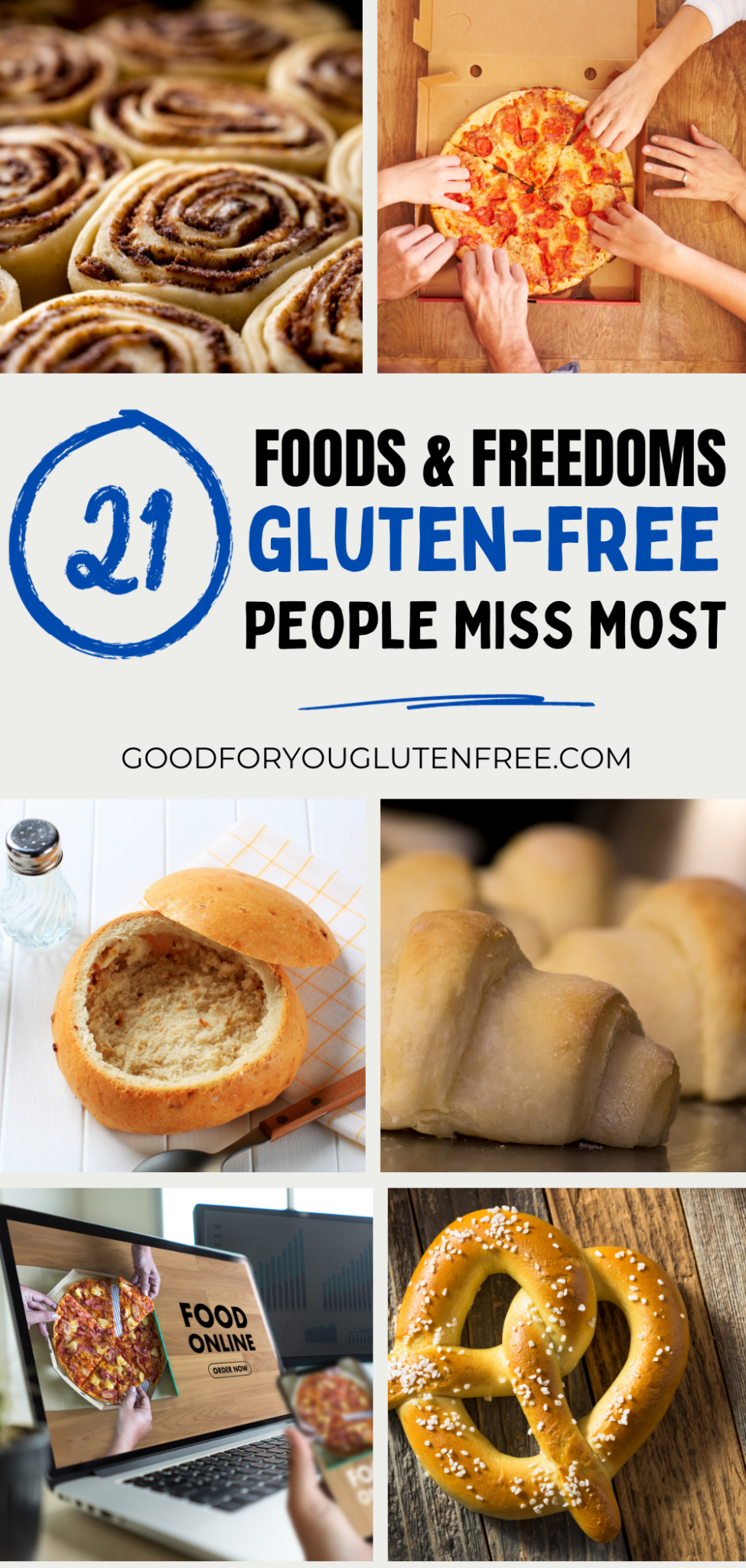 What Do You Miss Most Now that You're Gluten-Free?
I'm often asked what I miss most now that I'm gluten-free. This is a great question, and I could probably write a book on it.
However, today, I'll share just 21 foods and freedoms I miss now that I'm gluten-free.
Please leave a comment to share what you miss the most, too.
(1) Ordering Pizza
Remember the good ol' days when you didn't feel like making dinner, so you ordered pizza from Pizza Hut or Little Caesars and called it a day?
While all the mainstream pizza restaurants offer gluten-free pizza, none recommend it for people with celiac disease or severe gluten intolerance. Geez, thanks for nothing!
(2) Costco Pizza
Along the same lines as take-out pizza, I miss Costco pizza and the Costco food court. The pizza was cheap and delicious, and I could always grab a slice on my way out of Costco in a pinch. Those days are long gone, unfortunately.
(3) Eating at a Buffet
I once loved a good buffet, but now buffets give me nightmares.
While I haven't entirely shunned buffets, I eat only at ones that are well-labeled, and I avoid areas where buffets stash items like couscous and croutons.
(4) Paying Normal Price
Unfortunately, people on a gluten-free diet pay more money for less food.
Restaurants add $1-$2 for a gluten-free bun, gluten-free pasta, or gluten-free pizza crust.
Manufacturers do this, too. Compare any product to its gluten-free counterpart. Most brands are charging more money for less food. Ridiculous!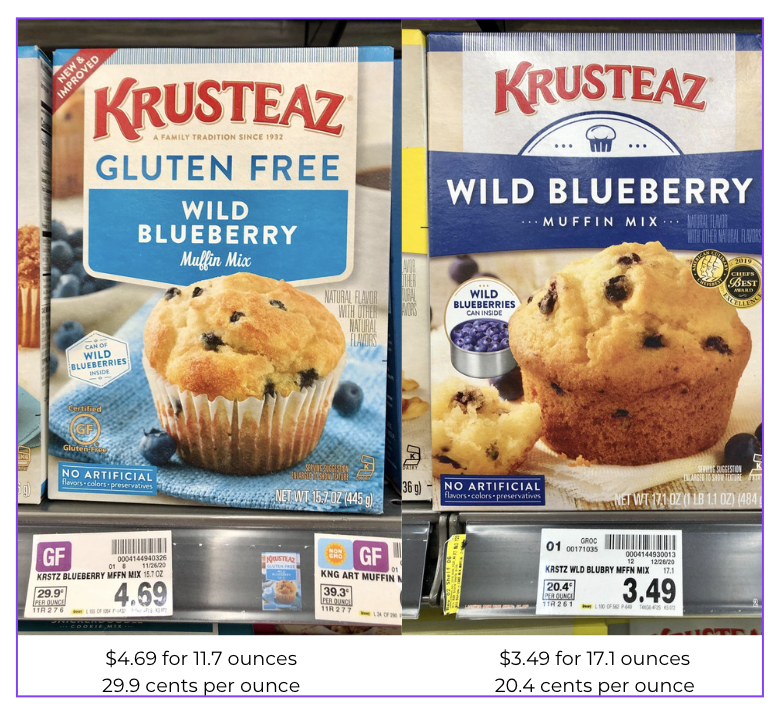 (5) Real Chinese Food (from a Chinese restaurant)
I love Chinese food and do a good job creating gluten-free versions of classic dishes like gluten-free sweet and sour chicken and gluten-free sesame chicken; however, nothing I make at home is ever as good as take-out fried Chinese food from an authentic Chinese restaurant. It's close, but not the same.
(5) Pasta
While homemade gluten-free pasta can be delicious, it's not the same without gluten.
Many store-bought gluten-free pasta brands clump together, fall apart, or become mushy.
And don't get me started on cold gluten-free pasta. A little heat brings pasta back to life, but cold, gluten-free pasta is hard and gritty. No thanks.
(6) Soft-Pretzels
Walking by Auntie Anne's at the mall is torture when you're gluten-free. The smells are intoxicating, but you know you'll never be able to enjoy that salty and doughy pretzel again.
While I've recreated gluten-free soft pretzels using Lorraine's Sweet Dough Mix, they're good but not quite the same. It's obvious something (gluten) is missing.
(7) Traveling with Ease
While we should not let our "disability" get in the way of seeing the world, traveling is challenging when you can't eat wheat.
Traveling requires more planning, patience, and compromise than many gluten-free people would like to acknowledge.
I encourage you to read my 27 Practical Tips for Traveling Gluten-Free to help you travel and stay true to a gluten-free diet.
And while cruises are challenging, a company called Celiac Cruise is making it easier to sail and eat gluten-free. Read my article, 22 Things to Consider Before Going on a Celiac Cruise, to get the full scoop.
(8) Bread
Like pasta, gluten-free bread isn't the same without gluten. It's usually harder, denser, and less fluffy and soft than wheat-based stuff.
On top of that, gluten-free bread is smaller and costs much more money than wheat bread. That's why many gluten-free people give up bread – and sandwiches – when they go gluten-free. Sad but true.
(9) Cold Sandwiches
I used to love bringing a sandwich for lunch. But sadly, those days are long gone since eating cold gluten-free bread feels like you're eating sand.
The only way to make gluten-free bread taste better is to warm it in a toaster or panini press (I love my panini press!).
Most people don't have access to a dedicated gluten-free toaster oven during the day when they'd most likely eat a sandwich.
(10) Vending Machines
Most vending machines are filled with gluten-y foods you can't eat, and even if you could eat an item or two, you won't be able to see the food label until you buy the item. So much for a quick snack on the go.
(11) Panera Bread Bowls
I was a Panera girl before I went gluten-free 11 years ago. I would always order a sourdough bread bowl, and it was heavenly.
Now, I can barely find a safe soup at Panera, and my trust in the restaurant's ability to offer a safe gluten-free meal is low.
(12) Sharing Dishes with Friends
Remember when you could go out to eat with friends and share food? Those days are gone unless all your friends agree to eat gluten-free with you.
(13) Ordering at a Restaurant with Ease
I think we can all agree that we hate having to repeatedly explain our diet to servers. And on top of that, it's hard to place your faith in the hands of these strangers.
I miss the days when I could order food without first having to have a long "conversation" about my disease.
If you struggle with eating out, I encourage you to download my Ultimate Guide to Eating Out Gluten-Free.
(14) Cinnamon Rolls
Have you ever tried making gluten-free cinnamon rolls? Yeah, it doesn't go well, and they usually taste terrible too.
The only exception was when I made my gluten-free cinnamon rolls using Lorraine's Sweet Dough Mix, pictured below. They're pretty darn good.
That said, I miss the ease of popping open a can of cinnamon warms and enjoying them on the spot.
(15) Pillsbury Cresent Rolls
I also loved popping open a can of Pillsbury Crescent Rolls, especially during Thanksgiving. Sadly, no gluten-free crescent roll options exist unless you want to try to make your own.
Similarly, holidays aren't the same when you have to worry about food instead of enjoying the bounty placed before you.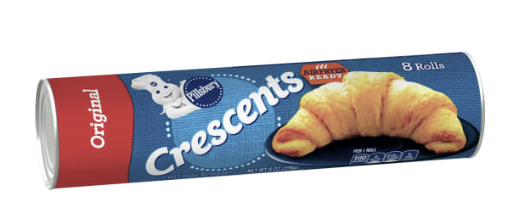 (16) Dunkin Donuts Chocolate-Glazed Donut
Ah, the memories of eating those delicious chocolate-glazed donuts at Dunkin' Donuts. While I can make a delicious gluten-free chocolate donut, it's not the same without gluten.
(17) Frosted Mini Wheats
I used to eat Frosted Mini Wheats for breakfast, and well, I'm pretty sure I was poisoning myself for years. But I sheepishly admit to missing those sweet logs of hay.
(18) Ordering In
If I didn't feel like cooking, I could order food from any restaurant and be happy. Now, there are only a few places I feel safe ordering takeaway food from. Plus, the places I enjoy most are rarely near my house, so it's easier to cook at home.
(19) Not Having to Know What Xanthan Gum Does
Sometimes, ignorance is bliss. I'm now the proud owner of xanthan gum, psyllium husk, oat flour, brown rice flour, tapioca flour, and a bunch of other flours and starches I would have never dreamed of having in my pantry in my pre-celiac years.
Not only do I own these ingredients, but I also understand how they work in baked goods. Go figure!
(20) Quick Grocery Runs
I miss the simpler days of popping into a grocery store for a few minutes and buying everything I needed in one place.
Today, I have to scrutinize food labels (even for products I buy often because labels can change on a whim) and end up spending hours at the store. On top of it all, I usually need to visit 3-4 grocery stores each week to find everything I need.
(21) Not Feeling Like a Burden
I hate explaining my diet to everyone who wants to get together or hang out. I always feel like such a burden.
Isn't it fun asking set-in-her-way Grandma to leave the stuffing out of the turkey, even though she loves stuffing the turkey?
Isn't it fun eating at a friend's house but secretly fretting about what she will serve you and if it's safe?
Isn't it fun going out to eat and explaining to your friend why you need to veto a restaurant she wants?
Yeah, this gluten-free stuff isn't for the faint of heart.
Thanks for the Memories, Gluten
There you have it … 21 foods and freedoms gluten-free people miss the most when they go on a gluten-free diet.
Remember, gluten-free is NOT A CHOICE for the millions of people with celiac disease and non-celiac gluten sensitivity. We have real emotional attachments to food; it's not just about missing food. It's about missing certain freedoms., too.
And while I had a good 35-year run with gluten by my side, today I am better, healthier, and [mostly] happier without the sticky protein in my life. Relieving my painful symptoms and prioritizing my health is worth giving up everything on this list.
Related Reading
You might enjoy these articles, too: