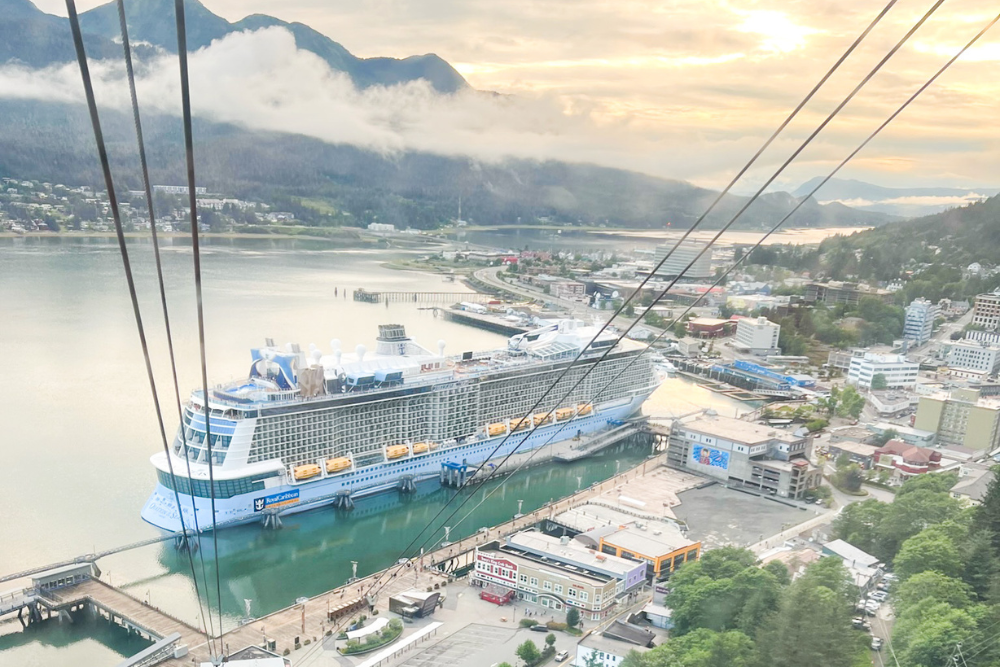 In this article, I share 22 things to consider before going on a Celiac Cruise. I pulled from my experiences aboard my Celiac Cruise to Alaska in July 2023. I also had the opportunity to sit down with the founders of Celiac Cruise and speak with many guests about their experiences. All opinions are my own.
In 2016, I went on a Royal Caribbean cruise. While it wasn't my first cruise, it was my first with celiac disease.
The cruise proved to be a frustrating and challenging experience for many reasons, which I detail in my article, The Ultimate Gluten-Free Cruise Survival Guide.
During that infamous cruise, I struggled to find gluten-free food. I grew tired of explaining my dietary needs three times per day. I hated having to preorder every meal. And I became frustrated having to wait to be served long after the rest of my family had downed dessert.
During this 2016 cruise, I cried. I may have even exchanged heated words with one of the head chefs, which sent the entire dining staff into a tizzy. I guess cruise staff aren't used to getting into heated discussions with passengers.
After what is now known as Teargate, the staff began to over-accommodate me. And, of course, I received a lot of special attention, which I didn't want. I just wanted to enjoy my vacation like everyone else.
While I swore off cruises for the foreseeable future, I could have never predicted that a new company, Celiac Cruise, would come up the ranks that would change my whole take on cruises.
Celiac Cruise is a concept dreamed up by Maureen Basye, a determined mom who watched her four-year-old celiac son, Peter, struggle to find safe food on their family's cruise vacation.
She grew frustrated preordering meals, waiting for their food, and then finding Jell-O for dessert.
"Jell-O should never be considered dessert," insists Maureen.
The tipping point came when Peter announced, "I hate celiac disease."
Those four words left Maureen heartbroken, and she knew she had to do something about it.
Her determination only grew after learning that her husband, and three other family members, also tested positive for celiac disease. She worried that they, too, would never be able to fully enjoy a cruise vacation again.
Necessity Is the Mother of Invention
Maureen phoned her pal, Connie Saunders, who co-owns Total Travel & Events with her husband, Brett, and said, "Wouldn't it be great if we could come up with a way to help people [with celiac disease] travel safely?"
Total Travel & Events is a travel agency specializing in group travel, cruises, and all-inclusive resorts and the perfect partner to help Maureen bring her vision to life.
Maureen and Connie put their heads together and, over the next two years, developed what is known as Celiac Cruise today.
How Celiac Cruise Works
Celiac Cruise offers a 100% dedicated gluten-free dining experience onboard select Royal Caribbean and AMAWaterways cruises.
For Royal Caribbean cruises, the team partially charters a ship, creating a dedicated kitchen and dining room to serve Celiac Cruise guests only.
By partially chartering a ship, Royal Caribbean required Celiac Cruise to book enough passengers to fill the dining space.
Maureen and Connie needed to guarantee 265 paid passengers for the Ovation of the Seas cruise ship. For other boats, like the Oasis of the Seas, they're on the line to guarantee 694 guests.
For AMAWaterways riverboat cruises, Celiac Cruise charters the entire ship, which requires them to guarantee 150-170 passengers.
Photo: My husband and I whale watching in Juneau during our Alaskan Celiac Cruise.
After speaking with Maureen on several occasions, it became extremely clear that Celiac Cruise is personal for her.
"When you're on vacation [and you have celiac disease], you're usually preoccupied with food, making it hard to really be on vacation," she says. "We offer the ability to unplug and feel normal again. That is what inspired me to do this."
While passengers are treated to a magical dedicated gluten-free cruise experience, they may not realize the hard work that goes on behind the scenes to ensure an immersive and safe gluten-free experience.
Here are just a few of the things the Celiac Cruise staff handles before any passengers board the ship:
(1) Celiac Cruise has partnered with Boston Children's Hospital to train the entire dining staff about safe gluten-free protocols. This meant training all 1,000+ restaurant staff on the Ovation of the Seas before the ship set sail.
The training happens before every Celiac Cruise, given that staff can change and people forget from one week to another.
"It's scary to put your name on something that requires you to trust other people. This is why training happens again and again, and the ingredients are checked again and again. You can't say you've done this one time. We have to redo it every time," says Maureen.
(2) Celiac Cruise works with Boston Children's Hospital to vet all ingredients used aboard Celiac Cruise.
To show you how thorough Maureen is, she even verified that the StrawFish Straws used onboard all Royal Caribbean cruises are gluten-free. (StrawFish Straws are made of discarded oyster shells and are free from the top eight allergens, including shellfish.)
(3) Royal Caribbean cleans the entire kitchen, which will only be used for gluten-free cooking and baking for the duration of the cruise.
(4) Royal Caribbean uses the same chef, Chef Jay, for all Celiac Cruises.
(5) For AMAWaterway riverboard cruises, Celiac Cruise requires all staff to sign a contract agreeing that they won't bring gluten on board the boat.
(6) Celiac Cruise directs the food staff on what items they want – and don't want – to see onboard.
(7) Play-Doh is removed from the Kid's Club for the sailing duration.
(8) They "mystery shop" various venues to ensure the staff is getting gluten-free right even when they don't know the Celiac Cruise staff is watching.
"We have several people who cry tears of joy. It's because they don't have to think. They don't have to ask a million questions. They don't have to worry. Everything's already been done," says Connie.
Brett (Connie's husband and business partner) told me that because his family hadn't been touched by celiac disease or gluten intolerance, they had no idea of the community's struggles until they talked to Maureen and others in the community.
"From a travel perspective, we would book someone on a trip, and then we're hands-off. But with Celiac Cruise, we're part of the entire journey all the way through. It gives us a sense of responsibility we've never felt before," he says.
About the Food on Celiac Cruise
Celiac Cruise has thought of every food wish a gluten-free person has, offering foods you can't easily find gluten-free at a local restaurant.
I found tasty favorites like French onion soup (pictured), fish and chips, French fries galore, pasta, and burgers (with buns) at every meal, and even specialty dishes like chicken marsala, fried chicken, lobster, and crab cakes, all gluten-free and available at my fingertips.
And I haven't even mentioned the slew of cakes, donuts, cookies, warm apple crumble, and pastries available at a whim.
There's so much food (more on that later), and celiacs deprived of their favorite foods for a long time will have to pace themselves.
Mark Allen, a Celiac Cruise passenger and celiac patient, told me he loves "being able to eat with abandon," adding, "It's like taking a mental break from thinking about food and eating out without worry."
22 Things to Consider Before Going on a Celiac Cruise
Before you book that dream vacation with Celiac Cruise, there are a few things you need to know to ensure that it's right for you and that your expectations align with the experience that awaits you.
Below I share 22 things to consider before going on a Celiac Cruise:
(1) You Must Book Through Celiac Cruise
My husband and I met several people during our Alaskan cruise who were also gluten-free, but they didn't know about Celiac Cruise, nor were they allowed to eat in the dedicated gluten-free dining space with us. You must book through Celiac Cruise if you want access to the dedicated gluten-free dining room.
(2) Commit Early
Due to the growing popularity of Celiac Cruise, you must commit early and book fast. The 2024 Greek Isles cruise sold out in 21 days. Join the Celiac Cruise mailing list to learn about upcoming cruises.
(3) Deposits are Non-Refundable
All deposits for Celiac Cruises are non-refundable. I paid a $500 ($250 per person) deposit for my Alaska sailing. Thank goodness all the details worked out, but we would have had to walk away from that money if our plans had changed.
Pro Tip! I highly recommend purchasing travel insurance if you're unsure your plans will change. Connie and her team can help you do that.
(4) Celiac Cruise Does Not Cost More than a Normal Cruise
Cruising is expensive. For my Alaska cruise, I paid $4,350 for a balcony cabin, $375 for flights, $312 for insurance, $200 on Ubers, $400 in gratuities, and about $2,600 for two excursions, one in Juneau and one in Skagway.
However, a Celiac Cruise won't necessarily cost you more than a regular cruise, and Connie says that Celiac Cruises are actually more affordable.
Celiac Cruise locks in a group rate upfront that won't fluctuate with demand. Connie says that as demand for a regular cruise increases, the price goes up.
But not with Celiac Cruise. They lock in a group rate, which all passengers pay regardless of when they book.
While Celiac Cruise guests don't pay more than other passengers, they get many bonus benefits, including private access to a dedicated dining room, private social events, educational presentations, and more.
(5) Ask Total Travel to Help With Flight + Hotel Accommodations
I met another couple on the cruise who said their plane tickets cost them a fortune, and they had difficulty finding a hotel, likely because all the hotels were booked solid thanks to the Taylor Swift concert the next night.
I had a different experience. Total Travel found me a fantastic deal on a flight (flying first class for under $200 per person), and they directed me to suggested hotels in Seattle I could stay in. Easy peasy.
(6) You Don't Have to Be Gluten-Free to Enjoy a Celiac Cruise
Brett told me that only 30% of all Celiac Cruise passengers are gluten-free, which means 70% are choosing to eat gluten-free to support a GF loved one. Wow!
He said that only one member of a family of 18 needed to eat gluten-free, but all joined the Celiac Cruise experience so they could be together.
Seeing many supportive spouses, partners, and friends on Celiac Cruise renewed my faith in humanity.
Veronica Allen is one of those passengers. Her husband, Mark, has celiac disease.
"It's amazing to not think about what we're eating or to have to plan, cook, or clean up the meal," she said, adding that she also likes not "worrying about bringing gluten back to our room."
(7) Other Food Allergies + Intolerances Can Be Accommodated
While guests will be guaranteed a gluten-free experience via Celiac Cruise, the Royal Caribbean staff can accommodate other dietary restrictions. Of course, a person must discuss and advocate for what they need.
In the dedicated gluten-free dining area, many foods and desserts are labeled dairy-free, which Maureen says is their guests' most common co-allergy with gluten. If you have other food allergies, it's essential to discuss them with the staff.
(8) Be Prepared to Eat
Beware! Celiac Cruise is an eating fest, and while I never got glutened, I felt full and overfed. Be sure to pace yourself because the amount of food offered is insane.
Breakfast always includes Danishes, donuts, muffins, and fried hash brown patties. Desserts are offered after every lunch and dinner. Fried food is at your fingertips at every meal.
After two days, my stomach couldn't handle all the fried foods and sweets, and that's when I began to opt for healthier lunch and dinner options like salads, grilled fish, and baked chicken.
Below is what my breakfast plate looked like on most days. I enjoyed veggie omelets, fresh fruit, vegetables, and a daily donut, which I found hard to resist.
(9) It's Still Cruise Food
Much of the food I enjoyed was delicious, and there was a lot of variety to please every palate. If I didn't like something, ten options were ready to take its place.
Several passengers told me the Lobster Mac & Cheese was awful, and they speculated that the chef forgot to add cheese. Another friend, who was not gluten-free but cruising with a gluten-free pal, told me the food outside the Solarium was "much better."
Did I have the best donut or fried chicken of my life? No. But it was pretty darn good.
The reason you go on Celiac Cruise isn't for fine dining. It's for the opportunity to eat various safe foods without repeatedly advocating for yourself.
The bread on Celiac Cruise was cold and not enjoyable. The pasta, albeit good, was falling apart. These are just friendly reminders that your food is missing something (gluten!).
(10) A Similar Menu Is Offered to Celiac Cruise Guests
Maureen says Celiac Cruise passengers are offered the same foods offered in the main dining areas. For example, if passengers eating in the dining hall are provided lobster and steak, Celiac Cruise passengers are offered lobster and steak.
Of course, some dishes, like chicken marsala and fried chicken, are prepared differently to ensure they're gluten-free.
Here's what a sample dinner menu looked like:
"This is about replacing the things that have been taken away," Maureen says, recounting how she wanted Celiac Cruise guests to have a "Welcome Cake" like the other passengers.
"When we boarded the ship last year, there was a huge [gluten-free] cake waiting for us. I finally got my welcome cake," boasts Maureen.
Here's a picture of the welcome cake when I got to the dining room on Day #1. It was mostly gone, but I still got to enjoy a slice!
On my Alaska cruise, the Royal Caribbean staff surprised Maureen with a "Goodbye Cake," too. Below is a photo of Maureen cutting the "Goodbye Cake."
(11) Gluten-Free Beer Awaits You
Celiac Cruise has partnered with Holidaily Brewing Company to bring gluten-free beer to all the bars and restaurants (for a fee) during a Celiac Cruise sailing. Holidaily is made using only gluten-free grains and dedicated gluten-free equipment.
If you haven't had Holidaily beer before, you're in for a real treat! I, however, am spoiled because one of the Holidaily tap rooms in Colorado is located five minutes away from my house.
(12) Fine Dining, It's [Maybe] Not
Because our group ate all meals exclusively in the Solarium Bistro, this cruise was a more casual experience than my prior cruises.
While the Solarium Bistro is beautiful, it's typically utilized for buffet vs. formal dining.
Connie told me other ships, like the Oasis of the Seas, offer a fine-dining option for dinner and casual buffet meals for breakfast and lunch. If you crave a fine dining experience, inquire about the accommodations and ship before booking a Celiac Cruise.
(13) No Morning Oats For You
Because of opposing views on foods like oats and wheat starch, you won't find anything made with either ingredient on a Celiac Cruise.
(14) You Can Try Other Dining Experiences
For the safest dining experience, Maureen recommends eating all meals in the dedicated space reserved by Celiac Cruise; however, other venues on the ship also offer gluten-free accommodations.
And because Celiac Cruise trains the entire dining staff to prepare and handle gluten-free food safely, the food service team is ready to serve all guests.
My husband and I took advantage of the other dining experiences onboard the ship for research purposes only. 😉
We ordered a gluten-free pizza from Sorrento's on Deck 5 on the main thoroughfare. Thanks to the training by the Celiac Cruise team, Sorrento's uses gluten-free ingredients pulled from a separate line and a dedicated gluten-free oven.
We had to wait about 10 minutes for our fresh, hot-out-of-the-oven pizza to arrive. And yes, it was worth the wait.
We also enjoyed a gluten-free ice cream cone, available poolside on Deck 14 and manned by an attendant.
When I told the attendant I needed a gluten-free cone, he changed his gloves and pulled a gluten-free cone from a hidden spot on top of the soft-serve machine.
I didn't get a chance to try the dining options at the Café Promenade, where sandwiches prepared in the Solarium kitchen are offered, nor did I get to The Dog House, where hot dogs and gluten-free buns were made available thanks to the behind-the-scenes work from the Celiac Cruise crew.
Celiac Cruise passenger, Kaylee Blumenfeld, took a behind-the-scenes tour of the ship. She spotted several areas inside the non-dedicated gluten-free kitchens that prepared gluten-free food in dedicated spaces.
Below is a picture of one of the spaces she photographed. (Photo by Kaylee Blumenfeld and used with permission.)
(15) Exclusive Late-Night Snacks
One of the coolest parts of Celiac Cruise is the late-night snacks offered from 10-11 pm each night.
The snacks were over-the-top gluttonous treats that varied each night and included many foods you can't normally eat, like French fries, nachos, pizza, and more.
I only made it to two late-night snacks because what Celiac Cruise considered "late night" was too early for me.
We ate dinner at 7 pm and wanted to enjoy the shows and entertainment afterward. To eat more food a few hours after dinner (and dessert) proved much too challenging for me and my husband.
(16) The Schedule May Not Fit Your Schedule
While the upside to Celiac Cruise is the opportunity to enjoy worry-free, explanation-free dining, you are limited to eating during the designated hours.
When I'm on vacation, especially on a cruise, I lose track of time and rarely eat at "normal" hours.
One morning, my husband and I slept in. It was also the morning of a time change, where we lost an hour. Breakfast in the Solarium was only available until 9:30 am, and we rolled in at 9:40 am and were turned away.
We decided to use this time to enjoy a meal in the Windjammer, the main buffet dining area for all passengers. We enjoyed a fresh-made omelet and fresh fruit. My husband also grabbed some potatoes that were labeled gluten-free on the buffet.
One thing we noticed in the Windjammer was the crush of people waiting in line, the chaos of people grabbing every food item in sight, and the mad scramble to find a table.
We also noticed that an automated message would blare on the loudspeaker every five minutes, encouraging people to eat and leave to free up space for other passengers. It was not a relaxing experience.
(17) No Crowds, No Waiting, No Stress
My experience in the Windjammer allowed me to fully appreciate the peaceful, worry-free, wait-free dining experience offered by Celiac Cruise.
We never experienced a long wait, although that might have been because we tended to dine on the later side. We noticed several times that Celiac Cruise diners lined up to enter the Solarium at 5 pm for dinner and 10 pm for late-night snacks.
(18) Celiac Cruise Caters to Adults and Kids
Celiac Cruise says that 50% of its customers are families with kids, and 50% are couples (cabins for two). The desire for a worry-free vacation appears desirable to all demographics.
Susan Batterton's daughter, Janie, has celiac disease, and they sat next to me while dining one night.
"As a parent, it's very stressful when you're worried about your kid and if they're eating enough and safe. This cruise is liberating. I'm letting go and breathing for the first time in five years," says Susan.
Most Celiac Cruise customers are from the U.S. or Canada, but as word gets out, Maureen and Connie anticipate people worldwide will soon experience the magic of a Celiac Cruise.
(19) Exclusive Events Created For Celiac Cruisers
The Celiac Cruise staff created several onboard experiences exclusive to gluten-free guests.
One such experience was a beer tasting hosted by Holidaily; another was a gluten-free sushi-making class.
They also hosted several casual get-togethers and an educational session led by Vanessa Weisbrod, the Director of Education and Community Engagement for the Celiac Disease Program at Boston Children's Hospital.
(20) You Get a Bonus Goody Bag
The Celiac Cruise team gives everyone a goody bag that includes a custom shirt for their sailing (mine was a long-sleeve t-shirt that said "No Gluten, Just Glaciers"), along with products from Celiac Cruise sponsors, including Schär and Kind Bars.
Pro Tip! Don't buy a lanyard in the shops, which run about $15 each. Celiac Cruise will provide a branded lanyard inside your goody bag.
(21) Get Ready to Make New Friends
We encountered many people in the same "boat" as us diet-wise, so naturally, friendships ensued. We made friends at Celiac Cruise events and even chatted with fellow passengers over meals. There is a real sense of community and belonging. It's like you've found your people.
But don't worry, if you're an introvert and aren't "here to make friends," you can keep to yourself and do your own thing. There's no pressure to participate in anything.
(22) Enjoy All the Ship's Amenities
While Celiac Cruise ensured I ate like royalty, Royal Caribbean, too, offered excellent entertainment and hospitality throughout our entire cruise and beyond.
Pro Tip! If you plan to stay in the city you arrive in at the end of your cruise, take advantage of Royal Caribbean's luggage valet. They will check and lug your bags to the airport on departure day and bring you your boarding passes.
This incredible service allowed us to enjoy a day in Seattle without our luggage holding us back.
Of course, we enjoyed one last gluttonous meal in Seattle at Ghostfish Brewing Company. We downed a tasty flight of gluten-free beers and stuffed our bellies with oversized beer-battered onion rings.
Is Celiac Cruise Right For You?
Is Celiac Cruise worth it? Absolutely! Celiac Cruise is worth every penny spent and every calorie consumed.
The Celiac Cruise team adds so much value by providing a dedicated gluten-free safe space, training all dining staff onboard, exclusive community events, and simply fostering a sense of community and belonging.
I didn't have to constantly advocate for myself or wait for my food to come. I just ate with abandon and enjoyed a leisurely vacation with my husband.
Apparently, many Celiac Cruise passengers feel this way. The company has served 5,000 people since its inaugural year in 2020, and 15% of its cruisers are repeat customers.
Maureen said it best when she told me, "I'm a bit of a perfectionist, and I'm a pleaser. And I want 110% of people to be happy. That's why we're doing this. And I think we come pretty close."
Visit Celiac Cruise to learn about future sailings.
Additional Reading
You might enjoy these articles, too:
Learn how to travel on a gluten-free diet with my 27 Practical Tips for Traveling Gluten-Free.
Read The Ultimate Gluten-Free Cruise Survival Guide for tips for surviving a cruise while following a gluten-free diet (not a Celiac Cruise).
Enroll in my SIGNATURE Gluten-Free Course to learn how to go gluten-free fast and fast-track healing.
Read The Ultimate Guide to Eating Out Gluten-Free for more tips on eating out safely.