In this post, I discuss why many popular chain pizza restaurants offer gluten-free pizza that they don't recommend for people with celiac disease and gluten intolerance. I share why this is a dangerous practice and how you can protect yourself from getting sucked into confusing marketing messages from Domino's, Little Caesars, Papa John's, Papa Murphy's, and Pizza Hut. This post may contain affiliate links. Please see my disclosures.
In this post, I discuss how the top five pizza chain restaurants – Domino's, Little Caesars, Papa John's, Papa Murphy's, and Pizza Hut – make gluten-free pizza that they tell gluten-free customers with celiac disease and gluten intolerance not to eat.
Such mixed messages are confusing to the gluten-free community for several reasons:
(1) When a company advertises a product as "gluten free," people who rely on gluten-free products, like those with celiac disease and gluten intolerance, should be able to eat it safely. If a restaurant markets a dish as gluten free, it better be gluten free. Period.
(2) People who aren't educated in the perils of gluten cross-contamination may not understand the nuances associated with the gluten-free diet, including the risks of eating "gluten-free" pizza that is likely contaminated with gluten during the preparation and baking processes.
(3) It feels condescending and insincere to the gluten-free community when a restaurant dangles "gluten-free" pizza in front of them but then says, "Haha, you can't eat this." Then these restaurants make themselves out to be twisted heroes by saying they're being "transparent" and "honest" with the gluten-free community because transparency is part of their core values. Puh-lease!
The truth is pizza restaurants are trying to cash in on the multi-billion-dollar gluten-free "trend" without considering the needs of the people who rely on gluten-free food for sustenance. You can't blame them for wanting a slice of the $4.3 billion gluten-free market, which will reach an estimated $7.5 billion by 2027.
That said, the gluten-free community can't blame pizza restaurants entirely. Suppliers, the FDA, and the gluten-free community should also take accountability for allowing this practice to go unchecked.
(1) Suppliers (Like Udi's) Should Stop Supplying Products to Businesses that Employ Unsafe Practices
I find it inexcusable that trusted gluten-free brands, like Udi's, are supplying their products to Pizza Hut and Papa Murphy's, knowing that these restaurants don't offer safe foods to the gluten-free community.
Pizza Hut is making a mockery of Udi's. The pizza chain proudly tells the world that its crusts are certified gluten-free, but it delivers an unsafe end-product to the community. Gluten-free suppliers should take some responsibility and put their customers above profits.
(2) The FDA Should Crack Down on the Use of Gluten-Free Claims at Restaurants
Furthermore, the FDA should take a hard look at how pizza restaurants use the words "gluten free" to draw attention to their brands but then turn around and warn the gluten-free community not to eat these products. Surely someone at the FDA would find this bait-and-switch behavior deplorable.
Currently, the FDA says restaurants making a "gluten-free" claim must abide by the same rules for gluten-free labeling. Really? I've never seen a product labeled "gluten free, but not suitable for people with celiac disease and gluten intolerance."
(3) The Gluten-Free Community Should Stop Supporting Bad Business Practices
Finally, the gluten-free community needs to stop ordering gluten-free pizza from restaurants that tell the gluten-free community to stay away because it encourages continued "bad" behavior. Every time someone in the gluten-free community orders a "gluten-free" pizza that isn't really gluten free, they tell a restaurant, "Hey, it's okay to keep on doing what you're doing."
5 Pizza Restaurants that Get Gluten Free Wrong
The gluten-free community should be mindful when eating at the following pizza restaurants and take each restaurant's warning to heart:
(1) Domino's Pizza
Domino's was the first pizza chain to launch a gluten-free crust and the first restaurant to say its gluten-free pizzas are not suitable for people with celiac disease and gluten intolerance. Domino's started this messy trend of offering gluten-free pizza that isn't safe for the gluten-free community.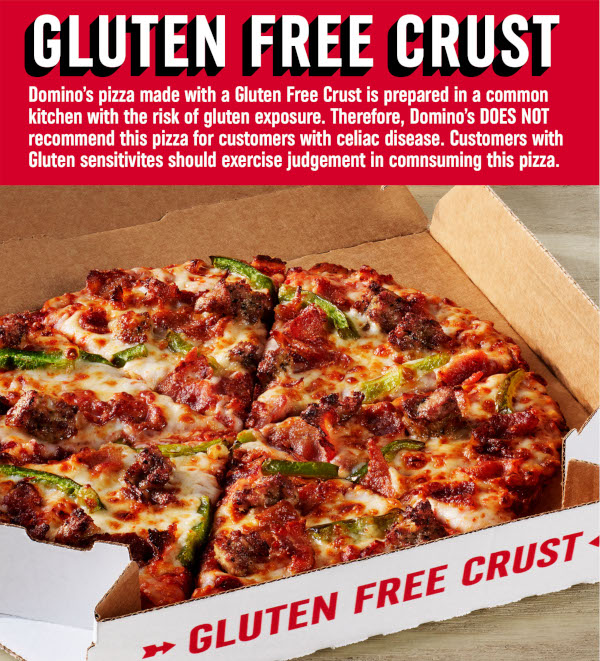 While Domino's warns gluten-free patrons not to eat its pizza, it might be the only pizza chain that I would [maybe] consider eating at for the following reasons:
(1) CeliAct lab-tested three Domino's gluten-free pizzas from three cities. Two pizzas had no detectable gluten, and the third pizza contained trace levels (7 ppm) of gluten below the 20 parts per million threshold. While a spokesperson for CeliAct says this isn't an "endorsement" for Domino's, it does provide some comfort to the gluten-free community regarding the safety of Domino's gluten-free pizza.
(2) Domino's says its crusts are made in a certified gluten-free facility; keep in mind, however, that the rest of the pizza is prepared in a shared kitchen where gluten is present.
(3) Domino's says no airborne flour is present in its kitchens since all of its pizzas are hand-tossed and hand-stretched using cornmeal, not flour.
Bottom Line: While Domino's says its gluten-free pizzas are not recommended for people with celiac disease or gluten intolerance, it may be the safest of the five options. If I had to eat a take-out gluten-free pizza, Domino's would be the only one of the five restaurants I'd consider.
(2) Little Caesars
In January 2023, Little Caesers began quietly test-marketing its gluten-free pizza option in Colorado, where I live. There is no information about the gluten-free pizza option on the Little Caesers website, nor any press announcements. I also contacted the media and customer service teams numerous times but didn't receive a reply.
I spoke with an employee at Little Caesers who confirmed the restaurant offers a gluten-free crust option. It's prepared in a deep-dish pan using the same prep area and ovens used to prepare other pizzas.
When I went to "pretend" order a pizza online, Little Caesers dished up the following warning, "We proudly make our wheat-based pizza dough fresh daily in each of our Little Caesars kitchens and are happy to now offer a gluten-free crust that does not contain wheat, rye, or barley. Since all of our fresh dough products are made in the same kitchen, there is potential for gluten exposure. Therefore, we do not recommend this pizza crust for customers with celiac disease."
(3) Papa John's
In 2017, Papa John's added a thin, crispy gluten-free pizza made from ancient grains (sorghum, teff, amaranth, and quinoa).
While the crust is made in a dedicated gluten-free facility, Papa John's says it cannot recommend its gluten-free pizza for people with "celiac disease or serious gluten intolerance."
Papa John's said in a press release that while its gluten-free crust is prepared in a separate, gluten-free facility before being shipped to stores, it's probable that the pizza will come in contact with gluten when it's prepared.
(4) Papa Murphy's
Papa Murphy's pioneered the concept of a Take 'n' Bake pizza where the restaurant prepares the pizza, but you take it home to bake. While the business model seemed to present a unique opportunity for Papa Murphy's to get gluten free right, like its predecessors, it can't seem to figure out how to get it right.
Papa Murphy's says on its website that its gluten-free crust, which it launched in September 2014, is "topped in a shared kitchen that also handles gluten-containing ingredients," adding, "We do not assume responsibility for any sensitivity or allergy caused by our products."
Papa Murphy's gluten-free Take 'n' Bake pizza is made with Udi's crust, which, if you ask anyone on a gluten-free diet, they will skip for that reason alone.
(5) Pizza Hut
From 2015-2018, Pizza Hut offered certified gluten-free pizza options suitable for people with celiac disease and gluten intolerance; however, as of May 2019, Pizza Hut terminated its agreement with the Gluten Intolerance Group Gluten-Free Food Service Program and no longer offers a certified gluten-free pizza option.
During its "certified gluten free" years, Pizza Hut instructed its employees to use clean gloves, use pre-assembled ingredient kits, bake the pizzas on parchment paper, and cut the certified gluten-free pizzas with a designated gluten-free pizza cutter.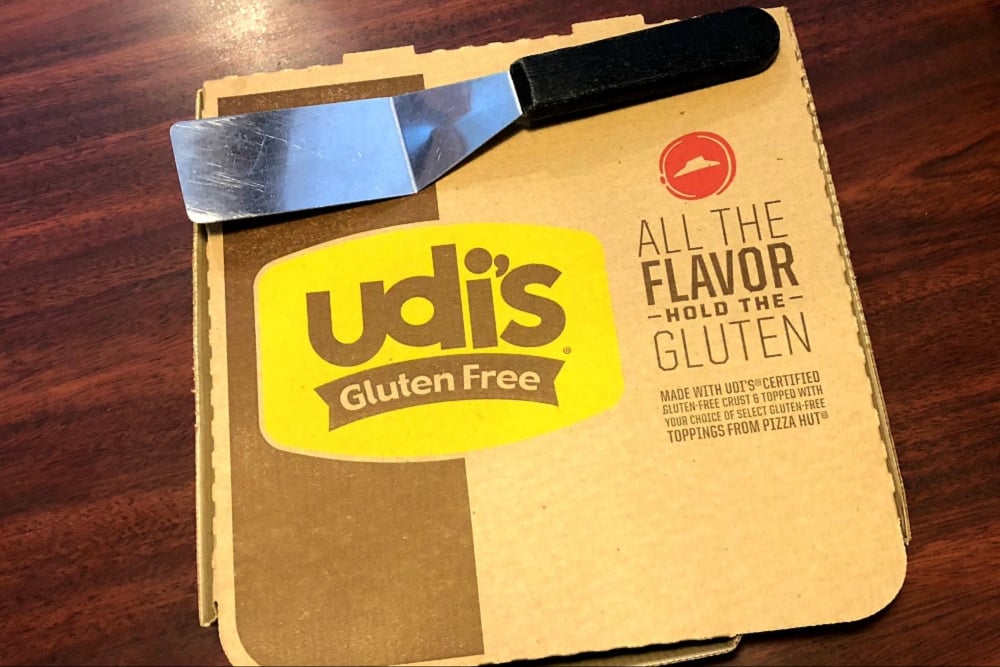 The company says its gluten-free pizza is still made with Udi's pizza crust, but it doesn't take any other precautions to ensure the pizza is suitable for people with celiac disease and gluten intolerance.
I suspect Pizza Hut discontinued its certified gluten-free pizza option due to a lack of sales, probably because they used Udi's crust, and well, there are better options.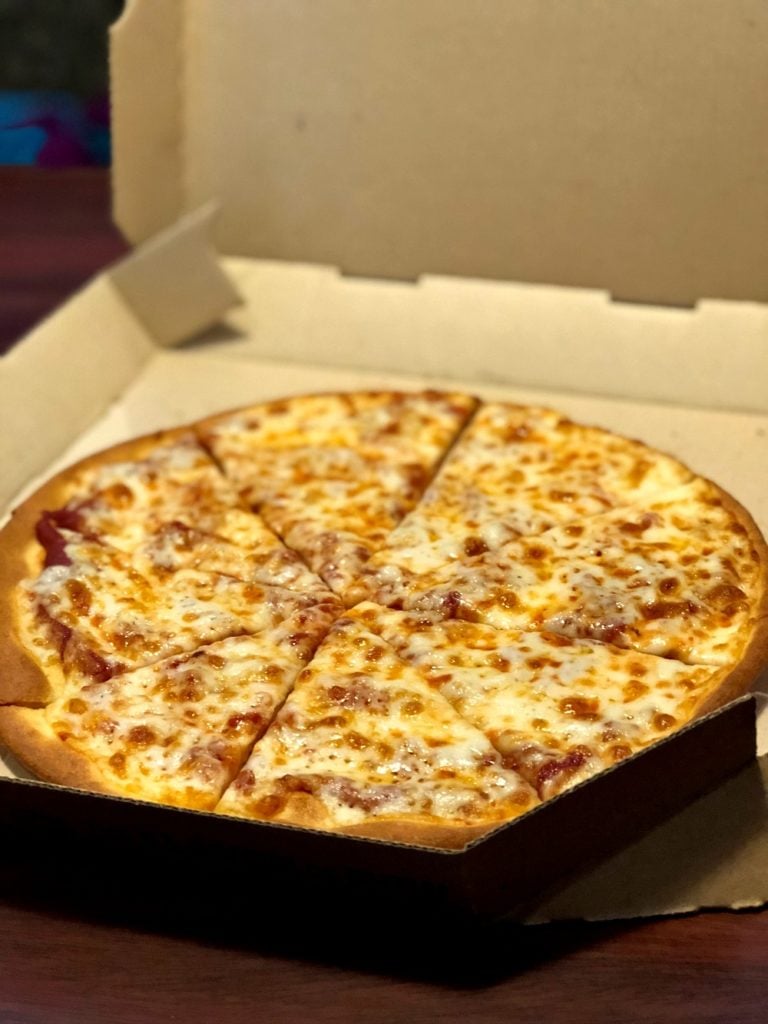 You've Been Warned
Unfortunately, all the gluten-free pizza chain restaurants get gluten free wrong. They make or source a certified gluten-free crust but then fail to deliver a safe, gluten-free pizza to their customers at the end of the day.
As mentioned, if I had to order gluten-free pizza, the only pizza restaurant of the bunch that I'd consider is Domino's. And even that's a stretch.
For now, I suggest the gluten-free community stand in solidarity and quit ordering unsafe pizza from chain pizza restaurants because, when you do, you reward them for putting the health and safety of your fellow gluten-free friends at risk.
Additional Reading