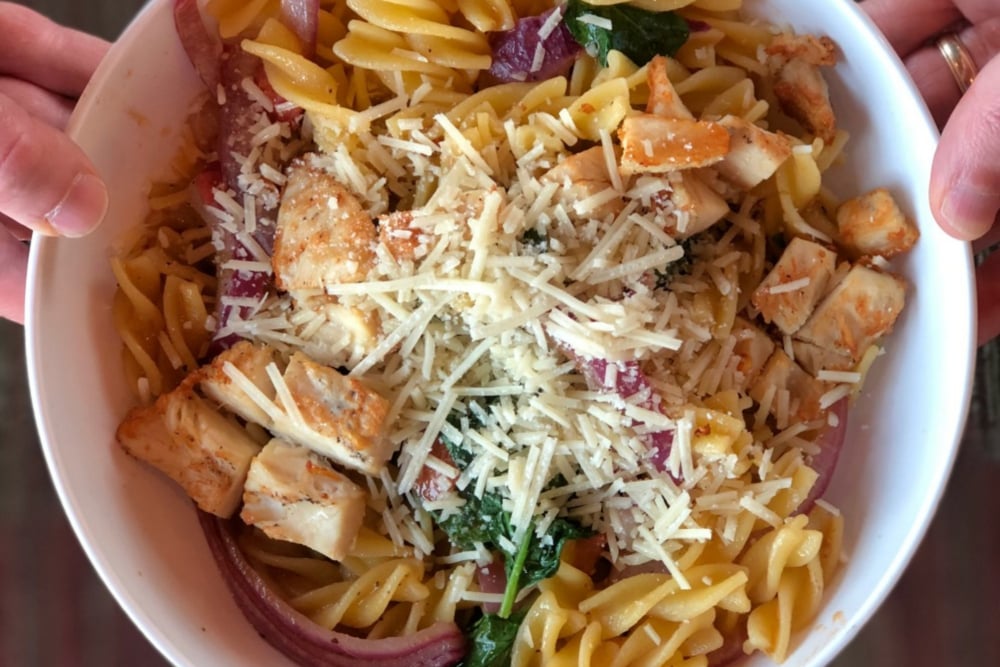 Looking to eat safely and gluten free at Noodles & Company? In this article, I'll share with you which dishes are free from gluten and which are not. Please note that there is a high risk for cross contamination at Noodles & Company and therefore the restaurant only offers a "gluten sensitive" menu. This post contains sponsored and/or affiliate content. Please read my disclosures.
I love eating at Noodles & Company because everyone in my family – especially my kids – is happy there.
On top of that, I know I can get a gluten-free meal for a reasonable price, which is not something I can find at many fast food restaurants. Gluten is a protein found in wheat, rye, barley and sometimes oats. (Read: What is Gluten and Why is it Bad for Some People?)
In fact, there are plenty of ways to eat gluten free at Noodles & Company, you just have to do so with open eyes and a cautious approach.
Before going to Noodles & Company, I highly recommend consulting the company's website for the latest nutrition and allergy information. There you can find both a list of all the ingredients in every dish, as well as an allergen calculator where you can check the "gluten" box and see what can be made free from gluten at any given time.
Please note that the restaurant's menu changes often. The most accurate information about the restaurant's allergen menu will always be in the restaurant.
Before ordering anything, please keep in mind that Noodles & Company is not a dedicated gluten-free restaurant. Therefore, I encourage you to weigh the pros and cons of eating at the restaurant as there is always an inherent risk of cross contamination when dining out.
Noodles & Company explicitly states on its website, "We'll try hard to accommodate your needs, but please consider that we do have wheat in our restaurant, and we can't guarantee no cross contact. We also urge you to inform a manager of your needs every time you dine with us."
Below, I'll detail some of the gluten-free options you'll find at Noodles & Company, as well as share how several of the dishes fared when tested for hidden gluten with my Nima Sensor.
The Nima Sensor is a portable gluten-detecting device that enables you to test a small portion of your food for hidden gluten. It will display a smiley face if it doesn't find gluten, and a "Gluten Found" message when it finds gluten.
You can learn more about the Nima Sensor in this article.
Please note that Nima Sensor went out of business in 2020, but it is back, under new management and ownership, as of September 2021, and you can purchase one on the Nima Partners LLC website.
Gluten-Free Options at Noodles & Company
Most every noodle dish can be made gluten free by swapping the wheat noodle for the gluten-free pipette, zoodles or cauliflower gnocchi options, which are all free from gluten ingredients.
Unfortunately, Noodles & Company up-charges $1.50 you when you order the gluten-free noodle options. There is also a $.75 up-charge when you order zoodles.
Please make special note of the following when ordering:
The cauliflower rigatoni contains wheat!!! Don't confuse it with the cauliflower gnocchi, which is gluten free.
The rice noodles used in the pad thai are gluten free and do not need to be swapped.
Some items come with croutons or crispy jalapenos, which must be left off your order as they contain gluten.
The tofu is seasoned with soy sauce and is therefore not gluten free.
The grilled chicken, while gluten free, is cooked on the same surface as the parmesan crusted chicken, which contains gluten. Ask the staff to bake your chicken instead of grilling it.
Items that can be made gluten free at Noodles & Company, with a gluten-free noodle swap (by request), include:
Buffalo Chicken Mac (no crispy jalapenos)
Buttered Noodles
Cauliflower Rigatoni in Roasted Garlic Cream Sauce
Cauliflower Rigatoni Fresca with Shrimp
Chicken Veracruz Salad (no crispy jalapenos)
Grilled Chicken Caesar Salad (no croutons)
Pad Thai (as is, no noodle swap needed)
Penne Rosa
Pesto Cavatappi
Shrimp Scampi
The Med Salad w/ Chicken (contains pasta, be sure to substitute with gluten-free noodle)
Tomato Basil Bisque
Wisconsin Mac & Cheese
Zucchini Pesto Cream with Grilled Chicken
The following items contain gluten at Noodles & Company and should be avoided:
Alfredo MonteAmore
Breadcrumbs
Cavatappi noodle
Cauliflower Rigatoni (contains wheat)
Cheesy Garlic Bread
Chicken, parmesan crusted
Chicken Noodle Soup
Cookies
Croutons (Focaccia)
Crispy jalapeños
Elbow noodle
Egg noodle
Grilled Orange Chicken Lo Mein
Japanese Pan Noodles
Meatballs, all
Potstickers
Spicy Peanut Saute
Spicy Korean Beef Noodles
Rice Crispy Treats
Spaghetti noodle
Thai Chicken Soup
Tofu, seasoned
Tomato Basil Bisque
Udon noodle
Remember, you can reference the Noodles and Company allergen chart to identify allergens and identify dishes that fit your dietary needs – gluten free, keto, paleo, or vegetarian.
Testing Noodles & Company for Hidden Gluten
To help me feel more confident in my decision to eat gluten free at Noodles & Company, I decided to use my Nima Sensor to test three dishes to see if they contained hidden gluten.
I tested the following items with my Nima Sensor:
(1) Mac and Cheese: Nima Smile = No Gluten Found
(2) Pasta Fresca with Chicken: Nima Smile = No Gluten Found
(3) Pad Thai: Nima Smile = No Gluten Found
You can watch me test my food for hidden gluten in this live (now recorded) video:
Additional Reading
I love eating out despite my diet "disability," and I've dedicated much of my energy to helping others eat out gluten free as safely as possible too.
Please consider reading my ebook, The Ultimate Guide to Eating Out Gluten Free if eating out is a source of angst for you. I'll teach you how to do it as successfully as possible.
You can also get my book, Dear Gluten, It's Not Me, It's You, for more information about following a gluten-free lifestyle, including tons of information about eating out and traveling while gluten free.
I encourage you to invest in a gluten-detecting device. A few to research include Nima Sensor, ALLIS Sensor and The Allergy Amulet. Not all of these companies have gluten-detecting devices available at the time this article was last updated.
I also encourage you to visit my Eating Out Library to see how other restaurants fared when tested for hidden gluten. I've tested Panera, Five Guys, Chick-fil-a, Red Robin, and the Olive Garden, among other restaurants.
Finally, you might enjoy this article, 5 Things I Wish Restaurants Knew About Gluten Free. I offer advice to restaurants on how they can step up their gluten-free game!