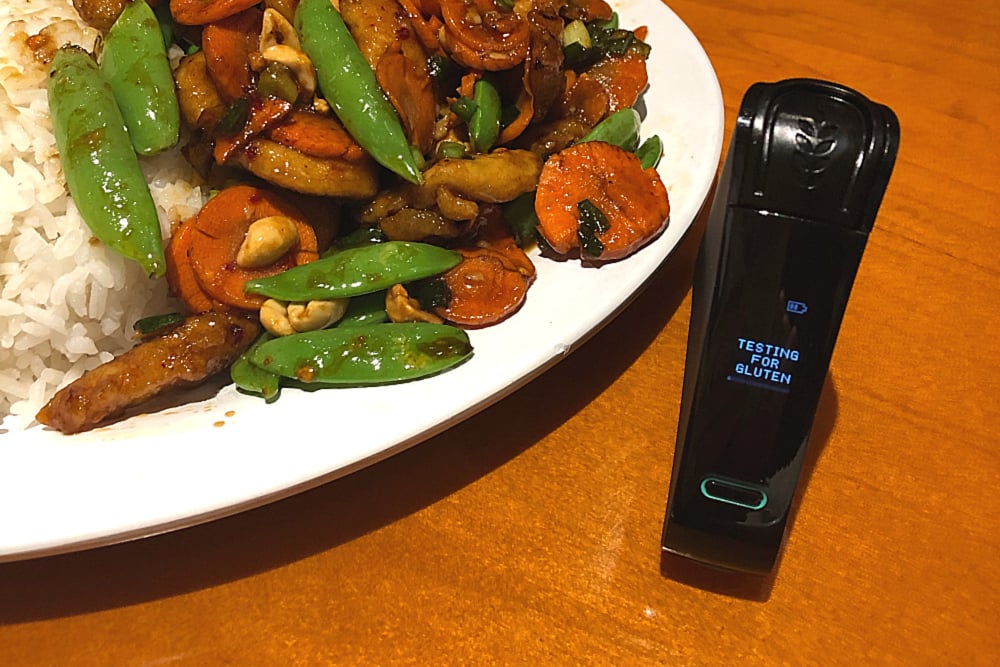 I love Asian food, but it can be hard to find a trusted, gluten-free Asian restaurant. Pei Wei, however, offers plenty of options on its gluten-free menu, and the options keep expanding! This post may contain affiliate links. Please read my disclosures.
Pei Wei is a fast-casual pan-Asian restaurant with a national presence. Over the years, the restaurant has expanded its gluten-free offerings, and I truly believe it offers something for everyone.
In this article, I'll share:
What's on the Pei Wei gluten-free menu that is safe for you to eat when you can't eat gluten.
How Pei Wei handles and prepares gluten-free dishes.
How several of Pei Wei's menu items stood up when tested for hidden gluten.
The Pei Wei Gluten-Free Menu
The Pei Wei menu clearly denotes with a "GF" when a dish can be made gluten free. However, just because you see a "GF" tag next to an item doesn't mean the item is automatically gluten free; rather, it means the item can be prepared gluten free upon request. Always request a gluten-free meal and emphasize how serious you are about eating gluten free.
There are several dishes that can be made gluten free, including:
Entrees:
Gluten-Free Beef and Broccoli (wok seared)
Gluten-Free Mongolian Steak (wok seared)
Gluten-Free Chicken and Broccoli (steamed white meat chicken)
Gluten-Free Mongolian Chicken (steamed white meat chicken)
Gluten-Free Kung Pao Chicken (crispy white meat chicken)
Gluten-Free Sweet & Sour Chicken (tempura battered white meat chicken)
Gluten-Free Chicken Fried Rice (steamed white meat chicken)
Gluten-Free Pei Wei Original Shrimp (crispy shrimp)
Gluten-Free Kung Pao Shrimp (crispy shrimp)
Salads:
Asian Chopped Chicken Salad
Appetizers/Sides:
Edamame
Cauliflower rice (Any dish can be ordered with cauliflower rice for a $2 upcharge)
To order online or learn more about the Pei Wei gluten-free menu, visit the restaurant online.
When placing your order, it's important to tell your server that you want your dish prepared gluten free. They will then prepare it in a separate area and in a dedicated gluten-free pan.
I used to love the Pei Wei Original, but I recently tried all the new dishes and now have a new, conclusive favorite… the Gluten-Free Kung Pao Chicken. This dish is savory (vs. sweet) and delicious.
For lighter fare, I also tried the Gluten-Free Chicken and Broccoli, which is prepared with steamed chicken (vs. fried). I enjoyed it, but I definitely missed the taste of the pan-fried chicken.
Pei Wei's Gluten-Free Practices
Pei Wei says it coats the protein for its gluten-free orders in potato starch (instead of wheat flour) and then cooks it in fresh oil in dedicated gluten-free pans. This means the protein will still have a crispy outside – yum – but will be gluten-free safe for you.
Furthermore, Pei Wei uses gluten-free soy sauce when cooking its gluten-free menu items. In fact, the restaurant only uses gluten-free soy sauce in all its dishes, gluten free or not. This offers a little extra reassurance that there's no gluten cross contamination.
On top of having plenty of satisfying gluten-free menu options, you can feel good about eating at Pei Wei because of its clean-label initiative known as "The Wei Forward."
The company says it's committed to using minimally-processed, fresh ingredients as evident by its latest offering, cauliflower rice.
In fact, The Wei Forward's principles include:
Use Fresh and Whole Food – This means Pei Wei is committed to using quality meats and it freshly slices 20+ different kinds of vegetables daily.
Be Clean and Transparent – Pei Wei says 30 percent of its rice bowls are entirely free of artificial colors, flavors and preservatives, and that number will be up to 61 percent by the end of 2019.
Offer Food that is "Made for You" – Pei Wei says that it will customize any dish – and that includes ensuring its gluten sensitive customers get a meal that meets their dietary preferences.
However, I've often wondered if Pei Wei is really gluten free. I typically feel okay when I eat there, but you just never know if gluten might be lurking in your food. I decided to put the restaurant to the Nima Sensor test.
A Nima Sensor is a portable gluten-detecting device. The Nima Sensor temporarily went out of business, but rest assured, it's up and running again as of September 2021.
Is Pei Wei Really Gluten Free?
Here are the results of the various dishes I tested for hidden gluten at Pei Wei. A smiley face means it's Nima approved and free from gluten.
Gluten-Free Pei Wei Original Chicken: Nima smiled.
Gluten-Free Kung Pao Chicken:  Nima smiled.
You can watch me test these dishes live in this video:
Eating Out With Confidence
I'm dedicated to helping you eat out gluten free with confidence. That's why I wrote the book on how to safely eat out when you can't eat gluten.
I also talk a lot about how to eat out safely in my published book, Dear Gluten, It's Not Me, It's You. I hope you'll check it out.
I've also tested dozens of restaurants for hidden gluten. You can see them all in my Eating Out library.