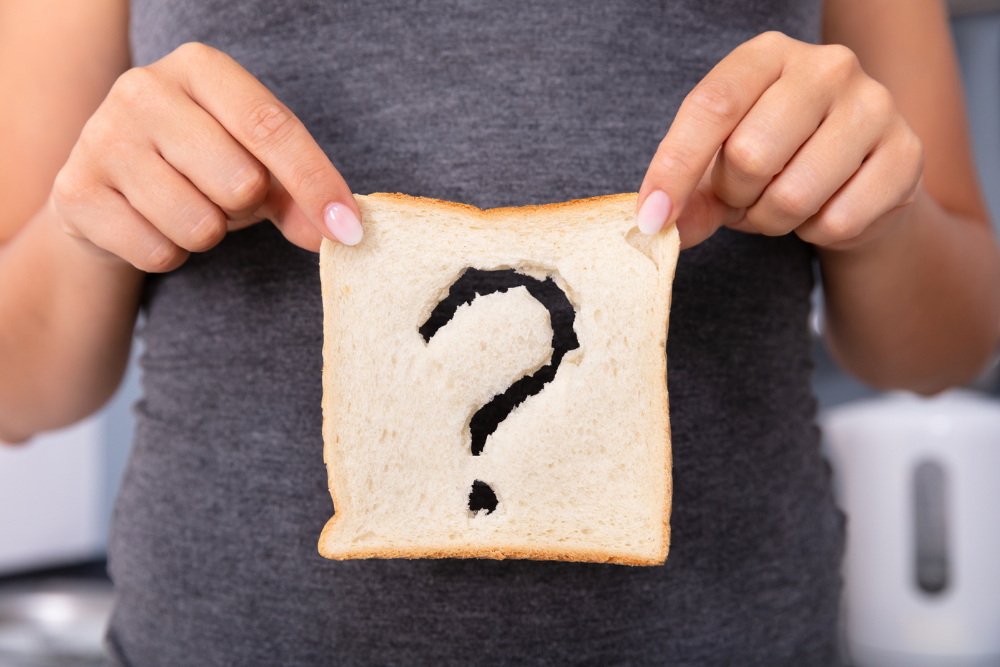 Celiac disease is a common genetic disorder, yet even people with the disorder know little about it. In this post, I'll share 12 interesting facts about celiac disease that I bet you didn't know. This post contains affiliate links. Please see my disclosures and disclaimers.
One in every 100 Americans, or three million Americans, have celiac disease, although many people who have the disease have not been officially diagnosed (yet).
Celiac disease is an autoimmune disease brought on by the consumption of gluten in people who are genetically predisposed to the disease.
Unfortunately, celiac disease is often misunderstood and may not be taken as seriously as other conditions, mainly due to the prescription of a gluten-free diet for all celiac sufferers. Many misinformed (and sometimes ignorant) people have turned the gluten-free diet into a "fad" diet. Therefore a lot of people turn up their noses at anyone who eats gluten-free, whether they are on the diet for medical reasons or not.
While many people have heard of celiac disease, and more people than ever before have been diagnosed with the condition, few people truly understand the depths of the disease. That's why I'm sharing these 12 interesting facts about celiac disease with you today.

(1) The Sahrawi people of Western Sahara have the highest incidence of celiac disease by geography
According to the Dr. Schar Institute, the highest incidence of celiac disease is among the Sahrawi people of Western Sahara in Africa, with 5-6 percent of the adult population afflicted with the disorder and 6-7 percent of children.
The reasons for the high celiac rates are unknown. However, some experts believe it could be the change in the Sahrawi's diets, which were once camel milk and meat and is now more European (due to the country's Spanish colonization) with a drastic consumption of cereal products.
The second highest incidence of celiac disease in the world is in Finland and Sweden, where 2-3 percent of the population is afflicted with the disorder, higher than the worldwide average of 1 percent.
Along these same lines, another interesting fact about celiac disease is that people from the Punjab region of India constitute the ethnic group in the United States with the highest prevalence of celiac disease, according to research published in Clinical Gastroenterology and Hepatology.
(2) Celiac patients are not "allergic" to gluten
Many people believe people with celiac disease are "allergic" to gluten; however, this is not true. Someone with celiac disease has an autoimmune disease in which the body mistakenly produces antibodies against itself upon consuming gluten. It's not an allergy.
However, someone with a wheat allergy is allergic to wheat, and someone who cannot tolerate gluten can have gluten sensitivity, both of which are serious conditions. 
(3) Bananas were once used to "cure" celiac disease
Today we know that celiac disease is an autoimmune disorder triggered by the consumption of gluten, but in the early 1900s, celiac disease was seen as a childhood nutritional disorder cured by eating primarily bananas, along with milk, cottage cheese, meat, and vegetables. No lie!
Parents would leave their children with Dr. Sidney Haas in California for six months to treat their children. The children would heal, and Dr. Haas would declare that child "cured" of celiac disease. Dr. Haas treated more than 600 children with his high-caloric, banana-centric diet.
We now know it wasn't the "bananas" that helped these children heal, it was the cessation of gluten that made them better. We also know that there is no cure for celiac disease – as it's a lifelong affliction that only can be managed by a strict gluten-free diet.
Unfortunately, many of these "banana babies" went on to eat gluten again, reignite their prior ailments, and only later in life discovered that they were never really "cured" from celiac disease. Read more in NPR.
Can bananas cure celiac disease? This was once (falsely) believed to be the case! #celiacdiseaseawarenessmonth #celiacdisease
(4) Celiac disease can be symptomless
While there are more than 200 symptoms and conditions potentially related to celiac disease, according to the University of Chicago Celiac Disease Center, many people with celiac disease have no visible symptoms at all.
In a landmark study on the prevalence of celiac disease, a research team (which included the leading celiac disease doctor in the country, Dr. Alessio Fasano) found that 60 percent of children and 41 percent of adults diagnosed with celiac disease during the study were actually asymptomatic or had what is known as silent celiac.
This research is important as it means someone may have celiac disease without knowing it – and they could slowly be damaging their bodies and creating an environment that is ripe for more serious diseases and conditions later in life.
(5) It takes an average of 4 years for someone to get officially diagnosed
According to research published in the American Journal of Gastroenterology, it takes an average of four years for a symptomatic person to be formally diagnosed with celiac disease. Such delays can dramatically increase a person's risk of developing other life-threatening health issues and autoimmune diseases.
It takes an average of four years for a symptomatic person to be formally diagnosed with celiac disease. #celiacdisease #celiacdiseaseawarenessmonth
(6) Celiac disease is one of the most common GI disorders, yet it receives the least amount of public and private funding
In 2017, a team of researchers published a report in Gastroenterology regarding how the National Institutes of Health, a public agency that decides how federal money is spent on medical research, makes spending decisions for gastrointestinal research.
Researchers found that celiac disease, which affects one percent of Americans, consistently received the lowest amount of research dollars (about $15.4 million over a period of five years).
On the other hand, researchers found that Crohn's disease, which has the second lowest prevalence of all the GI conditions included in the analysis and afflicts about 0.25 percent of the American population, received the highest amount of funding ($77.5 million over the same five-year period).
Researchers also found that the number of research grants awarded to Crohn's disease (about 40 grants per year) was much higher than the grants awarded to celiac disease research (eight grants per year).
Editor Note: I know this can be a tricky subject to discuss because not one disease should be considered more important than the other. However, I understand other factors besides profitability, such as quality of life for the patient, the seriousness of the condition, and alternative treatment options, are taken into account when funding decisions are made, and I do not make light of research funds spent on researching other serious GI diseases.
(7) Celiac disease is on the rise worldwide
A 2015 report published in the International Journal of Recent Scientific Research stated that the incidence of celiac disease worldwide has increased by 9.8 percent per year over the past 60 years. This figure shows no signs of slowing as diagnostic tools improve (including at-home testing tools) and awareness for the disorder grows.
Researchers noted that Canada, Scotland, and Spain experienced the highest percent incidence surges while Estonia, the United States, and New Zealand had the lowest growth rates. Researchers say these observations "point to a stronger influence of environmental factors as opposed to genetic factors on celiac disease development."
(8) Celiac disease is the ONLY autoimmune disease in which the genetic trigger is known
According to Dr. Tom O'Bryan, in his book, The Autoimmune Fix, celiac disease is one the most researched autoimmune disease in the world and the only autoimmune disease in which the environmental trigger (gluten) has been identified.
(9) You can have the genes for celiac disease but never get diagnosed with celiac disease
While you may be genetically predisposed to celiac disease (99 percent of people with celiac disease have the genes HLA DQ2 or DQ8), it doesn't mean you will be diagnosed with celiac disease in your lifetime. A genetic predisposition to a certain autoimmune disease only means you are vulnerable to developing "heightened antibody levels for that tissue or organ," according to Dr. O'Bryan in The Autoimmune Fix.
Genes rarely cause disease, they simply show us where there may be a predisposition to a disorder. In other words, if you have the genes that make you susceptible to celiac disease, you're highly vulnerable to getting a diagnosis if other elements are present such as the environmental trigger that sets it off (gluten consumption) and intestinal permeability. Read my article, What Causes Celiac Disease? to understand what causes the celiac disease genes to turn on.
(10) People with celiac disease may have heightened sensitivities to other foods
Forty-four percent of people with celiac disease are sensitive to corn, according to this study. About 50 percent of people with celiac disease also have lactose intolerance, according to this research.
You can find out if you have other food sensitivities by taking this food sensitivity test.
(11) No human has the enzyme to digest gluten fully
A team of researchers (including leading celiac disease physician Dr. Alessio Fasano) found that gluten consumption (via wheat) causes intestinal permeability in every human. This research was published in Nutrients. 
Usually, damage caused by gluten consumption will resolve itself, but for people with celiac disease or gluten sensitivity, that damage remains.
On top of that, gluten offers no nutritional value to humans. We eat it and excrete it, according to Dr. O'Bryan. "You can go a lifetime without eating gluten and have no adverse side effects," he says in The Autoimmune Fix.
(12) Healing is difficult for celiac disease patients
Only eight percent of people with celiac disease heal completely on a gluten-free diet, although many will feel better. According to a study published in Alimentary Pharmacology and Therapeutics, 65 percent of celiac patients feel better but still have visible inflammation in their intestines.
According to another study in the American Journal of Gastroenterology, 43 percent of celiac patients on a gluten-free diet continued to have persistent villous atrophy (worn down microvilli surrounding the small intestine that must be present to diagnose celiac disease).
People with celiac disease should take pause, perhaps coming to a realization that the gluten-free diet alone may not fully resolve symptoms or control inflammation. I had to do more than swap gluten-free cupcakes for regular cupcakes to heal my body.
Suspect Celiac Disease?
If you or someone you love suspects they might have celiac disease, please get tested for the disorder.