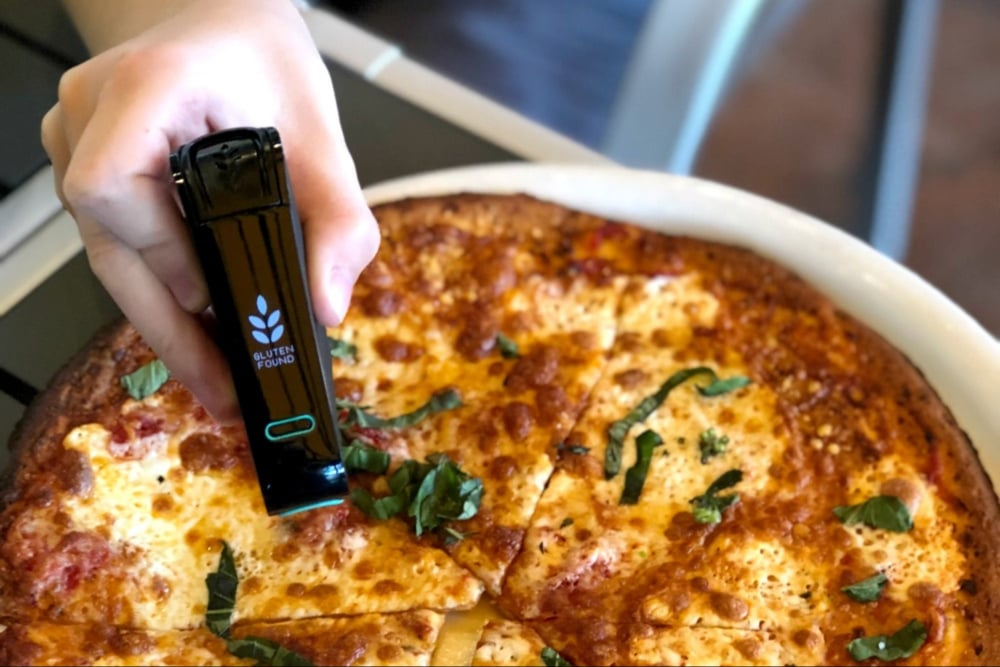 This post about what's gluten-free at California Pizza Kitchen has been updated December 2021 to reflect changes to the CPK menu and a second round of Nima Sensor testing. This post contains affiliate links. Please read my disclosures.
Finding pizza to eat outside of the home that is safely prepared gluten free is a challenge for those of us suffering from celiac disease and gluten sensitivities.
Celiac disease is an autoimmune disorder where the immune system becomes confused when a person eats gluten, a protein found in wheat, rye, barley and sometimes oats, and as a result, the immune system launches an attack on the healthy tissue surrounding the small intestine. There are more than 100 potential symptoms of celiac disease.
Most gluten-challenged people miss take-out pizza dearly, and I have longed dreamed of a take-out pizza restaurant opening near my home. There is one such restaurant that I know of in Portland, Oregon called New Cascadia Traditional. If you live in Portland, you must support this restaurant. It's amazing!
A few years ago, I found myself at Pizza Hut ordering one of its certified gluten-free pizzas. At the time, Pizza Hut was following certified gluten-free protocols from the GFCO, but today, Pizza Hut is no longer offering certified gluten-free pizza. It's now just cross contaminated pizza using a certified gluten-free pizza crust. No thanks.
I've also semi-enjoyed take-out pizza at the Mellow Mushroom, which I can only say is fair in taste. The good news is, however, that the pizza is prepared celiac-safe and passed the NIma Sensor test. Read more about it in this article.
The safest way to enjoy pizza, however, is by making your own. I've got this recipe and this recipe, both of which are really delicious.
I've also resorted to buying frozen pizza and preparing it at home, which isn't the same taste-wise, but at least it's safe. (You might enjoy my Best Gluten-Free Frozen Pizza: Ranked and Tested for Hidden Gluten article.)
Then enter California Pizza Kitchen. This restaurant showed so much promise to me with its highly-publicized certified gluten-free menu that, you guessed it, includes certified gluten-free pizza!
A restaurant that is certified gluten free means the pizzas are prepared using the strict procedures approved by The Gluten Intolerance Group (GIG).
It means CPK not only uses certified gluten-free ingredients that have been verified by suppliers as gluten free, but also has procedures in place to avoid cross contact with gluten in the preparation of the gluten-free labeled menu items.
There are five pizzas that bear the "certified gluten-free" moniker. They include:
The Original BBQ Chicken Pizza
Pepperoni
Mushroom Pepperoni Sausage
Margherita
Traditional Cheese
Please keep in mind that the restaurant only certifies the above five pizzas with absolutely no variations (which I learned the hard way, more on that to come).
All gluten-free pizzas are served on a gluten-free cauliflower crust only. Please note that CPK discontinued the gluten-free pizza crust made from rice flour in December 2018.
Before You Eat at CPK, Read This
I have to say, I've been a little jilted eating gluten free at California Pizza Kitchen. That's because I've tested the restaurant – TWICE – for hidden gluten using my trusty Nima Sensor and twice my Nima Sensor found gluten.
The Nima Sensor is a portable gluten detecting device that allows you to test your food for gluten exposure before you eat it. You can learn more about this device in my article, 13 Things You Need to Know about the Nima Sensor.
While I would eat gluten free at California Pizza Kitchen, I'm nonetheless a little worried about getting glutened.
It all started in July 2018 when I tested the gluten-free cauliflower crust pizza with my Nima Sensor, only to find it contained gluten.
The crust is gluten free, but apparently my waitress put my order in wrong. Grrr!! Glad I tested it first. It should have had a toothpick labeled "gluten free" in it when it came to my table. It did not.
I visited the restaurant again in December 2018 to give it a second chance. I believe in second chances and allowing restaurants to make things right. I was even rooting for CPK to show me they know how to do gluten free right.
Prior to my second visit, I had a lengthy discussion with the company's marketing director and she explained that what happened to me was an isolated incident and that they will focus on re-training their staff. She even said my Facebook Live video had been elevated to the higher ups at CPK (I do all my tests live on Facebook – you find out when I find out!).
Unfortunately, my December "redo" Nima Sensor test still uncovered gluten. Ug!
Why? I ordered a gluten-free pizza with tomatoes on top. I didn't realize that adding tomatoes meant it could no longer be considered "certified gluten free," nor prepared in the "certified gluten free" area. My server didn't tell me before I ordered, although I wish she would have because I would have nixed the tomatoes.
Therefore, if you eat gluten free at California Pizza Kitchen, you MUST do the following:
Order only one of the five certified gluten-free pizzas with NO variations. Want them to add tomatoes or olives? Too bad. If you do it anyway, your pizza will no longer be prepared gluten free.
Also, the pizza MUST HAVE A TOOTHPICK IN IT THAT SAYS "GLUTEN FREE" when it arrives at your table. If it doesn't, it's a red flag that it wasn't prepared in the gluten-free designated area. Send it back and request a certified gluten-free pizza.
Test your food with a Nima Sensor

. I love when Nima gives me that extra assurance I need to eat at any restaurant.
You can watch me do the test on Facebook Live. Keep watching until the end because you will see me go to combat with the manager. I wanted you to see how I approach things when I get a "gluten found" message on my Nima Sensor.
All's Well that Ends Well – Maybe
I'm not sure if I feel 100 percent confident eating gluten-free pizza at California Pizza Kitchen, but the restaurant did try to make things right, and I know with each effort, the restaurant will get better and better.
I have to say, during both of my distressing visits, the waitress sent over the manager. Both times the staff remade my pizza correctly and made things right.
Here is the final pizza that I ate. Please take special notice of the toothpick. And note that I didn't add any toppings (once again, you cannot deviate from the menu, not even to add a totally gluten-free topping like tomatoes).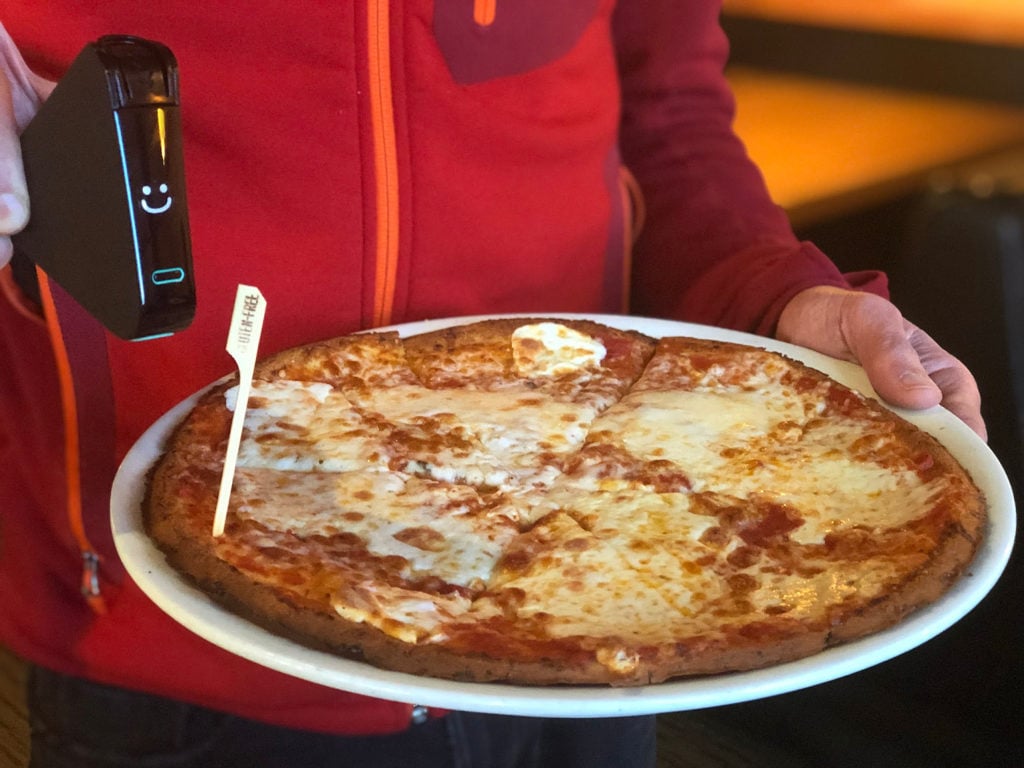 California Pizza Kitchen's Gluten-Free Menu
If you'd rather skip the certified gluten-free pizza altogether, the good news is that there are several items that are made with gluten-free ingredients at California Pizza Kitchen. Keep in mind, however, none are certified gluten free.
For starters, the Charred Shishito Peppers are amazing. I love this appetizer – order it!
CPK offers two Power Bowls that are made with gluten-free ingredients:
The Santa Fe Bowl
The Banh Mi Bowl
I've had the Banh Mi bowl in the past. It's ok. I found it a bit dry, but fair.
There are also many salads that are prepared gluten free at California Pizza Kitchen. They include:
The Original BBQ Chicken Chopped Salad
Roasted Veggie Salad
Classic Caesar Salad
California Cobb Salad
Thai Crunch Salad
Waldorf Chicken Salad
Quinoa & Arugula Salad
Italian Chopped Salad (personal favorite)
You can also order the Roasted Garlic and Chicken and the Cedar Plank Salmon gluten free.
You'll just want to refer to the gluten-free menu at California Pizza Kitchen, and let your server know you cannot eat gluten, before ordering. Some dishes do require changes in order for them to be gluten-free compliant.
Additional Reading
I love eating out despite my diet "disability," and I've dedicated much of my energy to helping others eat out gluten free as safely as possible too.
Please consider reading my ebook, The Ultimate Guide to Eating Out Gluten Free if eating out is a source of angst for you. I'll teach you how to do it as successfully as possible.
You can also get my book, Dear Gluten, It's Not Me, It's You, for more information about following a gluten-free lifestyle, including tons of information about eating out and traveling while gluten free.
I encourage you to invest in a gluten-detecting device. A few to research include Nima Sensor, ALLIS Sensor and The Allergy Amulet. Not all of these companies have gluten-detecting devices available at the time this article was last updated.
I also encourage you to visit my Eating Out Library to see how other restaurants fared when tested for hidden gluten.
Finally, you might enjoy this article, 5 Things I Wish Restaurants Knew About Gluten Free. I offer advice to restaurants on how they can step up their gluten-free game!