These fun and kid-friendly frozen yogurt banana popsicles are made with a dairy-free yogurt alternative and plenty of delicious ingredients that your entire family will love! This post is sponsored by So Delicious Dairy Free®, and all my opinions are mine. Please see my disclosures.
As the weather gets warmer and the sun begins shining daily, I start to crave all sorts of cold treats that help me beat the heat.
Today I'm sharing one of my favorite beat-the-heat frozen treats with you. It's my recipe for frozen yogurt banana pops using a dairy-free yogurt alternative. Ta-da!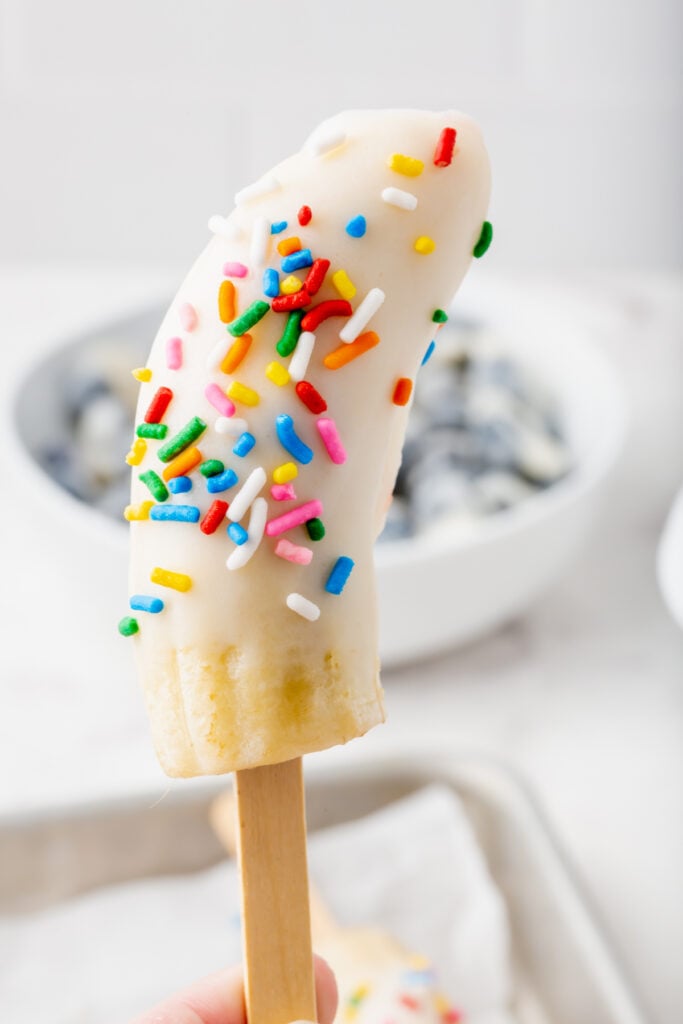 I guess you might need to call them "frozen yogurt-alternative banana pops", but that would be weird! Just note that I didn't use yogurt; rather, I used a dairy-free yogurt alternative instead. More on that in a bit.
These cold popsicles are delicious warm-weather treats the entire family can sink their teeth into, literally!
I know you're craving these bad boys, and I've got the full scoop on how to make these banana pops at home with just a few ingredients and little know-how.
Gather Your Ingredients
To make these dairy-free and low-sugar frozen yogurt banana popsicles, you'll want first to gather up all your ingredients. Here's what you'll need:
Bananas: You'll need three bananas to make one batch of these frozen pops. Remove the peel and slice each banana in half horizontally.
Be sure to use only firm and ripe yellow bananas. Do not use overripe bananas or they will be too soft and mushy. They may also fall apart when dipped in the yogurt.
Dairy-Free Yogurt: You'll also need about 1 cup of So Delicious Vanilla Coconutmilk Yogurt Alternative, which you can find at Sprouts and other grocery stores nationwide. I recommend purchasing the 24-ounce container so you can dip your banana right into the carton of the yogurt alternative.
Sprinkles: Life is better with sprinkles, and you'll need about 1-2 tablespoons of rainbow sprinkles to get the job done here. You can use any sprinkles you like, or even use crushed nuts, shaved chocolate, or any topping your heart desires to decorate the banana pops! You could even top each banana pop with a custom topping made-to-order!
Popsicle sticks: You'll need six good old-fashioned popsicle sticks, which you can pick up at your local craft store.
How to Make Frozen Banana Pops
Now that you have your ingredients in tow, you're ready to make these delicious frozen treats!
First, you'll need to line a baking sheet with parchment paper. You'll want to have this ready to go before you start crafting… I mean baking!
Next, insert a popsicle stick into the cut end of each banana half as pictured.
Now for the dipping. You can either dip the banana into your large carton of yogurt, or portion out about one cup of the yogurt and place it into a tall glass. Dip the banana in the yogurt until it's almost completely covered in the creamy stuff.
For extra coverage, dip the banana twice and, of course, allow any excess to drip off.
Place each dipped banana onto your parchment-lined baking sheet and repeat with the remaining bananas until each one is completely coated.
Finally, add rainbow sprinkles (or toppings of choice) to the bananas (make it rain, baby!). They look so pretty and colorful with rainbow sprinkles, but of course, nuts, chocolate, and other toppings work just as well. And as I mentioned prior, you could top each banana individually with each person's topping(s) of choice.
Place the baking sheet in your freezer. Let it freeze for 2-4 hours, or overnight until the outer shell has hardened. 
Yogurt Pops are in the House!
Wow, that was easy – and fun – right? But how do these frozen yogurt banana pops taste?
The answer is, simply put, they're incredible. The frozen sweet banana is coated in the creamy yogurt alternative, and the sprinkles give it a little color and crunch. This is perfection on a popsicle stick, if I don't say so myself.
You can't go wrong when you make this tasty summer-time treat, which is 100 percent dairy-free, gluten-free, and grain-free.
PS: See those frozen yogurt blueberries in the picture? I used the extra So Delicious Coconutmilk Yogurt alternative to make frozen yogurt blueberries! Learn how to make them in this article.
Other Recipes with Yogurt
Try these gluten-free recipes, all made with So Delicious yogurt alternative:
Dairy-Free Low Sugar Frozen Yogurt Banana Popsicles
Enjoy this tasty no-bake frozen treat made with only three ingredients and a lot of love.
Print
Pin
Rate
Ingredients
3

bananas

peeled and sliced in half horizontally

1

cup

So Delicious® Vanilla Coconutmilk Yogurt Alternative

1-2

tbsp

rainbow sprinkles
Instructions
Prepare a baking sheet with parchment paper. Set aside.

Insert a popsicle stick into the cut end of each banana half.

Pour the yogurt alternative into a tall glass and dip each banana half until each is almost completely covered in the yogurt. (If you would like more coverage, dip the banana twice.) Let any excess yogurt drip off before placing each banana onto your baking sheet. Repeat with remaining bananas.

Top the bananas with rainbow sprinkles or other toppings of choice.

Place baking sheet in your freezer and freeze for 2-4 hours, or overnight, until the yogurt alternative shell has hardened.
Notes
I love rainbow sprinkles as they make these bananas pop. However, you could also use shaved chocolate, crushed nuts, or any topping of choice. Be sure to add the toppings before placing the bananas in the freezer to allow the toppings to set into the yogurt alternative as it freezes.
Be sure to use firm bananas. Too ripe of bananas may fall apart. You want a solid yellow banana that is not green nor brown.
Nutrition
Calories:
85
kcal
|
Carbohydrates:
19
g
|
Protein:
2
g
|
Fat:
1
g
|
Saturated Fat:
1
g
|
Sodium:
6
mg
|
Potassium:
211
mg
|
Fiber:
2
g
|
Sugar:
11
g
|
Vitamin A:
38
IU
|
Vitamin C:
10
mg
|
Calcium:
53
mg
|
Iron:
1
mg