Is Cream of Rice gluten free? I put it to the hidden gluten test to find out. This post may contain affiliate links. Please read my disclosures.
If you're following a gluten-free diet and avoiding gluten, a protein found in wheat, rye, barley, and sometimes oats, then you know Cream of Wheat cereal is off-limits because it's made with wheat.
But what about Cream of Rice cereal? Is it gluten free and safe to consume, even for people with celiac disease?
Cream of Rice cereal is manufactured by Kraft Heinz, and Kraft Heinz says on its website that its policy is to list gluten-containing ingredients in the ingredient statement on the package label and to follow the FDA definition for gluten-free foods. This means a product can be labeled "gluten free" if it contains less than 20 parts per million (ppm) of gluten.
Cream of Rice cereal is clearly labeled "gluten free" on the front of its packaging. Furthermore, after inspecting the ingredient label, it doesn't appear to contain any gluten ingredients.
Please note that while the product is labeled "gluten free," it's not "certified gluten free." Products that are certified gluten free are validated to contain less than 20 ppm – sometimes less than 10 ppm – of gluten via a third-party company like the GFCO.
Unlike many gluten-free cereals, Cream of Rice is heavily enriched with nutrients, like folic acid and iron, which are lacking in most gluten-free cereals.
Nima Testing Cream of Rice
Because Cream of Rice is manufactured by the same brand as Cream of Wheat, I wanted to make sure that Cream of Rice was truly free from gluten.
I decided to test it with my Nima Sensor, a portable gluten-detecting device. While the device has limitations, which you can read about here, it's great for testing foods for hidden gluten without needing a full allergen testing lab and going for broke. It can cost $75-$150 to test a single product in a lab for hidden gluten, but with Nima, it costs about $6 per capsule.
As you can see below, Nima displayed a smiley face. This means the device didn't find any gluten.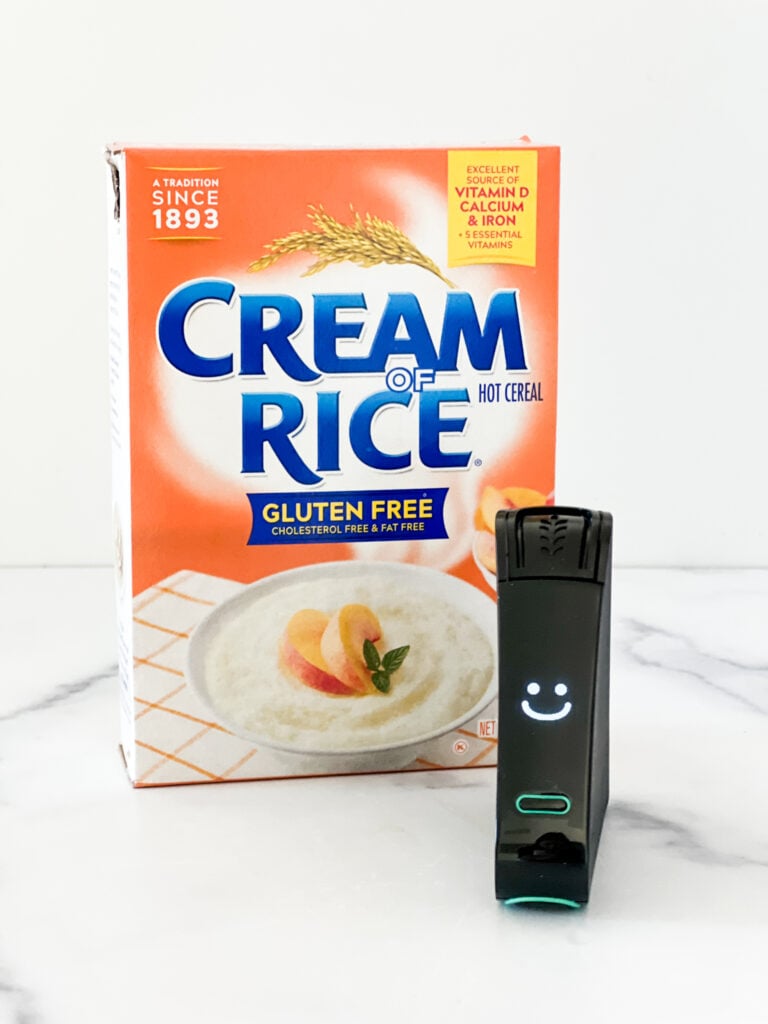 This added level of assurance is sometimes all the gluten-free community needs to feel more confident and comfortable eating a product.
Enjoy More Product Tests
I've tested many products for hidden gluten, including Nutella, Jet-Puff marshmallows, canned soups, frozen dinners, Takis chips, various kinds of cereal, and more!
Be sure to subscribe to my Friday newsletter to receive these kinds of test results in your inbox each week.