Last week my daughter told me she wanted me to buy her Takis chips. I'd never heard of Takis before, but naturally I became curious about them, and of course, I wanted to know if they were gluten free.
Takis are rolled corn tortilla chips that set your mouth on fire. They are intensely hot, seasoned with hot chili peppers and lime (Fuego flavor). Fuego means "fire" in Spanish.
Takis also come in other firey flavors like Blue Heat, Crunchy Fajitas, Guacamole and Nitro.
Related Reading: Are Doritos Gluten Free? And a List of Chips that are Gluten Free
Takis Ingredients and Disclosures
Takis Fuego ingredients include corn flour (processed with lime), vegetable oil, seasoning [salt, maltodextrin, citric acid, sugar, monosodium glutamate, hydrolyzed soy protein, onion powder, yeast extract, red 40 lake, yellow 6 lake, natural and artificial flavors, sodium bicarbonate, soybean oil, chili pepper (chili), disodium inosinate, disodium guanylate, TBHQ (antioxidant)].
As you can see, Takis contains a few ingredients that are questionable to the gluten-free eye, such as yeast extract and monosodium glutamate (MSG), both of which may contain gluten (but not always).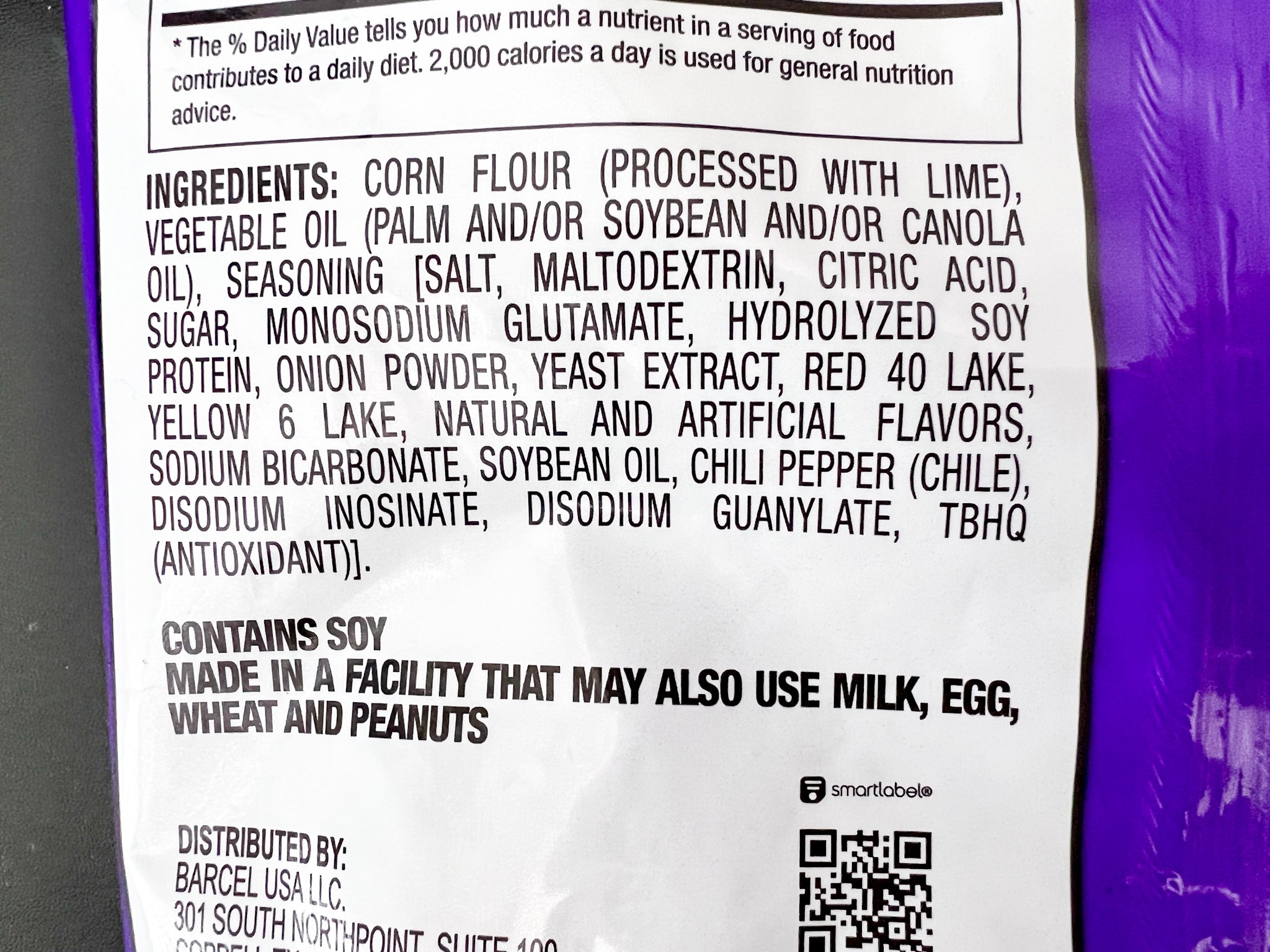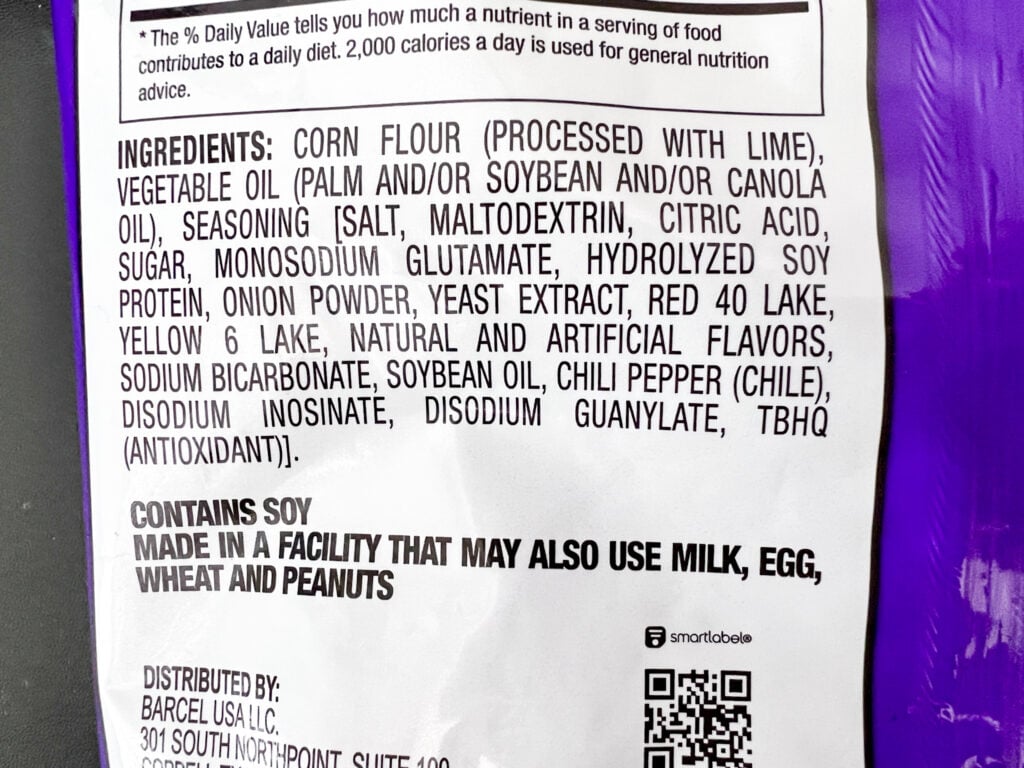 If the product contained wheat, and yeast extract or MSG were derived from wheat, its "Contains" statement would have to disclose that; instead, the Takis "Contains" statement says it only contains soy and makes no mention of wheat.
Please note "Contains" statements only indicate if a product contains any of the top eight allergens: wheat, soy, tree nuts, peanuts, dairy, shellfish, fish or eggs. "Contains" statements make no mention if a product contains gluten, which is found in not only wheat, but also in barley, rye and sometimes oats too.
Takis also makes this disclosure on its packaging: "Made in a facility that may also use milk, egg, wheat and peanuts."
I always find these kinds of disclosures confusing, and view them as a means for companies to cover their arses. It's legal speak. In case the product contains even a speck or trace of wheat, and then someone eats them who has a severe, life-threatening allergy, the company can say, "I warned you. It's not our fault."
Related Reading: What Gluten-Free Labeling Laws and Certifications Really Mean
While I'll never eat a product that says it may be manufactured on shared equipment with products that contain wheat, I'll eat products manufactured in the same facility as products made with wheat. It's a subtle but distinct difference worth noting.
I typically avoid products with confusing "may contain" or "may also" statements, but my daughter wanted to Takis, so I wanted to know if it was safe to have them in our dedicated gluten-free house.
Testing Takis for Hidden Gluten
While I don't recommend eating Takis if you have celiac disease, a serious autoimmune disease that causes a person's immune system to attack its small intestine every time the person eats gluten, I realize that some of you on the gluten spectrum may want to eat them.
I decided to Takis for hidden gluten with my Nima Sensor, a portable gluten detecting device that enables you to test a small portion of your food for traces of gluten.
When Nima displays a smiley face, it means Nima didn't find any gluten. If the device displays a wheat symbol, it means Nima found gluten. Before investing in a Nima Sensor, please compare it to the ALLIS Sensor and Allergy Amulet, two additional gluten-detecting devices.
Also, I want to say that I personally think Takis are disgusting. I don't like them at all. They are way too salty and so intensely hot that you can't really enjoy the flavor.
Instead, I like to snack on the Trader Joe's rolled tortilla corn chips, which are a Takis alternative. The rolled chips are seasoned with chili and lime and taste a million times better than Takis.
I think you'll find the Trader Joe's Takis knock-off is less intensely hot, making them so much more enjoyable (and bearable) to eat.
Related Reading: Testing Trader Joe's Gluten-Free Products for Hidden Gluten
Trader Joe's version of Takis are labeled gluten free and tested gluten free according to the Nima Sensor.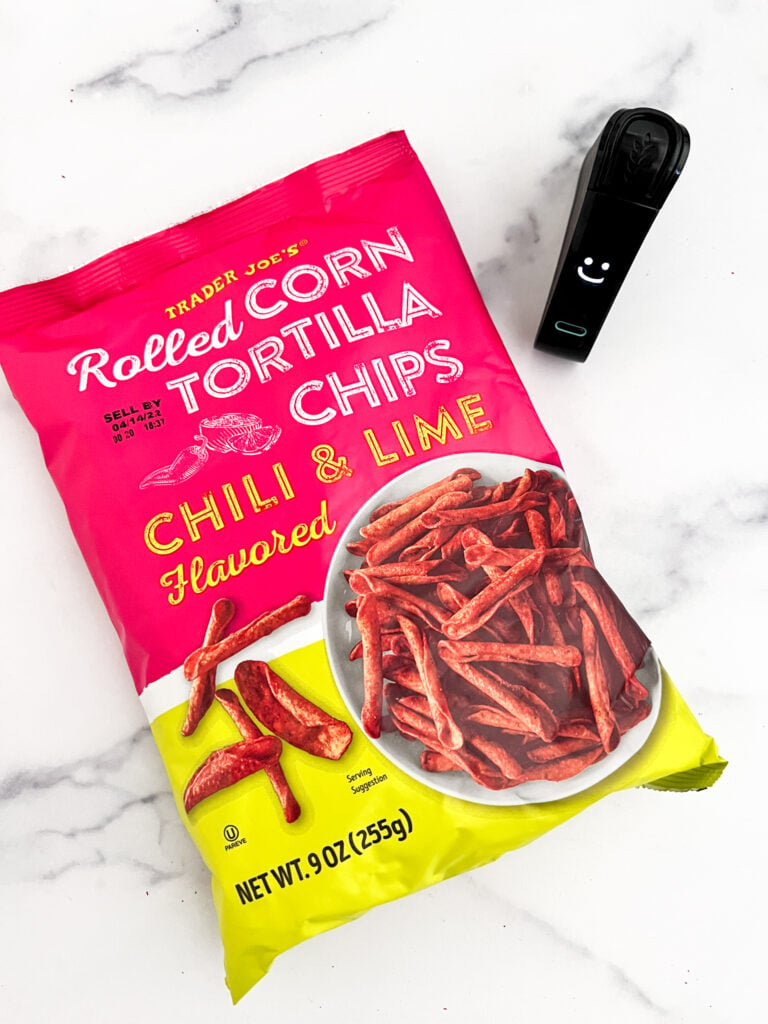 And here is how Takis tested when put to the Nima Sensor test. Please note these are one-time results and may not be accurate for all Takis tested. (This is my CYA disclosure so the GF police – and Nima Sensor naysayers – won't come after me.)
Again, please note that while Takis tested gluten free per the Nima Sensor, they are NOT labeled gluten free, and there is a clear disclosure saying they may be produced in a facility that may make products that contain wheat.
Would You Eat Takis?
I strive to bring you the best and most accurate information on what products are safe – and what products are not safe – for you to eat on the gluten-free diet.
This is a judgement-free zone, so I ask you, would you eat Takis based on the information in this article?
And which are better: Takis or Trader Joe's Rolled Corn Tortilla Chips? Please sound off in the comments.
Additional Articles