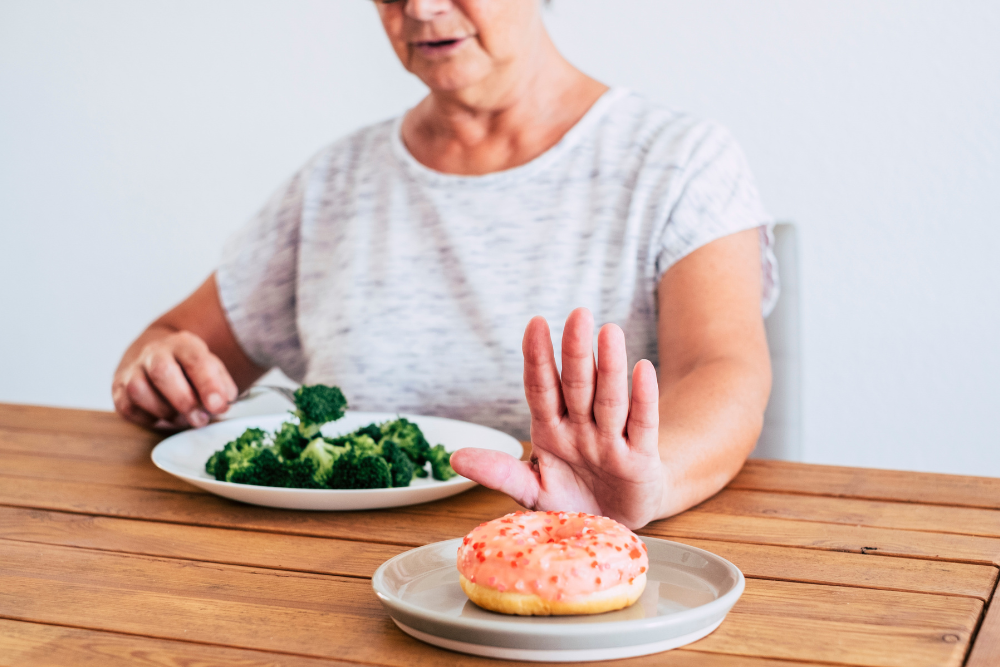 Traditionally, experts considered celiac disease a childhood condition, with symptoms appearing in the first few years of life. However, in the last decade, there has been a significant rise in the number of people being diagnosed with late-onset celiac disease or celiac that develops during adulthood. This post discusses why there's a rise in late-onset celiac disease and the unique signs of celiac disease presenting in older patients. This post should not be construed as medical information. Discuss any changes to your diet or health with a doctor. Please see my disclosures.
Strong evidence today suggests that celiac disease can be diagnosed at any age, and the rate of late-onset celiac disease is skyrocketing among adult and elderly populations.
Celiac disease is a genetic autoimmune disease affecting one percent of the population. However, a 2017 study suggests the disorder affects closer to three percent of the population.
People with celiac disease suffer from varied symptoms, including classical gastrointestinal disorders like bloating, diarrhea, and gas, as well as nutritional deficiencies, bone density issues, joint pain, migraines, skin issues, and more.
Gluten, a protein found in wheat, rye, barley, and sometimes oats, triggers an immune system response in people with celiac disease. When a person with celiac disease eats gluten, their immune system mistakenly attacks the small intestine.
The small intestine is responsible for absorbing nutrients from food and distributing those nutrients to the rest of the body. Without a functioning small intestine, nutritional deficiencies ensue, and various maladies form as a result.
Why the Rise of Late-Onset Celiac Disease?
Some studies suggest the median age of a celiac disease diagnosis is 45 years old, with a "substantial portion" of patients being diagnosed after age 50.
In 1960, one study showed that barely four percent of newly diagnosed celiac disease patients were over 60. However, a 1994 study showed that 19 percent of patients were diagnosed at 60, and today, one-third of all new celiac patients are 65 and up.
Several theories explain why older patients are being diagnosed with celiac disease at increasing rates.
(1) Changes in the Gut Microbiome
The role of the gut microbiome cannot be overlooked when considering late-onset celiac disease. The collection of microorganisms that live in the digestive tract absolutely play a crucial role in gut health.
For celiac disease to exist, a person must carry one of the two celiac genes, eat gluten, and experience intestinal permeability, which can be onset by changes in the microbiome or the gut.
The gut is deeply impacted by lifestyle components, such as high-stress jobs and a lifetime of poor eating habits.
Today's Standard American Diet (SAD) is centered on eating more processed foods loaded with sugar and salt and fewer whole foods such as fruits, vegetables, and whole grains.
The packaged food revolution also has led to greater consumption of gluten-containing foods such as bread, pasta, and baked goods, all of which can trigger celiac disease in people genetically predisposed to the condition.
Studies have shown that alterations in the gut microbiome can lead to increased intestinal permeability, which, in turn, can trigger the celiac disease genes to activate at any time.
(2) Eating Gluten Longer
Elderly patients have been eating gluten for decades, and, like a leaky faucet, the bottom finally gives out, and full-blown celiac disease ensues.
Plus, serious disorders, such as autoimmune diseases and cancer, more often appear in elderly patients who have experienced longer durations of gluten exposure in their lifetime.
A doctor may run a series of tests on an older patient for a diagnosis and surprisingly find a positive celiac disease blood test in the end.
(3) Greater Awareness
With the popularity of gluten-free food and gluten-free menus, more people than ever are aware of gluten disorders. And with greater awareness comes increased interest, scrutiny, research, and testing.
Today, many doctors routinely test for celiac disease when a patient presents with specific symptoms (see below), and more patients than ever are self-aware that their symptoms might align with celiac.
With greater awareness also comes better testing opportunities. Today, celiac disease can be diagnosed with a simple blood test.
Anyone suspecting celiac disease can even test themselves for the disorder with the invention of reliable at-home celiac disease screening tests, such as this one.
Celiac Underdiagnosed in Older Adults
Unfortunately, late-onset celiac disease is underdiagnosed in older patients, which can increase the risk of serious medical conditions and death.
One study found it took an average of nine years from the onset of symptoms to a celiac diagnosis. Another survey of elderly celiac patients found the diagnosis delay to be closer to 17 years!
One reason for delayed diagnosis is that symptoms of celiac disease are non-specific and often mistaken for other common disorders found in older people, such as acid reflux, irritable bowel syndrome (IBS), and gastroesophageal reflux disease (GERD).
As a result, doctors – and even patients – may overlook celiac disease and instead mistake their symptoms as part of getting older.
11 Signs of Late-Onset Celiac Disease
Celiac disease can present differently in patients 65+. Below are 11 signs and symptoms of undiagnosed celiac disease in older populations:
Anemia: Researchers found that anemia, micro-nutrient, and iron deficiencies are common in elderly populations with undiagnosed and untreated celiac disease.
Ataxia: Ataxia is a neurologic complication of celiac disease that can lead to a higher risk of falls in elderly patients. Elderly patients with balance issues should discuss the possibility of celiac disease with their doctors.
Calcium and Vitamin D Deficiencies: Because celiac disease impairs nutrient absorption, many elderly patients may experience decreased bone mass, bone fractures, osteopenia, and osteoporosis. Some experts recommend celiac screening for all osteoporosis patients.
Colon Cancer: One study found that adults diagnosed with celiac disease experienced an increased risk of colorectal adenomas, specifically left-sided adenomas.
Dermatitis Herpetiformis (DH): While DH, also known as celiac rash, is a common symptom of celiac disease in all populations, the average age of presentation is 40 years old.
Gastrointestinal Symptoms: While classic gastrointestinal symptoms can still be a sign of celiac disease in elderly populations, studies suggest that diarrhea, weight loss, constipation, and abdominal pain are less common in elderly patients.
Hypothyroidism: Thyroid disorders are the most common autoimmune disorder presenting in elderly patients with celiac disease. The disorder is usually diagnosed in patients over 50.
Liver Abnormalities: Many elderly patients present abnormal liver function, known as celiac hepatitis. Studies show a gluten-free diet will likely resolve liver abnormalities present in celiac patients.
Lymphoma: Experts say elderly patients with undiagnosed or untreated celiac disease are at higher risk for intestinal lymphoma and other malignancies. The most common incidence of lymphoma occurs when celiac patients are diagnosed in the 6th, 7th, and 8th decades of life.
Neuropathy: The damaged nerves near the brain can lead to cognitive impairment and accelerated dementia in elderly patients with celiac disease. In many cases, the damage is irreversible, even with a gluten-free diet.
Refractory Celiac Disease (RCD): RCD occurs in more advanced cases of celiac disease when a patient's symptoms don't respond to a gluten-free diet. Approximately five percent of celiac patients develop RCD, and the median age of diagnosis is 58 years old for milder cases and 70 years old for advanced cases.
Treating Celiac Disease in Elderly Populations
The only treatment for celiac disease is a strict gluten-free diet, which can be challenging for older patients who may find it difficult to break life-long eating habits.
Some elderly patients who reside in assisted living facilities may also find it difficult to get safe gluten-free meals.
For example, a woman with celiac disease sued her retirement community for failing to provide safe gluten-free food despite being assured by the staff that they understood the seriousness of her disorder.
Specifically, she's suing for breach of contract, negligence relating to food preparation, and negligent misrepresentation, among other claims that show the retirement community violated the Americans with Disabilities Act. Celiac disease is classified as a "disability" by the ADA.
Regardless of the difficulties, a gluten-free diet can help manage and reverse many of the ill effects of celiac disease, and making every effort to follow a strict gluten-free diet should be a top priority at any age.
The Bottom Line
The rise of late-onset celiac disease is a complex phenomenon that can be attributed to environmental factors, lifestyle changes, and greater awareness of the disorder in the 21st century.
Anyone who suspects celiac disease or experiences any symptoms noted in this article should request to be tested for celiac disease or take this at-home celiac disease screening test.
Remember, celiac disease doesn't discriminate; it can develop at any time and at any age. Individuals need to be screened for celiac disease with the onset of symptoms irrespective of their age.
This is especially true of people with a first-degree relative with celiac disease, who experts say are at greater risk of the disorder.
Additional Reading
You might enjoy these articles, too: