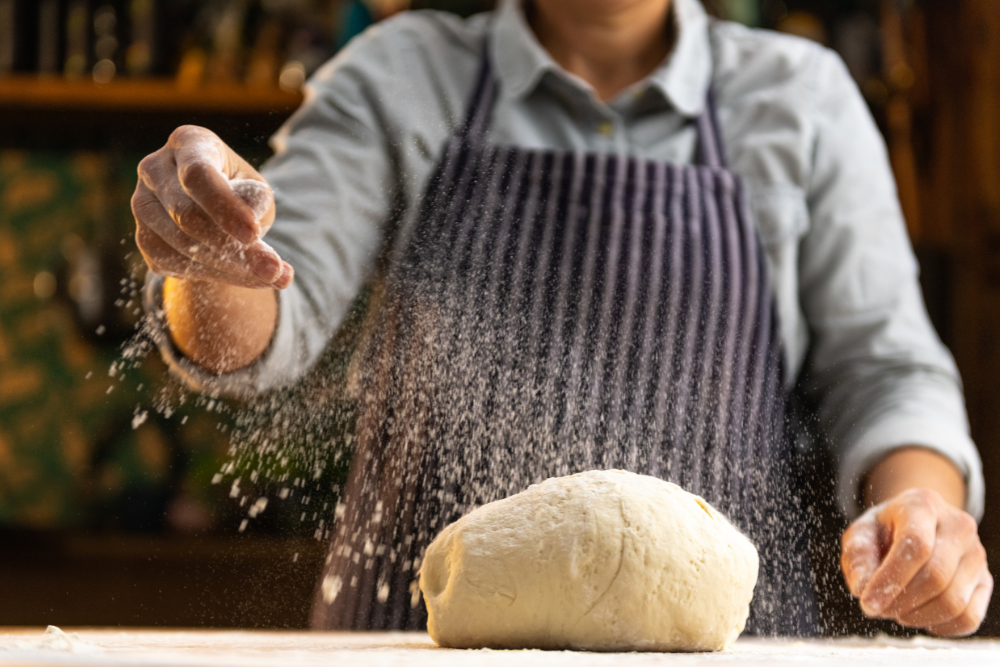 Evidence suggests that airborne gluten can cause ill-side effects in people with celiac disease, wheat allergies, and gluten intolerance. In this article, I share how airborne gluten can impact the gluten-free community and the steps you can take to protect yourself from gluten dust exposure. Please read my disclosures.
People with celiac disease, wheat allergies, and gluten intolerance must ensure every piece of food they put into their mouths is free from gluten, a sticky protein found in wheat, rye, barley, and sometimes oats.
However, many people in the gluten-free community may not realize the risks associated with airborne gluten, which is gluten that can potentially be inhaled and ingested.
Celiac disease organizations and experts agree that airborne gluten may pose a detrimental risk to the gluten-free community and warn that anyone with a gluten or wheat disorder use caution when eating at restaurants and bakeries where airborne flour is rampant.
Airborne Flour Can Enter the Nostrils and Mouth
Airborne flour can easily become trapped in a person's saliva and nasal passages. The trapped particles could then enter the mucous membranes and eventually enter the intestinal tract.
Some bakers even develop an allergy to wheat just by being around wheat and inhaling flour for prolonged periods. This condition is known as "Bakers asthma."
In one article published in the New England Journal of Medicine, two farmers were diagnosed with non-responsive celiac disease. Despite following a strict gluten-free diet, neither farmer experienced histologic improvement or symptom resolution. Both farmers were feeding their animals a mix of grains, including barley and wheat.
Researchers estimate that these patients may have been inhaling and ingesting more than 150 grams of gluten-containing dust particles each day. By contrast, patients with celiac disease must limit their daily gluten intake to no more than 50 mg.
Airborne Flour Can Coat Gluten-Free Food
Gluten contamination is rampant in restaurants that make homemade pizza, pasta, or baked goods. Even foods prepared gluten free can be coated in gluten dust by the time they reach their intended patrons.
Especially beware of restaurants where pizza dough is tossed in the air. The flour will eventually settle on surfaces, plates, and appliances in the restaurant and may even settle on top of a gluten-free pizza.
Also, be careful eating food prepared in a shared bakery. A kitchen mixer can quickly drum up its fair share of gluten dust, enough to contaminate surfaces, appliances, and surrounding foods.
How to Protect Yourself from Airborne Gluten
While no method is foolproof, there are a few ways you can protect yourself from airborne gluten:
Eat at Low-Risk Restaurants: Dedicated gluten-free restaurants are ideal but are not always possible. Choose restaurants where the risk of airborne gluten is low. For example, avoid eating at Italian restaurants where pasta and pizza are made from scratch. Also, only purchase baked goods packaged or prepared in a dedicated gluten-free bakery.
Wear a Face Mask: If you must be around gluten, such as in the case of the farmers exposed to airborne gluten via cattle feed, wear a face mask. This will prevent the inhalation of airborne gluten dust.
Maintain a Dedicated Gluten-Free Kitchen: If possible, maintain a dedicated gluten-free kitchen at home. If your kitchen isn't dedicated gluten free, at least avoid baking with wheat flour, which can easily become airborne and land on various surfaces in your shared kitchen. Read my tips for setting up a gluten-free kitchen.
Use Gluten-Free Pet Food: It's possible to become exposed to airborne gluten from pet food, as noted by the story about the farmers getting sick from handling cattle feed. If possible, buy and use only gluten-free pet food.
Additional Reading
Enjoy these related articles: