If you're on the hunt for who sells gluten-free donuts, I've got the full scoop for you including gluten-free donuts you can buy at the grocery store, and where you might be able to find bakeries that carry safe gluten-free donuts. Please read my disclosures.
Everyone loves donuts, but the gluten-free community doesn't always get to enjoy them. Some stores carry gluten-free cake donuts, as I'll discuss next, but it's rare to find a gluten-free donut made from leavened dough.
Unfortunately, most donuts are made with wheat, and gluten is found in wheat, barley, rye and sometimes oats. And regular bakeries that offer gluten-free donuts are usually not safe for those with celiac disease or gluten sensitivity due to the high likelihood of gluten cross contamination.
That said, don't let the gluten-free diet prohibit you from enjoying an occasional donut. You just have to be savvy about how you go about getting one.
Below I share three ways you can enjoy gluten-free donuts again – either store bought, from a gluten-free safe bakery or make your own. I also share a few recommended ready-made gluten-free donut mixes for you to try.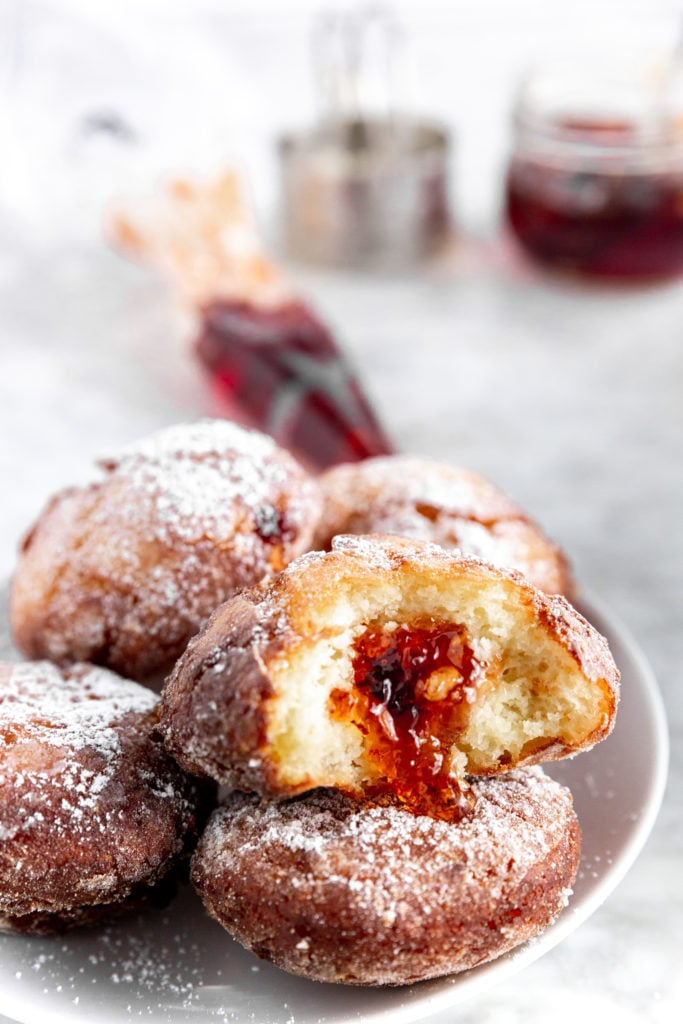 (1) Buy Gluten-Free Donuts at the Grocery Store
The following brands make gluten-free donuts that you can buy at the grocery store. Be sure to use the store locator on each of these brand's websites to find grocery stores that carry these products so you don't go on a wild goose chase. Alternatively, you can order most of these items online.
Freedom Gluten-Free Donuts
Freedom Gluten Free make super tasty donuts that are, by far, my favorite store bought brand of donuts. I live in Denver and have been able to find them in-stock at Sprouts, but the distribution is mostly limited to the east coast and therefore they can be hard to find.
These donuts are shelf-stable donuts found in the bakery section of your grocery store, unlike the other gluten-free donuts brand, which are exclusively found in the freezer section.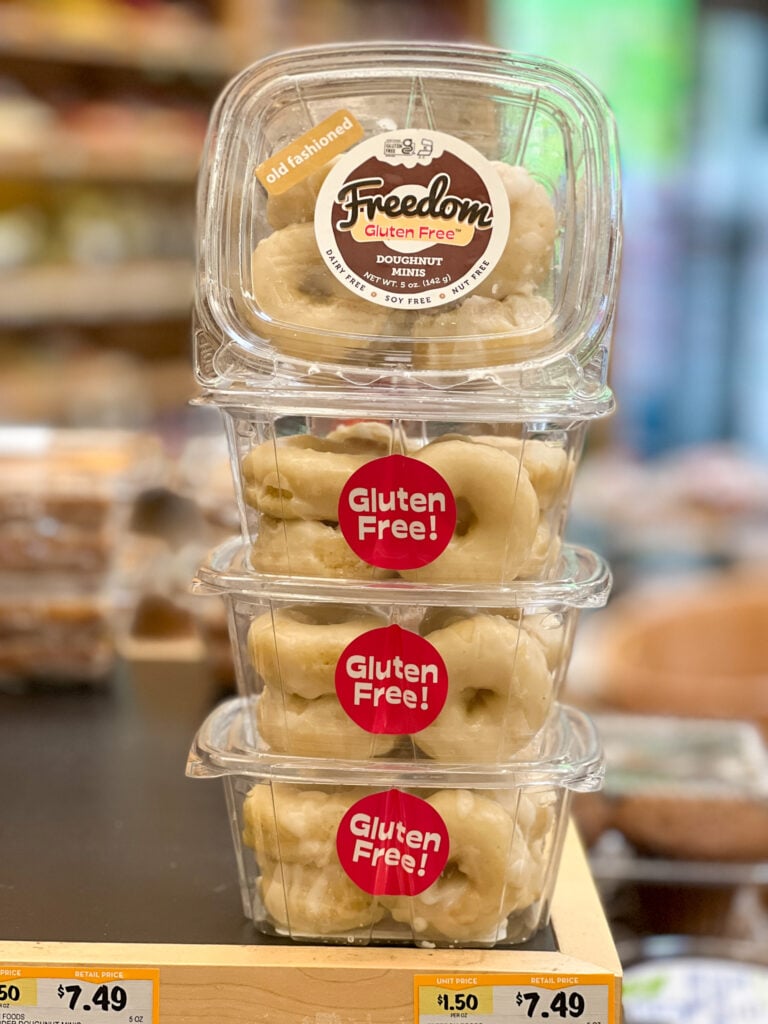 The good news, however, is you can order them on Amazon, which I highly recommend you do to prevent going on a wild goose chase to find them. I also recommend checking the Freedom Gluten Free website to see if the donuts are available in a store near you.
Freedom donuts are super delicious, especially the Devil's Food Chocolate Minis, and they're also soy-, dairy-, and nut-free in addition to being gluten free. They come in Old Fashioned Glazed Minis and Apple Cider Doughnut Minis in addition to Devil's Food Chocolate Minis.
For my Jewish friends that keep kosher, these donuts are kosher parve (parve means it can be served with both dairy and meat meals), so serve them up on Shabbat with my gluten-free challah and my gluten-free cholent!
Katz Gluten-Free Donuts
Katz Gluten-Free makes a variety of frozen gluten-free donuts that are delightful and offer a satisfactory store-bought gluten-free donut option. Plus, Katz is a well-known gluten-free brand with nationwide distribution in many mainstream grocery stores. Katz also makes gluten-free puff pastry, muffins, cakes, pies and other delightful treats.
Katz gluten-free donuts come in more than a dozen flavors, from Sea Salt Caramel Donuts to Triple Chocolate Donuts and Pumpkin Spice Glazed. View the entire selection of donuts on the Katz website or visit the Katz Amazon store.
If looking for Katz products in a store near you, visit the Katz store locator. According to the store location, Whole Foods, Safeway, Walmart, and Sprouts carry the donuts as does East Side Kosher Deli (a Jewish deli in Denver) since Katz is a kosher brand. Like Freedom donuts, Katz donuts are also parve.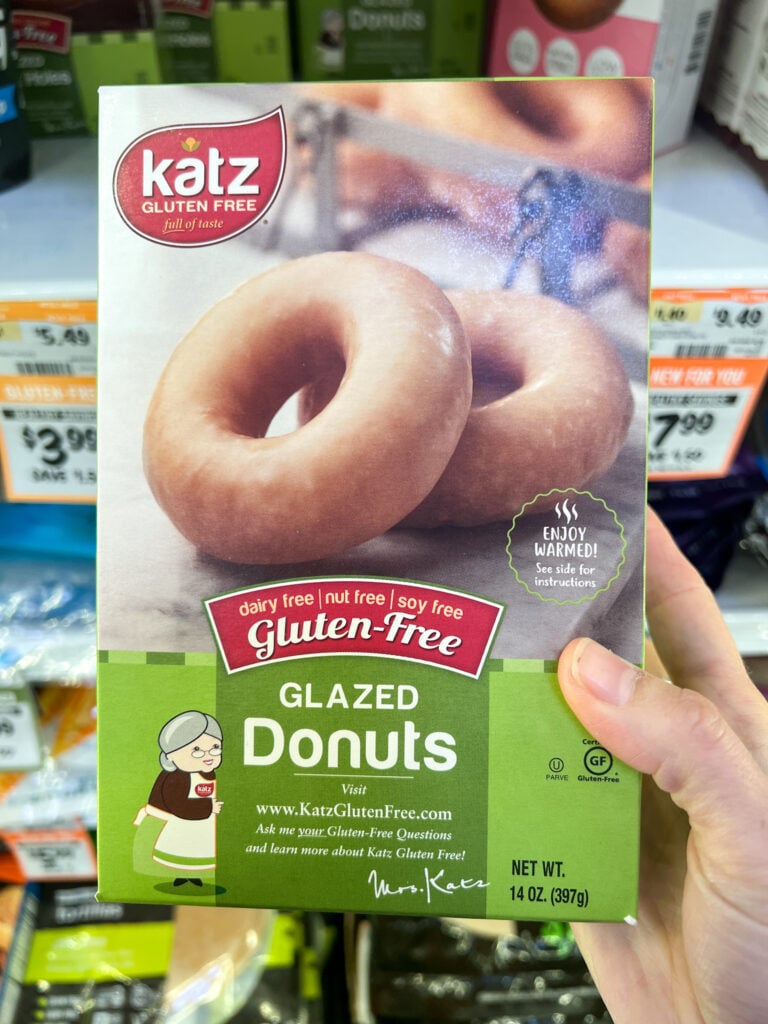 Kinnikinnick Gluten-Free Donuts
Another trusted gluten-free brand, Kinnikinnick Foods, makes four varieties of gluten-free donuts including Chocolate Dipped, Vanilla Glazed, Cinnamon Sugar and Maple Glazed. Like Katz, Kinnikinnick donuts are found in the freezer section of select grocery stores throughout the U.S. and Canada. Kinnikinnick is based in Canada.
I checked the Kinnikinnick store locator and found many stores near me carry Kinnikinnick products including Sprouts, Whole Foods, Natural Grocers, and Safeway. You can also buy them on Amazon if you live near a Whole Foods.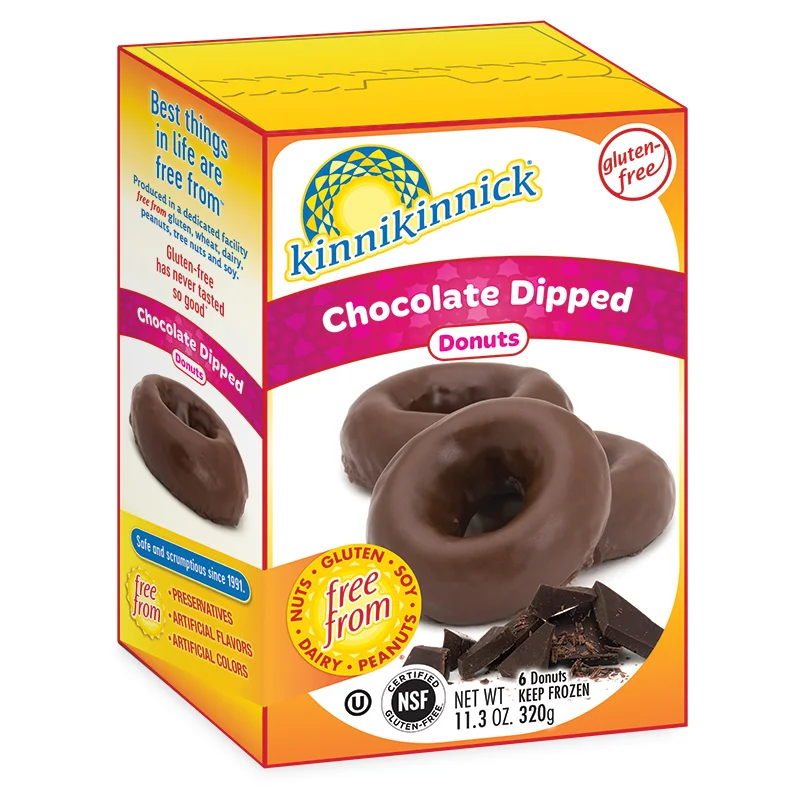 Soozy's Grain Free
Soozy's Grain Free offers various grain-free baked goods, including a variety of donuts flavors including double chocolate, maple, cinnamon sugar, and of course, birthday cake donuts as pictured below. You'll find each Soozy's donut is made with almond flour and coconut flour and is not only gluten and grain free, but also free from soy, dairy, and gums.
I found the birthday cake donuts in the freezer section at Sprouts near Denver, and it looks like you can find them at Whole Foods too. Be sure to check the Soozy's store locator to see if they're available near you. I also found them on Amazon.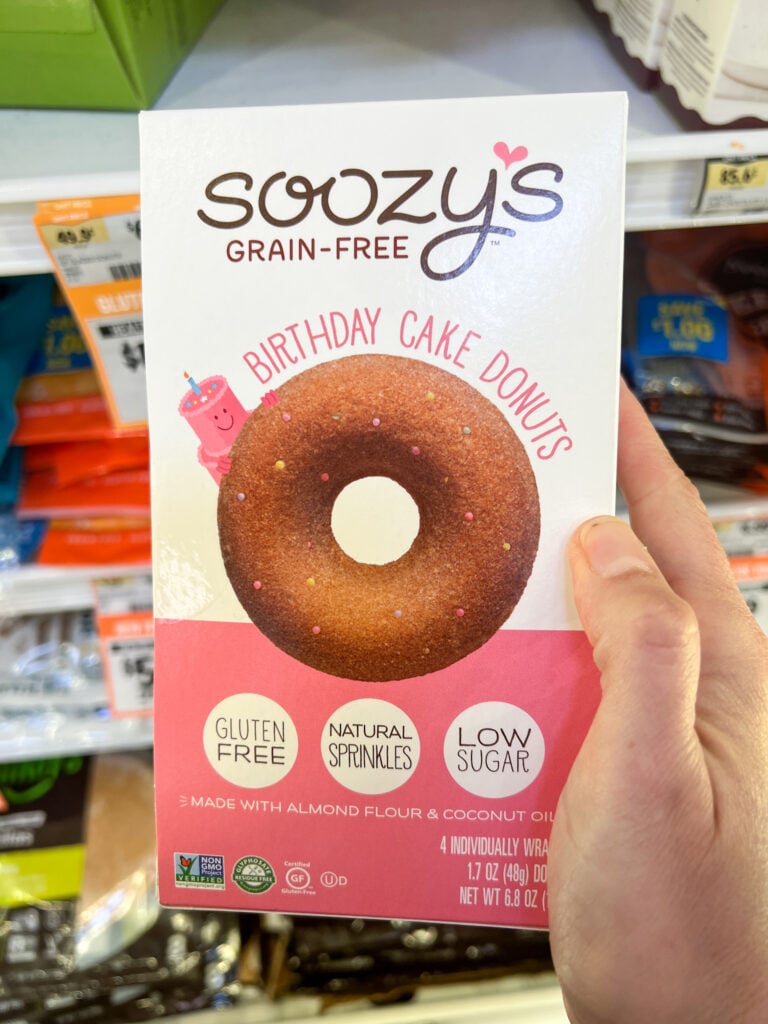 (2) Buy Gluten-Free Donuts at a Bakery
Unfortunately, chains like Dunkin Donuts and Krispy Kreme don't carry gluten-free donuts, but there are a few ways you might be able to enjoy a fresh baked gluten-free donut.
First, you could look for a gluten-free bakery near you. Most will carry either baked and/or yeasted gluten-free donuts. Call ahead to see if they have any in stock or when they plan to have gluten-free donuts on tap.
I curated a list of 300+ gluten-free bakeries in the U.S., so chances are there is a gluten-free bakery near you. In Denver, for example, Deby's Gluten-Free Bakery has wonderful gluten-free donuts available fresh every Saturday morning.
This picture shows the wonderful spread Deby's puts out on Saturday – donuts galore! (If you're ever in Denver, don't miss this opportunity!)
Second, you could look for a regular donut bakery that also offers gluten-free options. Some donut shops will bake their gluten-free donuts in clean oil before baking their regular donuts, or they'll have a specific day dedicated to gluten-free donuts like FoCo donuts in Ft. Collins, Colorado.
These shops are few and far between, and you'll have to do a little hunting and pecking to find them. Remember, however, the potential for gluten cross contamination is high when you eat donuts made in a bakery that also makes gluten-y donuts. Ask a lot of questions about the potential for cross contamination when eating a donut at regular (non-GF dedicated) bakery.
Third, if you live in or near Boston or Saugus, Massachusetts, visit Kane's Donuts daily because it's a dedicated gluten-free donut shop.
(3) Make Your Own Gluten-Free Donuts
You can always make your own gluten-free donuts and there are plenty of options for you to enjoy.
If you prefer working from a mix, I recommend Mom's Place Mini Vanilla Donut Mix or any mix from Mom's Place. These will result in a beautiful and sweet cake donut every time.
If you're looking to make a yeasted donut – like a jelly donut – I recommend using Lorraine's Sweet Dough Mix. I've used this mix to make gluten-free cinnamon rolls and gluten-free monkey bread. Simply make a batch of the dough, then cut it into donut shapes and fry it in oil. It's really that simple!
Or, if you're feeling adventurous, you could make your donuts using a recipe you find online or in a cookbook. Here are a few of my donut recipes:
Just remember, if you're going to make cake donuts at home, you'll need to purchase a donut pan or a donut maker appliance.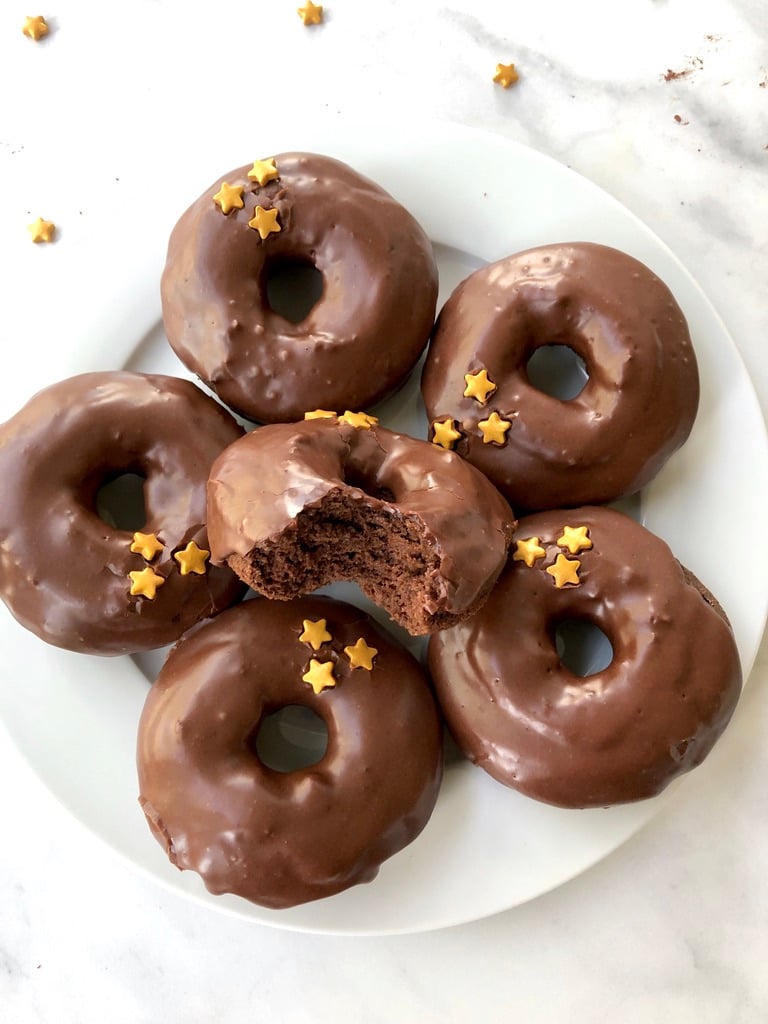 If my recipes don't fit your fancy, simply search for recipes on Pinterest or Google or purchase a gluten-free donut cookbook like this one to find inspiration.
How Do You Donut?
As you can see, if you're in the mood for gluten-free donuts, you'll have to do a little searching and digging, but they do exist.
What brand of donuts or bakery that carries gluten-free donuts do you like most? Please share in the comments to help others get their gluten-free donut fix!