The gluten-free community is in an uproar over a now-removed TikTok video created by one of Nima's collegiate NIL partners and re-posted by Nima Partners. NIL stands for name, image, and likeness, and it allows college athletes to receive compensation for sponsored content they create for brands.
In January 2023, Nima partnered with Kamiah Gibson, a Division 1 volleyball player at West Virginia University who has celiac disease. As part of the NIL partnership, Nima provides Gibson with free products in exchange for social media posts about the company. Gibson says she doesn't receive additional monetary compensation outside of free products and an affiliate percentage when people use her code to buy a Nima device.
On February 20, 2023, Gibson posted a Tiktok video where she used her Nima to test McDonald's French fries for hidden gluten. She tested them at the request of one of her followers after she posted tests of Wendy's Frosty and Chick-fil-a for hidden gluten.
In the U.S., McDonald's French fries contain "hydrolyzed wheat" and should not have been tested according to the Nima Sensor User Manual, which states Nima cannot detect gluten in fermented and hydrolyzed wheat (see below).
Please note that McDonald's French fries may not contain wheat in other countries. I also don't know, with certainty, if McDonald's uses a shared fryer with foods that contain gluten. (See my list of gluten-free French fries.)
What Is Nima and Why Is It Criticized?
Nima is a gluten-detecting device that enables you to test your food for hidden gluten. It's a highly-accurate device, detecting gluten even below the FDA's 20 parts per million (ppm) threshold. Nima smiles when it doesn't find gluten and displays a "Gluten Found" message when it finds gluten.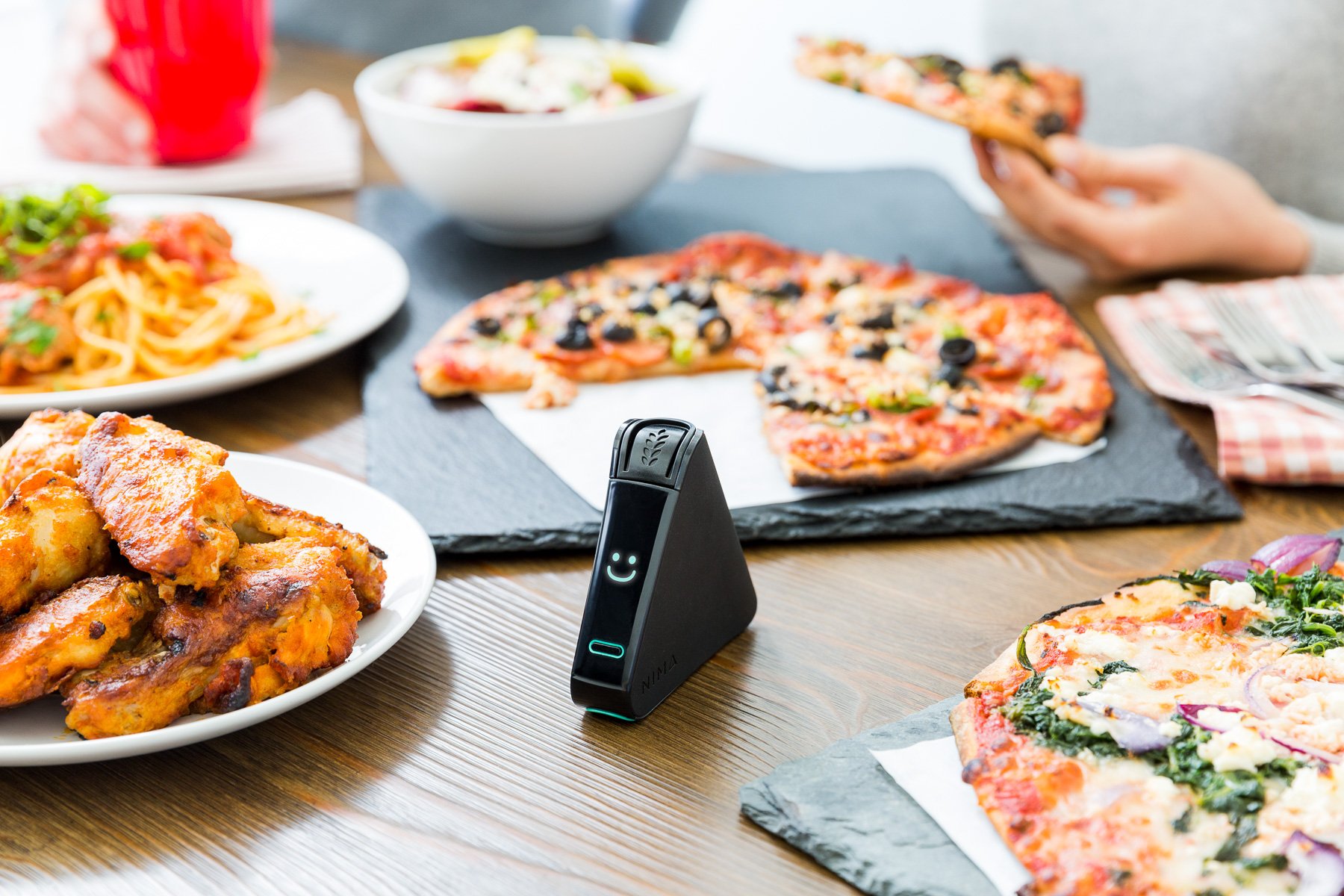 Because Nima can detect gluten under 20 ppm, some members of the gluten-free community have described it as "too accurate," which some say can lead to hypervigilance and false positives that unnecessarily cause a person to avoid products that would otherwise be considered safe.
The Canadian Celiac Association says it doesn't recommend Nima, not because it's "too accurate," but because the organization says people are incapable of understanding the complexities of testing and may be prone to using the device wrong. I agree testing for gluten is complex, but once a person understands how to use Nima correctly, it's really not that hard.
The FDA says there are no test methods that can reliably detect and quantify gluten in fermented or hydrolyzed foods because the gluten proteins are no longer intact. This means even sophisticated ELISA lab testing cannot detect gluten in fermented and hydrolyzed foods reliably, although some experts say a Competitive ELISA test may be able to accurately test for partially hydrolyzed gluten.
What Does Hydrolyzed Mean?
The FDA says that in fermented and hydrolyzed foods, protein strands from gluten have been broken down into smaller strands or individual amino acids. Such products include soy sauce containing hydrolyzed wheat protein, malt, and hydrolyzed plant proteins used to improve flavor or texture in processed foods such as soups, sauces, and seasonings.
In other words, hydrolyzation causes the proteins to be broken down into smaller fragments. If the starting protein is gluten, such fragments cannot reliably be detected by Nima or any current testing method. Therefore, manufacturers who use hydrolyzation and want to label their products "gluten-free" must use only gluten-free ingredients from the start.
One possible reason why Nima didn't detect gluten when it tested McDonald's French fries is that some studies indicate that hydrolyzed wheat flour may significantly reduce the amount of gluten in a food.
For example, in a study published in Clinical Gastroenterology and Hepatology, researchers found that celiac disease patients could tolerate baked goods made from hydrolyzed wheat flour degraded by lactobacilli, the same bacteria used to ferment sourdough. They noted that the fully hydrolyzed wheat flour contained only eight ppm of gluten, less than the 20 ppm gluten threshold set by the FDA.
In other words, while hydrolyzed foods from a gluten source (wheat, rye, and barley) cannot be labeled "gluten-free" per the FDA's gluten-free labeling guidelines, they may be free from gluten.
Other countries recognize that hydrolyzation can break down the gluten proteins into amounts less than the 20 ppm threshold. For example, in the U.K., even if a fermented or hydrolyzed food comes from a gluten source, it can still be labeled "gluten-free" as long as the final product contains less than 20 ppm of gluten.
An "Honest Mistake" Incites Vitriol
Gibson admits she messed up because she didn't check the ingredient list before testing McDonald's fries with her Nima Sensor. She also told me it was an "honest mistake." She has tested more than 200 foods with her device with virtually no mistakes, but of course, she says, this mistake happened publicly and opened the floodgates of nasty behavior.
Gibson insists that she knows the device's limitations (e.g., it cannot test hydrolyzed or fermented foods). She said she met with Nima Partners CEO David DellaFave in person for "tips and tricks on using the sensor [correctly]."
She wants the public to know that she's not "careless" and rarely eats out since she's an athlete and can't afford to get sick. She laments that she meant no harm in sharing the McDonald's results and learned a valuable lesson.
While Gibson has expressed sincere remorse, it's worth pointing out the reaction from the gluten-free community. Gibson said she received tons of DMs and comments from rude people.
One person told her, "I hope you eat gluten and die," and others called her "stupid." One person accused her of "faking celiac disease."
If you spewed vitriol at Gibson, Nima, or shamed someone for using Nima, you should be ashamed of yourself. Gibson is a college student (aka, kid) and fellow human being. She made an honest mistake and isn't deserving of the hate spewed at her online.
For some reason, the gluten-free community has turned angry over the years. They are mad about Nima. They are angry about Cheerios. They are unforgiving of mistakes and unwilling to give their fellow celiacs the benefit of the doubt. Facebook groups and pages have allowed nasty comments to go unchecked, fueling negativity online.
Let us not forget the adage, those who live in glass houses shouldn't throw stones. No one reading this article is perfect and free from mistakes. I, too, admit to making many mistakes during my ten years with celiac disease. I've learned from them all and worked hard not to let them happen again or define me. But mistakes happen. Two notable errors I've made include:
I ate a brownie at an "Allergy" tradeshow, not realizing it was only peanut-free, not gluten-free. I should have checked the ingredient list before plopping it in my mouth on a whim.
I tested a fun-size 100 Grand candy bar when I first started using Nima without first reading the ingredient label. If I had read the label, I would have known it contained barley malt, and hydrolyzed barley may not be detectable by Nima.
Nima's Response
Nima responded to the controversy by removing the video from its social media sites. Gibson also removed the video from her social sites.
Then DellaFave created a video discussing the debacle and offered these key points:
He says that even though the McDonald's French fries contain hydrolyzed wheat, Gibson's test showed they likely contained less than 20 ppm of gluten.
He explains how hydrolyzation breaks down the gluten protein into bits "too small for Nima to detect." He says hydrolyzed foods challenge both Nima and commercial testing labs. He says Nima is working with a commercial lab to determine how to improve the device's accuracy and functionality.
He says Nima will soon release a new study showing updated data on Nima's sensitivity related to different food samples.
Unfortunately, DellaFave didn't apologize to the gluten-free community for this blunder. Saying, "Hey, we messed up, and we're going to make this better by spending loads of money educating people on using the device correctly" would have gone a long way in winning favor in the gluten-free community.
I hope DellaFave and the Nima leadership team understand that the biggest criticism of Nima is actually criticism lobbed at the gluten-free community, telling us that testing is complex and complicated and, therefore, should not be left in the hands of the peasants. (Yes, I'm being sarcastic.)
When Gibson mistakenly tested a product that contained hydrolyzed wheat, she proved this key critique right. (Remember, I'm not criticizing Gibson here as I've made the SAME mistake when I tested a 100 Grand Bar without checking the ingredient list first.)
DellaFave also says "transparent" often in the video, but most people watching Gibson's videos don't know of her relationship with Nima. I'm not up to speed on NIL rules, but the FTC says influencers must clearly disclose their material relationship (free product in exchange for promotion) with a brand in every post. I asked Gibson about disclosures, and she told me she didn't know she had to disclose her relationship with Nima in every post. She is consulting with her university to better understand if she complies with NIL rules.
If the FTC influencer guidelines apply to NIL cases, it would be up to brands to enforce full and transparent disclosure. (Editor's Note: When I work with brands on paid sponsorships, I disclose my relationship upfront using the words "sponsored" or "ad." Many brands require me to sign a contract that says I will reveal our relationship in every post, placing the [legal] compliance burden on me.)
How to Use a Nima Properly
Finally, I'd like to share more about how to use Nima properly. The device has many pros and cons, which I discuss in my article, What You Need to Know About Nima Sensor Before You Buy. If you're considering investing in a Nima, please read the article from top to bottom.
Remember, Nima can enhance your life and give you more confidence that the food placed before you is gluten-free. However, when putting your faith in Nima, you must use it properly. With great power comes great responsibility.
Here's what you need to do to properly test a food source for hidden gluten using Nima:
(1) Inspect an Ingredient Label: Ensure the product doesn't contain wheat, barley, rye, oats, or derivatives of these grains. Label reading is one of the most important skills you can master when following a strict gluten-free diet. Read more about gluten-free label reading.
(2) Communicate Needs Upfront and With the Seriousness It Deserves: When ordering a gluten-free meal at a restaurant, the burden falls on the customer to effectively communicate their "allergy" to the staff. You'll want to ask good questions and order safe meals at all times. Remember, as tempting as it is to order gluten-free pizza, it's almost always too risky. Read The Ultimate Guide to Eating Out Gluten Free for important tips and tricks to eating out as safely as possible.
(3) Understand Nima's Limitations: Do not test the following foods with Nima. The following foods have been known to display unreliable results:
Fermented foods, such as beer
Hydrolyzed foods, such as soy sauce, malt extract, and malt flavoring
Alcohol
Pure xanthan or guar gum
Nima Partners also offers tips and tricks for testing a variety of foods, from puffed corn and spices to high-fat foods like cream cheese. Heed these guidelines at all times when using Nima.
(4) Go Ahead and Test Your Food: Once a food has cleared 1-3, you can test it with your Nima.
The Bottom Line
Nima can enhance the life of someone on a strict gluten-free diet by letting them know exactly what's inside their food and giving them more freedom to eat out without the fear of getting sick.
Yet, Nima continues to be a controversial device that many say is "too accurate" (leading to false positives). Plus, some experts say the general public isn't educated enough on using the device responsibly given the limitations and complexities involved with testing for gluten.
In summary:
McDonald's French fries in the U.S. contain hydrolyzed wheat and are not considered safe for people on a gluten-free diet.
Foods that use wheat – even if the wheat is hydrolyzed and the final product contains less than 20 ppm of gluten – as the starting ingredient cannot be labeled gluten-free per the FDA.
The FDA says there's no reliable way to test fermented and hydrolyzed proteins for gluten.
Nima says it cannot reliably detect gluten in fermented and hydrolyzed foods.
Nima users must use the device as instructed and know Nima's limitations to avoid false results.
Nima Partners needs to better educate its partners – and the greater gluten-free community – on the dos and don'ts of using its device.
Mistakes happen. Be kind. No one is perfect. Judge less. Give people the benefit of the doubt.
If you choose not to use a Nima, that is your choice. But please, there's no need to bash others who use the device or make high-and-mighty pronouncements about why you don't use it. Just move along and allow those of us who choose to use it to fully enjoy the freedom it offers without your bitter judgment.
If you enjoyed this article, please subscribe to the Good For You Gluten Free newsletter so you can see more articles like this from me. I believe everyone is different and should eat in a way that feels good to them without the ire judgment of others. You'll find I take a commonsense approach to this crazy lifestyle, helping you decide what to eat based on facts. I hope to help you balance dietary vigilance without sacrificing your mental health, social life, or the foods you love.
Disclosure: I have no commercial relationship with Nima Partners. However, I used to collaborate with Nima Sensor when it was owned by its founders back in the day (many years ago). Nima went out of business, then was brought back to life by Medline, and Medline tapped DellaFave as CEO.
Additional Reading
Enjoy these articles: