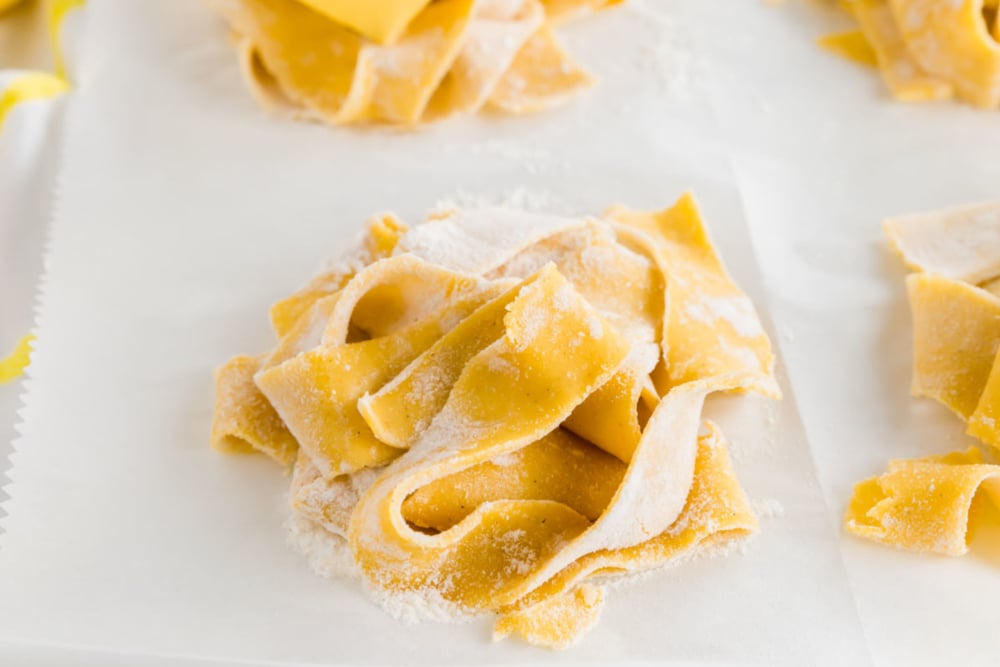 Egg noodles taste incredible and are fun to make too. Just because you eat gluten free doesn't mean you can't make and enjoy homemade gluten-free egg noodles. This post features my incredibly easy egg noodles recipe and is sponsored by Happy Egg. Please see my disclosures.
While most people mourn the loss of bread when they first learn they can no longer eat gluten, I mourned the loss of pasta.
I loved (and still love) pasta. I ate it all the time growing up, ordered it at just about every restaurant I ate at, and love eating a big bowl of spaghetti topped with melted mozzarella cheese. The best!
As much as I loved chewy, gluteny noodles, they didn't love me back.
Sure, there are some pretty good packaged gluten-free noodle options, and many I have come to love over the years; yet, nothing beats a chewy, gluteny noodle… well, at least until I discovered how to make my own without the gluten.
I have experimented with many recipes in my life, and even have published a wonderful gluten-free pasta recipe prior to this recipe, but I've never made gluten-free egg noodles quite like this.
Are Egg Noodles Gluten Free?
No, most store-bought egg noodles are not gluten free as they contain wheat flour. There are a few exceptions.
One exception is the Jovial gluten-free egg tagliatelle. It's a dried noodle and is pretty good when cooked. I've found the egg tagliatelle at Walmart and Kroger stores.
Another store-bought gluten-free egg noodle is Trader Joe's egg fettuccine. These noodles are fresh and you can find them in the fridge aisle. They take only a minute (maybe less) to cook in boiling water and I think they taste exceptionally good.
I tested the Trader Joe's egg fettuccine pasta, along with more than a dozen other Trader Joe's products for hidden gluten, in my article, Testing Trader Joe's Gluten-Free Products for Hidden Gluten.
Alas, if you're still in the mood to make your own gluten-free egg noodles, you're going to love my recipe for homemade gluten-free egg noodles. And any effort you put into making these beautiful egg noodles will be so worth it. They seriously taste incredible and elevate any dish.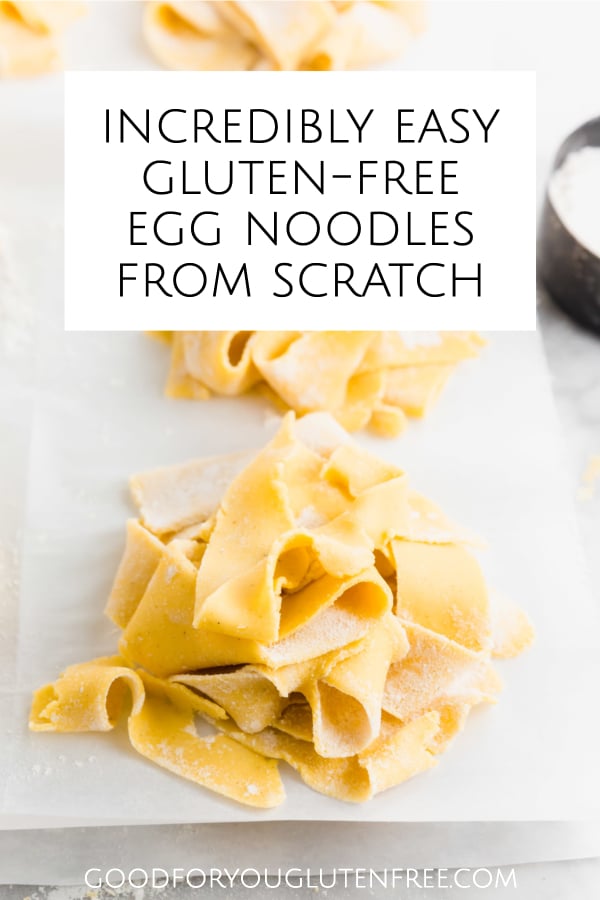 How to Make Egg Noodles
OK, ready to get your feet "wet" in the kitchen? Let's walk through the process, step-by-step, to making homemade gluten-free egg noodles from scratch.
Step #1: Assemble Ingredients
The first step to making gluten-free egg noodles is getting your ingredients ready. The good news is you'll just need just three ingredients to make this recipe, all which are easy to find and ingredients I bet you already have in your pantry and fridge.
Ingredient #1: Eggs
You can't make an egg noodle without the eggs! You'll need five large eggs (I used Happy Eggs) for this recipe (four eggs + one yolk).
Ingredient #2: Gluten-Free Flour
If you've baked anything without gluten, you know you need a special flour blend comprised of a gluten-free flour, starch, and gum. These are known as 1-to-1, cup for cup, or measure for measure all-purpose gluten-free baking blends.
I recommend Bob's Red Mill 1:1 Gluten-Free Flour Blend. It already contains xanthan gum, but if your 1:1 flour blend does not contain the important binding agent, add 1/2 teaspoon of it to this recipe. Omit the xanthan gum your blend already contains it.
You'll need two cups of any gluten-free flour blend for this recipe.
Ingredient #3: Salt
Just a touch of salt will elevate this recipe and give those noodles a wonderful salty tasty.
Step #2: Create the Dough
To create the dough, combine your gluten-free flour blend with salt in a large bowl.
Next, create a well in the center of the flour mixture and add the four large eggs and one egg yolk.
Now whisk the eggs inside the well using a fork until fully scrambled. As you mix the eggs you'll start to incorporate the flour into the mixture slowly but surely.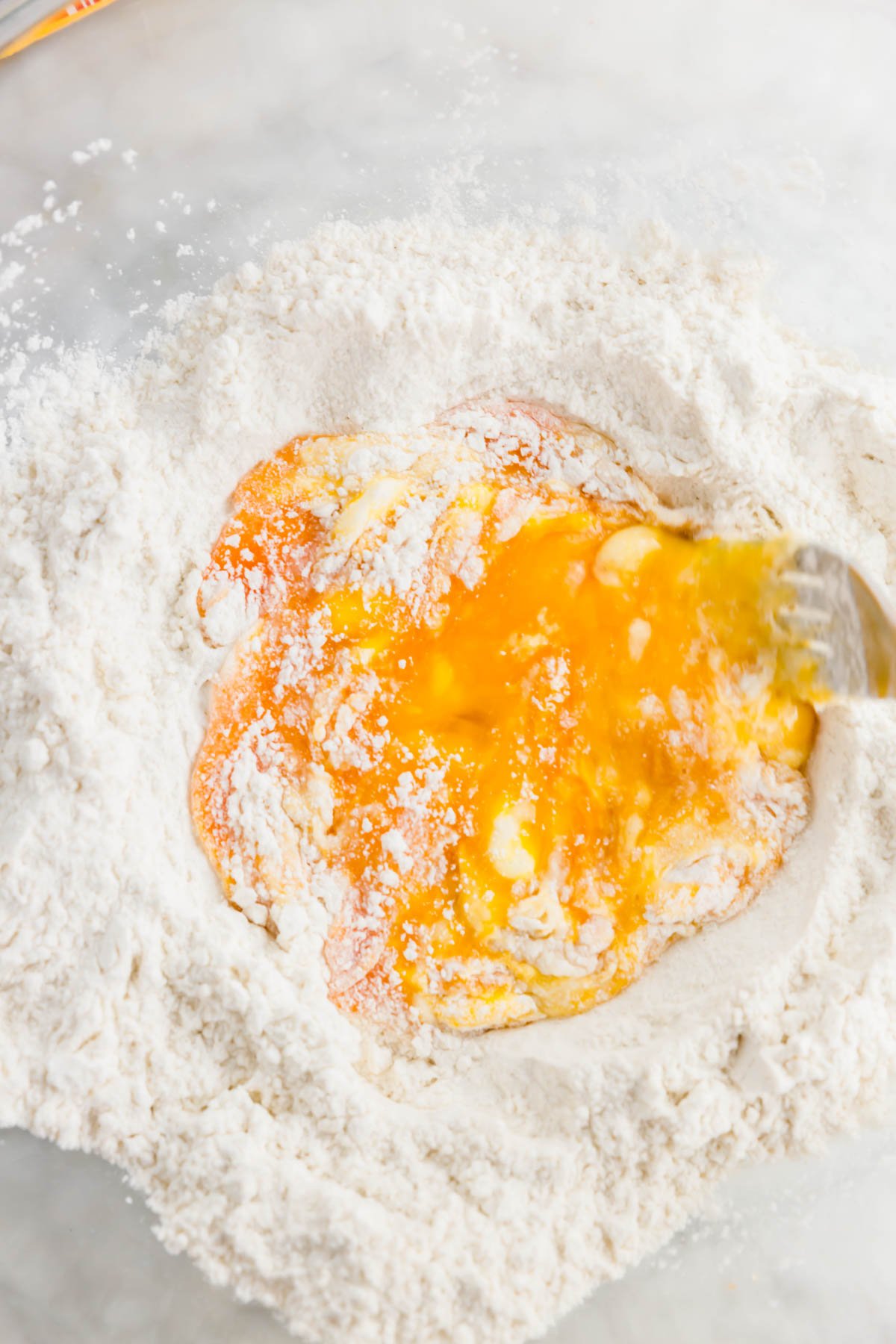 Keep mixing it until the flour and eggs are well combined and it looks something like the following picture.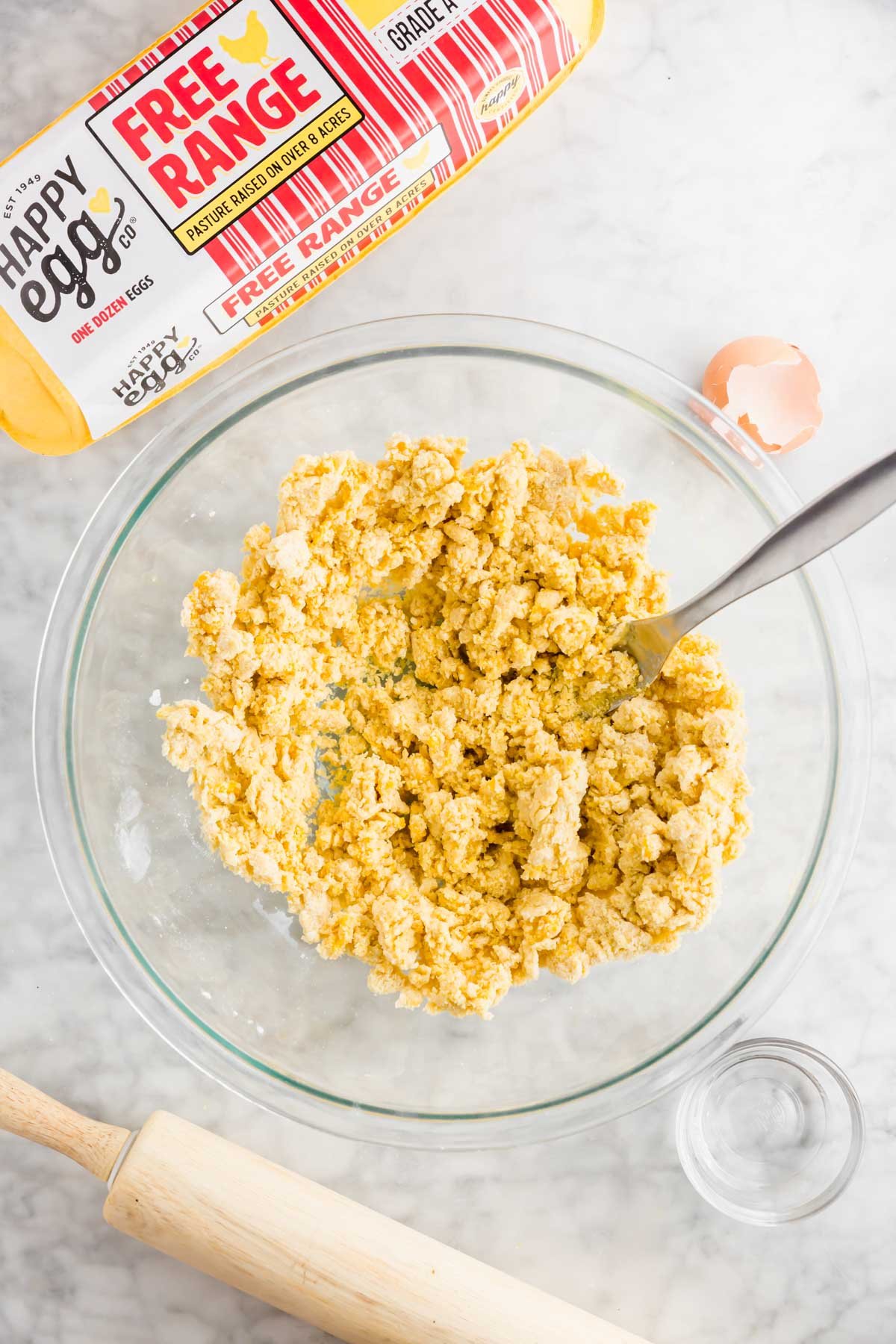 If the dough doesn't come together and is too dry, add another egg yolk. If it's too wet, add another tablespoon of flour. You want the dough to be slightly sticky and it should hold together when pressed into a ball.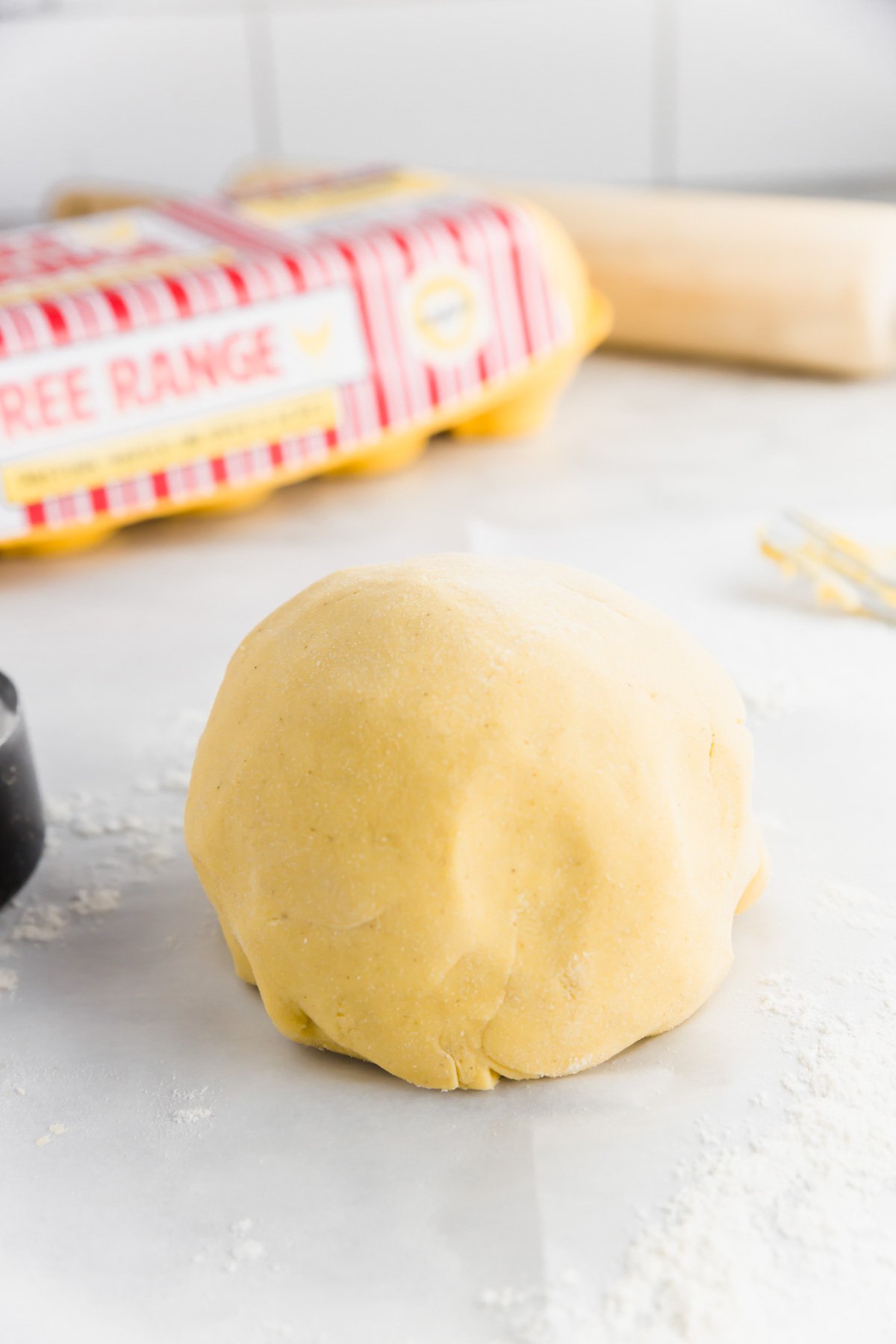 Add the dough to a lightly floured surface and cut it into four equal pieces. It's easier to work the dough when you work with smaller portions.
You'll now begin rolling out one section of the dough with your rolling pin. You want to roll it out very thin. Dough tends to stick to your countertop, so a good trick is to roll it out on a piece of lightly-floured parchment paper. You can then easily peel the dough off the parchment paper should it stick.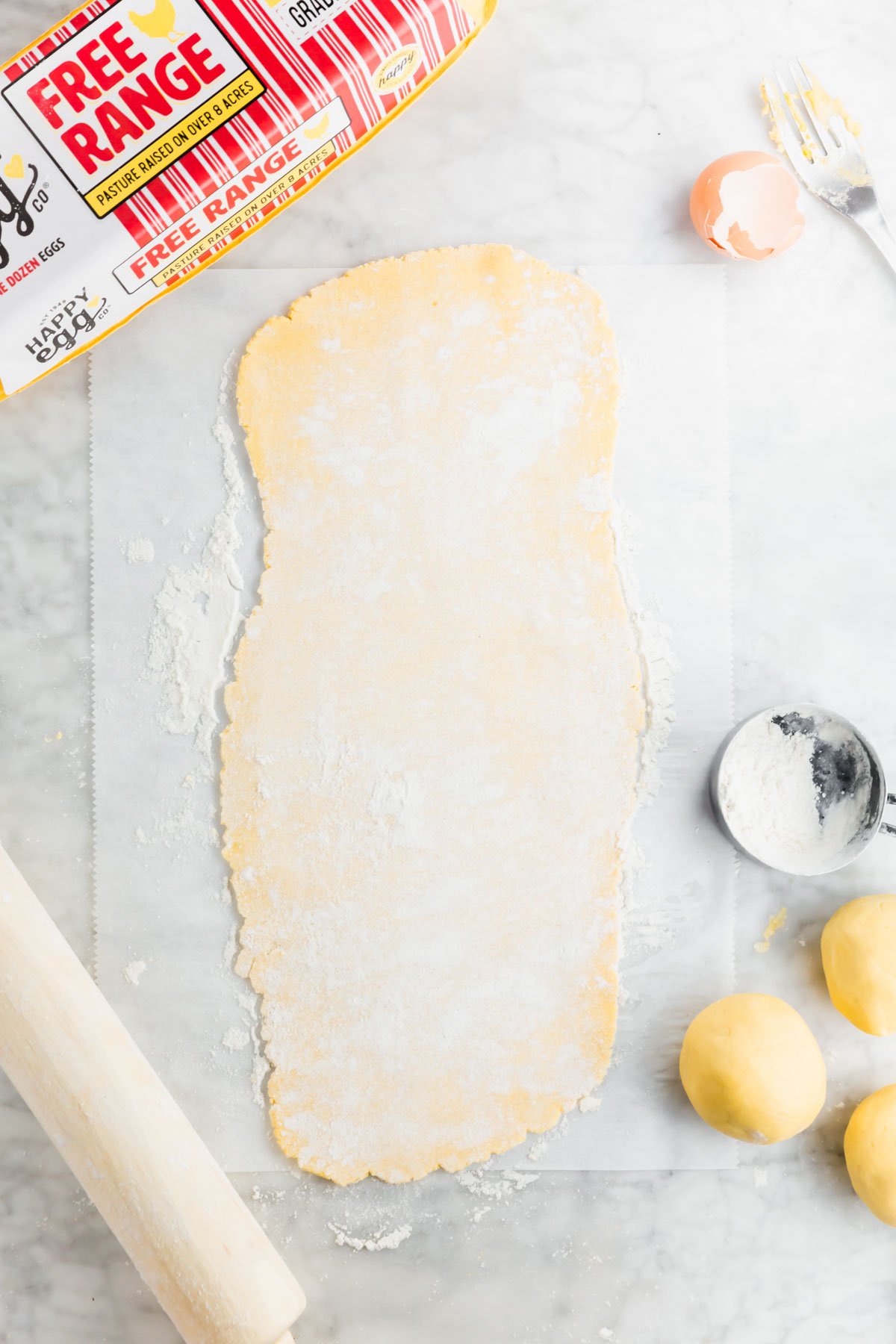 If you have a pasta machine, you can run the dough through your pasta machine to get even strips of gluten-free egg noodles. Make sure the dough is floured to prevent it from sticking to the pasta machine.
If you don't have a pasta machine, you can use a knife or pizza cutter to cut the noodles into long strips, about 1/2 inch in width.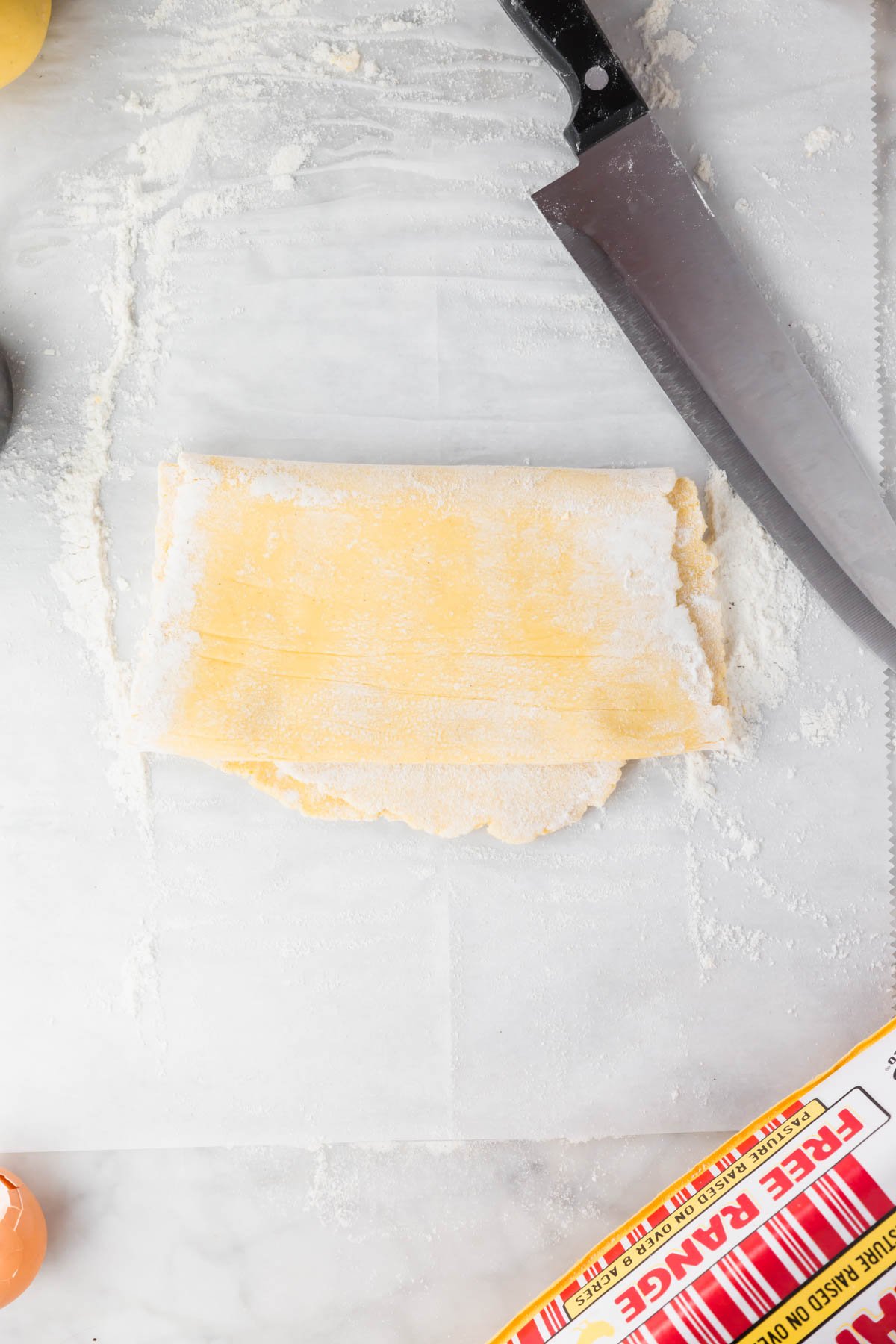 A great technique is to fold the strip of dough, as pictured above, and then slice your noodles into even strips.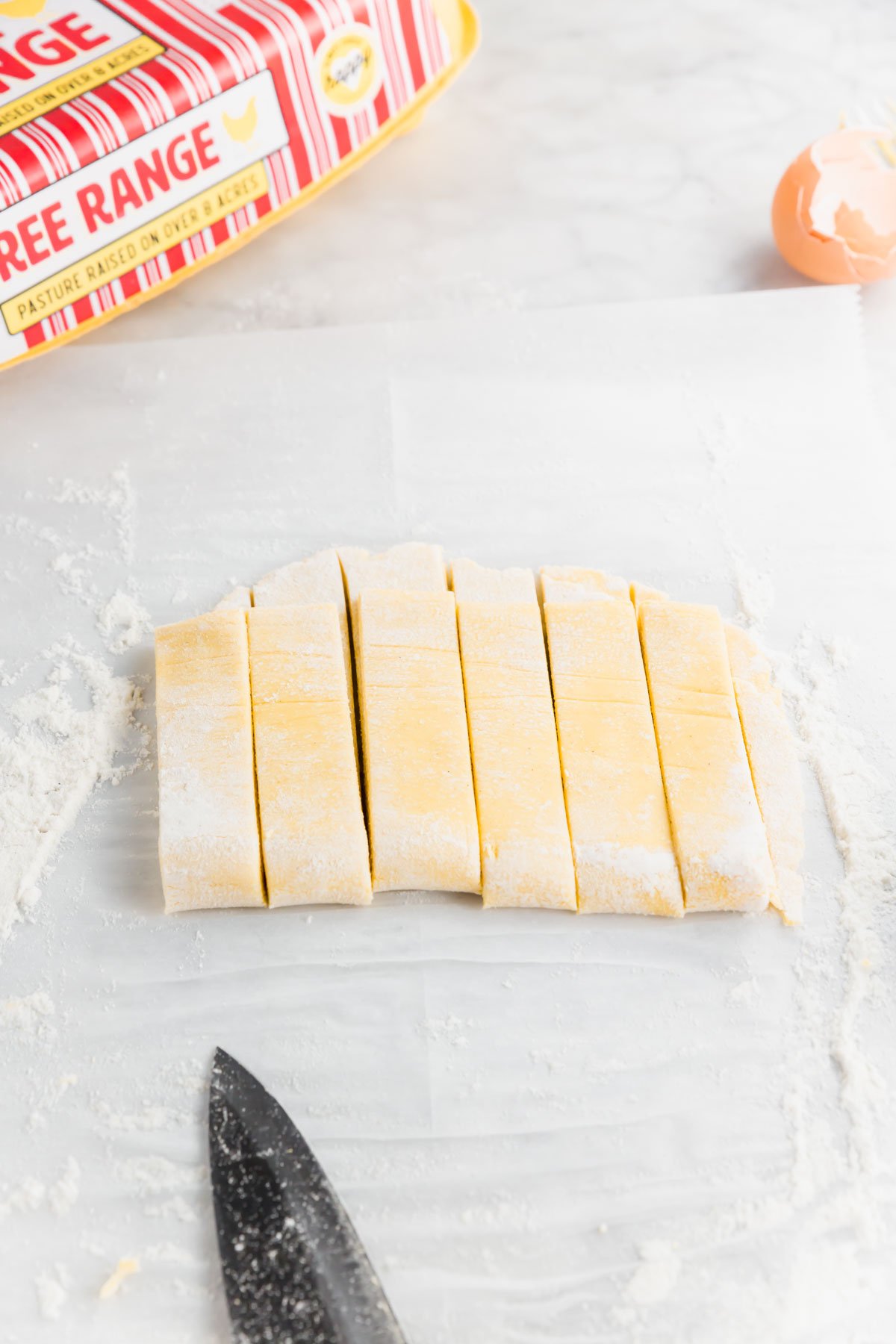 You'll then gently unravel each strip to get your beautiful gluten-free egg noodles as pictured below.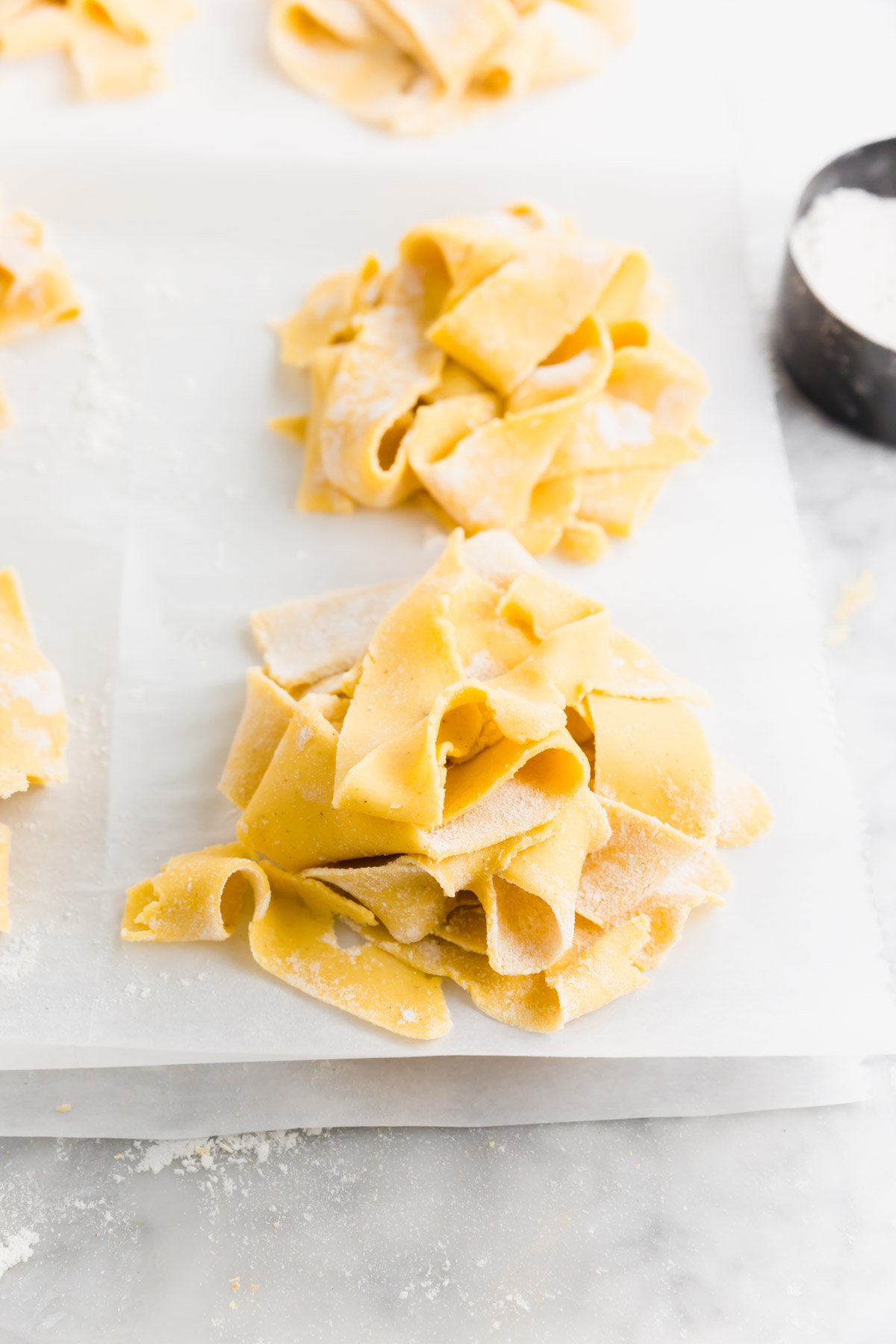 Repeat this process with the remaining dough until all your egg noodles are cut into desired shape.
Step #3: Cook the Noodles
The final step is to cook your egg noodles. Bring a large stockpot of water to a boil, then gently drop the egg noodles into the water and cook for 2-5 minutes until tender and soft.
How long you cook them depends on how thick they are. Very thin noodles will only need about two minutes, while thicker noodles will need closer to five minutes.
Drain the noodles and serve with your choice of sauce and/or toppings. I added a little olive oil, fresh garlic, lemon squeeze and chopped parsley so I could enjoy the fresh noodles without a lot of sauce overkill.
Step #4: Eat
These egg noodles taste best served immediately and with your favorite sauce or toppings. Just a little olive oil and salt is all you need to enjoy these wonderful noodles, but you can prepare them however you like.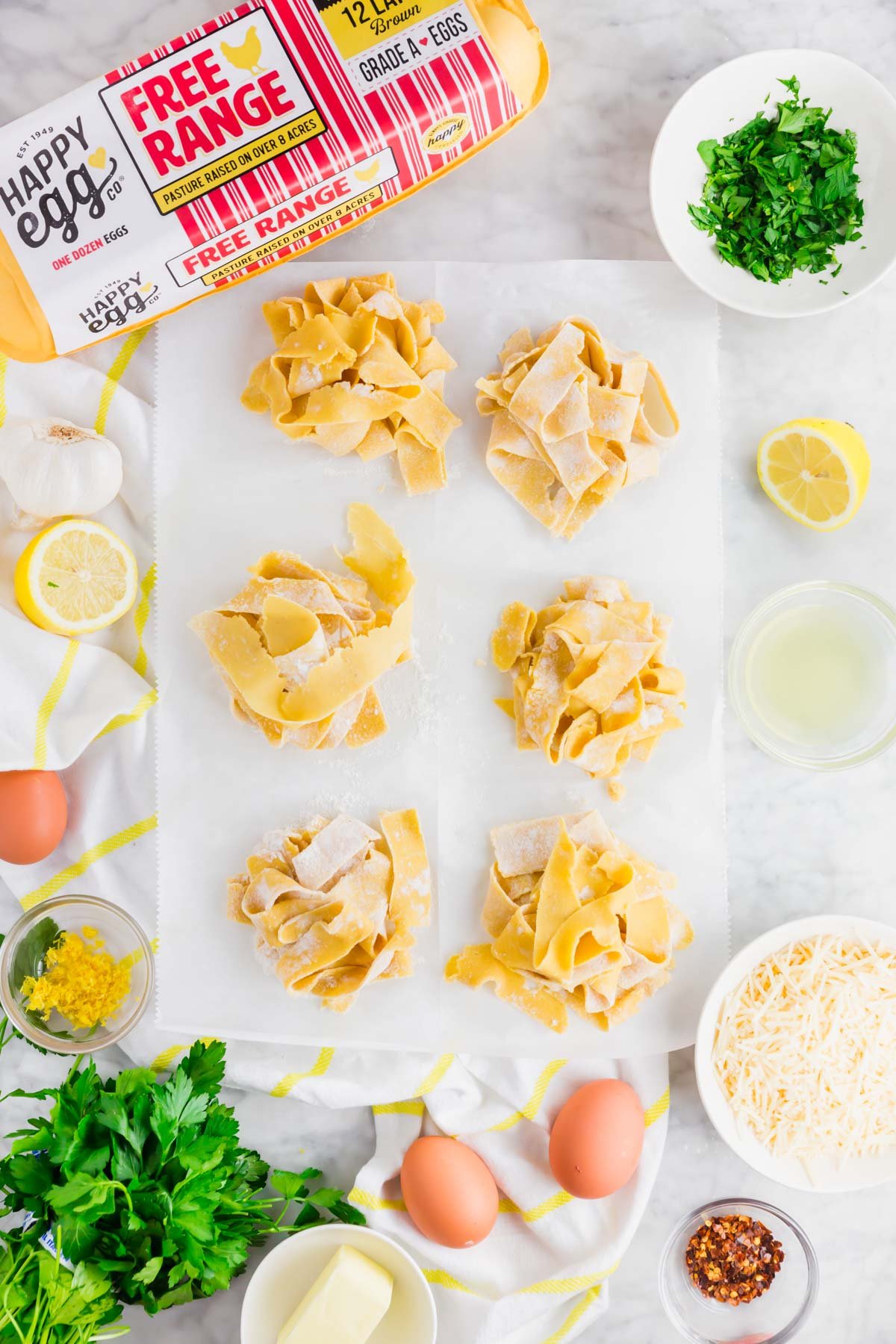 Related Recipes
Also try these recipes on for size:
My two-ingredient pasta recipe (one of the MOST popular recipes on my site)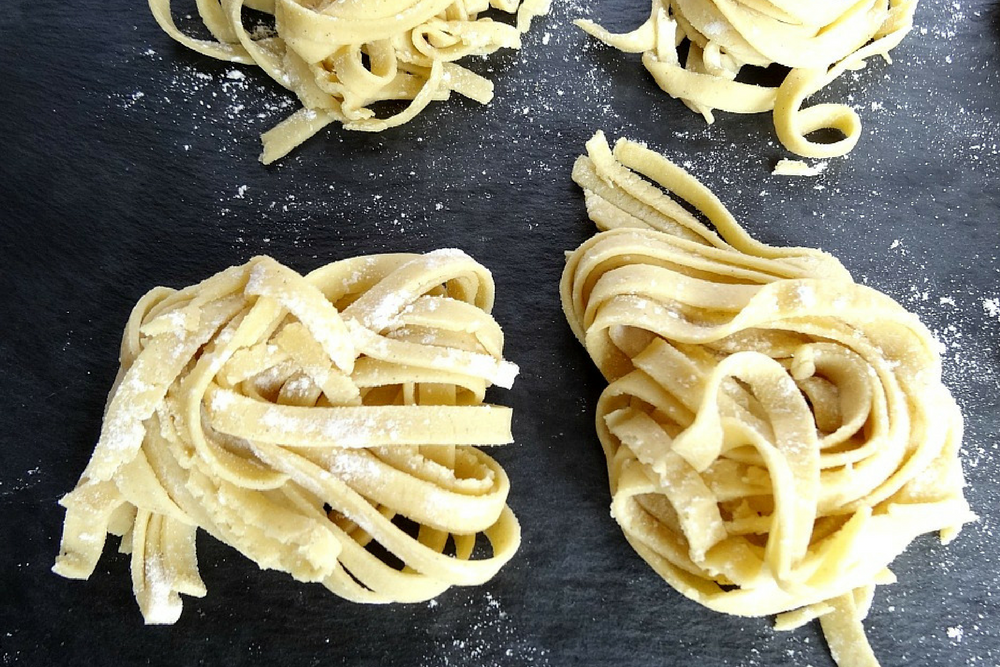 Easy Gluten-free sandwich bread made with 1:1 gluten-free flour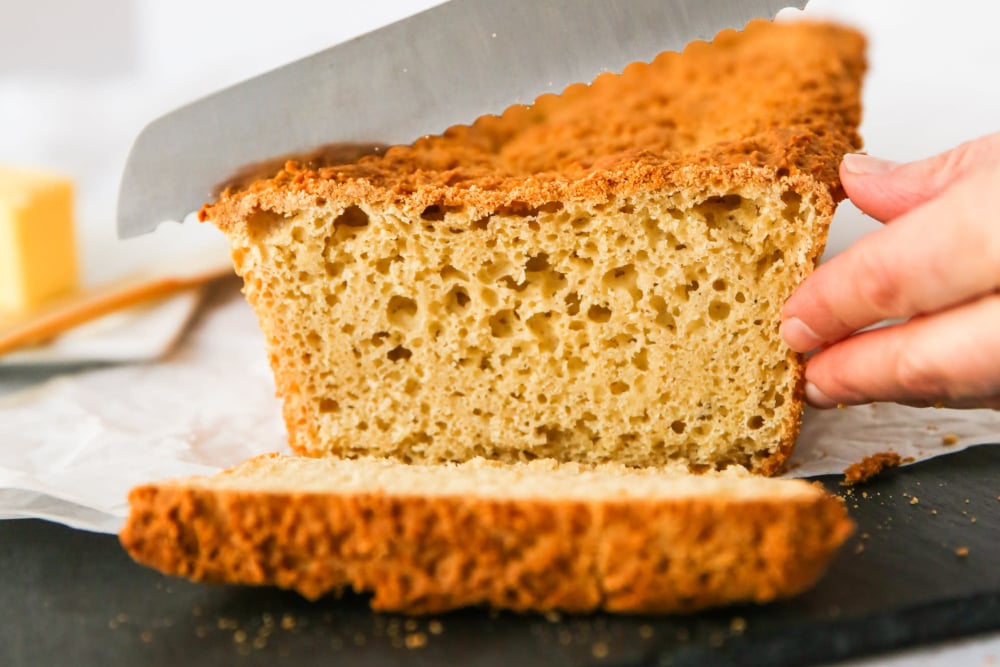 Gluten-Free Avocado Pesto Pasta – yum!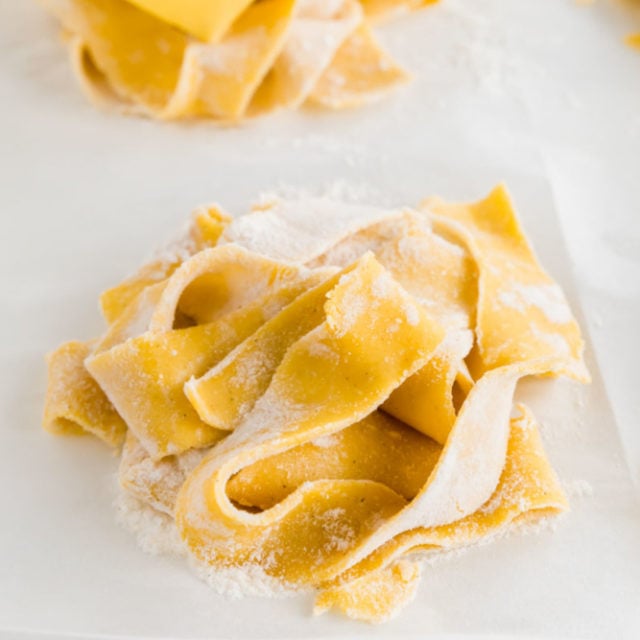 Gluten-Free Egg Noodles
Learn how to make these incredibly easy gluten-free egg noodles in minutes using only eggs, flour and salt – that's it! I'll show you how to cut them without a pasta machine too.
Print
Pin
Rate
Ingredients
2

cups

gluten-free flour blend

plus additional for rolling out pasta dough

½

tsp

xanthan gum

only if your blend doesn't already contain it

1/2

tsp

salt

4

whole large Happy Eggs

1

large Happy Egg yolk only
Instructions
Add gluten-free flour blend, xanthan gum (if using), and salt to a large bowl. Whisk to combine.

Create a well in the center of the flour mixture and add the eggs and egg yolks. Whisk the eggs until scrambled, then, slowly whisk in the flour mixture to the eggs until incorporated.

The dough should come together into a scraggly ball at this point. If it doesn't hold together, add another egg yolk, if needed. If the mixture is too wet, add an additional tablespoon or two of flour.

Turn the dough out onto a floured surface press the dough together into a smooth dough ball.

Cut the dough into four equal pieces and add one piece of dough to a floured surface. Cover the remaining dough with a towel or plastic wrap to keep it from drying out.

Roll out the section of the dough on a floured surface until very thin. You can roll it over a floured piece of parchment paper to prevent it from sticking to your countertops. You want the dough to be somewhat translucent. Make sure the dough is well floured to keep it from sticking to the rolling pin and surface.

You can either run the dough sheets through your pasta machine, or, with a knife or pizza cutter, cut the egg noodle dough into long pieces, with ½ inch width. *See my tip below for cutting even strips.

Place the cut noodles into a pile on a baking sheet lined with parchment paper and flour to keep them from clumping together. Repeat with remaining dough.

Bring a large pot of water to a boil. Drop egg noodles into the boiling water and cook for 2-5 minutes (cooking time will depend on how thick or thin your noodles are). Taste noodles at the 2 minute mark to check for doneness and remove when they are at desired texture. Drain and serve with your choice of sauce.
Notes
*Fold rolled out dough into thirds and then cut into even strips of egg noodles. See blog post for details and instructional photos.
If your gluten-free flour blend already contains xanthan gum, omit it from your recipe.
If your dough is too dry, add another egg yolk to help it form a ball. If your dough is too wet, add additional flour.
It is easiest to roll the dough very thin by using a pasta machine, but you can also roll it out with a rolling pin.
It is important to keep the dough well floured when rolling so that it does not stick to your rolling pin, surface or to other pieces of dough after it's cut. You can roll it out on top of a floured pieced of parchment paper so it doesn't stick to your countertops.
You may need to cook the noodles in batches so they don't clump together in the pot. I found that cooking this recipe in two batches works best.
I like to cook my egg noodles for about 3-5 minutes. If you cut your noodles thinner than ½ inch, you may want to take them out at the 2 minute mark. It is best to taste test a noodle at 2 minutes to see how they are cooked and proceed from there.
To keep the freshly cooked noodles from sticking together, toss them in a little olive oil immediately after draining.
These egg noodles are great with a lemon parmesan sauce, pesto sauce, meat sauce and so much more!
Nutrition
Sodium:
366
mg
|
Calcium:
70
mg
|
Vitamin A:
302
IU
|
Sugar:
2
g
|
Fiber:
6
g
|
Potassium:
61
mg
|
Cholesterol:
213
mg
|
Calories:
279
kcal
|
Saturated Fat:
2
g
|
Fat:
7
g
|
Protein:
12
g
|
Carbohydrates:
44
g
|
Iron:
3
mg