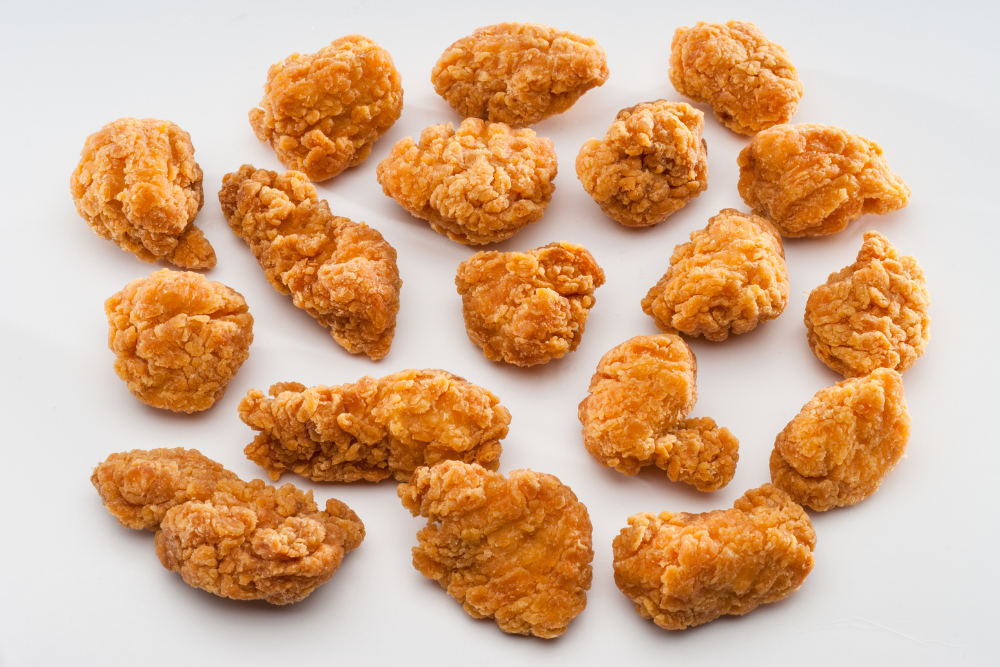 Many major manufacturers and store brands offer frozen gluten-free chicken nuggets, but are they any good? I enlisted a team of taste testers to help me determine which nuggets taste best and which offer the best value for the money. This post contains affiliate links. Please see my disclosures.
After visiting five grocery stores in Denver, Colorado, one sunny afternoon, I was able to amass nine different brands of frozen gluten-free chicken nuggets.
I had no idea there were so many brands of the beloved treat. However, I'm not surprised, given the rise of celiac disease, interest in gluten-free foods as a health-forward choice, and the booming gluten-free market, which experts say will reach $14 billion by 2032!
In this article, I will share how I evaluated each frozen gluten-free chicken nugget to determine the best taste, value, and overall pick.
Before I share the results, please note that I was splitting hairs and deciding how to choose the best one. All, except one, nuggets are delicious and demonstrate how far the food industry has come in making gluten-free versions of beloved foods.
Chicken Nugget Brands Tested
I visited five stores – Walmart, Whole Foods, Trader Joe's, Sprouts, and King Soopers (Kroger) – to gather all the frozen gluten-free nuggets I could find.
I tested the following brands, as shown in the picture below (this is NOT a ranking):
Dino Buddies
Caulipower
Ian's
Applegate
Sprouts
Perdue
365 Whole Foods Market
Great Value (Walmart)
Trader Joe's
I cooked the nuggets in my oven at 425º F for about 14 minutes and another set in my air-fryer at 375º F for about 12 minutes.
Two brands, 365 Whole Foods Market and Trader Joe's nuggets, required an additional five minutes of cooking since they contained raw chicken pieces vs. pre-cooked meat patties.
I used visual clues to ensure each nugget was sufficiently cooked since cook times varied among brands.
How We Judged Each Nugget
I asked my husband, son (18), and daughter (15), to taste each nugget and tell me what they liked and didn't like about each one. I also participated in the taste test, although my taste test wasn't blind since I knew which brand was which.
We tasted each nugget, offered feedback on what we liked or didn't like, and then ranked the nuggets based on the ones we thought tasted best and enjoyed most.
I then assigned a value to each nugget based on how all four participants ranked them. This is how I determined the winner of the taste test.
I then evaluated each brand's cost per ounce and assigned another value, ranking them from best value (least expensive per ounce) to worst value (most costly per ounce).
I then averaged the two numbers to create an overall "best chicken nugget" winner.
About Each Chicken Nugget
Below is a brief explanation of how each brand performed and ranked taste- and value-wise.
(1) Dino Buddies: The taste testers agreed that gluten-free Dino Buddies were well seasoned and thought it was an excellent overall chicken nugget. "These taste like normal chicken nuggets," one of the testers said.
Pricing: $8.99 for 32 ounces ($.28 per ounce)
Ranking for Taste: #7
Ranking for Price: #1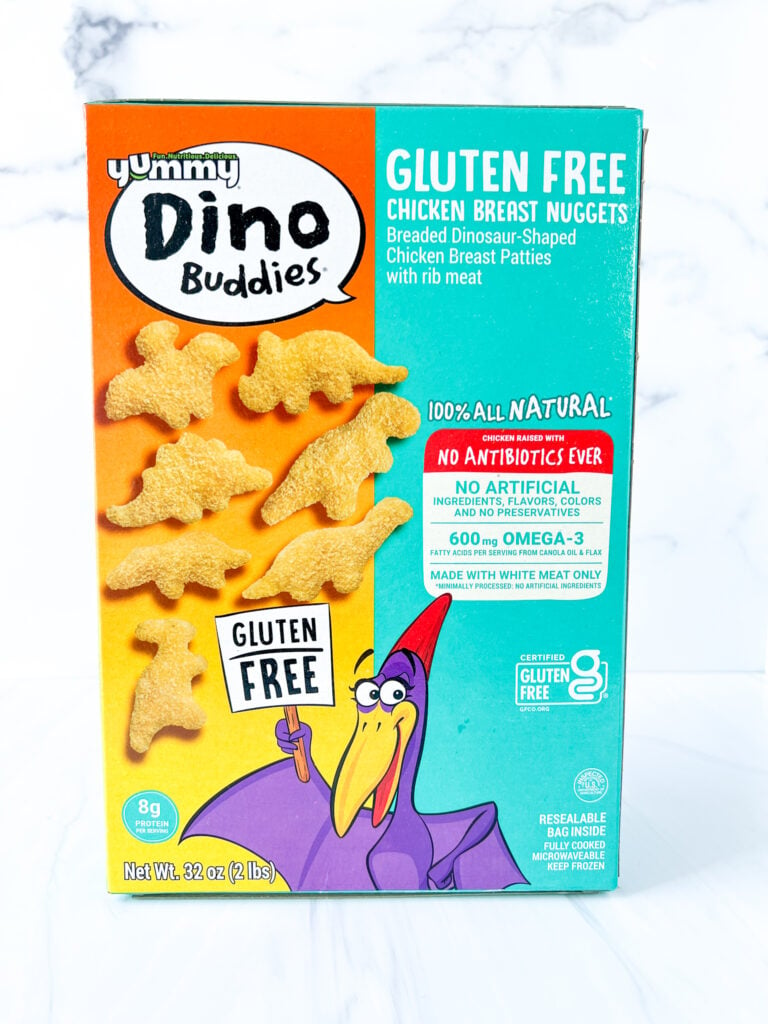 (2) Caulipower: The taste testers loved the spices and flavors infused in the Caulipower nuggets. One of the testers said, "You don't even need ketchup!" I was surprised at how much my family loved the taste of these nuggets, likely because you can't taste any pungent cauliflower.
Pricing: $7.42 for 14 ounces ($.53 per ounce)
Ranking by Taste: #4
Ranking by Price: #7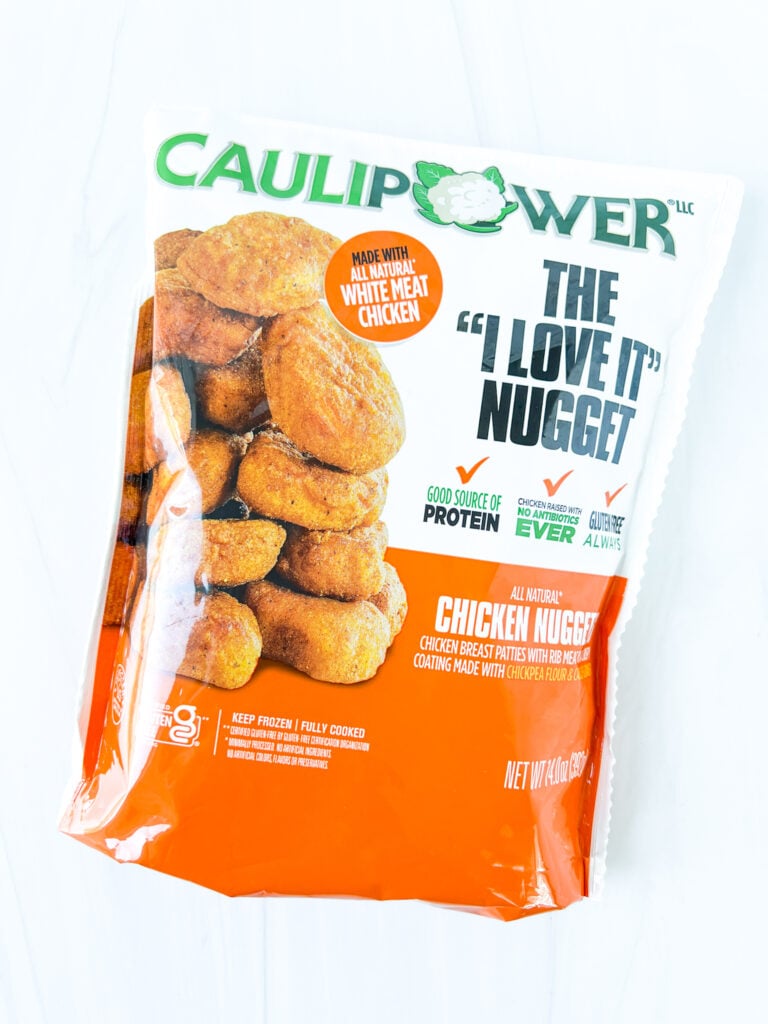 (3) Ian's: The testers agreed Ian's chicken nuggets are "satisfying" and "delicious" but a bit chewier than the others and have a different kind of coating. They noted the coating wasn't worse, just different than a traditional chicken nugget.
Pricing: $8.99 for 20 ounces ($.45 per ounce)
Ranking by Taste: #8
Ranking by Price: #4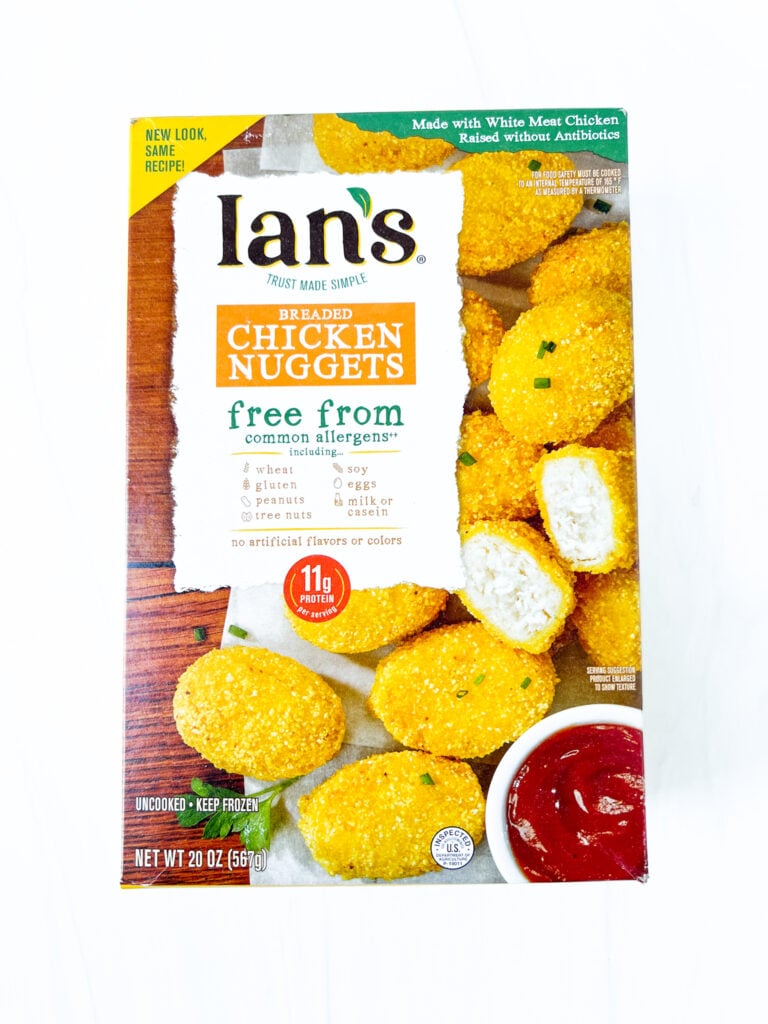 (4) Applegate: The nuggets were the smallest sized of the bunch and the highest priced too. The testers described it as a "really good" nugget but felt it was too small to be satisfying. Another tester said Applegate chicken nuggets looked the most like McDonald's nuggets.
Pricing: $15.99 for 16 ounces ($1.00 per ounce)
Ranking by Taste: #6
Ranking by Price: #9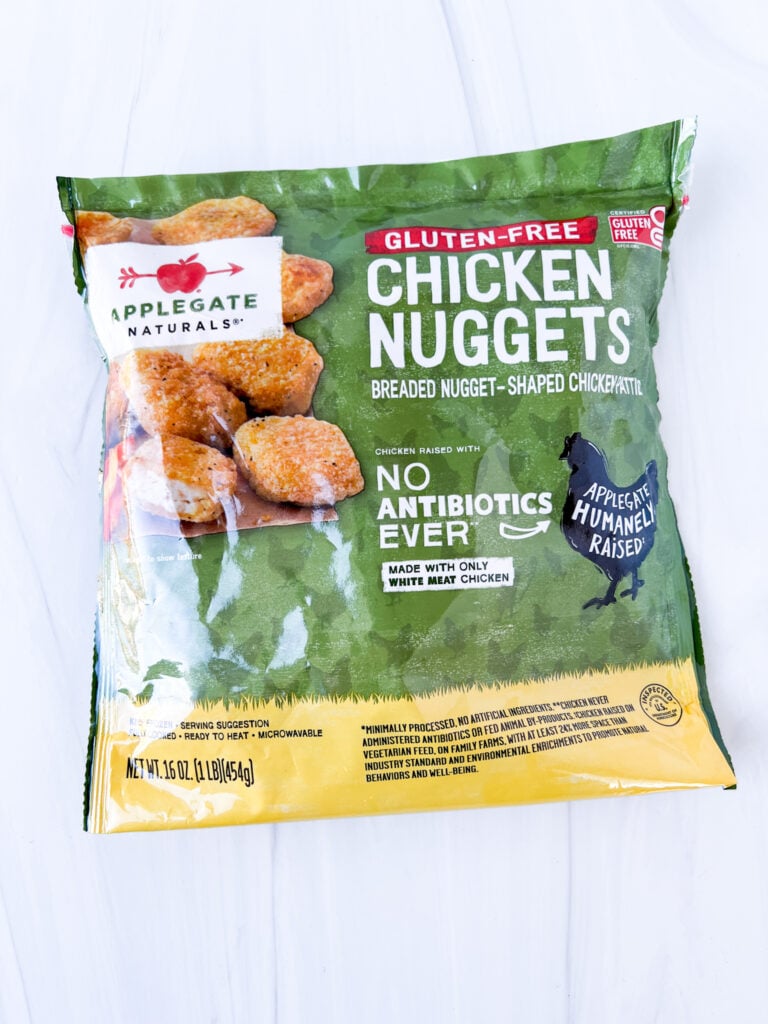 (5) Sprouts: Everyone agreed that Sprouts delivered the most "juicy" nuggets and were seasoned well with "lots of flavors." They noted the outer breading wasn't as crisp as the coatings on the other nuggets, but they liked this nugget a lot, securing its spot in the middle of the pack both taste- and price-wise.
Pricing: $9.99 for 20 ounces ($.50 per ounce)
Ranking by Taste: #5
Ranking by Price: #5
(6) Perdue: The testers loved gluten-free Perdue chicken tenders, specifically calling it out for its delicious flavor, crunchy coating, and juicy center. The overall texture, taste, and great price propelled these nuggets to the top of the list! (Please note, I couldn't find the chicken nuggets, so I substituted chicken tenders. This may or may not have impacted the test results.)
Pricing: $10.99 for 22 ounces ($.50 per ounce)
Ranking by Taste: #1
Ranking by Price: #3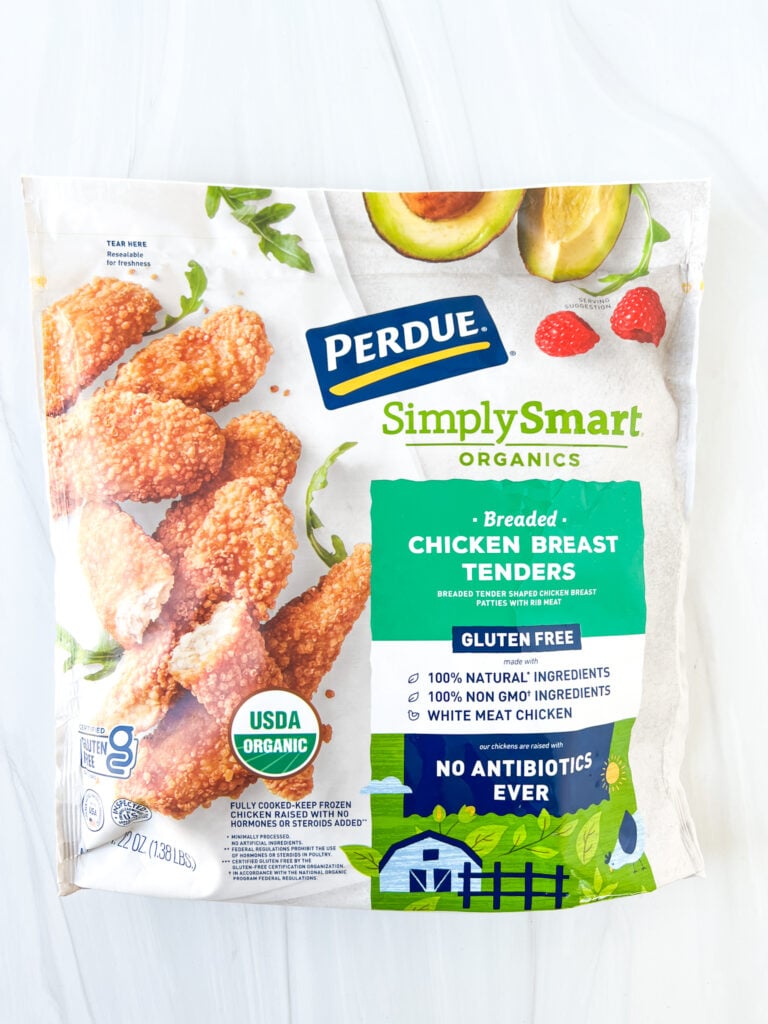 (7) 365 Whole Foods Market: The private-labeled Whole Foods chicken nuggets included a large chunk of chicken generously coated with a flavorful breading. The testers described it as "big" and "juicy" and thought it offered one of the best breading-to-chicken ratios. Overall, the testers loved how this nugget tasted, and the price was a steal considering the steep cost of shopping at Whole Foods.
Pricing: $8.99 for 22 ounces ($.41 per ounce)
Ranking by Taste: #3
Ranking by Price: #2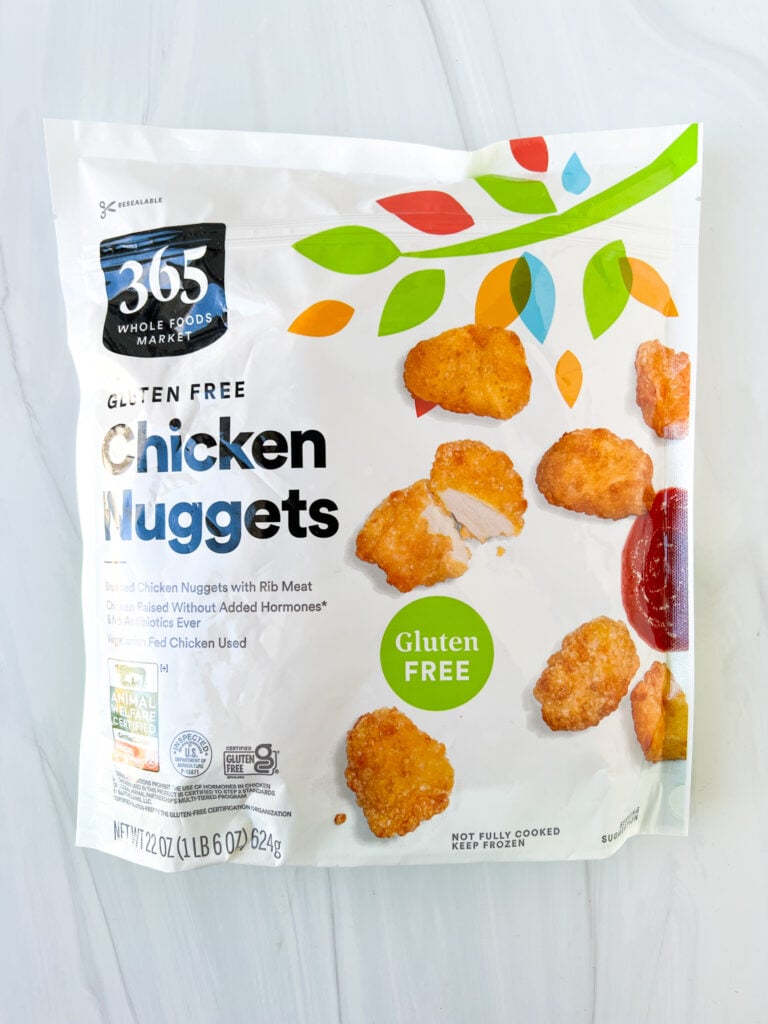 (8) Great Value (Walmart): The testers noted that the Great Value chicken nuggets tasted the "most processed" and speculated that it contained dark meat vs. white meat chicken, even though the packaging says white meat chicken. The testers didn't like the flavor or texture either, putting these nuggets at the bottom of the ranking. Surprisingly, these were among the most expensive chicken nuggets.
Pricing: $9.98 for 16 ounces ($.62 per ounce)
Ranking by Taste: #9
Ranking by Price: #8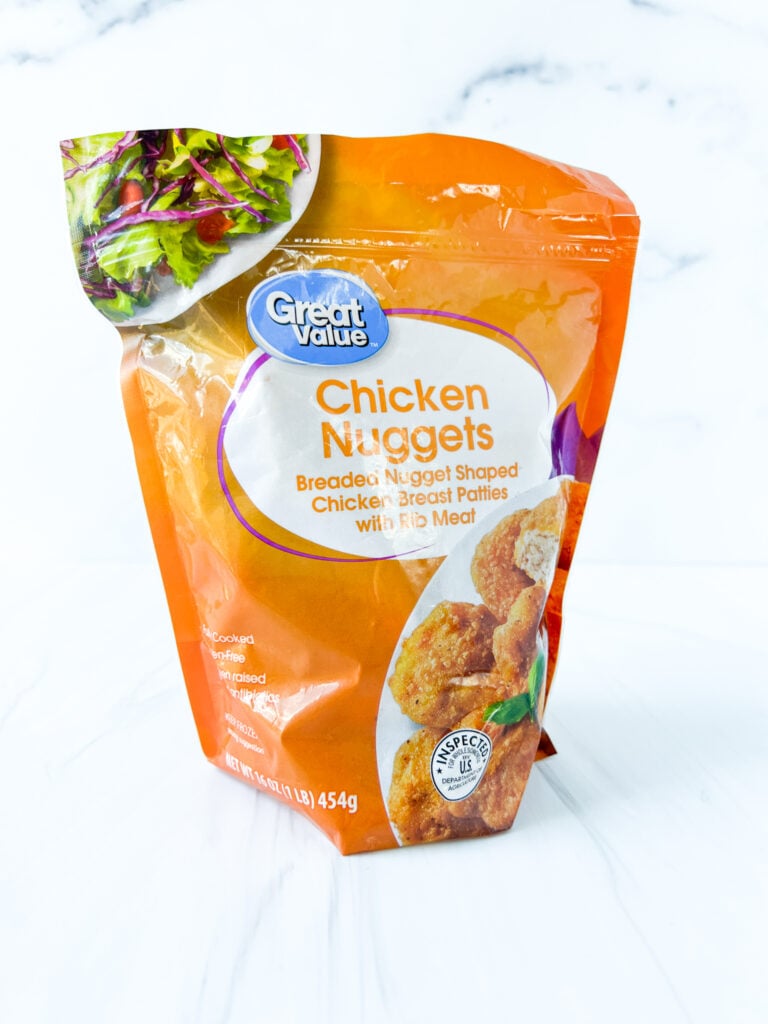 (9) Trader Joe's: The testers enjoyed the Trader Joe's chicken breast nuggets and thought they were "well seasoned," Like 365 Whole Foods nuggets, they offered one of the best breading-to-chicken ratios. Also, like the 365 Whole Foods brand, the chicken is a raw piece of breast meat coated with breading, whereas the other chicken nuggets were processed patties. The testers put a lot of weight on the fact that the nuggets tasted "natural" and "less processed," and at $0.31 per ounce, it was priced well too.
Pricing: $4.99 for 16 ounces ($.31 per ounce)
Ranking by Taste: #2
Ranking by Price: #2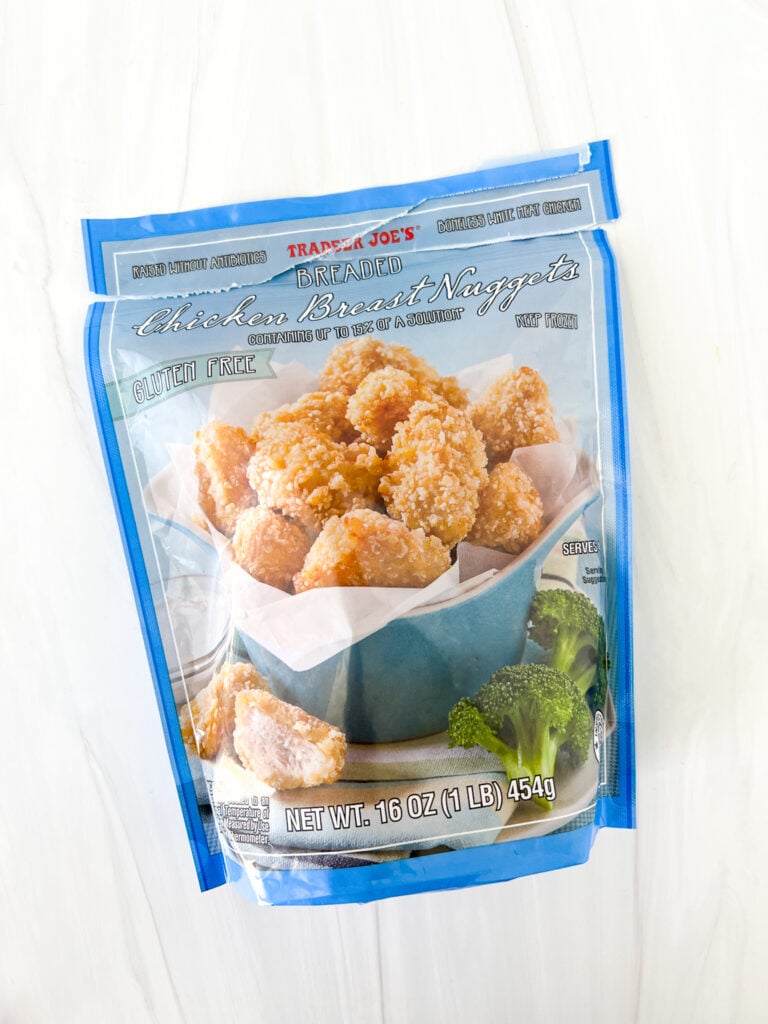 Winner Winner Chicken Dinner
Below I share how each brand ranked based on taste and value (price), and I crown an "overall" best gluten-free chicken nugget winner.
Best Taste:
Perdue
Trader Joe's
365 Whole Foods Market
While the testers said they sincerely enjoyed all of the chicken nuggets (except for the Walmart brand), they felt like the Perdue nuggets had the most crispy outer breading of the bunch, which made it a stand-out winner.
The testers also loved Trader Joe's and 365 Whole Foods Market nuggets because they tasted the most natural since both were made from a raw piece of breast meat vs. a processed chicken patty.
While crowning a winner based on taste was described by the testers as "splitting hairs," they agreed on the worst brand: the Great Value Walmart brand. None of the testers liked how the nugget tasted, describing it as overly "processed."
Best Price:
Dino Buddies
Trader Joe's
365 Whole Foods Market
Since gluten-free food is expensive, the cost is essential to picking which gluten-free chicken nuggets to buy. Dino Buddies cost only $.28 per ounce and were enjoyed by the testers, making it a great option when on a budget.
The Trader Joe's and 365 Whole Foods Market also were priced well and at the top of the taste testers' list, so they are also great budget-friendly options.
Best Overall Value:
Trader Joe's
356 Whole Foods Market
Perdue
Since the testers said they felt like they were "splitting hairs" to crown a taste winner, I averaged the taste and value of each brand and ranked them based on both factors. The top three remained the same but shifted their order ever so slightly.
Here's a complete list of how the gluten-free chicken nuggets ranked overall based on both taste and value: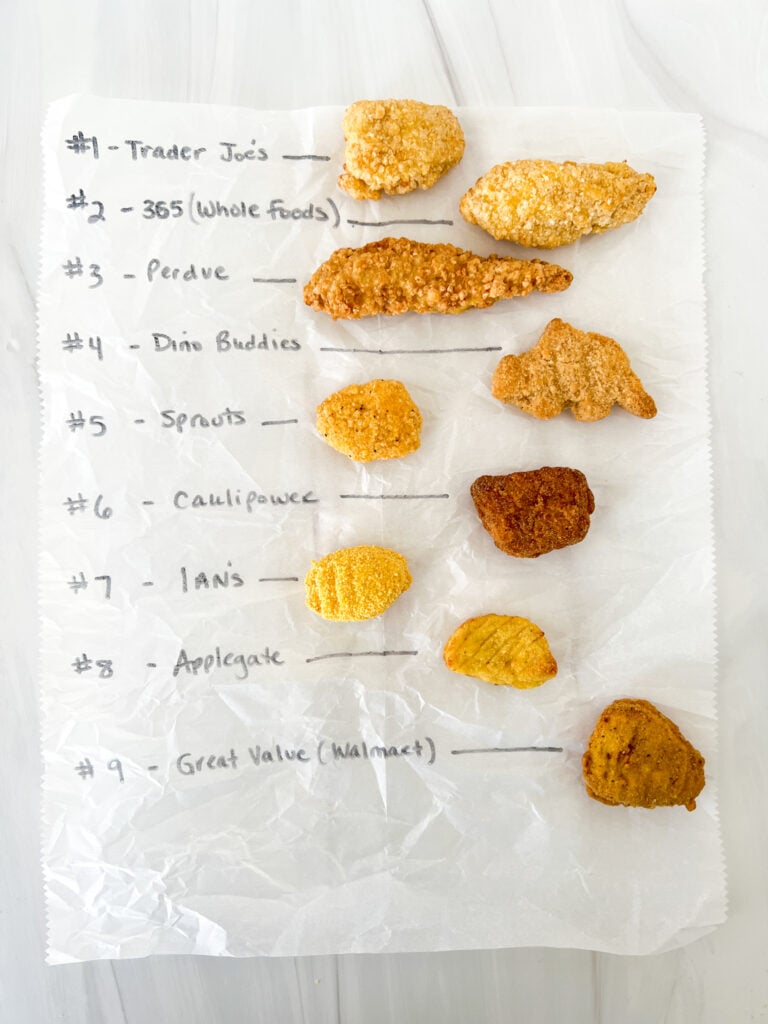 A Few Notes and Explanations
I May Have Missed a Chicken Nugget Brand or Two: I'm sure other gluten-free chicken nugget brands are available. If I missed a brand, I'd be happy to add it as an addendum to this article.
I do feel, however, that by visiting five grocery stores, I was able to find the most widely-available brands.
I also know Aldi's offers gluten-free chicken nuggets, but Aldi's is not located and Denver and therefore had to be excluded from this test.
This Test is Not Scientifically Valid: This test includes my family's opinions. We are just a single unit with our taste preferences.
Prices may also vary depending on the size of the packaging, store-purchased, and other factors that I may not even realize. Please take the information shared in this article with a grain of salt.
Two Brands Looked and Tasted Near Identical: The Trader Joe's and 365 Whole Foods Market gluten-free chicken nuggets look nearly identical. Both include a raw white meat chicken coated with a generous breading. They also tasted nearly identical, and I couldn't tell them apart.
Since they're both private-labeled and priced well, I can't help but wonder if they're made by the same manufacturer.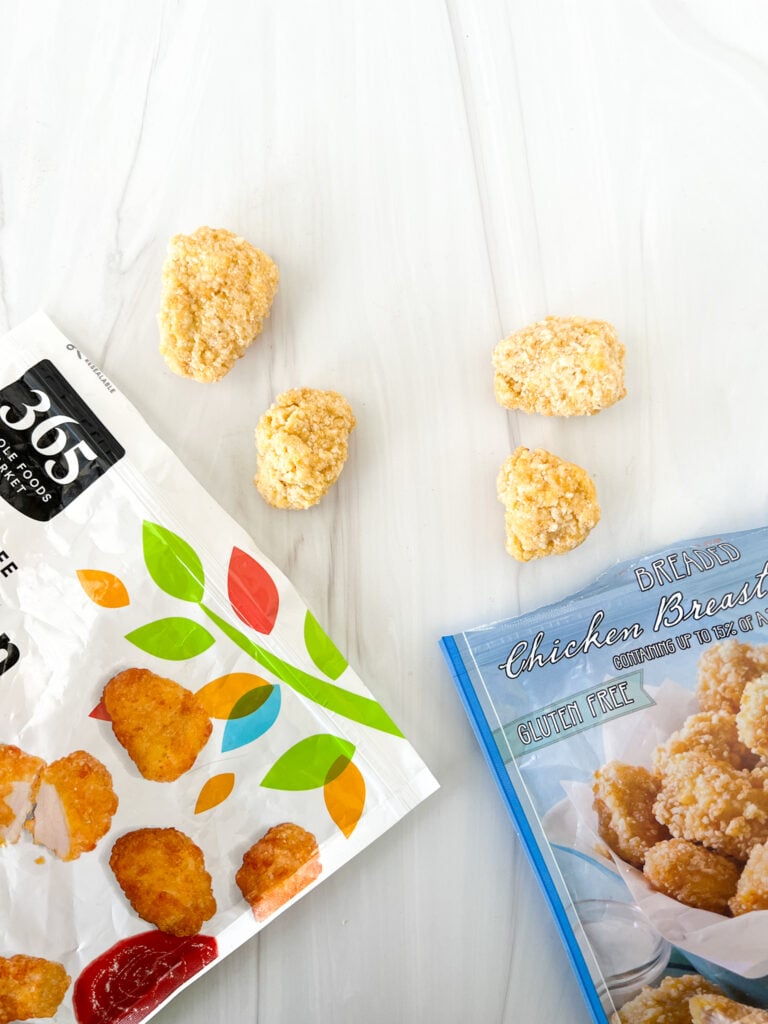 Most Kid-Friendly: If I were to add another category, it would be the most kid-friendly chicken nuggets. I don't have young kids to help me judge the nuggets, but if I had to guess, I think the most kid-friendly brands would be Dino Buddies, Sprouts, and Ian's chicken nuggets. All are tasty nuggets that I have a feeling any kid would enjoy!
About Those Walmart Nuggets: The testers didn't like the Great Value brand of chicken nuggets. Walmart says they're made with white meat chicken, but the inside looked like it contained dark meat. Something felt overly processed about these nuggets, and the price was exorbitant, especially given they're the private-labeled Walmart brand.
What Do You Think?
What brand of frozen gluten-free chicken nuggets do you and your family enjoy? Please leave a comment to share your thoughts and to agree or disagree with my ranking.
Additional Reading
You might enjoy these articles: