Gluten-free flour brands say their flour blends can be used as a one-to-one, measure-for-measure, or cup-four-cup substitute in lieu of wheat flour. But do all gluten-free flour blends work the same? In this article, I tested five gluten-free flour blends using the same chocolate chip cookie recipe and got different results. Which gluten-free flour blend is best for chocolate chip cookies? Read this post to find out. This post contains affiliate links. Please see my disclosures.
Gluten-free flour blends are one of the best inventions in the gluten-free world. These flour blends contain a mixture of gluten-free flours (rice flour, sorghum, etc.), starches (tapioca, cornstarch, etc.), and gums (xanthan or guar gum) to mimic the taste and texture of wheat flour.
The flour blends come with bold claims, saying they measure cup-for-cup, 1-to-1, and measure-for-measure with wheat flour and can be used to make almost any recipe gluten-free using the same measurements as wheat flour.
For example, when a recipe calls for one cup of wheat flour, these brands suggest using one cup of their gluten-free flour blend instead.
While these flours work well in many recipes, I've found that they all measure differently (by weight) and can sometimes create drastic differences in the final product.
In this article, I share how each gluten-free flour blend performed when tested with the same chocolate chip cookie recipe.
The Method
I tested five popular gluten-free flours using the same chocolate chip cookie recipe. Please note the following:
(1) Measuring Flour: When baking with gluten-free flour blends, It's important to note that they weigh a different amount per volume. For example, 1/4 cup of Better Batter contains 34 grams, while 1/4 cup of Bob's Red Mill contains 37 grams. This weight discrepancy is because they each have a different blend of flour, starches, and gums.
When deciding how to test the recipe, I wasn't sure if I should use a volume (cup) or weight (gram) measurement.
Ultimately, I decided to use the weight measurement given by each brand to put the flour's best foot forward. However, this process netted variable amounts of flour in each test.
My recipe called for 1 cup + 2 Tbsp of gluten-free flour, and as shown below, each recipe would contain a slightly different amount of flour. Here's how much flour I used for each brand.
Bob's Red Mill: 166 grams

Cup4Cup: 157 grams

Pamela's: 135 grams
Better Batter: 153 grams
King Arthur: 139 grams
Please note that the flour was the only variable ingredient; all other ingredients were the same.
(2) The Recipe: There are thousands of chocolate chip cookie recipes on the Internet, and everyone thinks their cookie is the best.
I found it hard to narrow down a single recipe, but ultimately I decided to use a basic, standard chocolate chip recipe that contained no uncommon or outlier ingredients. I pared the recipe down so it would make one dozen cookies.
Please note that each flour blend provided a chocolate chip cookie recipe on the back of the bag. The recipes used similar ingredients in similar quantities and had similar instructions.
(3) The Ingredients: I used the following ingredients in the chocolate chip cookie recipe:
4 Tbsp unsalted butter (room temperature)
75 grams of granulated sugar
75 grams of light brown sugar
1 large egg (room temperature)
1/2 Tbsp vanilla
1 cup + 2 Tbsp gluten-free flour blend (measured by weight per brand – see above)
1/2 tsp baking soda
1/4 tsp salt
6 ounces semi-sweet chocolate chips (1 cup)
(4) Instructions: I used the same baking instructions for each flour blend tested, setting my timer accordingly to ensure similar results.
A few variables to note in the name of full transparency:
I baked the cookies over two hours, which meant the egg and butter were left at room temperature longer for some of the cookies.
I used the same oven, but the temperature could have slightly varied (maybe it became hotter?) for cookies baked toward the end of the experiment.
Below are the instructions for each cookie, which I followed to a T:
Beat butter and sugars in a standing mixer at medium-high speed for 1 minute.
Add egg and vanilla and mix on medium-high speed for 45 seconds, scraping down the sides as needed.
Add the flour, baking soda, and salt, and mix on medium-high speed for 1 minute, scraping down the sides as needed.
Fold in the chocolate chips by hand.
Using a medium-sized cookie scoop, scoop balls of dough and place them about 2″ apart on a baking sheet lined with a Silpat mat.
Chill the cookies (on the baking sheet) in the fridge for 15 minutes.
Bake the cookies in a 350º F preheated oven for 11 minutes (I baked all the cookies for 11 minutes and taste-tested those; I also baked some cookies for 1-3 minutes longer based on a visual determination of doneness.)
(5) Judging Criteria: Finally, I asked six testers (friends and family) to blind taste-test each cookie and tell me what they thought based on taste, texture, and overall appearance. All results are, therefore, subjective to my tester's taste buds.
The Results
As shown below, I assigned each flour brand a number to ensure the test was random. Please note that the number correlates with the flour tested, NOT the ranking of the cookie. I rank the cookies in the next section from best to worst.
(1) Bob's Red Mill 1-to-1 Gluten-Free Baking Flour: Bob's Red Mill has been a staple in my pantry for years. It has worked well in helping me create dozens of classic gluten-free recipes, and because it's easily found in grocery stores, it's the one flour I find myself using time and time again.
Bob's Red Mill contains a mixture of sweet rice flour, whole-grain brown rice flour, potato starch, whole-grain sorghum flour, tapioca flour, and xanthan gum.
On the bag, Bob's Red Mill says its 1-to-1 flour blend is best used for creating cookies, cakes, brownies, pancakes, pies, muffins, and more.
The cookies held their shape well and looked like classic chocolate chip cookies. They offered a crispy, browned bottom, chewy center, and satisfying overall taste and texture.
Two testers (aka, my kids) felt this cookie tasted most "familiar" to them, likely because I've baked many cookies with Bob's Red Mill over the years.
(2) Cup4Cup Multipurpose Gluten-Free Flour: Cup4Cup was developed by chefs at Thomas Keller's acclaimed restaurant, The French Laundry, and it was one of the first flour blends I had ever used.
When other one-to-one flours came to market, I stopped using Cup4Cup, mainly because I like to bake for people who avoid dairy, and Cup4Cup contains dairy.
According to Cup4Cup, the flour blend can be used to make cookies, biscuits, cakes, and quick bread and is great for frying, thickening sauces, and making pasta. It contains a blend of cornstarch, white rice flour, brown rice flour, milk powder, tapioca flour, potato starch, and xanthan gum.
I had high hopes for this fancy flour, but alas, the flour let me down.
For starters, the batter was extremely sticky and hard to scoop. It had a more glue-like texture, which I imagine is suitable for baking bread but not for baking cookies.
The cookies browned on the bottom and formed a weird meringue-like dome on top that became flaky when folded in half.
The chocolate chip cookies made with Cup4Cup flour had a strange texture and didn't look like an overall inviting chocolate chip cookie.
(3) Pamela's All-Purpose Gluten-Free Flour Mix: Pamela's gluten-free flour is used as a 1-to-1 wheat flour replacement and boasts that it's an "artisan blend" and "vegan." It contains a blend of brown rice flour, tapioca starch, white rice flour, potato starch, sorghum flour, arrowroot starch, guar gum, sweet rice flour, and rice bran.
I was disappointed in Pamela's performance in my chocolate chip cookie recipe. While the batter was smooth and silky, the cookies spread and almost merged into one giant cookie on the baking sheet.
Fearing I didn't give Pamela's a fair shake, I wanted to perform one more experiment. Before baking each batch of cookies, I reserved one dough ball and placed it (unbaked) in my fridge.
The following day, I baked all the chilled dough balls on a single baking sheet for 11 minutes. As seen in the following picture, #3 (Pamela's) didn't spread as much, but it browned on the bottom and even caramelized a bit on top.
While the cookies didn't spread as much, the texture was still "off" and not "mouth-pleasing," according to some of my testers.
(4) Better Batter Original All-Purpose Gluten-Free Flour Blend: Better Batter says its flour measures cup for cup in most recipes and is best for baking cookies, breading, gravies, and custards. It's made from white rice flour, brown rice flour, tapioca starch, potato starch, potato flour, pectin, and xanthan gum.
The cookies baked with Better Batter flour performed extremely well. The batter was smooth, and the cookies were soft and chewy with a slightly crispy bottom.
I noticed the cookies spread a bit; however, when I chilled them overnight (vs. 15 minutes), they didn't spread much. When making this recipe with Better Batter, I recommend 30-60 minutes of chill time.
(5) King Arthur Measure-For-Measure Gluten-Free Flour: King Arthur says its measure-for-measure flour can be used as a 1:1 substitute for wheat flour to make most recipes gluten-free. It's ideal for cookies, cakes, quick bread, pancakes, pie crust, and more, but it is not recommended as a 1:1 substitute for yeasted recipes (bread, pizza, and buns).
King Arthur contains a blend of rice flour, whole grain brown rice flour, whole sorghum flour, tapioca starch, potato starch, cellulose, xanthan gum, and a vitamin and mineral blend, making it the only gluten-free flour that is fortified with iron, calcium, and vitamin B.
Like Better Batter, the King Arthur flour performed exceptionally well during this experiment. While the batter felt a bit grainy, the cookies baked up beautifully. They kept their shape well and had a superb chewy tenderness that made them irresistible to my testers.
And the Best Gluten-Free Flour Is…
When making gluten-free chocolate chip cookies, my taste testers had difficulty deciding a winner, although they had no problem choosing a loser (unfortunately).
My testers loved two of the cookies the best and couldn't decide on a favorite, so the #1 gluten-free flour for making chocolate chip cookies is a TIE between Better Batter All-Purpose GF Baking Flour and King Arthur's Gluten-Free Measure-For-Measure Flour.
Both cookies performed exceptionally well, and here's some of the feedback I received from my testers:
The testers agreed that the Better Batter cookie had the best taste and texture, but the cookies were thinner because they spread. This issue, as noted prior, would be resolved with a longer chilling time.
The testers loved the taste and texture of the King Arthur cookie, noting it had the best overall appearance (e.g., it looked most like a chocolate chip cookie). The cookie was soft and chewy and held together well.
Bob's Red Mill 1-to-1 Gluten-Free Flour cookie came in a close third-place finish. This cookie was similar to the King Arthur cookie in look and feel, offering a consistent and delicious result.
I would definitely use Bob's Red Mill flour blend to make chocolate chip cookies again. And while testers enjoyed the cookie, they thought the texture and look of King Arthur and Better Batter cookies were unrivaled.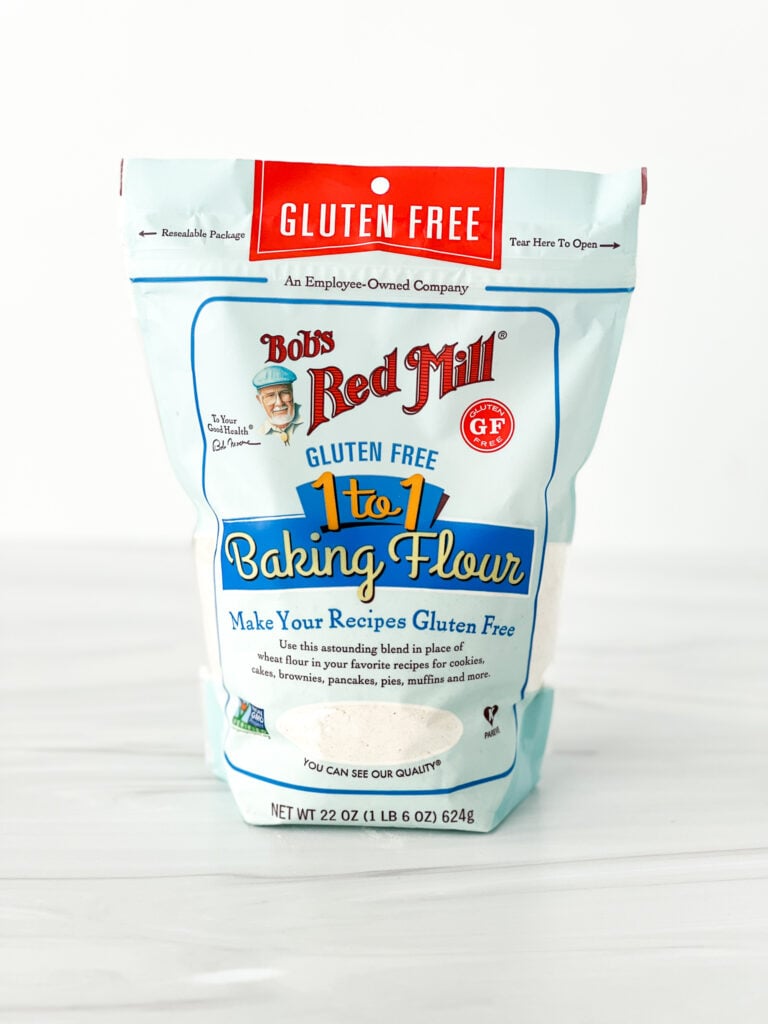 The two WORSE cookies were made with Pamela's gluten-free flour and Cup4Cup flour. I would not recommend either flour blend for making chocolate chip cookies, although perhaps either flour blend would work using a different cookie recipe.
Pamela's cookies spread… a lot. Even when chilled overnight, the cookies were overly browned on the bottom and undercooked on top. The cookie was still tasty, but it was a mess visually and texture-wise.
Cup4Cup cookies had a weird dome-like top that cracked like a meringue cookie when folded in half. While the cookies were tasty, the texture was not even soft and chewy like a chocolate chip cookie should be.
A Few Disclaimers
This test was not meant to disparage any gluten-free flour blend. Instead, it highlights how different 1-to-1, cup-for-cup, and measure-for-measure blends perform with a single recipe.
Over the years, I've found that some flour blends work better for pasta and yeasted bread, while others work better with cookies and cakes.
Gluten-free consumers should be mindful that each gluten-free flour brand will perform differently in different recipes. Most gluten-free flour blends cannot be used interchangeably in all recipes. To avoid baking failures, gluten-free bakers should use the flour specified in the recipe.
Finally, please leave a comment to share what I should test next (pasta, cake, bread, etc.) using different flour blends.
Disclosures: I used to collaborate with Bob's Red Mill (I don't anymore). I'm also an affiliate of Better Batter. As an affiliate, I get a small percentage of any purchase when readers use my affiliate link. I'm also able to give my readers a 35% discount on any full-price purchase with the code GOODFORYOUGF.
Additional Reading
Enjoy these articles, too: