Gnocchi is a type of pasta that resembles a dumpling. It's made from flour, potato and eggs, and it tastes delicious. Most gnocchi found in restaurants and stores contains wheat flour, which is why I miss these delicious noodles so much. This post will show you how to make a fun variant on regular gnocchi using sweet potato and pumpkin puree. Yum! This post contains affiliate links. Please see my disclosures.
Gnocchi lovers, get ready to rejoice because I've got a treat for you! My gluten-free gnocchi recipe offers a healthy and sweet spin on traditional gnocchi recipes.
Traditional gnocchi is made with wheat flour, potatoes and eggs (or ricotta cheese).
We're going rogue with my sweet potato gnocchi made with just five ingredients:
Sweet potatoes
Canned pumpkin puree
Eggs
Salt
My recipe is gluten-free, dairy-free and good for you. Let's begin.
How to Make the Dough
While the dough for the gnocchi contains only five simple ingredients, it does requires quite a few steps to make the recipe come to life.
The good news, however, is that gnocchi is so fun to make. You get to squish the dough, roll the dough, and make fun shapes in the dough. This recipe will surely channel your inner child.
Step #1: Prepare the Sweet Potatoes: Pierce three medium sweet potatoes with a fork, wrap potatoes in paper towels, and microwave on high for 5-6 minutes until the potatoes are soft.
Allow the potatoes to slightly cool before opening them up and scraping out the flesh into a bowl. Use a potato masher to mash the potatoes until smooth.
Step #2: Combine Ingredients: Add pumpkin and eggs to the potatoes and mix well, then add flour and salt. Mix everything together using hands covered in disposable gloves until mixture is well combined.
I found Bob's Red Mill 1:1 gluten-free flour blend to work well with the recipe, and you'll need 1 and 3/4 cups of it, plus a little more for dusting surfaces.
You'll wind up with a large dough ball. Divide the dough into four equal sections.
Step #3. Roll Dough into a Long Snake: Roll dough on a lightly floured surface until it resembles a long snake.
Step #4: Shape Gnocchi: Using a butter knife, cut gnocchi into 1 inch pieces. Each snake will net about 25 pieces.
You can create grooves in each gnocchi piece by rolling the dough alongside the back of a fork using gentle pressure, as seen below: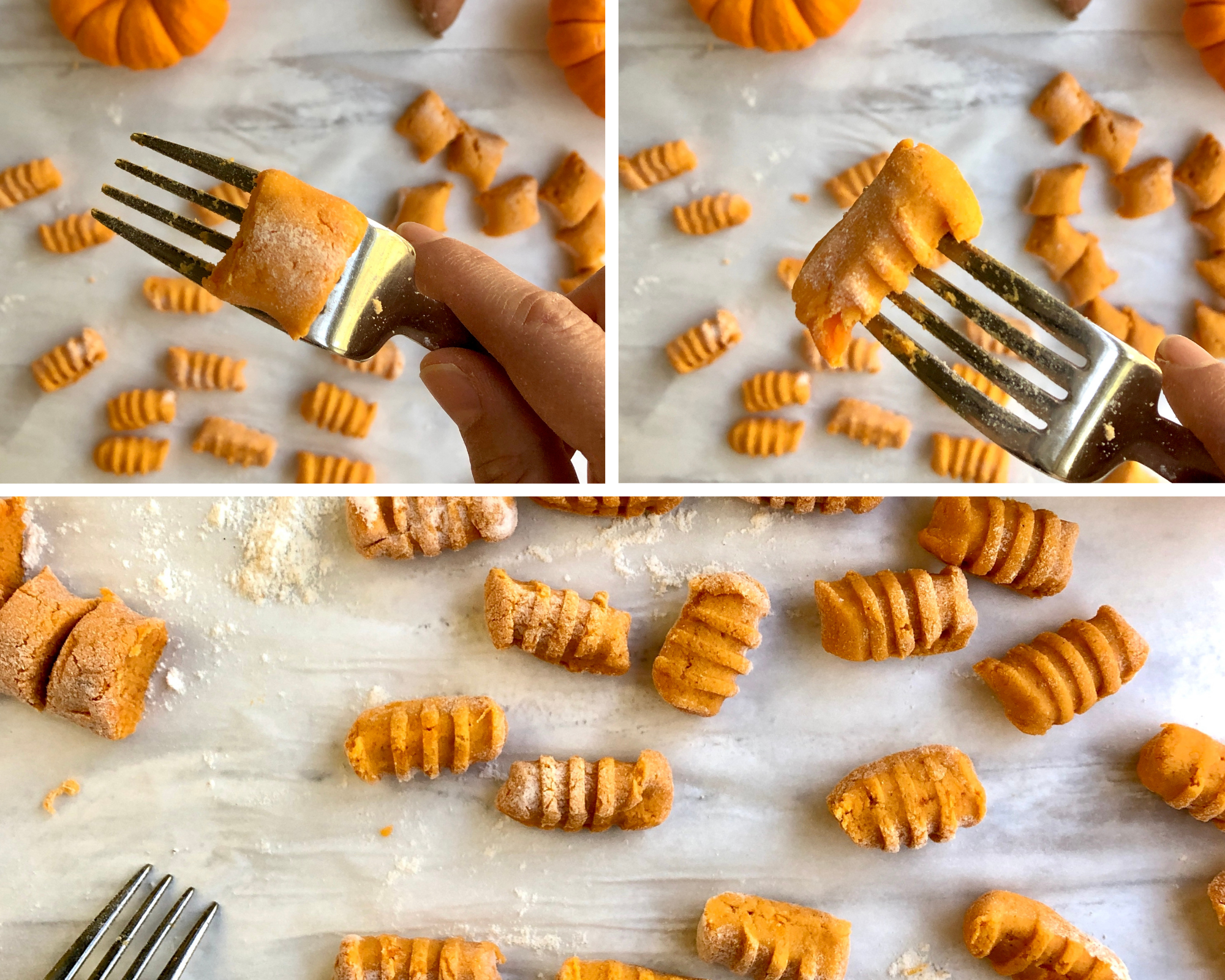 Talk about playing with your food! Who knew making gnocchi could be so fun?!?
Step #5: Boil Gnocchi: Bring water to a boil in a large pot. Add half of the gnocchi to the boiling water and cook for about 1 minute. You only want to cook half at a time to avoid overcrowding the dumplings.
You know the gnocchi is done when all the pieces float to the top.
Remove the gnocchi from the boiling water using a slotted spoon or small strainer, and then cook the second half of the gnocchi in the boiling water.
Step #6: Pan Fry the Gnocchi: Melt two tablespoons of butter in a large saucepan over medium high heat. Add half of the gnocchi to the pan (again, to avoid overcrowding the gnocchi) and saute gnocchi for about 2-3 minutes until each side is slightly browned. Season with a sprinkle of salt and cinnamon.
Repeat the same process to cook the second half of the gnocchi, adding more butter to the pan. Do not overcrowd gnocchi; work in batches.
Step 7: Eat! Finally, your wonderful gluten-free sweet potato gnocchi is ready for eating. It doesn't need much more seasoning as it's already buttered and salted and contains a pinch of cinnamon that makes it feel like fall.
Troubleshooting
My dough is too sticky. The dough should be slightly sticky but not too sticky. Add a bit more flour to your dough if it's sticky.
My dough is too dry. If it's too stick, add a little water, about 1 tablespoon at a time, until you get the right consistency.
Can I use regular potatoes? Yes, you can use regular potatoes. You'll need about 2 cups of mashed potatoes.
Can I use something else instead of pumpkin puree? I have not tested this recipe without pumpkin puree, but I suspect you could use canned butternut squash in lieu of pumpkin and get the same texture. You could also use extra sweet potatoes vs. pumpkin.
Can I use a different flour? I have not tested this recipe with other flours, but I do find the Bob's Red Mill 1:1 gluten-free flour blend works really well at holding the dough together and it gives the gnocchi an authentic taste.
I don't eat eggs. You need some sort of binder to hold everything together. A lot of people will use ricotta cheese instead of eggs, which then adds dairy to your recipe if you can tolerate it. You could also try silky tofu instead and see how it works. I have not tested this recipe without eggs.
Sauce and topping recommendations: The sweet potato ensures this gnocchi is naturally sweet. You could add a sauce on top, but I find the butter, salt and cinnamon taste great and really allow the gnocchi to shine.
How to Serve Gnocchi
I find this gnocchi works well as a side dish in lieu of plain sweet potatoes, rice or pasta. Serve it with any protein (steak, chicken, turkey pork chops), or enjoy it as a stand alone dish.
This recipe is festive, perfect for Thanksgiving, holiday and festive meals!
Other Recipes
Looking for other festive recipes? Try these delicious, gluten-free sides:
Gluten-Free Carrot Ring: Enjoy this wonderful carrot ring to sweeten your holiday celebrations. I add peas to the middle of my carrot ring because peas and carrots go together!
Greek Salad Kabobs Appetizer: For a healthy start to any of your holiday parties, try these delicious Greek salad kabobs.
Homemade Egg Noodles: Love homemade gnocchi? I have a feeling you'll love these homemade egg noodles too.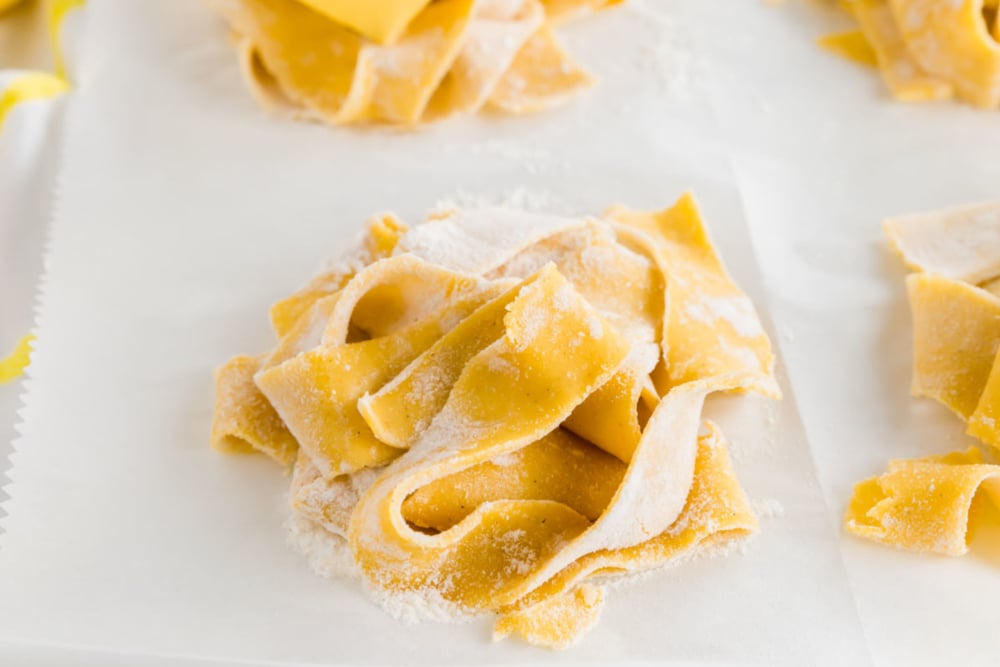 5 Ingredient Sweet Potato Gnocchi
These sweet potato gnocchis are short of a miracle and make a wonderful side dish or can be enjoyed as the main course. These gnocchi are sweet (thanks to the sweet potato), chewy and delicious. These gnocchis will add beauty, flavor and fun to your entertaining adventures.
Print
Pin
Rate
Ingredients
Gnocchi Dough
3

medium sweet potatoes

about 2 cups mashed

1

cup

pumpkin puree

1

large egg

1 3/4

cups

Bob's Red Mill 1:1 Gluten Free Flour

plus extra for dusting surface

1

tsp

Kosher salt
Sauce
4

tbsp

butter

divided (or use butter alternative or oil)

Pinch of salt

to taste

Pinch of cinnamon

to taste
Instructions
Gnocchi Dough
Stab sweet potatoes with a knife or fork along the top. Wrap potatoes in a large paper towel and microwave them all together on high for 5-6 minutes until soft. Allow potatoes 5 minutes to cool before handling. Scrape out the flesh of the potatoes and place flesh into a big bowl. Discard the skins. Using your masher, mash the potato flesh until smooth.

Add pumpkin and egg to the potato mixture and mix well, then add flour and salt and continue to mix. I find it easier to use my hands (with gloves) to mix everything together. Once dough is ready, form it into a large ball.

Divide the dough ball into four sections. On a lightly floured surface, roll each section into a long snake, then use a knife to cut the dough into about 25 pieces each.

Optional: Roll each dough piece along the backside of your fork to create grooves in the gnocchi. See blog post for details on how to do this.

Bring a large pot of water to a boil, then add half of the gnocchi to cook. Gnocchi need only about 1 minute to cook. Once they float to the top, remove them from the water with a slotted spoon. Set aside and cook the other half of the gnocchi, working in batches to avoid overcrowding the dumplings.

Heat a large pan with 2 tbsp of butter, then add half the gnocchi and cook for 1-2 minutes on each side until the gnocchi slightly browns. Season with salt and cinnamon. Repeat with 2 more tbsp of butter, cook and season second batch. Serve immediately.
Notes
This recipes makes about 100 pieces of gnocchi. When you divide the gnocchi into four sections, you'll be able to get about 25 pieces out of each section.
Too Dry: If dough is to too dry, add 1 tablespoon of water at a time until the right consistency is achieved. You want the dough slightly sticky.
Too Sticky: If the dough is too sticky, add a bit more flour to the dough and mix well until desired consistency is achieved. 
Freeze Instructions: To freeze, cut dough into gnocchi shapes, spacing it out on a large baking sheet. Flash freezing the gnocchi for 1 hour on your baking sheet, then combine all the pieces in a zip top bag until you're ready to cook them.
Leftovers: Leftover, cooked gnocchi can be stored in a sealed container for several days. Reheat in microwave or in a pan with a little cooking spray or oil.
Seasonings: The gnocchi tastes good as is (cooked in the butter and lightly sprinkled with salt and cinnamon). You can, however, season it however you like and adjust seasonings to your preferences.
Dairy-Free: To make the recipe dairy-free, use oil or dairy-free butter. 
Pumpkin: Puree butternut squash can be used in lieu of canned pumpkin puree. Do not use canned pumpkin pie. Look for canned pumpkin puree. There is a difference.
Nutrition
Calories:
306
kcal
|
Carbohydrates:
51
g
|
Protein:
7
g
|
Fat:
10
g
|
Saturated Fat:
5
g
|
Cholesterol:
48
mg
|
Sodium:
530
mg
|
Potassium:
475
mg
|
Fiber:
8
g
|
Sugar:
7
g
|
Vitamin A:
22662
IU
|
Vitamin C:
4
mg
|
Calcium:
74
mg
|
Iron:
3
mg