This post about hazelnut flour cookies contains affiliate links. Please see my disclosures.
I've been using almond flour in my baked goods for a long time. It's one of the first "alternative" flours I experiemented with when I first went gluten-free in 2012.
I've learned that almond flour has a neutral texture and bakes up nicely in cookies, cakes, and more. It also nets a moist cookie due to the high-fat content and smooth texture, especially when you use blanched almond flour (blanched means the hull, or outer shell, is removed before grinding).
Last month, I took an at-home food sensitivity test that revealed I had a moderate sensitivity to almonds. Shoot! I eat almonds all the time – both almond flour in baked goods and chocolate-covered almonds for snacking.
Let's say I was totally bummed to learn that almonds might contribute to the dull tummy ache I was experiencing daily. I took almonds out of my diet, and I feel better, so I decided, for now, I'm going to avoid eating almonds. (Update: I still eat almonds, only in moderation. They no longer bother me.)
I decided instead of using almond flour, I would try my hand at baking with hazelnut flour – a flour I know NOTHING about. I figured it would be similar to almond flour – after all – they're both nut flours, but I was wrong.
A Hazelnut Flour Cookie Fail
I tried to swap the almond flour with hazelnut flour in my awesome Almond Flour Cookies recipe; however, the hazelnut flour cookies were way too moist and greasy, they spread really thin, and they totally fell apart (flaked) when you tried to pick one up. Fail.
Not ready to give up, I decided to make some strategic changes to my nut flour cookie recipe to address the issues I was having. Here's what I did:
I cut back on the fat (butter) and added more flour to decrease the moisture content.
I swapped white sugar for brown sugar to see if I could deter the cookies from spreading.
I included a new ingredient, ground flaxseeds (flaxseed meal), to help soak up any excess moisture from the high-fat hazelnut flour.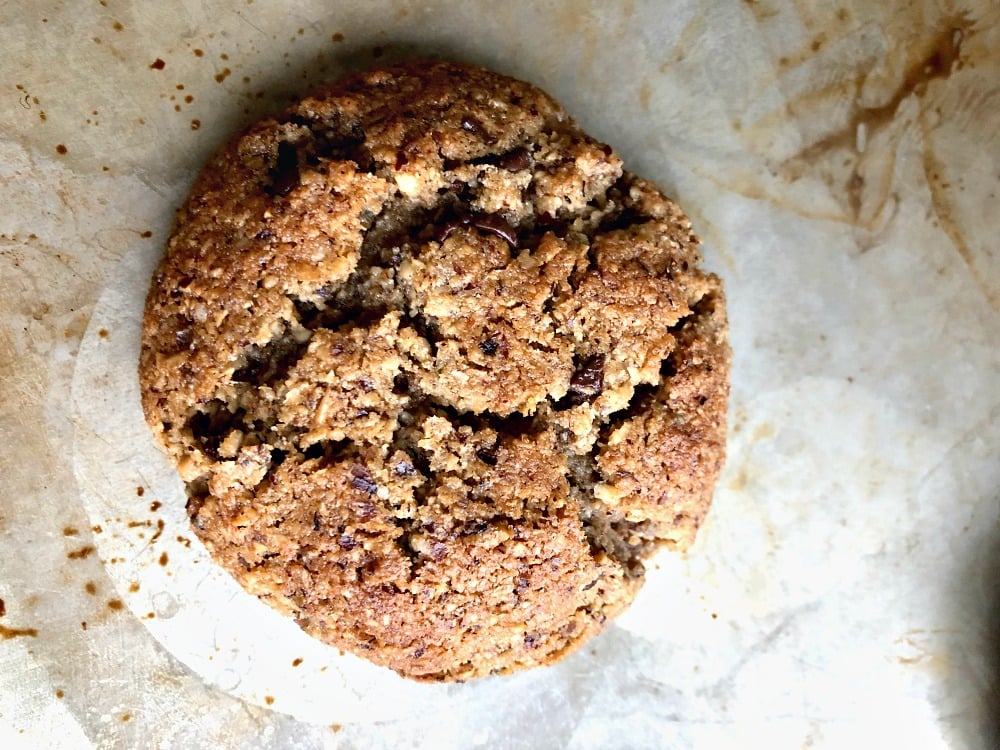 Finally, Success!
The recipe worked this go-round, and I netted a wonderfully moist, rich, slightly chewy, slightly crunchy gluten-free, and grain-free hazelnut flour cookie. I loved them!
And they look so pretty, too – like a perfectly round, soft-baked cookie should look!
The cookies ended up being a big hit at my house too. I saw my husband enjoy a few yesterday and then again this morning.
If you make these hazelnut flour cookies, I recommend enjoying them in moderation as they are made from high-calorie flour (and contain sugar too).
Chances are you'll be full after eating one cookie… like many desserts made with nut flours, these cookies are filling and leave you feeling full and satisfied.
I want to encourage you to get out of your comfort zone and try new flour. I was pleasantly surprised at how neutral the hazelnut flour tasted and how beautiful my cookies turned out. Sure, it took some effort and a few rounds of baking, but it finally worked, and I'm so happy it did because now I have my first hazelnut flour recipe and am determined to create more!
Hazelnut Flour Chocolate Chip Cookies
Hazelnut flour offers a rich, moist, nutritious, and totally grain-free (paleo) alternative to regular gluten-free flour blends that often contain rice flours. Hazelnut flour is made from ground hazelnuts, which are high-fat, high-calorie tree nuts that offer up many nutritional benefits including high levels of important polyphenols and antioxidants.
Print
Pin
Rate
Instructions
Heat the oven to 375º F and line a baking sheet with parchment paper or silicone baking liner.

In a standing mixer, cream the butter and sugar for about 30 seconds until well blended. Add the egg and vanilla and mix well on medium speed until combined.

In a small bowl, blend together flour, flaxseed meal, baking soda, and salt, then slowly add this flour mixture to the wet mixture until evenly mixed.

Fold in chocolate chips by hand.

Scoop a small handful of the dough and roll it with your hands into approximately 15 2-inch dough balls. Set each dough ball on a baking sheet about 2 inches apart as the cookies will spread slightly.

Once all the dough balls are on the baking sheet, press gently on each to flatten them slightly.

Bake for 10-12 minutes until dough is set and edges are lightly browned. Remove from oven and cool before serving.
Notes
Make sure to leave some space between the cookies as they will spread.
Hazelnut flour is not common in grocery stores. I suggest looking for it online.
Nutrition
Calories:
235
kcal
|
Carbohydrates:
15
g
|
Protein:
3
g
|
Fat:
18
g
|
Saturated Fat:
4
g
|
Cholesterol:
26
mg
|
Sodium:
98
mg
|
Potassium:
30
mg
|
Fiber:
2
g
|
Sugar:
11
g
|
Vitamin A:
180
IU
|
Vitamin C:
0.7
mg
|
Calcium:
47
mg
|
Iron:
1.2
mg