You may be on the prowl for gluten-free pizza rolls given that Totino's Pizza Rolls are not gluten free. I grew up eating this classic after-school snack, but had to promptly give them up after getting diagnosed with celiac disease. Today, the market has some great gluten-free pizza roll options that I'm going to share with you in this article. This post contains affiliate links. Please note some of these brands have sent me samples, and some I have worked with in a sponsorship capacity in the past. Please see my disclosures.
If you're a child of the 80s or 90s, you probably grew up eating Totino's pizza rolls as an after school snack. The 80s and 90s were an era of convenience foods and latchkey kids, and that's why my freezer was always full of foods my brother and I could easily heat and eat.
After my celiac disease diagnosis in 2012, I had to give up those tasty pizza rolls because they contained gluten, a protein found in wheat, rye, barley and sometimes oats. (Read: What is Gluten and Why is it Bad for Some People?)
Fast forward 10 years, there are now several gluten-free pizza roll alternatives, and best of all, many of them taste better and have better ingredient lists too.
Before I share a list of gluten-free pizza roll options, remember that Totino's Pizza Rolls are NOT gluten free and should be avoided by anyone on a gluten-free diet.
Feel Good Foods Snack Bites
I was thrilled to discover that Feel Good Foods makes gluten-free pizza rolls, which the brand refers to as "snack bites." Feel Good Foods has a reputation for making craveable frozen snack foods that are hard to find once you go gluten free, including potstickers, perogies, mozzarella sticks and egg rolls.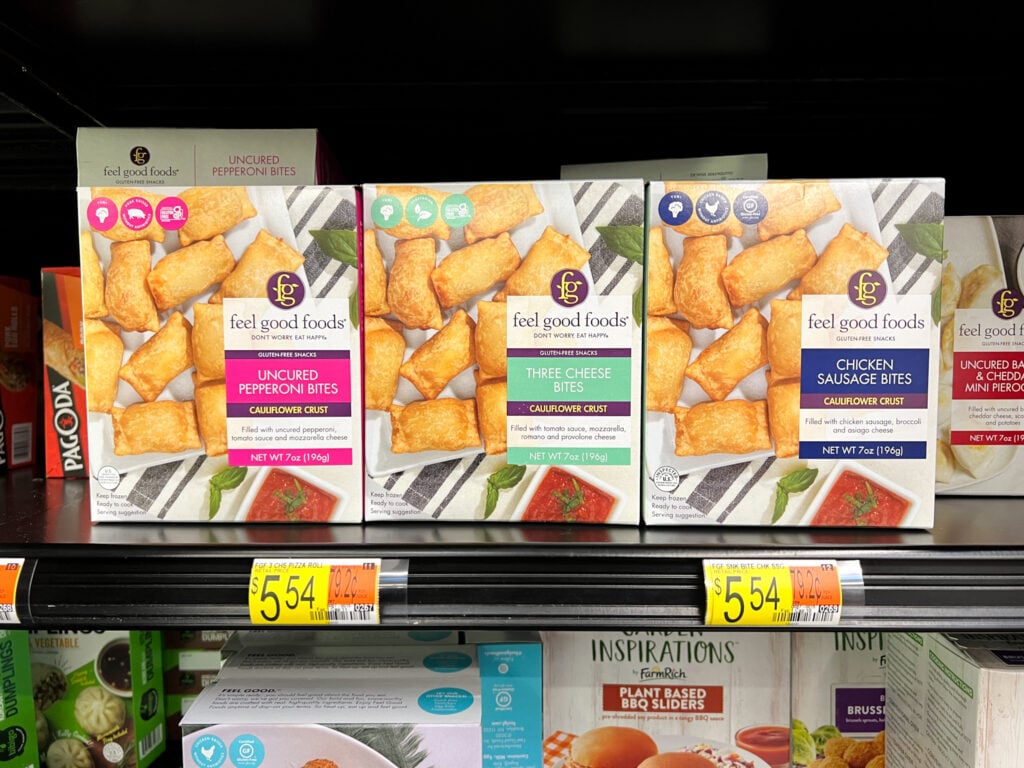 I stumbled upon Feel Good Foods snack bites at my local Walmart. In fact, Walmart was well stocked with the Three Cheese Snack Bites, Chicken Sausage Snack Bites, and the Uncured Pepperoni Snack Bites.
The crust is made from a combination of cauliflower, rice flour, tapioca starch, rice starch and brown rice flour. It's flaky and holds together well.
The filling for the Three Cheese Snack Bites includes mozzarella, provolone and romano, which are all flavorful cheeses and add immense flavor.
The ingredient list is clean, and it contains no nitrates, additives, coloring or any weird, unrecognizable ingredients.
I cooked the snack bites in my airfryer for about 6-8 minutes at 400 degrees and they came out with a flaky crust and hot filling. These definitely pass the gluten-free pizza roll taste test in my house – delish!
Snow Days Pizza Bites
A new brand on the gluten-free pizza roll scene is called Snow Days and its bright blue packaging caught my eye at Sprouts the other day. Like Feel Good Foods, I'm impressed by the clean ingredients list (or "lack of crap" as Snow Days says).
The crust is grain free and made from cassava flour. All Snow Days Pizza Bites are USDA Certified Organic. They contain grass-fed mozzarella and no preservatives or artificial ingredients.
Overall, I enjoyed Snow Day pizza bites. They have a great flavor and texture. I only wish they had more cheese filling. Read my full review here.
Brazi Bites Gluten-Free Pizza Bites
Another gluten-free Totino's pizza roll alternative comes from a beloved brand in the gluten-free space, Brazi Bites.
Brazi Bites pizza rolls are known as Pizza'nadas, and they come in four cheese, pepperoni and supreme pizza bite varieties. I tried the cheese Pizza'nadas and thought they were good.
Brazi Bites Pizza'nadas are certified gluten free and grain free. They contain no artificial ingredients or soy.
While I enjoyed the Pizza'nadas, I didn't enjoy them as much as the Feel Good Foods or Snow Days pizza rolls. That said, these were a delicious gluten-free pizza roll treat and I loved the crust, which offered a wonderful chewy texture.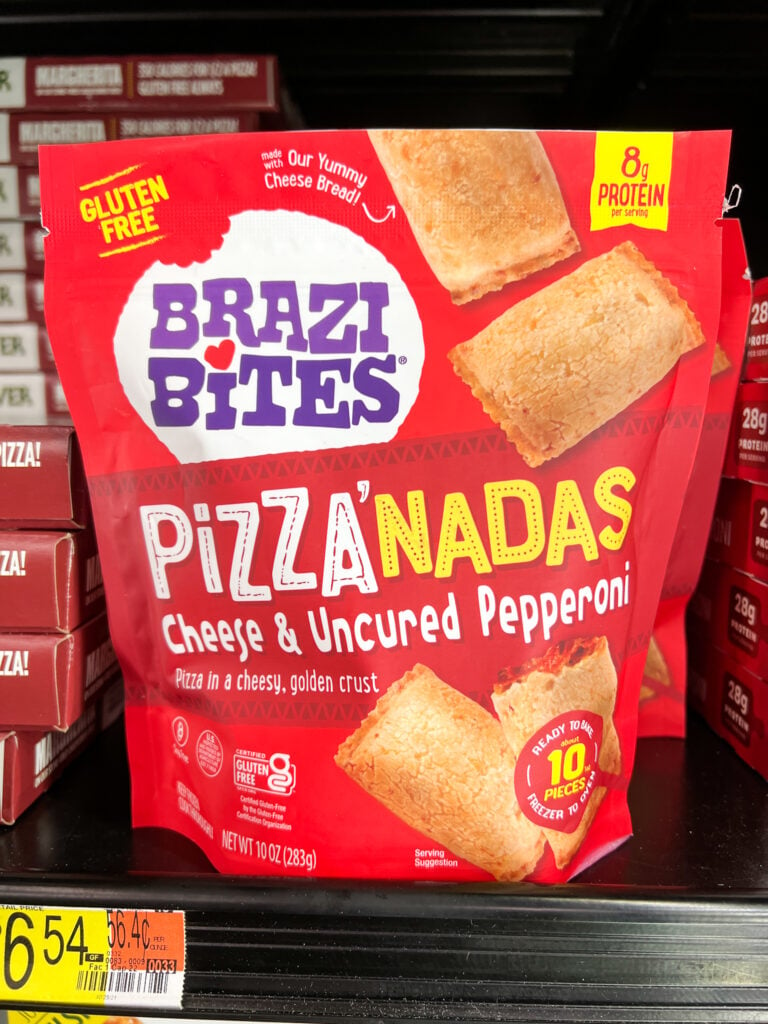 Aldi Pizza Snacks
I live in Colorado and unfortunately we don't have an Aldi grocery store near me; however, I read about Aldi's gluten-free Pizza Snacks and wanted to include them on my list for those of you lucky to live near an Aldi.
Aldi's gluten-free pizza rolls are called "Mama Cozzi's Pizza Kitchen Cauliflower Pizza Snacks", and, as implied the crust is made from a combination of cauliflower along with white and brown rice flours.
If you live near an Aldi, look for these pizza snacks in Three Cheese and Uncured Pepperoni varieties. They cost $4.99 for a 11-ounce bag. (Photo from Aldi)
Craving Pizza Rolls?
As you can see, because Totino's forgot about the gluten-free community, there are several brands who have stepped up to make gluten-free pizza rolls instead. If you're gluten challenged, you'll be thrilled to know you can still enjoy this childhood favorite treat, sans gluten, of course!
Want to make your own pizza rolls? I made my own gluten-free hot pockets from scratch using my homemade gluten-free puff pastry recipe. If you're up for the challenge, you could also use my puff pastry recipe (or store-bought gluten-free puff pastry) to make small-sized pizza rolls.
Whether you buy or make your own gluten-free pizza rolls, I hope they bring a smile to your face. Enjoy!