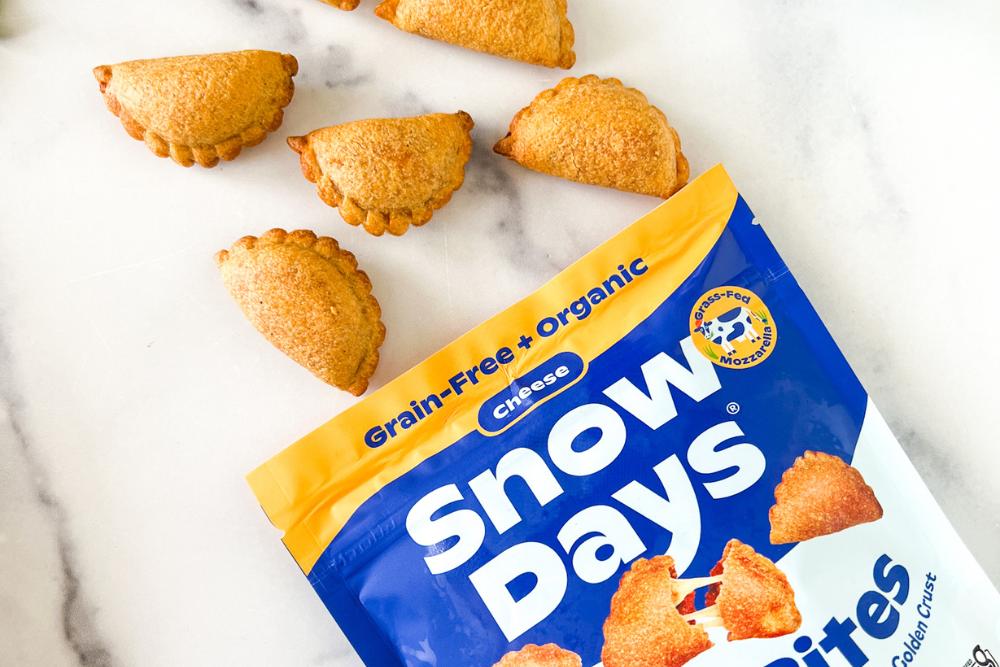 Get ready to try a grown-up version of one of your favorite snack foods with Snow Days gluten-free pizza bites. In this post, I review Snow Days and share more about what you can expect from this gluten-free frozen snack. This post is sponsored by Snow Days but all opinions are mine. Please see my disclosures.
When I spotted Snow Days pizza bites at the grocery store, I had nostalgic visions of coming home from school and microwaving Totino's pizza rolls as my after-school snack. The scalding hot filling would painfully burn the roof of my mouth and the tip of my tongue, but I didn't care. I noshed on these bad boys while watching Charles in Charge or Double Dare on Nickelodeon.
Years ago when I was first diagnosed with celiac disease and while desperately perusing the frozen food aisle, I wondered if I'd ever enjoy a pizza roll again.
Totino's pizza rolls are not gluten free, and even if somehow they were magically gluten free, the responsible parent and rational adult in me could no longer turn a blind eye to the unsavory and overly processed ingredients. Alas, pizza rolls would remain a distant craving.
Below I will share my experience with Snow Days, but before I do, I have to tell you a story. My growing and hungry daughter helped herself to these cute calzone-shaped pizza bites after school one day. She spotted them in the freezer, put them in our air fryer, and she was looking quite satisfied as she ate each pizza bite with glee while scrolling through her phone.
My daughter had never experienced the love of a pizza roll in our family's dedicated gluten-free kitchen, but today, she got a taste of my childhood, only a cleaner, more mature, and better-for-you version of it.
What Are Snow Days Pizza Bites?
Snow Days pizza bites are a more beautiful and cleaner version of the pizza rolls you grew up with. They're shaped like mini-calzones and come with a flaky crust and gooey center that contains a generous pizza filling.
The crust is made from cassava flour, a grain-free starchy root vegetable. And all Snow Days varieties – including cheese, veggie white, buffalo chicken, and sausage, are certified gluten-free by the GFCO.
While Snow Days isn't a low-calorie "health" food, it contains a short, clean, impressive ingredient list of organic, recognizable, and pronounceable ingredients. Snow Days pizza bites are also teeming with real vegetables including sweet potatoes, carrots, spinach, and apples (fruit).
Snow Days pizza bites also contain sustainably-sourced and grass-fed mozzarella cheese, as well as cassava flour and starch, eggs, butter, and nutritional yeast.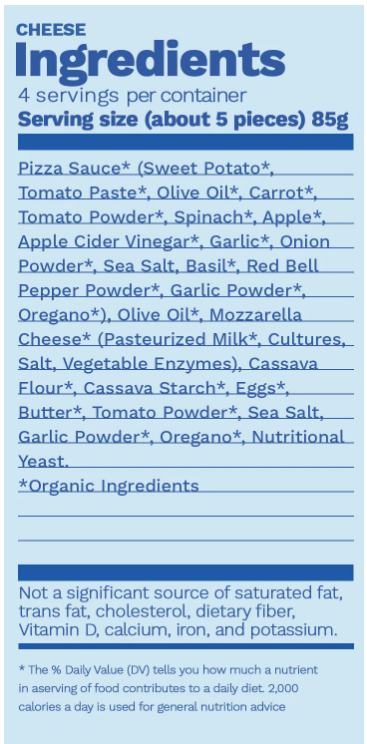 In stark contrast, Totino's pizza rolls are muddled with unpronounceable ingredients, and of course, tons of gluten, preservatives, and chemicals with no vegetable in sight unless you count tomato paste. They also contain imitation mozzarella cheese made from palm oil, rennet casein, modified potato starch, and vegetable oil. A pizza roll without real cheese feels like a peanut butter and jelly sandwich without peanut butter or jelly!
How Do They Taste?
I found Snow Days pizza bites to be extremely satisfying. The crust is chewy and has a wonderful flaky yet firm texture despite not containing any gluten or grains. The crust is substantial enough to contain the generous filling without exploding when heated.
The flavorful sauce, while good, overpowers much of the cheese inside. I wish there was more cheese! And unlike the image on the packaging, I didn't find the cheese to stretch when I tore open one of the piping hot pizza bites.
The company recommends you cook the pizza bites in the oven, toaster oven, or air fryer.
Air Fryer: I cooked them for the recommended 5 minutes at 400º F. I think they needed more time because the center, while warm, was not hot and gooey.
Oven: I think cooking the pizza bites in the oven is the best method, as they were sizzling and piping hot in 8 minutes at 425º F. The filling didn't leak out and the crust maintained its shape. The crust is was flaky and chewy, and the filling was hot and gooey.
Microwave: Snow Days does not recommend cooking the pizza bites in the microwave, but I zapped one for about 30 seconds to see how it fared. A little bit of the sauce seeped out of the creases. Overall, I thought the pizza bite tasted good out of the microwave and the crust was at its chewiest this way. The microwaved version of Snow Days is how I remember pizza rolls tasting in the 80s.
The Drawbacks
While the taste, texture, and clean ingredient list can't be beat, I'm mindful of the fact that Snow Days pizza bites come with a hefty price tag.
One 6-ounce bag of Snow Days pizza bites, which contains about 10 bites, costs $8.99 at Sprouts in Denver (although they were on sale for $7.99 when I bought them). One 24.9 ounce bag of Totino's, which contains 50 pizza rolls, costs only $5.49.
If you can't find Snow Days in your local Sprouts, you can order 2 12-ounce bags online for $39.99 or 4 12-ounce bags for $69.99. Note that the bags in Sprouts are half the size of the online product.
Unfortunately, it costs more to eat well and using real, unprocessed fruits, vegetables, and cheese adds up. One day, the world will realize the true "cost" of eating highly-processed fake foods, but in the meantime, those of us who know better can do better thanks to brands like Snow Days.
One such person is Scarlett Johansson, yes, THE Black Widow herself. Johansson is the creative director for Snow Days and an investor in the brand's parent company, HumanCo.
Johansson said in a press release, "I am so excited to partner with HumanCo and Snow Days to help bring this evolutionary comfort food to the table. HumanCo's commitment to wholesome deliciousness is one that I am proud to get behind and reflects my own interest in comprehensive well-being."
Maybe the clean comfort food revolution is in the not-too-distant future after all.
To find a list of gluten-free pizza roll alternatives, read my article, Guide to Gluten-Free Pizza Rolls.