Who says breakfast has to be boring? These vegan + gluten-free banana walnut muffins are the bomb. Moist, soft, and have that gluten-y texture you crave without the gluten, of course. This post is sponsored by Bob's Red Mill and contains affiliate links. Please see my disclosures.
I don't know about you, but sometimes I get in a breakfast rut, and I can't get out of it.
Don't get me wrong, I love breakfast foods. Eggs are a staple in my house, as are protein pancakes, but sometimes you want something new and different.
This leads me to the creation of today's recipe for gluten-free banana walnut muffins infused with plant protein. Sounds pretty yummy, right?
Bob's Red Mill sent me all sorts of lovely products to use in this recipe, including my favorite 1:1 gluten-free flour blend, pantry-staple gluten-free rolled oats, and its vanilla protein powder nutritional booster.
I knew these ingredients would be perfect for making a new breakfast muffin recipe, and since I had a bunch of overripe bananas sitting on my counter, the Universe was telling me to turn those bananas into a yummy new breakfast recipe… and I listened.
Ingredients Matter
I carefully selected each ingredient for this recipe because, when you eat gluten-free, every ingredient matters. Here's the scoop on each essential ingredient:
The Flour: I used Bob's Red Mill 1:1 Gluten-Free Flour Blend, which works as a perfect cup-for-cup swap with wheat flour in my gluten-free recipes. The 1:1 blend never lets me down.
The Oats: Bob's Red Mill also makes gluten-free oats that I know and trust. The company has a separate, 100 percent gluten-free facility used for producing its gluten-free products.
It also batch tests each product in its quality control lab using an ELISA Gluten Assay test. Learn more about gluten-free oats in this article.
Remember, only use gluten-free labeled oats when cooking or baking gluten-free foods. Here's why.
The Protein Powder: I'm not usually one to use protein powder, but I decided to give Bob's Red Mill's vanilla protein powder a go in this recipe. The nutritional booster is made with chia seeds and probiotics and is sweetened with monk fruit. Please note that the vanilla protein powder contains some sugar (as well as some cornstarch), so the recipe is not refined sugar-free.
Also, if you don't want to use the protein powder, simply omit this ingredient from the recipe.
The Bananas: Make sure the bananas you use in the breakfast muffin recipe are extra ripe. The riper they are, the sweeter they'll be. You'll need about three bananas for this recipe. If the bananas are small, add a fourth to the mix. You'll want to have about one and a half cups of mashed banana in your final recipe.
The Sweetener: This recipe is primarily sweetened with bananas, monk fruit (inside the protein powder), and a little maple syrup. You could also use honey and agave instead of maple syrup if you like.
Apple Cider Vinegar: Do not skip the apple cider vinegar as it reacts with the baking soda to give you a fluffier breakfast muffin result. I used the ACV + baking soda combo as an egg replacement. The two ingredients work to leaven the muffins, all while keeping the recipe vegan. You will not taste the ACV in the end product. 
How to Make 'Em
You'll love how easy it is to make these protein-rich vegan + gluten-free banana walnut muffins.
The first step is to round up all your ingredients. I can't tell you how many times I start to bake something only to realize I'm out of cinnamon, sugar, or whatever ingredient. Grr.
Next, you'll whisk together your gluten-free flour, one-half cup of oats, vanilla protein powder, salt, baking soda, baking powder, and cinnamon in a small bowl. Be sure to reserve one tablespoon of oats for sprinkling on top of the muffins.
In another bowl, you'll mash the ripe bananas with a fork, then add in melted coconut oil, maple syrup, apple cider vinegar, and pure vanilla extract. Mix until well combined.
You'll then want to combine the dry and wet ingredients as well as add the walnuts to the mix. Your batter will look like this:
Finally, you'll want to spoon the batter into your prepared 12-cavity muffin tin pan. You'll have enough batter to fill each cavity generously.
Before putting the muffins into the oven to bake, sprinkle the remaining one tablespoon of oats over the tops of each muffin, then put the muffins in the oven to bake for 23-25 minutes.
Oh my, look how beautiful and scrumptious these breakfast muffins look! Drooling yet?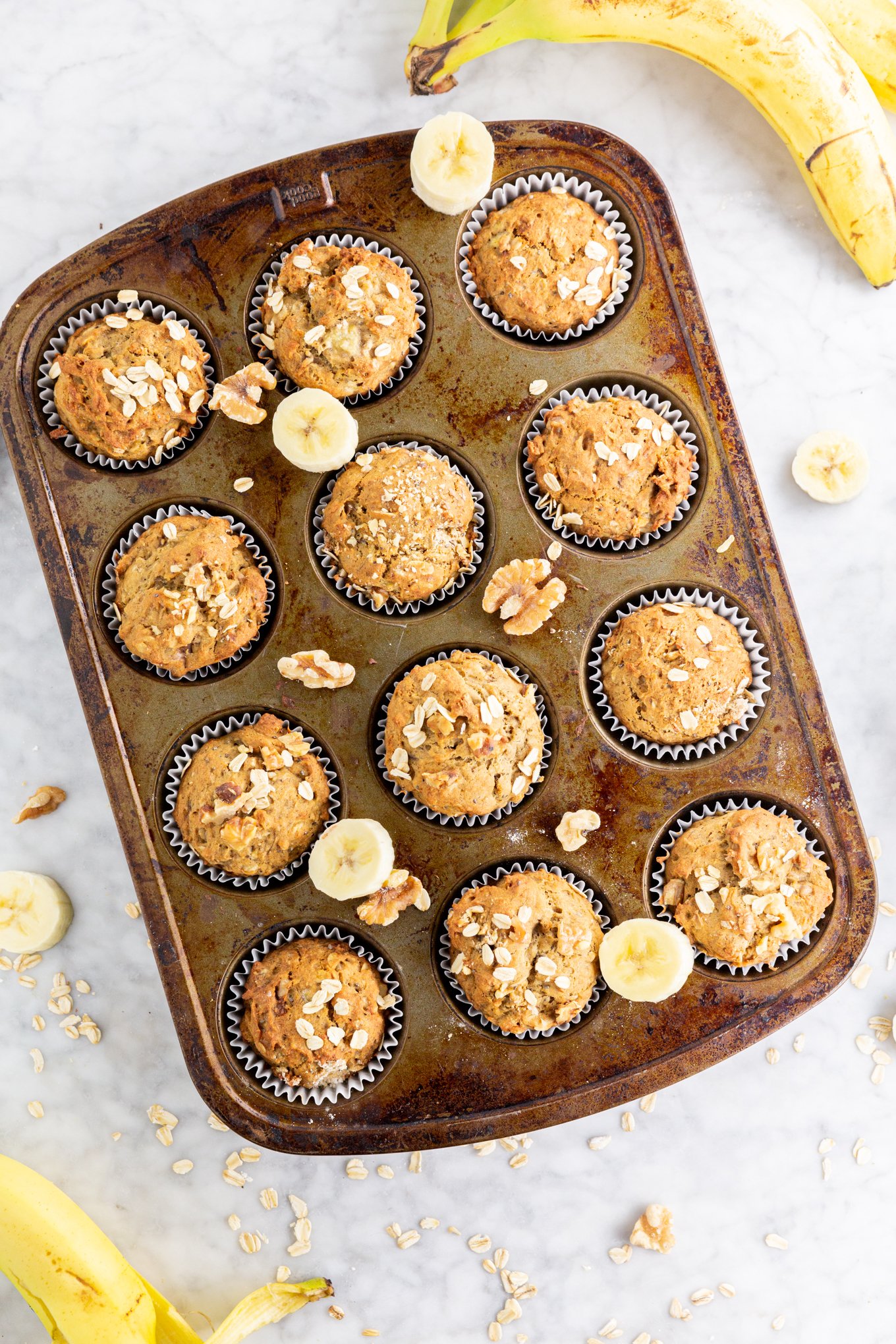 I like to eat one right out of the oven because that is when all baked goods taste best, and this muffin is no different. Then, of course, I set one aside to eat for breakfast the next morning. As for the rest of them, in the freezer they go, so I can savor them all week long!
The Taste Test
You might be wondering how these gluten-free banana walnut muffins taste, and let me tell you, they are perfect. Truly perfect.
They're soft and spongy, slightly sweet, and very banana-y. I love all the flavors and how they work together perfectly!
You can enjoy these muffins plain or with a pat of vegan butter for an extra buttery flavor experience.
These muffins pack a nutritional punch with plenty of plant-based protein, healthy fats, and fiber. And they provide just the touch of sweetness I need to start off my day right.
Bob's Red Mill makes living gluten-free a whole lot easier and ensures we don't have to miss out on yummy foods like delicious gluten-free banana walnut muffins.
Breakfast Anyone?
Looking for more breakfast ideas? Try these delicious gluten-free breakfasts made with Bob's Red Mill products:
No-Fail Gluten-Free Pancakes: These pancakes turn out fluffy and airy every time. Get my secret recipe and techniques in this article.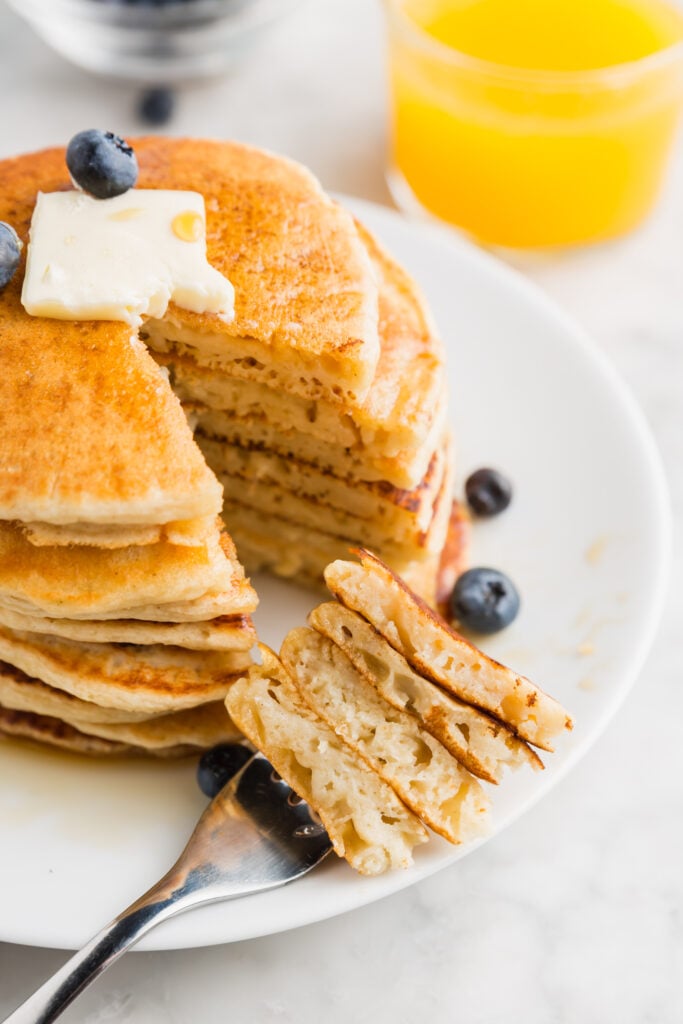 Peanut Butter Oat Bars: This recipe makes the perfect protein-rich snack or breakfast on the go.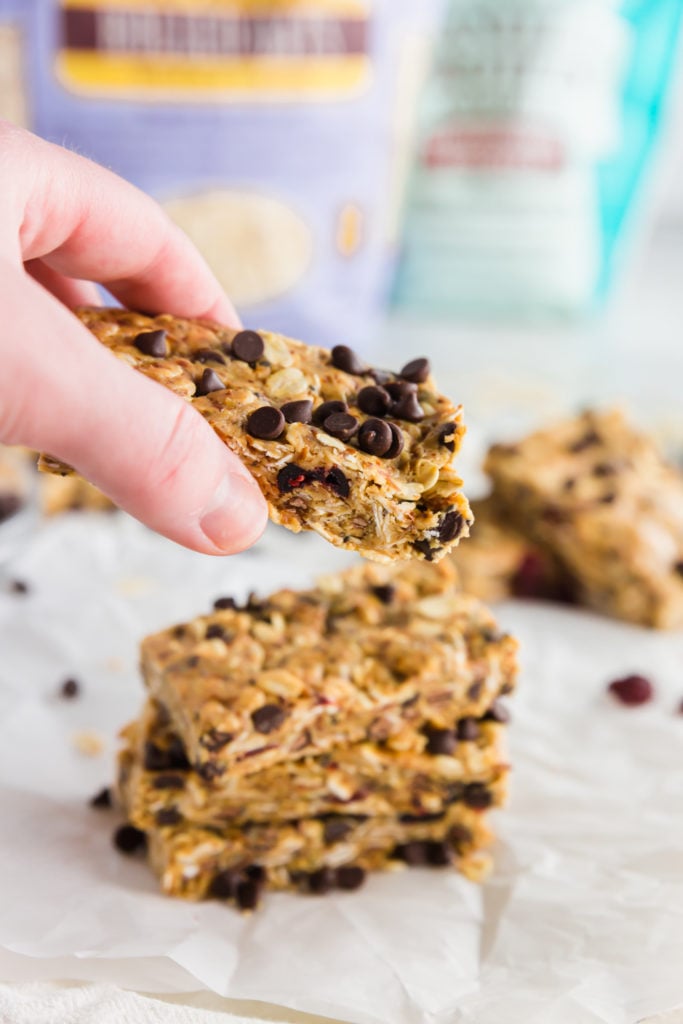 Protein-Packed Banana Walnut Muffins (Gluten-Free)
These gluten-free banana walnuts are moist and tender and packed with all sorts of deliciousness. The muffins get their sweetness from the maple syrup, bananas and vanilla protein powder. Each muffin is less than 200 calories – sweet!
Print
Pin
Rate
Ingredients
1 1/2

cups

Bob's Red Mill Gluten-Free 1-to-1 Baking Flour Blend

1/2

cup

+ 1 tablespoon Bob's Red Mill Gluten-Free Gluten-Free Oats

divided

1/3

cup

Bob's Red Mill Vanilla Protein Powder Nutritional Booster

optional, omit if you don't want to add

1

tsp

salt

1

tsp

baking soda

1

tsp

baking powder

1

tsp

cinnamon

3-4

very ripe bananas

1 1/2 cups of mashed banana

1/4

cup

melted coconut oil or vegetable oil

1/3

cup

pure maple syrup

1

Tbsp

apple cider vinegar

1

tsp

pure vanilla extract

1/2

cup

chopped walnuts
Instructions
Preheat oven to 350º F. Grease a muffin tin with cooking spray or line with cupcake liners. Set aside.

In a large bowl, combine gluten-free flour, ½ cup of the oats, vanilla protein powder, salt, baking soda, baking powder, and cinnamon and whisk to combine.

In another bowl, mash bananas with a fork. Then add in melted coconut oil, maple syrup, apple cider vinegar, and pure vanilla extract. Whisk to combine.

Add wet ingredients to the dry ingredients and stir to mix.

Stir in the chopped walnuts until combined.

Spoon muffin batter into the muffin tin wells to get 12 regular-sized muffins. Sprinkle remaining tablespoon of oats over the tops of the muffins.

Bake at 350º F for 23-25 minutes, until muffins are lightly browned on top and a toothpick inserted in the middle comes out clean.

Let cool for 5 minutes and then transfer to a wire rack to finish cooling.
Notes
The protein powder is optional for a nutritional boost. Omit the ingredient if you don't want to use it. The muffins will still come out delicious without it.
These muffins are lightly sweetened with maple syrup. They get extra sweetness from the mashed bananas and the vanilla protein powder. The overall sweetness level is very light, which is perfect for protein muffins.
Make sure your bananas are very ripe. The skin should have some brown spots on them. The more ripe your banana is, the sweeter it will taste.
It normally takes 3 large bananas to get 1 ½ cups of banana mash, but it may take 4 bananas, depending on the size of each banana.
These muffins are gluten-free, dairy-free, and vegan as written. If you are not vegan, you can use honey instead of maple syrup. Agave is also another option.
You can freeze these muffins for an easy grab-and-go breakfast or snack. Freeze the muffins in a single layer on a baking sheet for an hour. Then place them in a freezer-safe bag or container. Let sit at room temperature until it is completely thawed.
Apple cider vinegar is essential to this muffin recipe. It reacts with the baking soda resulting in a fluffier muffin. It is a great replacement for eggs in muffins, and you will not taste a difference in the end product.
Nutrition
Serving:
1
|
Calories:
198
kcal
|
Carbohydrates:
28
g
|
Protein:
5
g
|
Fat:
9
g
|
Saturated Fat:
4
g
|
Cholesterol:
6
mg
|
Sodium:
294
mg
|
Potassium:
205
mg
|
Fiber:
3
g
|
Sugar:
10
g
|
Vitamin A:
19
IU
|
Vitamin C:
3
mg
|
Calcium:
59
mg
|
Iron:
1
mg