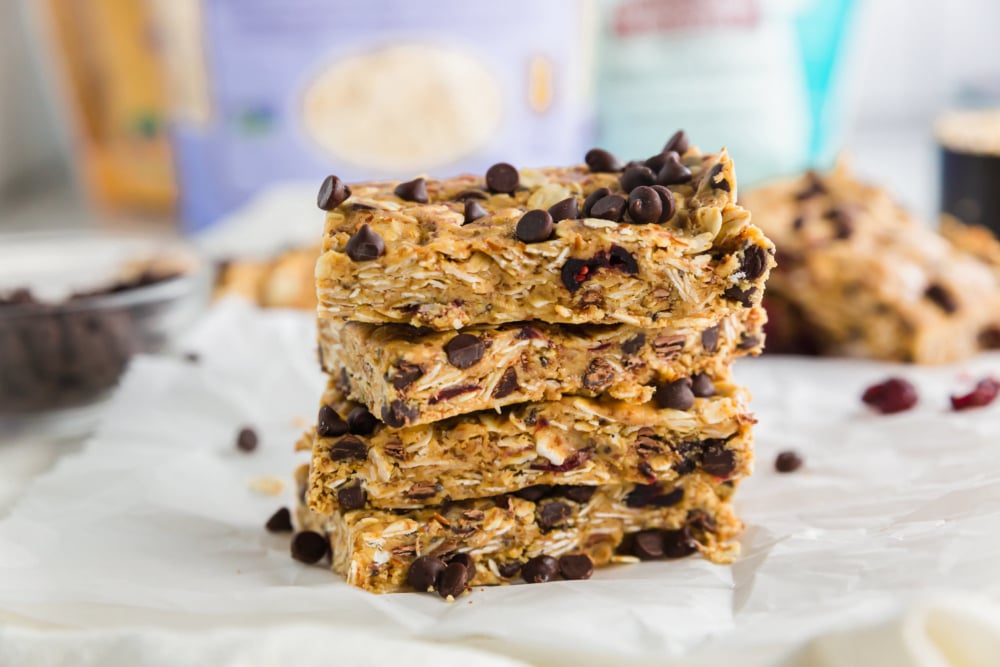 This recipe for gluten-free peanut butter oat bars is sponsored by Bob's Red Mill and contains affiliate links. Please read my disclosures.
I'm a grazer. I admit it.
When I'm hungry, I often find myself trolling my pantry and fridge for something to eat.
This is why I like to have these wonderful gluten-free peanut butter oat bars on hand. They are a perfect snack for grazers like me, and who doesn't love a homemade snack made with clean, wholesome ingredients?
These delicious and nutritious gluten-free peanut butter oat bars give me sustained energy thanks to the protein-rich peanut butter and the scoop of bonus protein powder.
I also love that they're slightly sweet. I have a wicked sweet tooth, and I'd rather reach for one of these gluten-free peanut butter oat bars than a cookie, which I've been prone to do when those sweet cravings overtake my senses.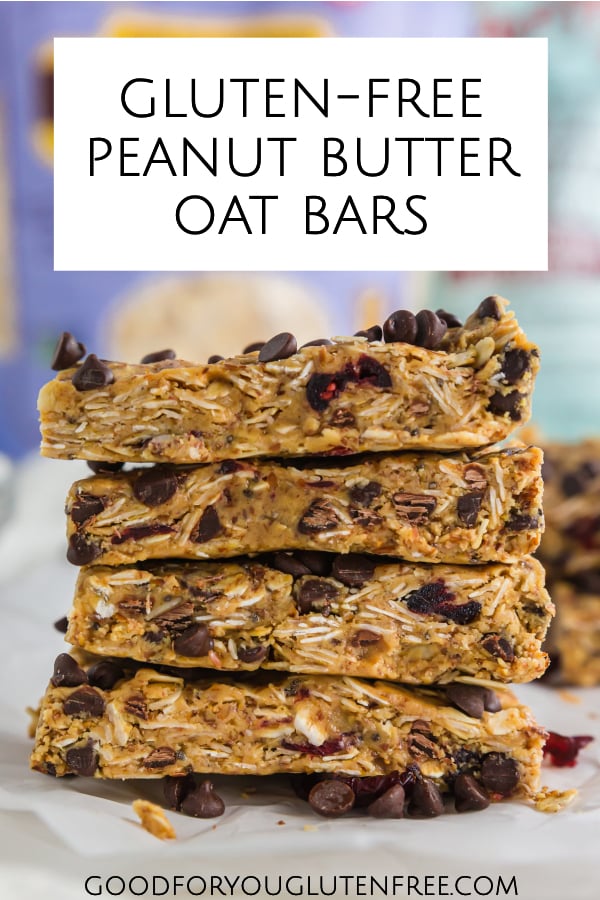 Ingredients Needed for Gluten-Free Peanut Butter Oat Bars
I love using safe, gluten-free, clean, and wholesome ingredients. That's why I often find myself reaching for Bob's Red Mill products. Bob's Red Mill creates products for a variety of specialty diets, making it easier to cook and bake gluten-free.
To make these gluten-free peanut butter oat bars, you'll need the following ingredients, many of which you can find from Bob's Red Mill:
Gluten-Free Rolled Oats: Bob's Red Mill makes safe gluten-free rolled oats for people who cannot eat gluten. I have written a lot about gluten-free oats on my blog, including this article, Are Oats Gluten-Free? Unpacking Confusing and Contradictory Information.
The bottom line answer is yes, Bob's gluten-free oats are really gluten-free, but if you need a further explanation of why and how, just read my article.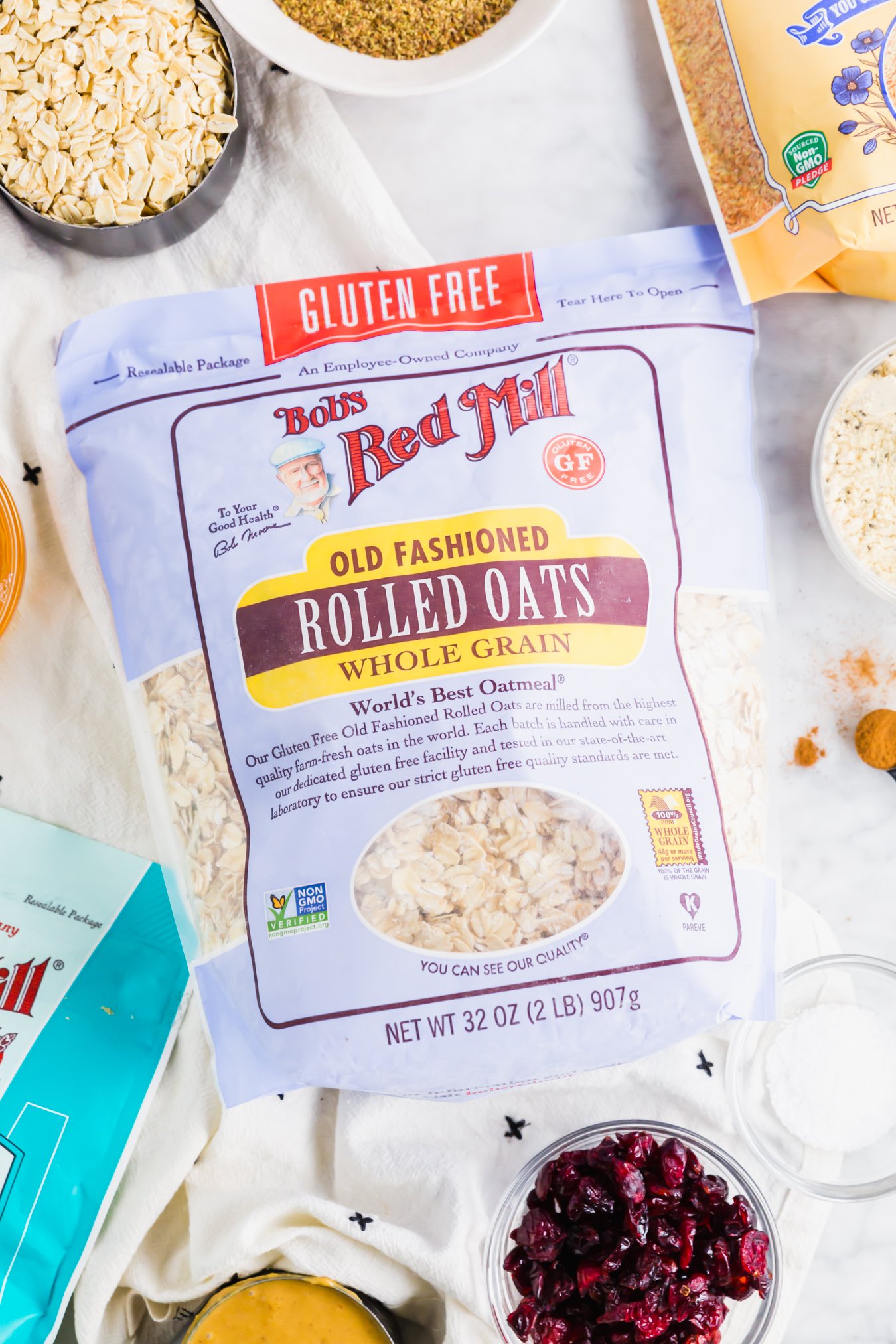 You probably know oats are good for you, but you may not know exactly why.
Oats offer up a good dose of soluble fiber, which is essential to lowering cholesterol, preventing heart disease, maintaining a healthy digestive system, and sustaining a healthy weight. People with celiac disease and gluten sensitivities should be sure to get plenty of fiber in their diet every day.
Related Reading: Why Fiber Matters… Especially When You're Gluten Free
Soluble fiber, in particular, soaks up cholesterol and sugar as it flows through your digestive tract. It's responsible for adding bulk and softness to your stools. This might be too much information. However, my loyal readers know the topic of poop comes up from time to time.
Bob's Red Mill Vanilla Chia Protein Powder: I am not one to use protein powder in many recipes, but I really like this particular protein powder, and it works well to add a jolt of energy-boosting protein to these delicious and gluten-free peanut butter oat bars.
The Bob's Red Mill protein blend is made from pea protein, chicory root, chia seeds, beneficial probiotics, and monk fruit extract, making it high in protein and a good source of omega-3 fatty acids, which are good fats known for their heart-healthy effects.
Ground Flaxseed Meal: Flaxseed meal has a mild, nutty flavor and adds fiber to these nutrition-packed bars. Flaxseed also contains omega-3 fatty acids. Bob's Red Mill makes a milled flaxseed meal that works perfectly in this recipe.
Dried Cranberries: Adding a little dried fruit to this recipe brings vibrant color and wonderful texture to the final product. If you don't have or like dried cranberries, add raisins or bite-sized dried fruit of choice. Look for dried fruit without added sugar.
Mini Chocolate Chips: Mini chocolate chips add a touch of chocolate goodness to this recipe, and I love the texture they add too. If you want to make this recipe dairy-free, simply use dairy-free chocolate chips.
Peanut Butter: Choose smooth and creamy natural peanut butter to make these bars. The peanut butter helps the bars take their shape and adds a boost of plant-based protein at the same time. Use any nut butter of your choice if you don't like, or can't eat, peanuts.
Honey: I like to use raw honey, but any honey will do (or agave works well if you prefer it). Honey not only adds sweetness but also helps to hold the bars together.
Cinnamon: Cinnamon is a superfood with antioxidant and anti-inflammatory properties. Plus, it doesn't hurt that it tastes and smells wonderful.
Kosher salt: Just a touch of kosher salt is all that's needed to complete this wonderful recipe.
How To Make It
To make this recipe, add all the ingredients into a big bowl and mix together.
I personally like to first add oats, flax, protein powder, cinnamon, and kosher salt. Give the ingredients a swirl.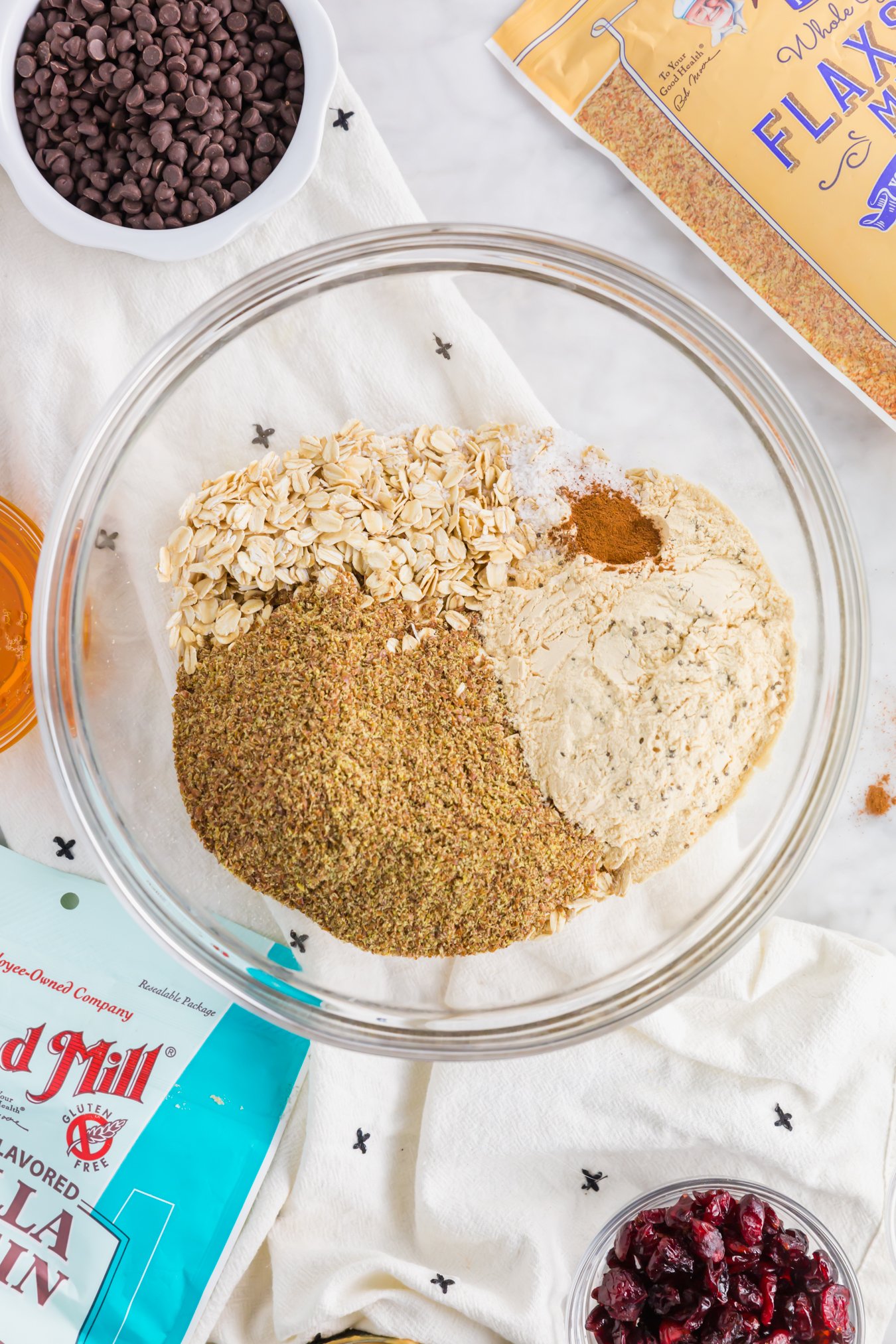 Then, I add in the chocolate chips and dried cranberries and give it another mix.
Once the dry ingredients are well combined, add the peanut butter and honey and mix them together well. The mixture will be sticky, so I suggest using gloves and really getting in there to scrunch the mixture together.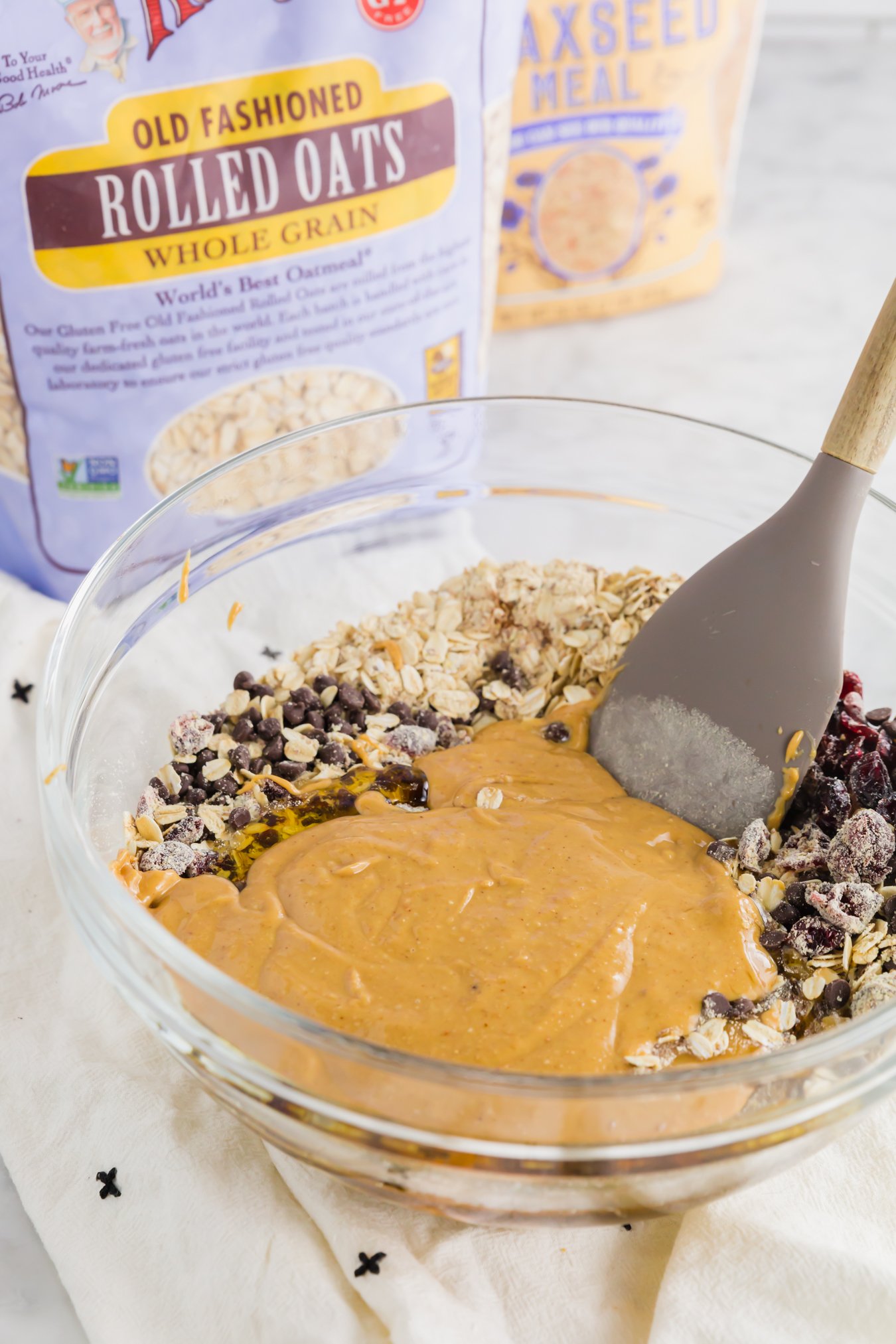 If the mixture is too dry, add a touch more peanut butter and/or honey. If it's too sticky, add a few more rolled oats.
Once the mixture is well combined and holds together well, press it into a parchment-covered baking dish to form an even and thin layer of the mixture.
Sprinkle a few extra chocolate chips on top, just because you can. I gently press the loose chocolate chips into the mixture so they stick.
Then, put the baking dish into your fridge to allow it to set for at least one hour or overnight.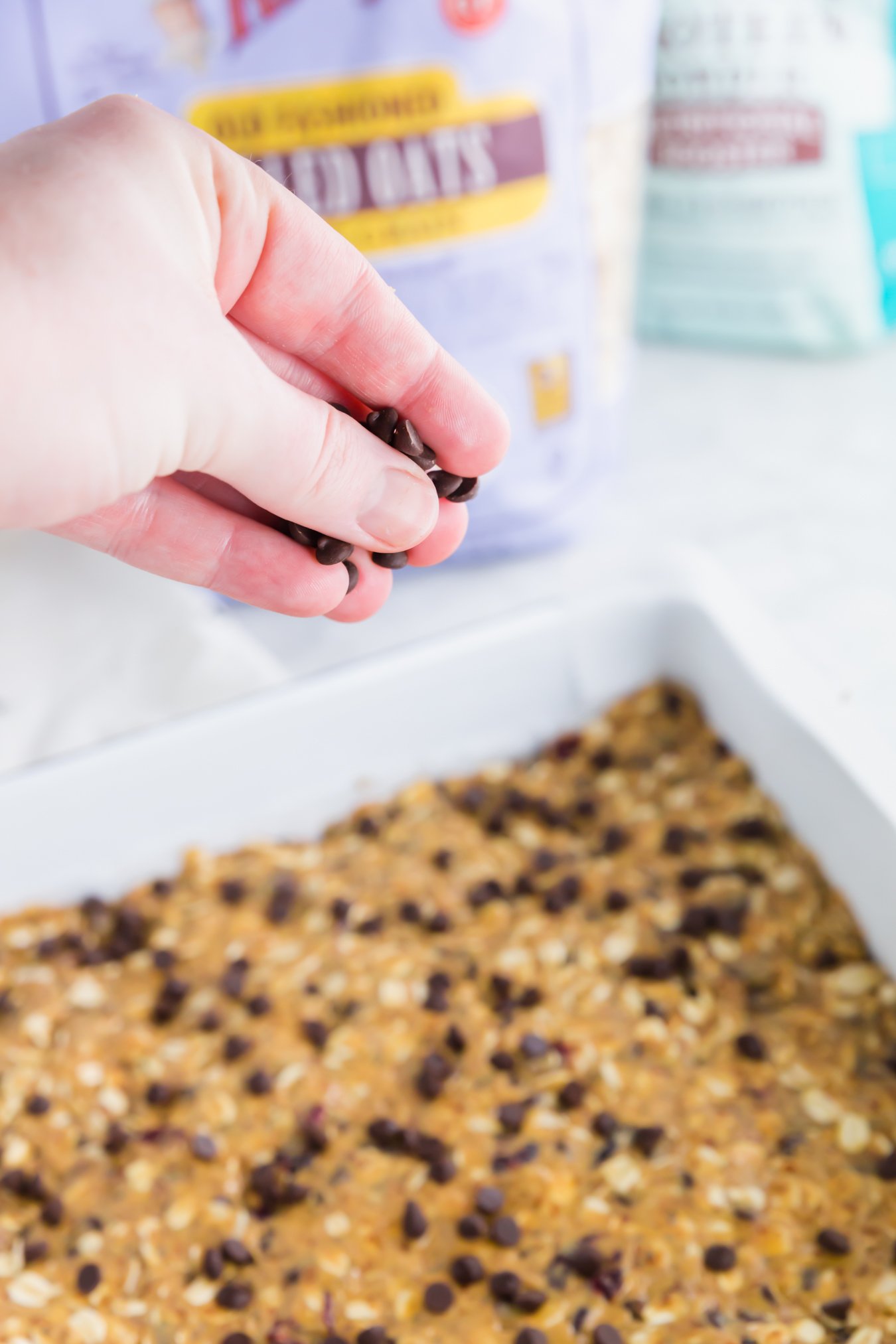 Once the mixture is set in place, slice it into bars so they're ready to enjoy when those snack cravings attack.
The Taste Test
This recipe is bursting with flavor, tantalizing your tastebuds with all sorts of wonder flavors and textures. Just look at all the goodies packed inside these beautiful bars!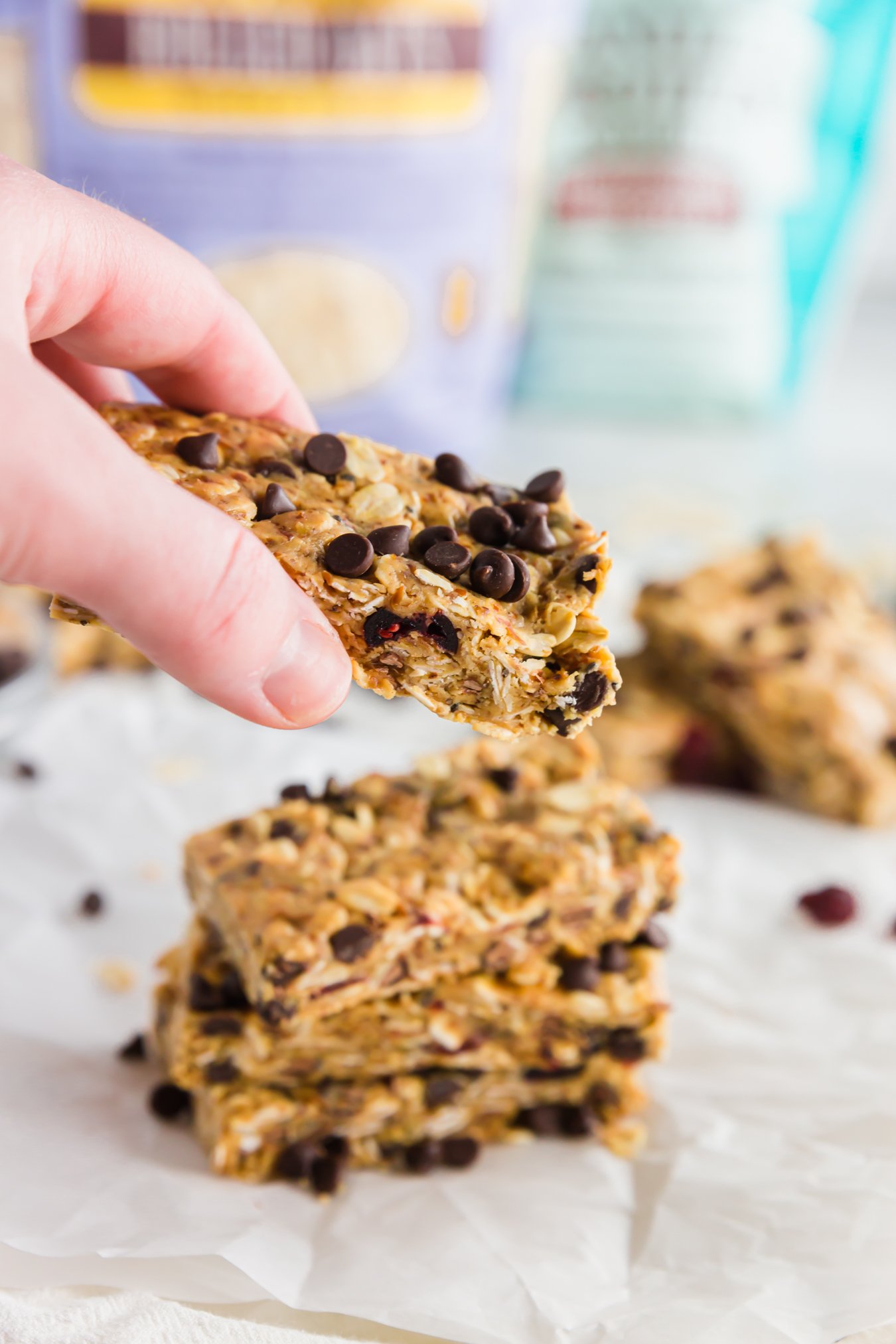 As you bite into each bar, you'll first taste the creamy peanut butter and sweet honey, but within seconds you'll taste the oats, cranberries, and chocolate chips coming alive. Every ingredient comes together to make one rich, energy-boosting snack that all ages will enjoy.
I personally like to eat these gluten-free peanut butter oat bars before a workout. It gives me an energy boost that sustains me throughout the entire workout.
My kids enjoy these bars as a filling and portable breakfast or after-school snack. It's truly a versatile treat for everyone.
To learn more about the Bob's Red Mill ingredients needed to make this recipe, visit Bob's Red Mill online or shop for the ingredients on Amazon or at your local grocery store.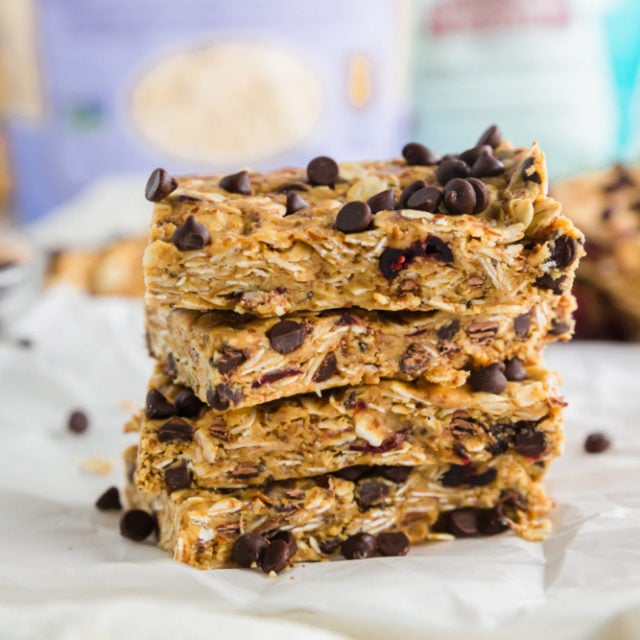 Gluten-Free Peanut Butter Oat Bars
These gluten-free peanut butter oat bars make the perfect slightly-sweet snack because they're filling, delicious, and nutritious. They're loaded with fiber, healthy fats, protein, and a touch of sweetness to ensure they please even the most picky of palates.
Print
Pin
Rate
Ingredients
1 1/2

cups

Bob's Red Mill Gluten-Free Rolled Oats

1/4

cup

Bob's Red Mill Vanilla Chia Protein Powder

1/2

cup

Bob's Red Mill Ground Flaxseed Meal

1/2

cup

dried cranberries

1/2

cup

+ 1 Tbsp mini chocolate chips

divided

1/4

tsp

ground cinnamon

1/4

tsp

kosher salt

1

cup

natural peanut butter

1/2

cup

honey
Instructions
Cover an 8×8 inch baking dish with parchment paper. Set aside.

In a large bowl, stir together oats, protein powder, flaxseed meal, dried cranberries, ½ cup of the mini chocolate chips, ground cinnamon and kosher salt.

Add peanut butter and honey to mixture. Stir well until combined. The mixture will be dry at first but will come together within a few minutes. If need be, add additional peanut butter to give the mixture additional moisture.

Scoop the peanut butter oat mixture into the prepared baking dish. Using your hands, press the mixture into a flat layer.

Sprinkle remaining tablespoon of mini chocolate chips over the top and slightly press them into the mixture so they stick.

Chill mixture in the refrigerator to allow it to set for at least an hour before slicing into bars. Keep bars refrigerated until enjoyed.
Notes
You can use almond butter or other nut butter instead of peanut butter.
Depending on what kind of peanut butter you use, you may need to add more or less oats to this recipe. The mixture should be thick and dry when first mixed. It will come together within a few minutes of mixing. If you are still having trouble getting the mixture to come together, add more peanut butter or honey to slightly thin it out. If the mixture is too loose, you can add a few more oats.
To make this recipe vegan, use a vegan protein powder and use agave instead of honey. You could also use maple syrup although it isn't as sticky as honey so you will need to chill the mixture longer before cutting into bars.
Parchment paper makes for easy, non-stick clean up. Make sure the parchment paper overhangs on the baking dish so you can easily pull the bars out of the dish and slice on a cutting board.
Nutrition
Calories:
260
kcal
|
Carbohydrates:
28
g
|
Protein:
8
g
|
Fat:
15
g
|
Saturated Fat:
4
g
|
Cholesterol:
4
mg
|
Sodium:
126
mg
|
Potassium:
242
mg
|
Fiber:
4
g
|
Sugar:
17
g
|
Vitamin A:
4
IU
|
Vitamin C:
1
mg
|
Calcium:
40
mg
|
Iron:
2
mg
fs