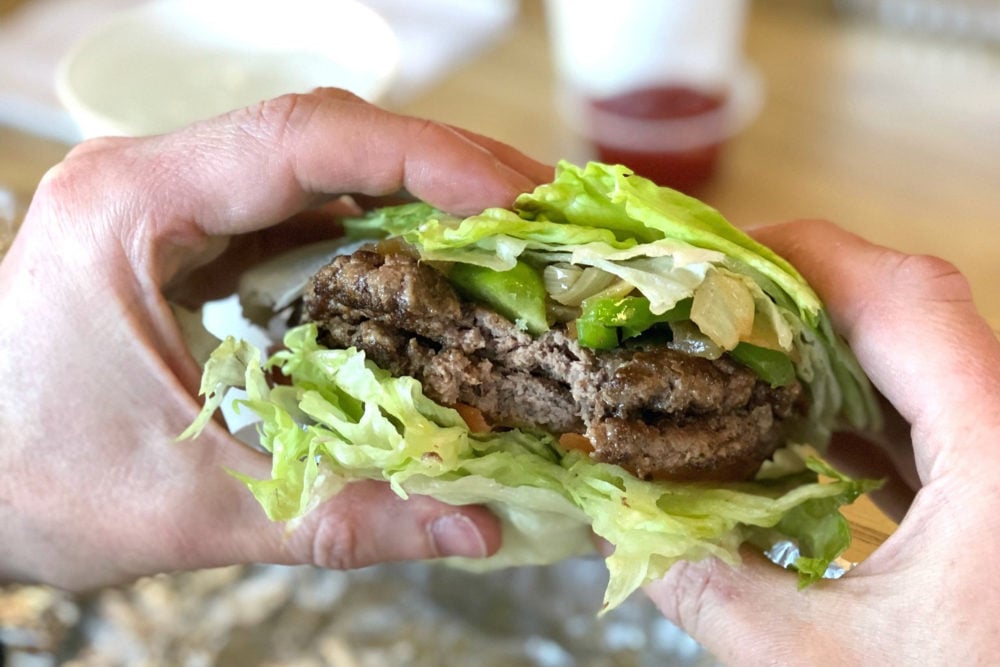 This article details what is – and isn't safe – to order off of Five Guys gluten-free menu. Also find out how Five Guys fared when put to the hidden gluten Nima Sensor test. This post contains affiliate links. Please see my disclosures.
While Five Guys doesn't have a gluten-free menu, per se, you can still easily eat gluten free at Five Guys with a little know-how and forthright communication with the staff.
In this article, I'll share what's gluten free at Five Guys and how to order off the Five Guys unofficial gluten-free menu. I'll also share the results of how Five Guys fared when put to the Nima Sensor hidden gluten test.
What's Gluten Free at Five Guys?
Most everything on the Five Guy's menu is gluten free with the exception of the buns, sandwiches and shakes. If you eat gluten free, you should also avoid the malt vinegar condiment and the fry sauce (fry sauce is only available in Utah).
Always check the restaurant's latest allergen menu and inquire inside the restaurant for the latest and most accurate information.
Overall, what you need to know about eating gluten free at Five Guys is this:
The Burgers Contain No Fillers: Five Guys burgers are made from 100 percent 80/20 USDA ground chuck with no fillers. That means there's no hidden gluten inside.
When ordering a burger, request for it to be lettuce wrapped or in a bowl with no bun.
No Freezers on the Premise: Something cool about Five Guys is there are no freezers on the premise. This means everything is delivered and prepared fresh daily in the restaurant – including the burgers. Fresh is best!
All Vegetable Toppings Are Gluten Free: All vegetable toppings are gluten free as well. Please note that the mushroom topping contains high-fructose corn syrup, but the onions, green peppers and tomatoes, for example, are all just fresh vegetables and are therefore naturally gluten free. You can ask for these items to be grilled fresh for you as well.
About the Fries: My favorite part about Five Guys are the delicious and crispy fries. Five Guys french fries are made from fresh-cut potatoes and cooked in 100 percent peanut oil. The only thing cooked in the fryers are fries so there is no risk for cross contamination to worry about – whew!
The server confirmed that the fries are hand-cut each morning using fresh potatoes. There's a sign hanging in the front of the store that announces where today's potatoes are from, too.
How to Order Gluten Free at Five Guys
If you're looking for a gluten-free burger and fries, I'm certain Five Guys will satisfy your craving. In fact, when my family craves burgers, we almost always find ourselves at Five Guys.
I typically visit the Five Guys in Greenwood Village, CO. When I place my order, I tell them I cannot eat gluten and request "allergy prep." I ask them to change gloves and clean surfaces. I know the staff are handling gluten (buns) so I would like them to use clean hands when preparing my order.
Every time I've placed my order at Five Guys, the staff has been friendly and knowledgeable. I always see the server communicate with the kitchen staff directly about creating a safe meal for me. I've even watched someone wash his hands before handling my burger. It's comforting and reassuring to see.
What to Order
My typical order is a regular hamburger, lettuce-wrapped, with grilled onions, peppers and jalapenos. You can choose as many toppings as you want for the same price. I sometimes add fresh tomatoes or pickles too.
You can also order a hot dog lettuce-wrapped, and the hot dogs are gluten free as well (without the bun).
Five Guys is very generous in its lettuce-wrapped items. There is plenty of lettuce to hold the burger in place and give you plenty of crunch. And lettuce is way healthier than any gluten-free hamburger bun, right?
The only issue is when your burger is lettuce wrapped, you wind up with a huge mess on your hands, literally.
I had burger juice dripping down my hands as I tried to elegantly eat the burger. (My son's experience wasn't so messy because the bun soaked up the juices from his burger.) Let's just say I went through plenty of napkins. Despite the mess, the burger was completely and utterly delicious! I now understand the hype.
When you order fries at Five Guys, you get a very generous portion too. I usually order a large fry to share with my family. I have no idea how many fries I consume on an average visit, but let's just say the large sized fry is more than enough for my entire family to have plenty of fries to go around and then some.
How Five Guys Fared Against the Nima Sensor
I own a portable device called the Nima Sensor that enables you to test your food for hidden gluten.
In 2020, the Nima Sensor changed ownership and temporarily went out of business. However, under new ownership, the company is back. You can read all about this debacle in this article. Bottom line, Nima is back in business!
I tested the burger and fries at Five Guys for hidden and gluten and everything came back a-okay. The Nima Sensor was all smiles. No gluten found, whew!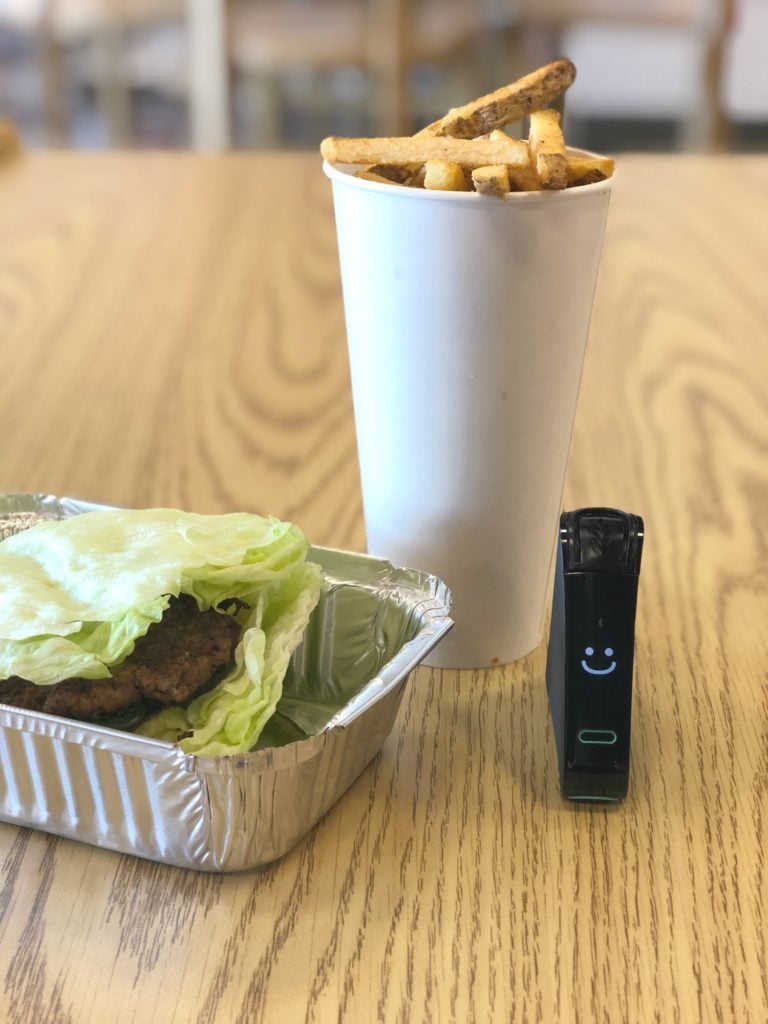 You can watch me test my food live in this video:
Final Thoughts
Finally, it's important to note that all items at Five Guys are cooked in 100 percent peanut oil, nothing else. This means, if you have a peanut allergy, you should steer clear of Five Guys. There are peanuts and peanut shells everywhere at this restaurant. (Five Guys offers peanuts as a snack while you wait for your order to arrive.)
Whatever Five Guys is doing, they sure are making a tasty burger worth my wholehearted gluten-free recommendation – enjoy!
More Restaurants to Try
I've visited many restaurants in my day – and I've tested them all for hidden gluten with my Nima Sensor.
Here are a few articles worth checking out:
You might also enjoy these articles about the Nima Sensor:
Please consider reading my ebook, The Ultimate Guide to Eating Out Gluten Free if eating out is a source of angst for you. I'll teach you how to do it as successfully as possible.
You can also get my book, Dear Gluten, It's Not Me, It's You, for more information about following a gluten-free lifestyle, including tons of information about eating out and traveling while gluten free.
I encourage you to invest in a gluten-detecting device. A few to research include Nima Sensor, ALLIS Sensor and The Allergy Amulet. Not all of these companies have gluten-detecting devices available at the time this article was last updated.
I also encourage you to visit my Eating Out Library to see how other restaurants fared when tested for hidden gluten.
Finally, you might enjoy this article, 5 Things I Wish Restaurants Knew About Gluten Free. I offer advice to restaurants on how they can step up their gluten-free game!