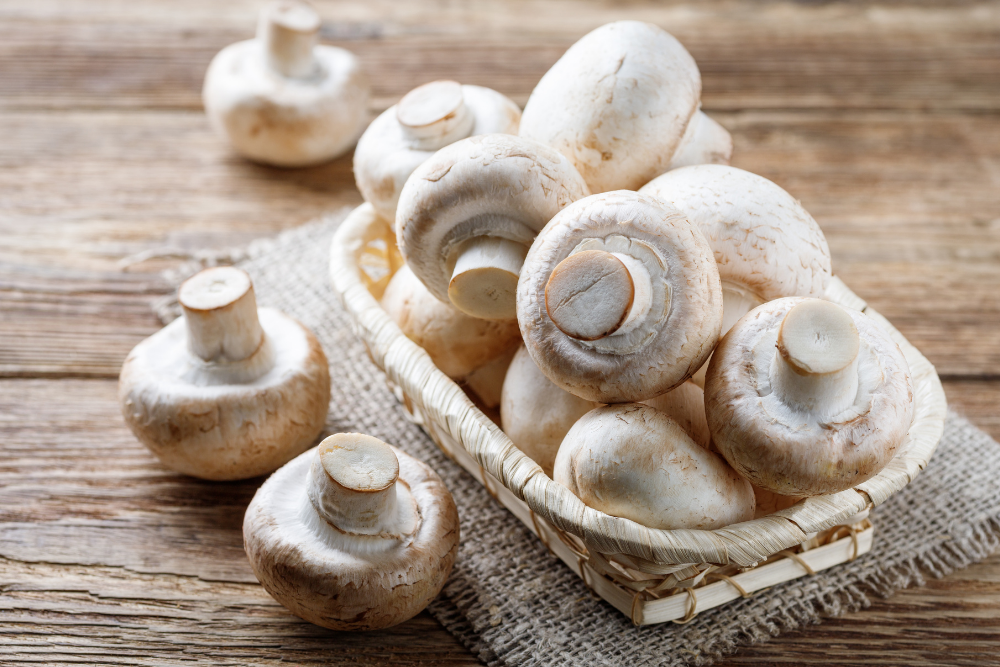 I'm often asked, Are mushrooms gluten-free? I used to respond, "Of course, they're gluten-free because they're a vegetable." However, I have since changed my tune and stance on mushrooms. Please read this article to understand why many people in the gluten-free community react to mushrooms and how you can protect yourself. This post may contain affiliate links. Please read my disclosures.
It seems like a no-brainer that mushrooms, in their plain state, should be naturally gluten-free. They're a vegetable, and most of us on the gluten-free diet know that all vegetables are gluten-free.
However, many people have told me they feel like they've been glutened after eating mushrooms, and I can personally attest to these feelings as well.
At first, I wrote it off as too much fiber, after all, vegetables contain plenty of fiber that can make you feel full and bloated.
But the other day, after enjoying a big bowl of sauteed mushrooms, I experienced terrible bloating during the following 24 hours, including a brief stint in the bathroom with mega cramps.
This reaction to the fungi vegetable made me take pause and further research if there might be something more to mushrooms than meets the eye.
How are Mushrooms Grown?
Understanding how mushrooms are grown might help explain why they're a controversial food in the celiac disease and gluten-disordered communities.
Mushroom spores are grown on compost, which varies from company to company. Most mushroom compost, however, is made from grains, typically rye and sometimes a combination of rye and wheat, among other compost ingredients like chicken manure, grape crushings from wineries, soybean meal, etc. (Source: Oregon State University)
This means some mushrooms come in contact with gluten during the growing process, leaving a high potential for gluten cross-contamination in the fully-grown mushroom, depending on the compost used by the grower. This might explain why some brands of mushrooms make you feel sick while you feel okay enjoying others.
Do Mushroom Contain Gluten?
You might be wondering if fungi grown on gluten-containing compost contain more than 20 parts per million of gluten, the FDA-set limit of gluten a person with celiac disease can safely consume without causing an autoimmune reaction. (Please note that how much gluten a person with celiac disease can safely consume is a hotly contested topic, and the FDA's ruling may not actually be safe enough.)
A washed mushroom likely contains well below the 20 ppm of gluten threshold, however, for those highly sensitive to gluten, trace amounts of gluten can cause a reaction, especially if someone eats a plateful of mushrooms.
It's possible a few mushrooms a day won't cause any reaction, while consuming a large number of mushrooms would, likely because trace amounts of gluten on every mushroom consumed adds up to more than a trace amount in the end!
Please note that washing – and even soaking – can help eliminate some gluten, but gluten is sticky, so water alone may not do the trick.
Should You Stop Eating Mushrooms?
The Mushroom Council says mushrooms are gluten-free and safe for people with celiac disease to eat. On top of that, they note that mushrooms offer many benefits, almost cautioning the gluten-free community against giving them up.
In fact, mushrooms offer a good source of B vitamins, which provide energy and help your body with digestion. Mushrooms are also an important source of selenium, an essential mineral that works as an antioxidant to deter oxidative stress and cell damage.
A doctor I admire, Dr. Joel Fuhrman, says that mushrooms have proven anti-cancer properties and can even promote good brain health. His work is the reason that I want to add mushrooms to my diet every day.
While every person must determine their own tolerance level, I believe it's important to note that mushrooms, in general, are considered safe for people on a gluten-free diet to consume. However, if your body reacts to mushrooms in an adverse way, then you should absolutely avoid or at least minimize your mushroom consumption.
Alternatively, you can contact individual mushroom growers to determine if their compost contains gluten. This may take a little work, but once you find a safe grower near you, you might feel more comfortable enjoying mushrooms again.
For me, I plan to continue to eat a small number of mushrooms on occasion to benefit from the anti-inflammatory and anti-cancer properties of this superfood. However, I will personally limit my mushroom consumption to avoid feeling like I've been glutened.
Additional Reading