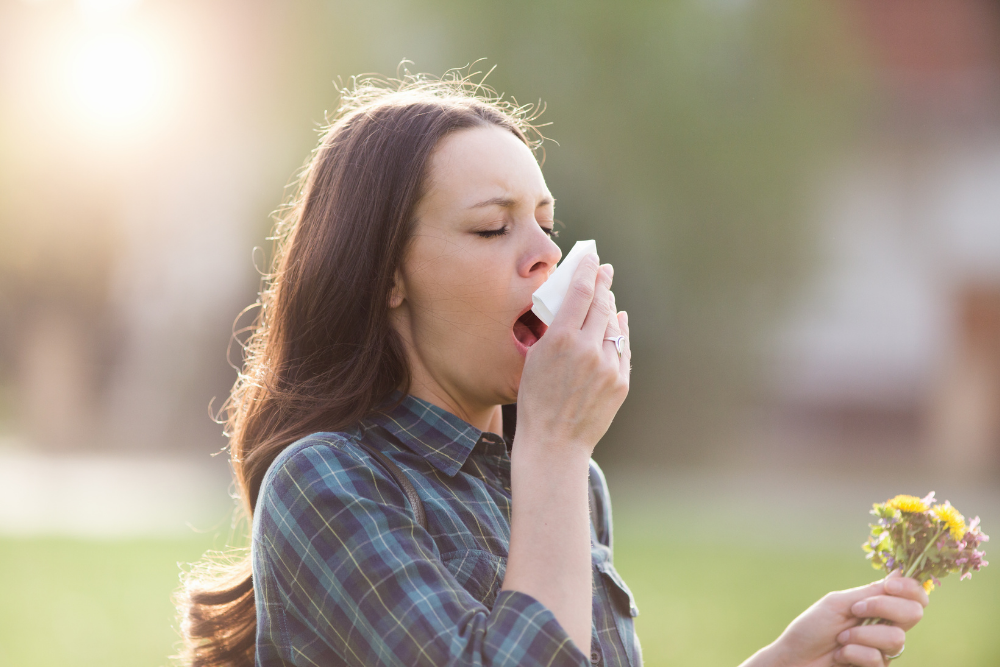 Curious if your Zyrtec is gluten free? I've got the full scoop on whether or not you can take this allergy medication. Be sure to scroll to the bottom of this article to learn about other products I've tested for hidden gluten. This post contains affiliate links. Please read my disclosures.
Seasonal allergies are the worst and you likely want instant relief when they hit. In fact, more than 50 million Americans suffer from seasonal allergies, and allergies are the sixth leading cause of chronic illness in the U.S. according to the Asthma and Allergy Foundation of America.
To relieve those symptoms, millions of Americans turn to over-the-counter allergy medications, including Zyrtec (cetirizine).
Unfortunately, there are not any mandatory allergen-labeling guidelines for medications, and it's often impossible to know if a medication contains gluten. There is a lot of noise about making allergen-labeling mandatory for the pharmaceutical industry, but for now, it's only a voluntary disclosure that few offer. (See the Gluten in Medicine Disclosure Act of 2019.)
When you inspect the Zyrtec ingredient list (see below), you'll be at a loss. Unfortunately, Zyrtec is not labeled gluten free. And what in the world is polyethylene glycol and is it gluten free? I have no clue, and I'm sure you have no clue what it is either.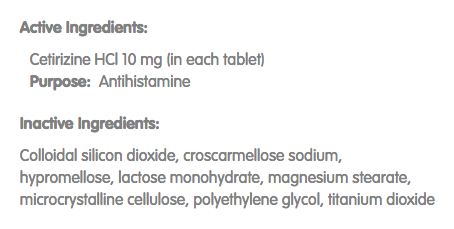 The label tells me nothing about how Zyrtec is manufactured and if the raw ingredients or the manufacturing processes might come in cross contact with gluten. I find it pretty strange that an allergy company doesn't even include allergen disclosures on its label.
I decided to email the manufacturer to see if they could shed some light on whether or not Zyrtec contains gluten. I sent them the following message:
I use Zyrtec and just wanted to know if your product is gluten free? I have celiac disease and use your products daily.

Can you also direct me to where this information (and other allergy ingredient information) might be online for others to reference quickly for Zyrtec and other medications you make? I figured as a company that provides allergy relief you might have this information available for people with food allergies too.

Thank you.

Concerned Customer,

Jenny
This is Johnson and Johnson's reply:
We appreciate your taking the time out of your day to contact us here at Johnson and Johnson Consumer Inc. regarding our Zyrtec® products.

We are glad to hear that you are a dedicated user of our products, Jenny! Although we don't add gluten or gluten containing grains to our products, we cannot confirm that the product or any ingredients in Zyrtec® products or other over the counter products are gluten free. Your safety is of great concern to us; therefore, we strongly recommend that you first consult your doctor before using any product if you have a form of gluten intolerance or sensitivity.

Wishing you well,

Mariah D.
Consumer Care Center
What Mariah is telling me is that Johnson and Johnson doesn't know if its own product contains gluten, and that I should ask my doctor what to do (as if my doctor knows if there's gluten in Zyrtec). Shouldn't Johnson and Johnson know? And why is it my doctor's job to know what ingredients are in Zyrtec?!?
Nima Sensor to the Rescue
I decided to take matters into my own hands and use the Nima Sensor, a portable gluten-detecting device, to get to the bottom of this mystery once and for all!
UPDATE: Please note that as of 2020, the fate of the Nima Sensor is unknown. The founders sold the company to Medline, and Medline has stopped selling the the device and has hinted that Nima Sensor may be out of business.
While the Nima Sensor is not validated for testing medications, as it's only validated for testing food, I decided to go rogue and give it a try.
I put a Zyrtec tablet inside the test capsule, added a little water, and waited about 2 minutes for the Nima Sensor to reveal its findings. A smiley face means it's gluten free, a wheat symbol and "gluten found" message means Nima found gluten.
Before I show you the results, I want to share few important disclaimers:
I'm not a doctor nor do I dispense medical advice.
Just because a test comes back positive doesn't mean all Zyrtec is gluten free; it simply means the piece I tested is free from gluten.
The Nima Sensor "is not validated" for testing on non-food products.
I used to collaborate with Nima Sensor before they went out of business.
The Bottom Line
While I don't have an "official" answer to whether or not Zyrtec is free from gluten, I can tell you that the Nima Sensor did not find any gluten in the portion I tested. Whew! As you can see below, Nima is all smiles.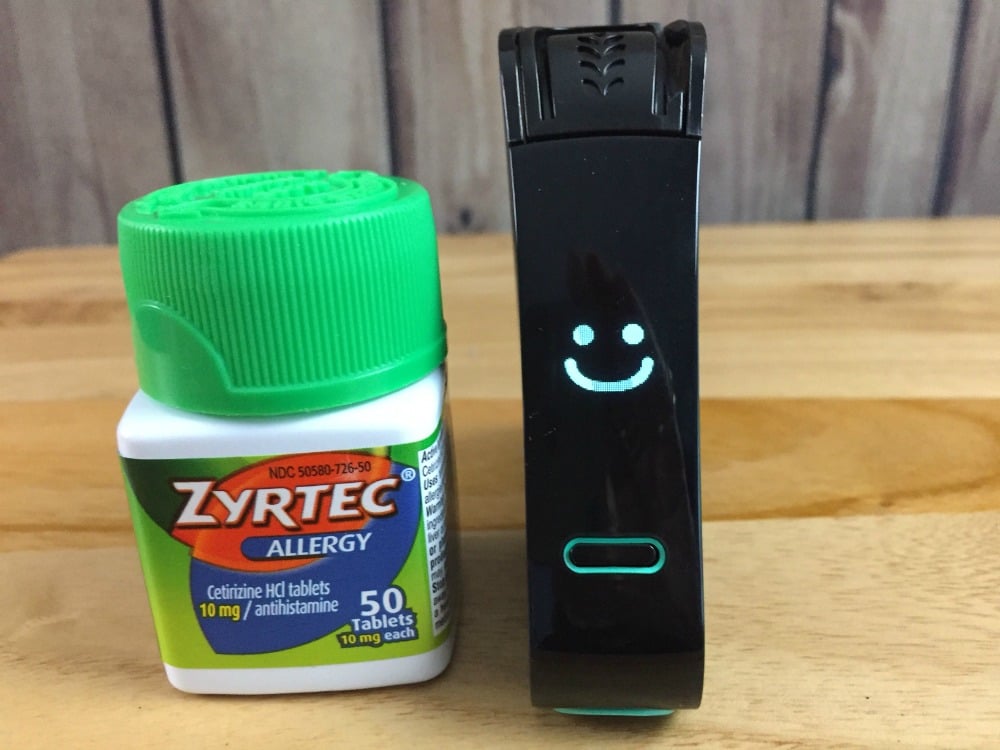 Additionally and as an antidote, I take Zyrtec everyday for seasonal and daily allergies and have no problem with it. Of course, I'm only one person and you may have a different reaction. Please discuss taking Zyrtec or any medication with your doctor.
I think this little Nima Sensor gadget may be smarter than all the people behind the scenes at Johnson and Johnson, a $65 billion dollar company. Zyrtec is one of the most popular and successful antihistamine medications yet, all the brainpower at J&J can't figure out if it contains gluten. This has got to change (and hopefully will one day when the Gluten in Medicine Disclosure Act of 2019 passes – fingers crossed).
Testing for Seasonal Allergies
Have you ever wondered what exactly is causing your seasonal allergies? I have always wondered what I'm allergic too, and now I know for sure what I'm allergic too after taking this excellent at-home indoor/outdoor seasonal allergy test.
The test revealed that I'm highly allergic to Kentucky bluegrass, rye grass, and Timothy grass (popular grasses in the U.S.), and I'm moderately allergic to cats.
Interested in testing yourself for indoor and outdoor allergens? Order a test by CLICKING HERE. Select the indoor/outdoor allergy test and be sure to enter the code GOODFORYOU10 for 10 percent off at checkout.
Also Tested for Hidden Gluten
Check out these blog posts that feature other products I've tested for hidden gluten using my Nima Sensor:
I've also tested dozens of restaurant dishes for hidden gluten. Please read my Eating Out library where you'll see how restaurants like the Cheesecake Factory and Panera fared against the Nima Sensor.
Learn more about the Nima Sensor in my article, 13 Things You Need to Know about the Nima Sensor.