This post contains 27 tried and true quinoa recipes to inspire you to cook more with this naturally gluten-free superfood. All recipes are gluten-free; however, not all bloggers included in this roundup exclusively make gluten-free recipes. Please do your due diligence before making any recipe to ensure all ingredients are safe.
Quinoa (pronounced KEEN-wah) is a superfood most gluten-free eaters can't get enough of. That's because it's a naturally gluten-free grain (technically a seed) that works well in many breakfast, lunch, dinner, and dessert recipes.
Quinoa cooks up a lot like rice. The grain is rinsed and cooked in water until soft and fluffy, making for a great side dish or canvas for the ever-popular meal in a bowl.
Quinoa was a staple crop of the ancient Incas, who lived high up in the Andes Mountains and considered quinoa to be a sacred crop and "the mother of all grains." It has been grown and consumed for an estimated 8,000 years.
The Nutritional Benefits of Quinoa
Quinoa has the highest nutritional profile of all grains, and it's why so many experts recommend quinoa for health. Here are some of the many health benefits of this superfood:
Quinoa is a Complete Protein: Quinoa contains all nine essential amino acids, the building blocks of all proteins, and therefore is the only plant-based protein considered a complete protein.
Quinoa Packs a Vitamin Punch: Quinoa contains plenty of B vitamins, iron, zinc, potassium, calcium, and vitamin E, as well as manganese, magnesium, phosphorus, folate, and zinc. (Source: Healthline)
Quinoa is High in Fiber: One cup of cooked quinoa (185 grams) serves up about five grams of fiber, although one study suggests some varieties of quinoa provide as much as 17-27 grams of fiber per cup.
Quinoa Has a Low Glycemic Index Rating: With a glycemic index rating of 53, quinoa won't quickly raise your blood sugar like most white-refined grains. Keep in mind, however, that quinoa is not a low-carb food.
Quinoa is Naturally Gluten Free: If you're following a medically necessary gluten-free diet, like those of you with celiac disease or gluten sensitivity, you'll be happy to know that quinoa is naturally gluten-free and generally safe for you to eat. There are some exceptions, and I encourage you to read my article, Is Quinoa Gluten Free? to learn more and see me test two brands for hidden gluten.
Cooking With Quinoa
Before cooking with quinoa, rinse it well to remove the naturally occurring toxic bitter coating called saponin. Wash the quinoa until the water runs clear.
Combine one cup of quinoa with two cups of water to cook quinoa. Bring mixture to a boil, cover, and reduce heat to low. The quinoa will absorb all the water in about 15-20 minutes. Fluff the mixture with a fork and use it in any of the recipes below, as directed.
When quinoa is cooked, the outer germ layers break open to form a crunchy coil while the inner grain remains soft. This dual texture makes quinoa fun to eat in various savory and sweet recipes.
27 Amazing Quinoa Recipes
Below, you'll find 27 quinoa recipes curated from 20+ food bloggers.
While all the recipes included in this list are gluten-free, recipes and ingredient labels can change. Please do your due diligence before making any recipe to ensure all recipes and ingredients on this list are gluten-free.
(1) Vegetable Egg Quinoa Muffins
These protein-rich Vegetable Egg Quinoa Muffins are addictive and filling and start your day off on the right foot. Each "muffin" is like eating a mini omelet.
(2) Chocolate Covered Quinoa Crisps
Crisped quinoa is coated in rich chocolate to form these Chocolate Covered Quinoa Crisps, a wonderful treat reminiscent of crunchy rice candy bars.
(3) Hearty Quinoa Vegetable Soup
This bone-warming, hearty, and filling Quinoa Vegetable Soup is loaded with fresh vegetables and protein-rich quinoa for a nourishing meal or side dish.
(4) Rainbow Quinoa Summer Salad
My dear friend, Toni at Boulder Locavore, is channeling summer vibes with this Rainbow Quinoa Summer Salad. The dish is bursting with bright colors and summer flavors. I can't wait to make this!
(5) Beef and Quinoa Stuffed Peppers
My friend and contributor to the Good For You Gluten Free blog, Meg of a Dash of Megnut, has created this irresistible Beef and Quinoa Stuffed Peppers recipe. I do not doubt that my entire family will go ga-ga for this!
(6) Chocolate Quinoa Cake
Who needs flour – or gluten – when you can bake with nutrient-dense quinoa instead? Try this decadent Chocolate Quinoa Cake when looking for a moist, rich, chocolatey, and gluten-free cake to serve and eat.
(7) Toasted Quinoa and Peanut Butter Scotcharoos
Sarah at A Saucy Kitchen has me dreaming about these crispy Toasted Quinoa and Peanut Butter Scotcharoos, which she says are rice crispy cereal coated in a sticky peanut butter glue and topped with a layer of peanut butter-infused chocolate. Um, yum!
(8) Quinoa Breakfast Bowl
Taryn at Hot Pan Kitchen has created this stunning Quinoa Breakfast Bowl to help you start your busy day on the right foot. Enjoy it warm with a drizzle of maple syrup and fresh or dried fruit on top.
(9) Quinoa Veggie Patties
Let's give three cheers for these mighty tasty Quinoa Veggie Patties from Hope, my friend from down under at Love Food Nourish. These patties are chocked full of vegetables and protein-rich quinoa. And they're so pretty, too.
(10) Zucchini Chickpea Quinoa Salad
Julia at A Cedar Spoon cooked up this gorgeous Zucchini Chickpea Quinoa Salad, and I can't stop drooling just thinking about it. She mixes zucchini, chickpeas, quinoa, fresh parsley, and green onions with a spiced olive oil dressing to create one healthy and filling meal.
(11) Enchilada Quinoa Casserole
This one-pan cheesy Enchilada Quinoa Casserole from Samantha at My Kitchen Loves brings new meaning to Meatless Mondays. My entire family will devour this dish and give me mad props for making it.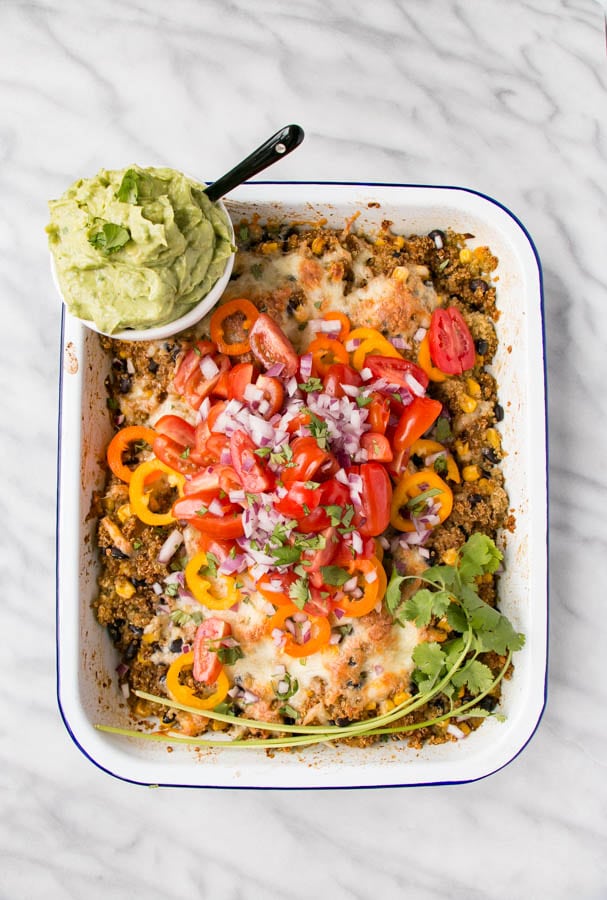 (12) Quinoa Pizza Bites
Erin at Suburban Simplicity can also help your kids love quinoa with her spin on traditional pizza bites. Her cheesy and kid-friendly Quinoa Pizza Bites will please even the pickiest of palates.
(13) Quinoa Salmon Burgers
Combine canned or leftover salmon with cooked quinoa (this recipe calls for tri-colored quinoa, but any quinoa will work) to create a pan-fried Quinoa Salmon Burger that the entire family will devour. The outer crust of the burgers becomes brown and crispy – yum!
(14) Vegan Buddha Bowls
Sandi at Fearless Dining has done it again with this fantastic recipe for Vegan Buddha Bowls filled with quinoa and topped with various vegetables, beans, nuts, and homemade dressing.
(15) Cheese and Tomato Quinoa Bowls
Looking for ways to get your kids to love quinoa? Try these Cheese and Tomato Quinoa Balls by Healthy Little Foods. They're perfect for big (me!) and little kids alike.
(16) Mango Edamame Quinoa Salad
This beautiful Mango Edamame Quinoa Salad by Julia at The Roasted Root has me dreaming of summer barbeques. Bring this to your picnic potluck, and you'll be the day's hero!
(17) Quinoa and Artichoke Stuffed Mushrooms
Laura at Family Spice has really got my salivary glands going at high speed with her recipe for Quinoa and Artichoke Stuffed Mushrooms. I'm assessing if I'm talented enough to pull off this recipe as beautifully as she did. A girl can dream.
(18) Chunky Monkey Quinoa Breakfast Bowl
Talk about a hug in a bowl! This Chunky Monkey Quinoa Bowl recipe comes from a blog called Vegan Huggs and is made from a combination of creamy peanut butter, sweet bananas, and rich dark chocolate.
(19) Stuffed Zucchini Boats Casserole
Thanks to Shelley of Two Healthy Kitchens, feast your eyes on this recipe for Stuffed Zucchini Boats Casserole. Shelley says you don't even have to pre-cook the quinoa – score!
(20) Slow Cooker Quinoa Chili
There is no need for meat in this hearty Slow Cooker Quinoa Chili recipe by Watch Learn Eat. This recipe is loaded with roasted tomatoes, fresh cilantro, and smoked paprika, giving this chili its unique and robust flavor.
(21) Sweet Potato Quinoa Bowl with Cashew Curry Sauce
Jenn at Veggie Inspired has me feeling all the feels with this tasty-looking Sweet Potato Quinoa Bowl with Cashew Curry Sauce. You'll find wonderful roasted veggies, plenty of plant-based proteins, and a creamy cashew sauce!
(22) Apple Quinoa Muffins
Christine from Gluten-Free Bread is channeling fall in her wonderful Apple Quinoa Muffin recipe. These hearty and apple-spiced muffins are loaded with bits of apples, so you're certain to get a chunk of apple in every bite.
(23) Fiesta Mango Quinoa Salad
Jamie at Dishing Out Health is dishing up this fresh Fiesta Mango Quinoa Salad, and isn't it a sight to see!?! This salad contains quinoa, black beans, corn, and chili-lime dressing, and best of all, Jamie says it comes together in about 20 minutes flat.
(24) Thai Quinoa Salad with Chickpeas
This Thai Chickpea Quinoa Salad from Mary Ellen of V Nutrition combines quinoa with fiber-rich chickpeas, carrots, purple cabbage, and fresh cilantro. I'm totally digging that creamy peanut sauce topping, too.
(25) Quinoa Brownie Cake
This Quinoa Brownie Cake from The Recipe Well solves your gluten-free chocolate cake cravings! It's made with cooked quinoa, cocoa, eggs, and a handful of pantry items and offers a moist, rich cake that won't last long if you have little chocolate-eating elves in your house.
(26) Quinoa Flour Banana Muffins
These ultra-moist and protein-rich Quinoa Banana Muffins are bursting with banana flavor and are made with nutty quinoa flour. Oh, snap!
(27) Quinoa Almond Date Truffles
Thank you, Archana of Ministry of Curry, for sharing these delightful Quinoa Almond Date Truffles. Archana's recipe requires only five ingredients and no baking. Sweet!
Comments, Please
Please share in the comments below what recipe you love most or plan to make from this list. Who's ready to eat some quinoa?!?